How to Write A Perfect Letter of Intent for a Job (With Examples)
A letter of intent is used when submitting unsolicited job applications or inquiries to companies you would like to work for. They are a means of introducing yourself to potential employers and convincing them to read your resume.
A good letter of intent will spell out your key skills and accomplishments, and explain why you are a great fit for the company to which you are applying. Note that a letter of intent is not a cover letter.
What Is a Letter of Intent and How Is It Different from a Cover Letter?
Admittedly, letters of intent and cover letters are very similar. Both will introduce you as a job candidate, and both require you to outline your skills and relevant experience.
There is a key difference, and it lies in the context in which you are writing the letter.
A cover letter is used to enhance your application for an advertised job listing, and the content is geared towards how your skills can be applied to the specific requirements of the job.
A letter of intent is intended to communicate your general interest in working for or with a company. They can be used as a networking tool to help you open a line of communication with potential employers.
They also tend to be more in-depth than a cover letter, and can include things like your education, your skills and experience, and your future goals.
When Will You Need to Write a Letter of Intent?
You should write a letter of intent in the following circumstances:
When making a general application to a company at which you want to work.

The employer has requested one on the job listing.

When making general applications at a job fair.

When applying to an academic institution.

When inquiring about a potential business partnership.
Structuring Your Letter of Intent
1. Salutation
You should always write your letter of intent in formal business English. Therefore, you should address your letter to a specific person, using the salutation 'Dear [name]'.
If you do not have a specific name, you will be expected to undertake your own research to find one. Here are some tips for researching your recipient:
Go to the company's 'About Us' or 'Contact' page on its website and locate a list of the company's employees and their contact details.

Check the company's LinkedIn page for connected employees and find the person with the most relevant job title.

Call the company and ask to whom your letter of intent and resume should be sent.
If you still cannot find a specific recipient, address your letter to a particular role or department. For example, 'Dear Recruitment Manager' or 'Dear Human Resources Department'.
Alternatively, you can use 'To Whom It May Concern'. However, some people view this salutation as outdated, so it should only be used as a last resort.
2. Introduction
The first paragraph of your letter should be used to introduce yourself. Make sure you include your reason for writing; for example, you are interested in working for the company.
Example introduction:
'Dear [name]:

I am writing to express my interest in a position within your Marketing team. I am a Marketing Manager with five years' experience overseeing direct marketing campaigns. I believe my skills will make me a valuable addition to your team.'
3. Your Skills and Accomplishments
You should dedicate the bulk of your letter to what makes you great, and how you can apply your skills and experience for the benefit of the company.
Which Skills/Experience Should You Mention?
Letters of intent tend to be more in-depth than cover letters. Therefore, if a skill is relevant, mention it. You can even include your hobbies, as long as they help to illustrate useful skills.
For example, you might mention how your love for building computers has helped you acquire skills in problem solving, research and perseverance.
Here is a list of things you could mention:
Your education, such as your bachelor's degree, and your grade or projected grade.

Your work history and key accomplishments.

Soft skills such as communication, attention to detail, time management and creativity.

Technical skills such as computer skills, programming languages and analytical skills.

Your languages and level of proficiency.

Past volunteer work.
Back up Your Skills with Specific Accomplishments
A vague list of skills will not impress the recipient of your letter. You should always evidence your skills by providing specific examples of your experience and accomplishments.
For example:
'I have excellent communication skills which I developed during my time as an Administrative Intern at [University]. Part of my role involved staffing the office's service desk and I was the first point of contact for all student inquiries. I always greeted people with a smile, and I received recognition from my colleagues for my ability to handle inquiries efficiently and confidently.'
Explain How Your Skills Will Make You a Great Addition to the Company
The trickiest part of writing a letter of intent is demonstrating how you can use your skills for the benefit of the company.
With a cover letter, you will usually have a job description to which you can to link your skills. When approaching a company cold, you have no such luxury.
Instead, you should research the company and link your skills to their:
Mission or commercial goals.
Areas of expertise.
Areas of innovation.
Working culture.
Start your research by visiting the company's 'About Us' page on its website, and also check the following:
The company's blog – This will be used to post recent projects, successes and interesting topics.
Client case studies – Use these to get an idea of the company's policies regarding service delivery.
LinkedIn – The company may post or share articles related to its areas of work and interest.
Online employee reviews – See what current and former employees are saying about the company.
News articles – Find out what the company has achieved recently that was newsworthy.
This research will allow you to link your skills to the work and successes of the company.
Sample answer:
'In my position as a Paralegal at [commercial law firm], I run regular knowledge-sharing sessions. My colleagues and I discuss interesting cases we have managed and how we can manage similar cases.

"I recently read your blog on the knowledge-sharing program you are implementing within your commercial litigation team, and I believe my communication and collaboration skills will make me a valuable addition to the team.'
4. Contact Details and Call to Action
Before you end your letter of intent, you should request the employer contacts you. Make sure you provide your email address and phone number. Sign off formally using your full name.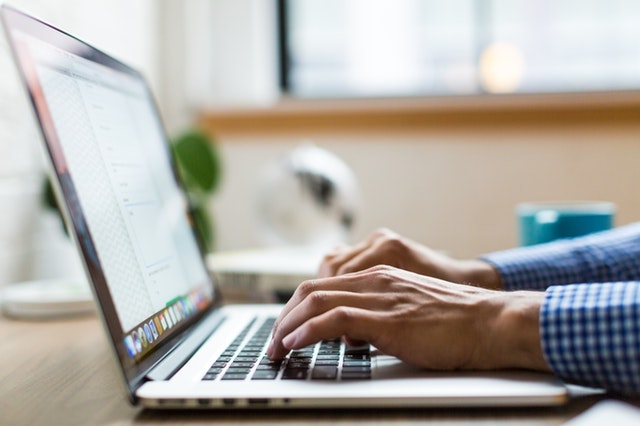 How to Write a Letter of Intent
Other Things to Remember
1. Write in Formal Business English
Your letter of intent is a reflection of you as a working professional. It should, therefore, be written in business English. For example:
After the salutation ('Dear [name]') use a colon instead of a comma, as this is considered more formal.
Always sign off using 'Yours Sincerely' – when you have used their name or 'Yours Faithfully' – when you are writing to an unknown person.
Avoid using colloquialisms or casual words such as, 'I found the work really cool'.
2. Keep It Direct and to the Point
With the job market flooded with capable candidates, employers' attention spans for each individual application are growing shorter. Bearing this in mind:
Try to keep your letter to one page.
Keep your sentences and paragraphs short.
Use bullet points to list your skills and relevant experience.
3. Mention Why You Are Interested in the Company
As well as outlining how your skills make you a great fit for the company, you should state what interested you in the company in the first place.
What Not to Include
In addition to the many things you should include in your letter of intent, here are some things you should avoid:
A vague list of skills without any evidence. Always provide examples of past experience and accomplishments.

Why you left your previous jobs, particularly if you left for negative reasons. Now is not the time to talk about why you left your job; keep the focus on your desire to work for this particular company. No matter which stage of the recruitment process you are at, it is always a bad idea to be negative about your previous employer. For example,

'I left my previous job because my manager was always undermining me and making me feel useless.'

A reiteration of your resume. A letter of intent gives you the opportunity to highlight your key skills and achievements, and to demonstrate what makes you the perfect addition to the company. Think of your letter of intent as your initial sales pitch, rather than providing a comprehensive breakdown of your work history.
Letter of Intent Example
Here's a sample letter of intent for job applications, to help you begin drafting your own. The structure will be similar for whatever industry your letter is geared towards.
[date]

John Smith
Recruitment Manager
Film Company Ltd
[Company address]

Dear Mr. Smith:

My name is Jenny Wren, and I am writing to inquire about the possibility of vacancies in Film Company Ltd's animation team. I am in my junior year at [College], majoring in computer animation.

I learned about your company through my college program. Your designs were used as a case study in my character design class, which inspired me to focus my study on developing my own character-driven short films.

I am creative and dedicated to storytelling through digital art mediums. This was recognized last year when I came second in my college's short film and animation competition with my film, 'Life Online', the story of a young boy who becomes addicted to internet chat rooms.

I value teamwork and collaboration. I am the founder of my college's animated short film club. Our activities include brainstorming ideas, drawing storyboards and then working as a team to create short films. We publish our work to our YouTube channel, where we have 65,000 subscribers.

I have established technical skills in specialized animation software programs. I also have impeccable attention to detail, which helps me create flawless animations. I believe these skills and my passion for storytelling through animation would be of value to your company.

I have attached my resume for your consideration and samples of my work can be viewed at [portfolio website]. If you would like to discuss my credentials further, please do not hesitate to contact me on [phone number] or [email address].

I look forward to hearing from you.

Yours sincerely,

[Your signature]
Jenny Wren
Final Thoughts
This article has shown you how to draft your own letter of intent. To summarize, the key points covered were:
Understand the difference between a cover letter and a letter of intent: a letter of intent supplements a general application to a company you are interested in working at or with.

Write your letter in business English and always address your letter of intent to a specific person if possible.

Outline your key skills and accomplishments but don't repeat your resume.

Don't list skills without backing them up with specific experiences and accomplishments.

Relate your skills to the company's goals and objectives. Make sure you research the company thoroughly before starting your letter.

Keep your letter to one page maximum.

Don't mention why you left your previous job(s).

Ask the employer to contact you at the end of your letter.
Finally, remember that your letter of intent will be the employer's first impression of you. Therefore, never treat it as an afterthought; it could be the first step to a new job.
---