Executive Business Titles
What Are Executive Business Titles?
Within a business, titles are used to show an individual's position and job role.
Executive business titles typically describe someone who holds a senior position and authority within a company.
Sometimes, these are called "C-Level" jobs, with the C meaning "chief" as the individuals who hold these roles are often department or section heads. They will manage and oversee their area of the company and are responsible for decision-making.
Although each executive has their own area of expertise, typically, an individual who holds an executive position has strong leadership skills and an ability to adapt to a variety of situations.
This is because an executive will often have to do things outside of their specific title to ensure the smooth running of their department and the company.
Someone who holds an executive business title will often have a team of employees below them whom they are responsible for.
They delegate tasks to their team but hold overall control of how things are done and are accountable when targets are not met or things do not go as planned.
They are in charge of ensuring that performance targets are achieved and that team members remain motivated and happy.
List of Executive Business Titles
Many companies will have several departments and areas managed by an executive. Because of this, there are a large number of job titles which can be used by someone who holds an executive position.
The title used will denote their role within the company and serve as an explanation of what they may be in charge of.
President
The president is usually the highest executive role within a smaller company. For large businesses, it is often the second-highest role, with individuals who hold this role generally answering to the CEO.
Although a president may have a specific area of skill, they are generally responsible for overseeing the company as a whole, rather than a small section of it.
Essential skills:
Leadership
The ability to delegate work between the appropriate teams through understanding each individual's strengths
Communication
Vice President
Depending on the size and structure of the company, the vice president is the second or third in command overall. They are answerable to the president.
A vice president often has a specific area of expertise that they bring to their role and may be responsible for overseeing specific areas rather than a more general managerial role.
For example, if an individual is a vice president and a finance specialist, they may be responsible for how the company manages its finances.
A very large company may have more than one vice president to make the most of each person's special skills.
Essential skills:
Experience working in the area of expertise which their specific role requires (for example, financial experience for the vice president in charge of finance)
The ability to delegate tasks
Team-working skills
Chief Executive Officer
A chief executive officer (CEO) is the highest-ranking individual within a large company. In some cases, this will be the role held by the company owner or founder.
All the other company executives will report to the CEO, who is responsible for the company as a whole.
They will be the person who makes the most significant decisions and creates overall strategies for the company.
Essential skills:
Communication
The ability to collaborate with others
Strategic thinking
Chief Experience Officer
Companies that rely on customer experience to make sales and increase profits may have a chief experience officer (CXO).
The CXO is responsible for all aspects of customer experience for the business, including products and services.
If there are issues with the experience customers are receiving, the CXO will be in charge of devising and implementing strategies to resolve this.
Essential skills:
Customer service
An ability to analyze data relating to customer experience
Problem-solving skills
Chief Operating Officer
The chief operating officer (COO), is often second-in-command to the CEO.
They are responsible for making sure that strategies and plans are carried out correctly and effectively. They will also ensure that the company is running as it should be, with employees working efficiently and targets being met.
The COO is often the person who is responsible for recruitment and maintaining the right levels of staff within the company. They also work with the HR department to ensure that policies and responsibilities are being upheld.
A COO will often work closely with project managers and department heads to ensure that things are done correctly.
Essential skills:
Experience of business operations
An understanding of HR and HR-related policies
Knowledge of recruitment processes
Chief Technology Officer
The chief technology officer (CTO) is responsible for the technology that a company uses.
They will work to implement new technology and solve issues arising with existing systems.
They understand the impact of technology within a business and work to ensure that the company stays up-to-date with the latest technological advances.
An individual who holds a CTO role is responsible for setting up new systems and ensuring that security features protect their company.
Some companies will choose to either have a CTO or chief information officer (CIO) rather than both.
In a company that has both roles, the CTO is more outward facing and tends to have more techincal knowledge, while the CIO is more concerned with internal processes. The CTO will usually be the person who designs and builds new programs, whereas the CIO focuses on ensuring that the programs and systems run smoothly.
Essential skills:
An understanding of how technology works within a business
The ability to design and build effective programs
Knowledge of system security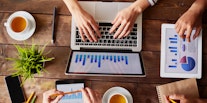 Executive Business Titles: What Do They Mean?
Chief Information Officer
The chief information officer (CIO) is the overall head of information technology within a company.
This means they are responsible for computer systems and all of the technology used.
As well as deciding which pieces of technology should be used by the relevant employees, they are also responsible for ensuring that it is all working properly and any issues are resolved quickly.
The role also involves the planning and implementation of any IT strategies within the business and overseeing the results of those strategies.
For example, the CIO is responsible for managing a company's website and overseeing any updates or new software integrations.
If a new website needs to be created, they will be in charge of making decisions about its look and function.
Usually, the CIO oversees the IT department.
Essential skills:
An understanding of analytics
The ability to use data to make informed decisions
Knowledge of data collection and dissemination
Chief Financial Officer
The chief financial officer (CFO) is the individual responsible for the overall finances of a company. They handle the cashflow and are responsible for financial planning.
This is the person who will decide budgets, wage rises and manage the accounting departments to make sure that financial records are submitted correctly and on time.
If a company is struggling financially, then the CFO will be the person responsible for strategizing ways of solving the problem.
This means finding ways to reduce costs. They are then answerable to the president or CEO, who will sign off on large financial decisions.
Essential skills:
The ability to assess a strategy by looking at the potential merits and risks
A background in finance
An understanding of markets and mergers
Creative Director
The creative director is responsible for marketing and advertising within a company. They work with teams to strategize advertising campaigns, decide on the aesthetics of a company and create a vision for how the company will appear to customers.
This role involves bringing together various creative experts to produce a finished product. They will work with various departments to create ideas, pitch them for approval and then implement those ideas into a campaign.
This can involve using outside agencies when necessary, such as for television advertising campaigns.
Essential skills:
Teamwork
An understanding of marketing and the design process
The ability to understand how pop culture and modern trends can help to influence a campaign and engage customers
Chief HR Officer
A chief HR officer (CHRO) heads up a company's HR department. Most companies choose individuals with a range of expertise for this position, as HR is such a varied area.
They will need to be able to juggle the needs of the company alongside the needs of staff and strike a balance so that the requirements of both parties are met.
This can involve creating new policies and strategies that focus on solving existing problems and managing individual situations that may occur.
Essential skills:
A broad knowledge of how businesses work
An understanding of the needs of employees and how these needs will vary depending on age, gender and personal circumstances
Knowledge of legal issues and compliance
General Counsel
General counsel (GC) is a term generally used by legal firms but is also used within businesses to describe the individual in charge of a company's legal department.
This individual is usually a corporate lawyer and is responsible for all the legal dealings of a company. They make sure that everything is done properly and within the rules set out in legislation.
Although a company may have its own legal department, it is not unusual for certain situations to include involvement from outside legal agencies. When this happens, the general counsel will choose which law firms to use and will manage both sets of legal teams.
Essential skills:
Knowledge of corporate law
Experience working within legal practice, preferably with corporate clients
An understanding of how the needs of a business can be managed alongside legal requirements
What Are the Other Types of Executive?
As well as C-Level positions, there are a variety of other executive roles which can be found within a company. These are commonly known as 'V-Level' and 'B-Level' executives. The role of the individuals holding these positions will be slightly different from that of C-Level executives.
V-Level Executives
V-Level executives don't exist in every company. For some smaller businesses, the V-Level titles may actually be held by C-Level individuals.
In other companies, someone may hold a V-Level title and work directly alongside those who hold C-Level titles. In situations where a company has an extensive hierarchy, the V-Level employees will be answerable to those who are at C-Level.
Common V-Level titles include:
Senior Vice President
Vice President of Marketing
Vice President of Finance
B-Level Executives
A B-Level executive is usually someone who holds a middle-management position. These positions are commonly held by smaller departments or branch managers.
In situations such as retail, where a company will have many sites, the area manager would be classed as a B-Level executive.
Common B-Level titles include:
Sales Manager
Regional Manager
Division Manager
Final Thoughts
When you join a corporate environment for the first time, it can be challenging to understand how each person fits within the hierarchy. This is where job titles are helpful.
By understanding what different titles mean, you can begin to understand how that person fits within the business.
It can also help you to understand your own role and where it sits within the company structure.
---