Career Fields
A career field is a method of classifying a specific industry or group of job titles.
It is a term that you will often see on recruitment websites as a search option, which allows you to choose between accounting and finance, education, or health and medicine, for instance.
Knowing the career field you want to work in can often be the first step you take in deciding upon a career path.
Why Is It Helpful to Know the Career Fields?
You may have a basic idea of the job you would like to do or the skills you would like to use, but knowing the career field you want to work in can provide you with a greater level of focus.
For instance, you are interested in a customer-facing role because you have excellent people skills. This could translate to a job in any of the recognized career fields.
However, the fact that you also have a head for math and calculations narrows down your job search to a smaller number of career fields, like banking and finance, sales, and STEM (science, technology, engineering and math).
This greater focus makes it easier to map out a career path and begin a job search.
Still undecided on what career interests you? Read 10 Key Tips for Career Planning.
What Different Career Fields Are There?
There are many career fields to consider when deciding on your career path, but here are 20 to get you started:
1. Accounting, Banking and Finance
This extensive career field includes job titles such as accountant, investment banker and financial advisor.
This is a highly competitive field to enter and build a successful career in, and includes roles at all levels, from entry to executive.
Example degrees:
Employers in this career field:
Centerview Partners
Evercore
Moelis & Company
Berkshire Hathaway
Visa
Average salaries:
Accountant: $54,097
Investment banker: $81,964
Financial advisor: $69,494
Considering accounting for a career? Read The Big Four Accounting Firms.
2. Agriculture, Farming and Food
This career field includes farming, fisheries, forestry, natural resources and the production of food from those sources.
Job titles in this career field include agricultural engineer, farmer and soil/plant scientist.
This is again an extensive career sector covering roles varying from manual unskilled and skilled to administrative, scientific and executive levels.
Example degrees:
Agricultural engineering
Animal sciences
Food science
Technology
Employers in this career field:
ACGO
The Mosaic Company
Perdue Farms
Seaboard Corporation
CF Industries Holdings
Dole Food Company
Fresh Del Monte Produce
Monsanto
Fig
Monarch Tractor
Average salaries:
Agricultural engineer: $71,108
Farmer or rancher: $43,446
Soil/plant scientist: $63,200
3. Architecture and Construction
This career field covers the whole construction cycle from design and research to building and ongoing alterations and repairs.
Job titles include architect, construction manager and civil engineer.
Example degrees:
Employers in this career field:
Gensler
Perkins and Will
HDR
Bechtel
Fluor Corporation
Turner Corporation
AECOM
Skanska USA
Kiewit Corporation
Jacobs Engineering Group
Average salaries:
Architect: $108,213
Construction manager: $78,449
Civil engineer: $87,222
4. Arts, Culture and Entertainment
Covering a diverse range of artistic endeavors such as theater, music, art and cultural sites, like museums.
This career field includes job titles such as music producer, graphic designer and actor.
Example degrees:
Employers in this career field:
New York City Ballet
The Walt Disney Company
Smithsonian Institution
Columbia Pictures
Universal Pictures
Pentagram Graphic Design
Warner Music Group
Sony Music
Metropolitan Museum of Art
Broadway Theatre
Average salaries:
Music producer: $34,454
Graphic designer: $48,537
Actor: $57,857
5. Business, Management and Administration
Straddling many industries, this career sector ranges across roles at all levels, from junior entry positions to high-flying C-suite roles.
Job titles include human resources manager, executive assistant and business development manager.
Example degrees:
Human resources management
Business administration
Business economics
Employers in this career field:
Apple
The Walt Disney Company
Nike
Netflix Inc.
Average salaries:
Human resources manager: $71,185
Executive assistant: $54,234
Business development manager: $72,122
6. Customer Service and Sales
This career field includes mainly customer-facing roles and ranges from junior, entry-level roles to executive positions.
Job titles include regional sales manager, real estate sales agent and customer service representative.
Example degrees:
Customer service and sales roles are present across all industries and it is therefore difficult to list companies specifically for this sector.
Average salaries:
Regional sales manager: $84,158
Real estate sales agent: $88,643
Customer service representative: $32,282
7. Communications
The communications career field covers all aspects of message delivery, from an event to advertising, journalism or, in certain cases, books.
Typical job titles include copywriter, journalist and public relations specialist.
Example degrees:
Journalism
Marketing
Public relations
Employers in this career field:
Communications Strategy Group (CSG)
Bateman Group
Merritt Group
Idea Grove
10 To 1 Public Relations
USA Today
The Wall Street Journal
The New York Times
Good Housekeeping Magazine
National Geographic Magazine
Average salaries:
Copywriter: $58,910
Journalist: $52,241
PR specialist: $55,249
8. Computer Technology
As computing technology develops at an increasing rate, the number of jobs in this career sector increases too.
Job titles include software developer, computer network architect and database administrator.
Computer technology roles touch on almost every industry.
Example degrees:
Computer science
Software engineering
Mathematics
Employers in this career field:
Average salaries:
Software developer: $107,510
Computer network architect: $109,020
Database administrator: $93,750
Graduated with a computer science degree and not sure what to do next? Read Top 10 Jobs for Computer Science Majors.
9. Education and Training
This career field stretches across schools, college and university education, as well as workplace training too.
Typical job titles include teacher, professor and principal.
Example degrees:
Education
The subject you wish to teach
Education administration
Typical places of work within this career field include:
Schools – elementary, middle and high
Colleges and universities
Technical and vocational educational establishments
Education and training professionals may also carry out training in the workplace or in the community.
Average salaries:
High school teacher: $60,320
College mathematics professor: $103,479
School principal: $109,301
10. Environment
This career field involves the conservation and enhancement of the environment. It is often referred to as if it is a recent development, but has in fact been with us for decades.
However, with a growing interest in green jobs in response to our current climate challenges, this is a career field that is growing in complexity and opportunity.
Job titles include energy auditor, marine biologist and urban planner.
Example degrees:
Environmental science
Conservation biology
Urban ecology
Employers in this career field:
United States Environmental Protection Agency
AECOM
Langan Engineering and Environmental Services
Partner Engineering and Science
First Solar Inc.
SunPower Corp
Tesla Energy Operations
NextEra Energy
Brookfield Renewable Partners
Renewable Energy Group Inc.
Average salaries:
Energy auditor: $48,765
Marine biologist: $63,420
Urban planner: $73,050
Interested in working in this career field? Read How to Find Green Jobs.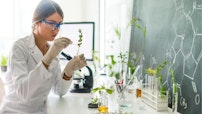 A Guide to 20 Career Fields
11. Government and Military
This career field is made up of employment within the government, whether on a local, state or federal basis, and working for the military forces.
Many of the job titles linked to other career fields can be performed in the service of the government, so relevant job titles are too wide-ranging to list here.
However, sources for employment in the sector would include:
The US Government
Your local and state US Government offices
US Army
US Marine Corps
US Space Force
US Coast Guard
US National Guard
12. Health and Medical
This is a wide-ranging career field but all jobs in this sector are concerned with healing and maintaining the health of the country's population and our pets/livestock.
Typical job titles include doctor, dentist and psychiatrist.
To work as a doctor in the US, it is necessary to have a relevant four-year bachelor's degree, followed by four years' study at medical school, and you must pass the United States Medical Licensing Examination (USMLE).
The path into dentistry is a similar format to that of a doctor. Other healthcare-related degrees include psychology, nursing and healthcare administration.
Sources of employment in this career field include:
Hospitals
Dental surgeries
Psychiatry practices
Veterinary surgeries
Manufacturers of medical equipment and pharmaceutical drugs
Other organizations that provide healthcare and healthcare advice
Average salaries:
Doctor: $182,575
Dentist: $161,840
Psychiatrist: $218,450
13. Hospitality, Travel and Tourism
This career field includes jobs in hotels, restaurants, bars, events venues and the wide-ranging aspects of tourism and holiday provision.
Typical job titles include travel agent, chef and hotel manager.
Example degrees:
Hospitality and tourism
Hospitality management
Culinary arts
Employers in this career field:
American Cruise Lines
Artisans of Leisure
Best Western Hotels
Marriott International
Carlson Companies
Hilton Worldwide
Starbucks
Darden Restaurants Inc.
Carrabba's Italian Grill
Hard Rock International
Average salaries:
Travel agent: $61,300
Chef: $48,697
Hotel manager: $57,920
14. Installation, Maintenance and Repair
The type of jobs included in this career field generally require a high level of specialized technical knowledge and skills. This is a wide-ranging area of employment and is prevalent across all industries.
Job titles in this sector include car mechanic, plumber and electrician.
Example training:
Associate degree/certificate of completion in automotive service technology
Associate degree/certificate/apprenticeship in plumbing
Electrical technician course
Employers in this career field:
Subaru of America
Fiat Chrysler Automobiles (FCA)
General Motors
Mercedes-Benz US International
Quanta Services
EMCOR Group Inc.
MasTec
MDU Construction Services
Rosendin Electric
NextEra Energy
Average salaries:
Car mechanic: $40,397
Plumber: $58,262
Electrician: $49,632
15. Law, Public Policy, Enforcement and Safety
This career sector covers a variety of employment areas, from policing and legal justice to working in politics, for the government, or independent think tanks and non-profit organizations.
Job titles include firefighter, lawyer and sheriff.
Example degrees:
Fire science
Criminal justice
Employers in this career field:
Local, state or federal government
US Police Force
US Fire and Rescue Services
US Border Patrol
US Coast Guard
Central Intelligence Agency (CIA)
Drug Enforcement Administration (DEA)
O'Melveny & Myers LLP
Latham & Watkins LLP
Clifford Chance US LLP
Average salaries:
Firefighter: $47,878
Lawyer: $167,955
Sheriff: $110,422
16. Manufacturing and Production
This career field covers the making of new products and the supporting roles that assist in that process.
You may be involved in the manufacture of machinery or the production of high-end jewelry.
Typical job titles include carpenter, industrial engineering technician and drafter.
Example degrees:
Industrial engineering
Carpentry
Applied science in drafting
US employers in this career field:
Microsoft
Boeing Co
General Electric
General Motors
Ford Motor Co
Apple
Stryker
JM Family Enterprises
W. L. Gore & Associates
Arthrex
Average salaries:
Carpenter: $57,236
Industrial engineering technician: $48,115
Drafter: $50,937
17. Media and Broadcast
This career field includes careers in TV, film, news reporting and radio. The range of jobs available within this sector is immense.
Typical job titles include TV producer, camera operator and animator.
Example degrees:
Media production
Computer graphics
Employers in this career field:
Comcast Corp
The Walt Disney Company
Charter Communications Inc.
ViacomCBS
Netflix Inc.
Columbia Pictures
Universal Pictures
The Wall Street Journal
The New York Times
Average salaries:
TV producer: $65,663
Camera operator: $42,005
Animator: $63,603
18. STEM (Science, Technology, Engineering and Mathematics)
This is an immense career field, combining four areas of employment that are each extensive in their own right.
Job titles include microbiologist, engineer and architect.
Example degrees:
Microbiology
Industrial engineering
Architecture
US employers in this career field:
Merck & Co.
Pfizer
Johnson & Johnson
Apple
Regeneron
Incyte
Google
Microsoft
BMW Group
Intel
Average salaries:
Microbiologist: $48,398
Engineer: $70,012
Architect: $83,621
If you are studying a degree in engineering, you may want to read What Are the Key Career Paths for Engineering Graduates?.
19. Social, Charity and Community Service
This career sector involves employment through charities and jobs that seek to help individuals and communities in need.
This field includes job titles such as marriage therapist, school counsellor and sociologist.
Example degrees:
Employment in this career field will generally be found through your local social and community care services, educational establishments, and hospitals.
Charities may offer volunteering opportunities, but there are many paid charity roles too.
Average salaries:
Marriage therapist: $56,359
School counsellor: $55,412
Sociologist: $86,110
20. Transport and Distribution
This career field is all about moving products or people from one place to another. It includes driving jobs but also all the support roles that enable transport and distribution too.
Job titles include air traffic controller, commercial pilot and logistics analyst.
Example training:
Air Traffic Collegiate Training Initiative (AT-CTI)
Commercial pilot certificate
Degree in business analytics
US employers in this career field:
Delta Air Lines
Alaska Airlines
American Airlines
DHL Supply Chain North America (Exel)
Americold
Ryder Supply Chain Solutions
Geodis North America
FedEx Supply Chain
Lineage Logistics
Kenco Logistic Services LLC (KLS)
Average salaries:
Air traffic controller: $79,488
Commercial pilot: $139,401
Logistics analyst: $71,300
Final Thoughts
As you have seen from the 20 career fields described above, there is always a level of overlap between different employment sectors, but knowing which career field you are interested in is often an excellent place to begin your career search.
---