What Is a Code of Conduct?
Whichever industry your business is in, a code of conduct can be the perfect way to display your corporate culture, goals and hopes for your company.
What Is a Code of Conduct?
A code of conduct is a set of behavior regulations. In the workplace, it is there to ensure employees follow the rules and behave in an appropriate way.
A code of conduct is a standard that staff needs to meet to be efficient and successful at work.
Some organizations, such as public companies, are legally mandated to have one, and many others choose to as they are an effective way of setting standards in the workplace.
The purpose of a code of conduct is to clarify an organization's mission, visions and principles, linking them with expectations of professional conduct.
Each company will have different rules and so will have a different code of conduct.
The content of a code of conduct depends on the company. It can be formal or more relaxed, depending on how the organization wants its employees to behave.
It is a statement that supports a company's mission and values; therefore, it will be unique to each corporation.
Why Are Codes of Conduct Useful?
Codes of conduct are designed to outline how employees are expected to interact with others, fulfill job requirements and act professionally in the workplace.
Having a visible code of business conduct saves confusion and enables everyone to understand how to behave.
To be effective, they should be well-developed and impactful with a strong tone of voice. They need to assert authority and demand to be obeyed.
There are many advantages of creating a code of conduct in the workplace. They allow companies to communicate expectations on topics, such as dress codes and socializing.
For example, what type of clothing do you want your employees to wear? Business formal, business professional, business casual, small business casual, creative?
Dress codes can vary hugely depending on the business and work environment; therefore, you must clarify this.
Are employees allowed to have conversations during work hours, or should socializing be kept for break times?
By creating a code of conduct, you can prevent confusion and gain the trust and respect of employees.
Display the code of conduct in a shared area where it will be seen frequently. It will be a clear and unambiguous framework of principles that all employees know to follow.
As well as providing guidelines for behavior, it can increase employee morale.
Let them know they are part of a bigger picture providing a service that matters and you will enjoy boosted productivity and a happier workforce.
A code of conduct is a great way of ensuring that misunderstandings are avoided.
In the case of any shortcomings, the framework will be a point of reference to remind colleagues of their responsibilities.
What Areas Might a Code of Conduct Cover?
A privacy code of conduct can cover any area that is relevant to your business. You can make it as detailed or as casual as you like to set the desired tone of your workplace.
Some of the areas most codes of conduct cover include:
Company Values or Mission Statement
Your business values or mission statement is a declaration of what your organization stands for.
Why does it exist? What are its goals? What service do you provide?
Incorporating these objectives into your code of conduct is the perfect way to demonstrate the importance of representing their workplace to your employees.
It will remind them of their value and how their efforts contribute to the success of the company.
Consequences of Poor Behavior
The code of conduct outlines exactly that: how employees should conduct themselves at work.
There may be cases where the rules are not followed; therefore, it would be helpful to include in the statement the consequences of poor behavior.
Employees are more likely to exhibit acceptable behavior if they know the outcome of rule breaches.
In the instance where discipline is necessary, the code of conduct is an audit trail to refer back to when acknowledging the poor behavior.
Employee Rights and Responsibilities
The role of a code of conduct is to protect employees as well as the company. So you should include a statement on employee rights and responsibilities.
These will depend on the nature of the business, but usually include points such as:
The right to a safe work environment with appropriate protective equipment provided if necessary
The right to a workplace free from discrimination and bullying
The responsibility of working in a way that is not harmful to the health and safety of yourself or others
The responsibility of understanding the conditions of your employment, such as rate of pay, working hours, and entitlements to breaks and leave
Extreme Weather Policies
If your business is located in an area that can be affected by adverse weather, it is a good idea to refer to your policy in your code of conduct.
What should your employees do if they are unable to travel to work in the case of extreme weather, such as heavy snowfall or flooding?
Depending on the arrangements and needs of your business, options may include:
Working from home (if practicable)
Make up the missed time
Take annual leave
Take unpaid leave
Or a combination of the above options
Extreme weather can often happen at unexpected times, and by including a reference in your code of conduct, you can ensure your colleagues are prepared and aware of company policy.
Recruitment Process
Having a visible recruitment process in your code of conduct can help promote a culture of honesty and transparency.
How are roles advertised and individuals shortlisted? Do you only recruit at certain times of the year? What is the interviewing process?
Displaying this information openly will be beneficial for your current employees in the case of them applying for internal positions, as well as external candidates who can access your code of conduct online and understand the objectives of your company.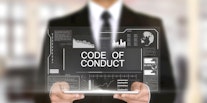 What Is Code of Conduct: Examples in the Workplace
Details of Employee Benefits
Your code of conduct should not just be a list of dos and don'ts! You should include details that remind your employees why your organization is a great place to work.
Your team has a life outside of the daily grind and offering attractive benefits will show them that you care about the service they provide.
There are four main types of employee benefits:
Medical insurance
Life insurance
Disability insurance
Retirement plans
Medical Insurance
Medical insurance: this can cover hospital and doctor visits, surgeries and drug prescriptions. Employers usually cover a portion of this premium.
Dental insurance: dental policies emphasize prevention and diagnostics, covering treatments such as annual exams and cleanings, X-rays and fluoride applications.
Life Insurance
This type of policy is a contract with an insurance company. The insurance company provides a lump-sum payment to beneficiaries upon the insured's individual's death in exchange for premium payments.
Disability Insurance
If an employee cannot work for an extended period due to illness or injury, disability insurance pays a portion of their income.
There are two types of disability insurance you can offer: short-term and long-term.
Accidental insurance: this helps employees pay for the medical and out-of-pocket costs incurred after an accidental injury.
Costs may include emergency treatment, hospital stays, medical exams and other expenses such as transportation and lodging needs.
Retirement Plans
Offering retirement plans can be an effective tool for small businesses to attract and retain employees.
Retirement plan options include 401(k), 403(b) and Simple IRA.
Additional Benefits
Other benefits you can offer to your staff include an Employee Assistance Program (EAP), pet insurance and retail discounts.
Whatever benefits your business provides to employees, stating them in your code of conduct is an excellent way of showing your values.
Code of Conduct Examples
Codes of conduct can vary in style, length, tone and content. They are a useful form of communication for all businesses of any size.
If you think of any well-known company, it is sure to have a code of conduct that outlines its employee offers and behavior expectations.
Here are some examples of recognizable codes of conduct:
Google
Google is a household name, but do you know what its values are?
The technology giant's code of conduct is well organized and sleek. It is comprised of eight sections that outline the company's expectations, and each section contains several points.
Its comprehensive code establishes standard rules, such as always acting with integrity and ensuring Google products are useful and continuously improving.
Google is passionate about supporting one another. Therefore, the code of conduct references its practice of ensuring a nurturing environment where everyone can reach their full potential.
As well as points around confidentiality and conflicts of interest, Google's code of conduct also refers to some of its employee perks.
The company holds a considerable affection for dogs, and so colleagues can bring their canine companions into the office.
The lengthy statement must be followed by all employees, board members and four-legged friends.
Hershey's
Hershey's code of conduct looks good enough to eat! The chocolatier's statement takes inspiration from its candy line, which includes Reese's, Payday and KitKat, to form a 31-slide commitment to its employees, consumers and business partners.
The tone of Hershey's code is casual and conversational, the opening message from President and CEO Michele Buck beginning 'Dear Friends'.
Set amongst the rich chocolate brown background are careful words that refer to the reader as part of the Hershey family.
The brand's promise is to bring goodness to the world through tasty candy and community work.
Hershey's code of conduct is organized in sections that refer to pride, ethics, responsibility, fairness, safeguarding and global awareness.
It is adorned with the iconography of its famous Kisses and Jolly Ranchers.
With a table of contents at the beginning, it is straightforward to navigate through Hershey's code of conduct.
Starbucks
The Starbucks code of conduct is similar to Hershey's in that it capitalizes on the brand's recognizable shade of green.
The coffeehouse chain's code begins by outlining the company's principles and values; its commitment to integrity and honesty at the forefront.
The statement is divided into sections that refer to the workplace, business practices, intellectual property and community involvement.
Each section is short and succinct to educate while retaining attention.
A standout feature of the Starbucks code of conduct is the question and answer section that is on each page.
These question and answers outline scenarios that employees might face and provide guidance on the best course of action to take.
This inclusion works well to assure current and potential future employees that Starbucks has their best interests at heart and wants to help them succeed.
As well as stating rules and regulations, the Starbucks code of conduct also features an ethical decision-making framework.
This is a quick tool that can be used to determine the best action when faced with an ethical problem.
The framework reminds employees that they are empowered, responsible, surrounded by help and have a voice.
The multinational chain's code of conduct is rounded off with a selection of frequently asked questions all about the company's business ethics and compliance.
Starbucks encourages employees to report concerns regarding compliance, legality and ethics. It provides contact information for its global departments as part of the code of conduct.
Final Thoughts
As you can see, a code of conduct is a useful framework to put in place for even a small company.
It is completely customizable and can be a chance for you to establish a brand personality while outlining the rules and regulations of your business.
Having a concrete document to refer to will benefit you and your employees as it will act as a visual reminder of why your organization exists.
A well-crafted code of conduct can help colleagues feel at ease, creating a more positive atmosphere.
---