The 10 Most Beneficial Employee Benefits
Accepting a job offer requires careful deliberation. You'll need to think about whether the company aligns with your work ethic, if it offers the potential to achieve your long-term ambitions and, of course, if the salary meets your expectations and personal needs.
As part of this decision, you'll also need to weigh up the employee benefits offered by potential future employers.
What Are Employee Benefits?
Along with your salary, employee benefits make up the compensation package offered to you before you accept a position with a new employer.
A traditional employee benefits definition would be anything of monetary value given to a member of staff outside of their base pay.
This could include things such as:
Bonuses
Profit shares
Insurances
Savings schemes
Company car allowance
However, in recent years, the term 'employee benefits' has come to mean much more.
It now encompasses a wide variety of offerings that not only focus on financial reward but also personal wellbeing, job satisfaction and work-life balance.
In the US, few laws require employers to offer such benefits. That said, most companies now recognize that to build a talented, productive workforce, they need to offer far more than just a competitive salary and opportunities for career growth.
What Are the Advantages of Having Good Employee Benefits?
Employee benefits are advantageous on both sides of a working arrangement.
For the employer, they help to build a corporate culture based on inclusivity and respect and ensure workers are both satisfied and fulfilled in their professional lives, making them more committed to the organization, as well as having some tax relief benefits.
For you as an employee, a good benefits package will give you:
Increased financial security – Good employee benefits help you save for the future, contribute towards unforeseen expenses like healthcare, and allow you to take time off without the worry of lower pay.

Peace of mind – Things like health and dental insurance offer peace of mind that, should anything happen, you have access to the right resources and services, for both you and your family.

A better work-life balance – Employee benefits increasingly focus on eliminating the trade off between professional and personal commitments. They give you more freedom, and the ability to spend quality time with your loved ones.

A more enjoyable work environment – Office perks tend to create a happier workforce, and when everyone's happy, the working environment becomes a much nicer place to be.
In addition to the advantages above, good employee benefits packages signify that the company you work for has a strong business ethic and values its employees beyond their day-to-day responsibilities.
This attracts the best employees, meaning your coworkers are more likely to be driven, highly skilled individuals.
With such a strong team around you, you can focus more on professional development and working towards your long-term career goals.
Top 10 Most Beneficial Employee Benefits
Below is a list of 10 of the most beneficial employee benefits. This list is by no means exhaustive, and you'll find different employers have their own interpretation of what constitutes a good employee benefits package.
1. Health Insurance
Healthcare is the most highly sought-after of all employee benefits in the US.
Whether or not you're entitled by law to employer-provided health insurance depends on the size of the company you work for.
Businesses with an employee count of 50 full-time workers or above are legally bound to provide affordable health care options, but those below this have no obligation to do so.
As an employee benefit, health insurance can save you a lot of money, as well as giving you peace of mind that you're covered in the event of injury or illness.
In 2019, employers paid on average 82% of the premium on every single-coverage policy, and 70% of every family policy. That's 5,946and14,561 respectively, per year, per policy.
With that in mind, health care coverage is one of the top things to look out for in employee benefits packages.
2. Paid Vacation Time
Taking a break from your professional routine is vital for both mental and physical wellbeing. If we don't make time to rest and unwind, we suffer burnout and, in some cases, induce severe conditions like stress, anxiety or physical injury.
However, unlike many countries around the world, there is no legal requirement for private employers in the US to award paid vacation time to staff.
When this isn't available, your only option for significant downtime is to take leave without remuneration.
Thankfully, many firms do include paid vacation time as part of their employee benefits packages, on average offering 10 days per year, with some increasing your allowance incrementally in line with your length of service.
Some companies offer longer paid sabbaticals to long-term employees.
The specifics of vacation time vary dramatically across employers, but it's a benefit that allows you to recuperate without sacrificing your paycheck.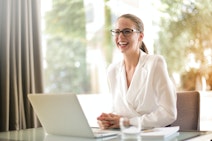 Top 10 Most Beneficial Employee Benefits
3. Dental Insurance
It's not as common as healthcare but dental insurance is another one of the top perks to keep a look out for.
Approximately two-thirds of the US population have private dental insurance, 90% of which comes by way of employee benefits.
A typical agreement is a cost of 80% to the employer and 20% to the individual for a routine appointment and dental work, though, again, this varies from company to company.
With a private dental care package, you can take a proactive approach to oral hygiene with regular checkups that identify any issues before they become more serious and costly problems. This saves both you and your employer money in the long run.
4. Flexible Working
This could refer to a flexible working schedule, the ability to work from home or another remote location or, as is most common, a combination of both.
Flexibility allows for a healthier work-life balance, enabling you to juggle professional and personal commitments in a way that works best for you.
There are several other advantages of working remotely, such as no commute, reduced office politics and increased productivity.
Moreover, when an employer offers you flexible working options, it shows you're a trusted and valued member of the team and when you feel valued, you're more likely to take increased satisfaction from your employment.
Of course, not every job allows for such flexibility. But owing to the recent shift in working culture, non-traditional hours and telecommuting are becoming an integral part of many employee benefits packages.
5. 401(k)
Financial security in retirement is a priority for most people, making a 401(k) or similar package one of the most highly sought-after employee benefits.
A 401(k) most often comes in the form of a thrift plan, whereby part of each employee paycheck is distributed to the retirement fund, along with an additional amount invested on the employee's behalf by their company.
What this means to you is you can make pre-tax contributions towards your future and have them topped up with fully matched or proportional contributions from your employer.
Some firms offer bonus or profit share plans in place of thrift plans. In these circumstances, contributions are made annually, when an employee can choose to invest all or part of their bonus or profit share into the scheme.
You'll pay tax on your 401(k), but only on the employer contributions proportion, and not until you draw down on your plan. So, when it comes to retirement, you'll have a healthy savings pot that offers financial stability.
6. Transportation Benefits
Also referred to as commuter benefits, transportation schemes and allowances are gaining popularity as an employee perk, with companies looking to boost their eco-credentials by taking more cars off the road.
There are currently 7.6 million US workers in receipt of transportation benefits.
These include:
Rideshare and carpooling schemes
Employer-subsidized passes for public transport
Company shuttle services
Cycle to work schemes
As an employee, this means you'll save money on costs relating to traveling to and from work, as well as reducing your carbon footprint.
It can even help lower your tax bill as some perks, like transport passes and parking fees, can be claimed as pre-tax benefits.
If you are reliant on a private vehicle, there may be other allowances offered as part of an employee benefits package, like company cars, fuel cards and reimbursement of toll charges. All of these go some way to lessening the burden of your travel costs.
7. Tech Benefits
With the rise in remote working comes the increased need for staff to have the right tools at their disposal, so technology has now become a focus of many employee benefits packages.
It's no longer a case of just smartphones and laptops. Additional equipment like monitors, webcams, printers, office chairs and data storage units are now often called for, and many companies are willing to provide these items or, at the very least, contribute to their cost.
Access to video conferencing and collaborative software may also be offered.
All these tools make your life easier when working outside the office environment and, as such, are employee benefits worth negotiating on.
8. Family Planning Benefits
Employers are increasingly understanding the importance of creating a healthy work-life balance for their staff. Not only does it help them attract and retain top talent, but it also makes employees happier and more productive.
In the quest for balance, a lot of employee benefits packages now include support and assistance for family planning.
Paid maternity and paternity leave are on the rise, as is paid parental leave in the case of a family emergency.
Beyond this, some companies offer fertility support with subsidized IVF and non-IVF treatments, genetic testing, egg freezing services and fertility counseling.
These employee benefits are still quite rare, though of all US employers with over 500 staff, 30% do offer some form of family planning compensation.
For smaller businesses, the count is much lower, but it's increasing year on year as gender equality becomes more prevalent and employers look to lessen the personal sacrifices workers make in favor of their professional lives.
9. Education Assistance
There are two sides to this as an employee benefit:
Some firms will offer assistance in the form of a tuition allowance, partially funding your education whilst allowing you to work and earn a wage as you study.
Usually, fees are reimbursed on completion of a class or college semester.
On the other hand, if you've already graduated, some firms may offer debt repayment assistance as part of an employee benefits package.
You may be entitled to transfer paid vacation time to your loan repayment or your employer may make payments towards your debt in place of matching you 401(k) contributions.
Since the average student loan debt for a four-year college course currently stands at $32,731, there's no surprise this is an attractive employee benefit for those pulling together their graduate career plan.
10. Discounts and Freebies
The last on our list of top employee benefits covers everything from discounts on things like dining out and reduced prescription medicine to office snacks and other freebies.
For employers, these incentives help them keep hold of their most valued workers. For you as an employee, it reduces your overall cost of living and makes the working environment a nice place to be.
Many companies offer discounts and freebies as part of a wider wellness program, with healthy snack options available at no charge and reduced gym membership.
Some may even have a free-to-use gym on-site, making it even easier for you to focus on personal wellbeing.
They may not rank as highly as some other employee benefits, but they're nice perks to have and can have significant value.
Final Thoughts
Employee benefits were once seen as a bonus, the icing on top of the cake so to speak. However, as they've become more widely available, they're now a central point of focus when considering any job offer.
The benefits most advantageous to you will of course depend on your circumstances, but keep in mind that there is always room to negotiate a job offer, and if there's a particular benefit you're after, it may well be worth raising the issue with your future employer.
Whatever is on the table, make sure you understand your benefits package in full before signing on the dotted line.
You could be in any given job for a long period, and if the rewards don't reflect the effort, you'll take less satisfaction in your career.
---