How to Become a Police Officer (US)
What Does a Police Officer Do?
A police officer is sworn to protect and serve the community in which they work and, often, live. This includes enforcing laws and protecting life and property.
A police officer's duties can involve:
Investigating crimes from petty theft to murder
Arresting and interviewing subjects
Writing reports
Testifying in court
Obtaining warrants
Responding to emergency calls
Typically, police officers patrol an area, using a car, a motorbike or even on foot, proactively looking for suspicious activities or following up on investigations, listening to the police radio and speaking to members of the public.
Police officers can diversify as their career develops, for example becoming part of a K-9 unit and working with dogs to search cars and people for dangerous weapons or drugs. They can also become detectives, who focus on investigating different types of crime, such as vice, drugs, gangs or terrorism.
To become a police officer, you need to be prepared to work all hours, deal with people at their most vulnerable, and establish trust and rapport with the community while keeping them safe by preventing and investigating crime.
There are more than 800,000 police officers, sheriff's patrol officers, criminal investigators and detectives working in the US, and more officers are recruited every day.
How Much Does a Police Officer Earn?
The average salary of a police officer depends mostly on geographical area, with city officers generally earning more than those based in rural areas.
According to the Bureau of Labor Statistics (BLS), **the average salary for police officers across the US is about 63,000∗∗.Mississippiofficersreceivethelowestsalaryatabout38,000, while officers in California earn on average nearly $110,000.
Police officers still going through training at an academy also draw a salary and can start at more than $50,000 a year, depending on the police department or area.
How Long Does It Take to Become a Police Officer?
Once you have gone through the application process and been accepted into a police academy, you can expect to be training for about six months.
However, the overall process to become an officer can take anywhere from a few months to several years.
For most people who decide that a career as a police officer is in their future, getting a head start on their education with a relevant college degree is part of the planning process – even though not all departments require a formal college education.
Some people who apply to join the police will spend time earning an associate degree or a bachelor's degree, which can take two to four years.
Steps to Becoming a Police Officer
High School Diploma or GED
The basic education requirements in most police departments are for a high school diploma, general equivalency diploma (GED) or equivalent.
Some states will require nothing more than this in terms of formal education but might look for other things like experience in other police departments or military service.
Meet Your State Requirements
For each police department, there are likely to be specific basic requirements to start training as a police officer.
Some states require you to be at least 21, while in others you only need to be over 18.
In almost every case, you will need to be a US citizen with a valid driver's license.
Do You Need a Degree?
Getting a degree can be useful if you are applying for a more advanced law enforcement position, like a federal agency.
In most cases, a degree is not a requirement, but it can help your application. Most departments will look favorably upon a candidate who has completed two to four years of study in an area like criminal justice.
Getting a degree can only help your application, and it is something that you can work towards in the future. Some police departments will even help fund further education.
Apply to a Police Department
There are only a few agencies that accept applications for new police officers on a rolling basis – most only open recruitment at certain points of the year.
You will be able to choose local law enforcement departments to apply to. If they are not currently recruiting, you can sign up to be added to a mailing list so you are updated as soon as a role is posted.
When you have decided on the police department you want to apply to, you can find out a lot of information about the role and the requirements from its website.
Remember that the application process is designed to ensure that only the best candidates are taken into the training program, so check out the criteria you need to meet to be considered.
There are also police-specific job boards. Some of them cover multiple locations, which is useful if you want to widen your search area to another county or even another state. These include Police One and Discover Policing.
Law Enforcement Entrance Exams
Every police officer needs to pass a law enforcement entrance exam before they can be considered.
The exam you need to take depends on the location of the police department you want to work for. Some of the most popular options include:
These tests tend to be job-related written tests, devised to assess whether you possess the abilities, skills and competencies that a successful law enforcement officer needs, such as observation skills, map reading and multi-tasking.
Background Checks
To ensure your personal integrity, ethics and discipline are suitable for being a police officer, a thorough background check will be completed.
During this, your fingerprints will be taken and your details checked for a criminal record. The background check will also include your close family members, your associates and your past work history.
It is increasingly likely that your financial status will be evaluated as part of this background check.
Completing such thorough checks is important for police to maintain the trust of the public, by ensuring that the officers on the streets are the epitome of personal integrity and professional honesty.
Psychological and Physical Examination
In many cases, the psychological and physical examination will happen on the same day.
In some police departments, you might also be subject to a polygraph test. This is usually based on the answers you gave in your initial application form and through the background check.
The psychological examination is used to ensure that candidates can be considered mentally and psychologically fit and stable. This examination can be a written test, such as a personality inventory, or sometimes a one-on-one interview with a psychologist.
The physical examination assesses your general health and ensures that you reach the required weight and height standards. You will be asked to give a sample of blood and can expect urinalysis to take place – this is to test for certain health conditions and illegal drug use.
If you pass this, you go on to the fitness test.
Physical Ability Test
Police officers need to meet certain fitness standards, and there are two different ways that this is evaluated.
One is to use a job simulation test, usually on a pre-set obstacle course. This is designed to mirror some of the physically demanding tasks that police officers will have to complete on duty, like dragging a body, running a short distance, climbing stairs and negotiating walls and windows.
The other physical test type is based on a traditional fitness test. The number of sit-ups, push-ups, pull-ups and other exercises the candidate can complete in a certain amount of time is measured against a standard that must be met to pass, which is on a scale depending on age and gender.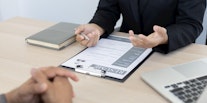 How to Become a Police Officer (US)
Interview
In the application for being a police officer, interviews tend to be one of the final stages.
This interview usually involves a senior member of the policing team – sometimes even the chief in smaller departments.
Often known as the executive interview, this is an opportunity for the candidate to demonstrate that they have the right personality and demeanor to be a good fit. Make sure you prepare in advance.
Academy Training
The successful police recruits will be invited to complete academy training, which is where most of the theoretical learning takes place regarding police-officer-specific knowledge.
Through a combination of class-based and practical instruction, the academy provides trainee officers with the knowledge they need to become good police officers.
There are ongoing tests and examinations, both paper-based and physical, that must be completed for an officer to pass to the next stage of training. This is expanded upon below.
Field Experience
Field training is where the theoretical knowledge that a rookie officer gets in the academy becomes practical.
This stage of training can last between three months and a year.
A new recruit is paired with a field training officer (FTO), who will provide instructions and model different parts of the job, before eventually signing off that the trainee is ready to patrol on their own.
What Training Do Police Officers Get at the Academy?
The police academy is a combination of classroom learning, for things like laws and statutes, and practical learning, such as handling a firearm.
During academy training, a recruit will learn:
Law – This includes both traffic and criminal
Penal codes and statutes – These will be applicable to the state the officers are in
Investigative tactics
Community-orientated policing tactics – These focus on developing real relationships with the community
Search and seizure procedures
Firearms training – This covers care and cleaning of weapons as well as good shooting technique
Patrol procedures – This includes offensive- and defensive-driving tactics
Throughout, there will be physical training and testing to ensure that the recruits maintain a high standard of physical fitness.
To cement both the classroom-based and practical learning, recruits will likely take part in functional but realistic role play, mock crime scenes and active shooter scenarios.
Skills To Master
Hard skills for police officers are the ones that are taught in the academy and during field experience training.
However, beyond them, being a police officer requires several different, and potentially surprising, soft skills.
The best and most successful police officers are humble, lifelong learners with exemplary personal lives who bring the right characteristics to work.
Some of the necessary soft skills are explored in more detail in this section.
Compassion
In your duty as a police officer, you are likely to see both the absolute best and the very worst of people.
You will be dealing with difficult situations and people experiencing incredible hardship. You must always remember that every person you encounter is a human being who deserves compassion and understanding as much as you.
Working with compassion means using empathy and tough love where needed. You will help people get or stay on the right side of the law this way.
Further, by treating everyone with compassion, you will more easily be able to leave at work the difficult things that you will deal with as a police officer because you know you did your best to be a bastion of justice.
Communication
There are several different communication skills necessary for the role of a police officer.
Thorough and accurate written work – This includes accurate, vivid descriptions, and is an important skill for police officers to create effective reports that will be used in court, for example, to secure convictions
Oral communication and good listening skills – These help police officers to gain the trust of their community and gather intelligence while also being the voice of reason in disputes
Natural curiosity – This leads to asking the right questions, helps the public feel like a police officer is listening to them and trying to get to the truth from a suspect
Negotiation
Negotiation is developed from skilled communication. If you are great at helping a friend work through making a tough decision, then you likely have great negotiation skills.
Convincing someone to act in a certain way, talking someone down during a crisis incident, and treating everyone with respect and without judgment are important elements of negotiation.
Integrity
Defining integrity can be difficult, but in the policing world, it means doing the right thing – even when nobody is looking.
This means that you act morally, even when it is difficult, and without looking for recognition. Integrity, alongside ethics and honesty, is one of the most important parts of building and maintaining trust within the community you police. It is necessary for convincing people you are there to help them and not simply to wield the law over them.
Physical Fitness
This isn't a skill as such, but it is still an important part of being a successful police officer.
Maintaining a good level of physical fitness will not only help you be able to catch an offender that makes off on foot but will also make it easier for you to deal with other aspects of the role, such as maintaining watch on a crime scene.
It is also a key part of avoiding and recovering from burnout.
Mental Strength
Police officers must be able to multi-task and deal with many different problems at once, all while maintaining accurate observation of the current and developing situation.
Quick reactions are also required because things can change in an instant, and you need to keep up.
Another aspect of mental strength is resilience, the ability to bounce back and keep going when things do not go to plan. This is key to preventing burnout.
Always Keep Learning
The training doesn't end when you have completed your field experience.
There is always something more to learn – whether that is a new law that has been passed, the latest drug use fad or an improved way to deal with problems in a marginalized community.
Police officers who assume they know it all and have nothing to learn will never progress and will find themselves left behind by those more willing to keep ahead of the curve.
Police Officer Job Prospects
There are several career development opportunities within the police force. Police officers can remain on patrol duty for as long as they like – some prefer this.
However, there are different levels of policing:
Detectives
Sergeants
Lieutenants
Captains
Each level usually involves a significant pay increase and more responsibility.
Specialism is another way for a police officer to progress.
Whether you have an interest in murder investigation, robbery, narcotics, vice, gangs or white-collar crime, you can usually invest in a specialism from detective level onwards.
Final Thoughts
Becoming a police officer is not an easy option; protecting and serving our communities is something to be taken seriously.
If you want to be a police officer, there are specific steps that you have to take – including a lengthy application process, physical and psychological testing, and a lot of training.
It will usually take a year or more, for the whole process to be complete and for you to make it to a police academy. You will need to pass background checks and meet the specified minimum criteria for the police department you want to apply for, and pass the relevant entrance examinations before you will be considered.
For those who have the right communication and negotiation skills, alongside personal ethics, integrity, honesty and compassion, a career as a police officer can be satisfying and make a real difference in the community.
---