How to Answer the Interview Question: "What Draws You to This Industry?"
During a job interview, one of the questions you can expect to be asked is: "What draws you to this industry?"
This is a question designed to allow an employer to understand what you know about the wider profession.
In addition, it helps them to see whether you are excited by the opportunity of working in a particular career or whether you are simply applying for any/every job available.
This question is commonly asked within job interviews when recruiting for junior or entry-level positions.
If you have minimal experience to discuss, the interviewer needs to understand why you want to work in that specific career and what awareness you have of the career opportunities available.
If you are asked this question, you want to use your answer to showcase your knowledge and enthusiasm.
It is a chance to verbalize whether you are paying attention to industry trends or whether you have been inspired or motivated by key individuals or brands, or you want to try new innovative technologies.
What Are the Alternatives to This Question?
There are many variations to the interview question: "What draws you to this industry?"
You may find that your interview asks you similar questions such as:
"What do you know about this industry?"
"Why do you want to work in this industry?"
"What attracts you to a career working as a...?"
"Why do you want to be a...?"
"What excites you about this specific sector?"
These are all relatively similar questions in that the recruiter is not necessarily looking for an explanation of why you want to work for their organization.
It's more general.
It is about what interests you about the entire profession or sector. It allows them to understand that you have not applied for any job available just for a paycheck.
Instead, you are ready to develop an exciting career that you care about and are passionate about.
In contrast, if the interviewer asks you a question such as:
you can feel confident that the recruiter is trying to find out what you know about them as a business.
Your answer should be based upon the research you have undertaken into that business and that specific department.
Why Do Employers Ask the Interview Question: "What Draws You to This Industry?"
This question is often asked in interviews where candidates need to have a direct understanding of the sector.
Industries such as HR, technology, finance, energy, insurance and even hospitality have distinct traits and technical requirements distinctive to them.
Therefore, an employer needs to be confident that you are aware of these traits and needs before offering you a job.
For example, hospitality is a profession that requires lots of long hours and weekend/evening work.
As a candidate, you need to show an employer that you are aware of this and confirm that these requirements meet your lifestyle.
Another reason why an employer may ask you a variation of the interview question "What draws you to this industry?" is so that they can create a baseline understanding of your knowledge.
It is a simple question that allows recruiters to compare candidates directly. This is particularly true when applying for entry-level or junior positions.
You may make a great first impression, but if you do not know anything about the profession, the recruiter may have to invest heavily in training and development.
This can add high costs to their recruitment campaign.
Instead, they may wish to hire the candidate who perhaps gave a weaker interview performance but showed that they had a better understanding of what the profession does and how the job role fits into the wider sector.
What Are Recruiters Looking for When You Answer the Interview Question: "What Draws You to This Industry?"
This is an open-ended question, and as such, you can answer as much or as little as you like.
However, it may help you to break down your answer into four distinct areas:
Your Awareness of the Industry
You should be able to demonstrate to the interviewer what you know and understand about the profession.
This is not about memorizing a few paragraphs from Wikipedia.
Instead, it is about explaining what role that profession plays in society, what the latest trends are, who the key players are, and sharing examples of great work from that sector.
Let's take marketing as an example.
You may think that at a basic level, it is about promoting or selling products.
Instead:
It is an industry built on communication
It is about understanding who your audience is and what they want
It is about using psychology to tap into their behaviors
It is about understanding how to make the most of technology to improve customer experiences and using data analytics to predict what products/services may be favored
Finally, you may wish to give examples of brands such as Apple, who have continuously delivered innovative marketing campaigns to raise the profiles of their products.
Your Ability to Discuss the Industry
How you talk about the industry gives an insight into your communication style and how much effort you put into preparing for the job interview.
It is easy to simply repeat a paragraph or two from something you've read, but have you understood it correctly?
Can you answer any follow-up questions? The more research you undertake, the easier you will find it to talk about.
What's more, the employer will be able to deduce that you are a hard worker and that you have taken the time to prepare for your job interview in full.
They will consider this as part of your work ethos, and they will be able to glean insight as to whether you are a hard worker or someone who takes the easy way out.
Your Motivations for Working in the Industry
Some sectors attract people because they are known for their high salaries and generous employee benefits.
However, even if you are initially attracted to the remuneration, you want to show that you are motivated by other factors.
Perhaps it is the chance to work with like-minded people. Maybe you want to innovate and see the opportunities to work with and even develop new technologies.
Or perhaps you have a personal interest in working in that specific sector. This is your chance to show the recruiter who you are as a person.
It is your opportunity to showcase your personality and help them identify if you are a good fit for their team.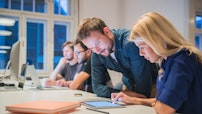 How to Answer the Interview Question: "What Draws You to This Industry?"
How Your Long-Term Aspirations Could Work Within That Industry
Employers are looking for candidates who are passionate and excited.
They want to work with ambitious people and have clear career goals.
By being clear about what you want to achieve in your career, you are not just helping the prospective employer visualize how they can see that happening.
You are showing that you understand whether that's possible within that sector.
How to Prepare for the Interview Question: "What Draws You to This Industry?"
As with any interview question preparation, you should always think holistically when doing your research.
It's not about researching the answer to one specific question.
Instead, it is about improving your knowledge and understanding of the profession to help answer any interview questions (and spark some follow-up conversations).
Here are some practical tips to help you understand how to answer the interview question "What draws you to this industry?":
Step 1. Research the Industry as Much as You Can
Your research needs to be as comprehensive as possible.
You need to demonstrate that you understand what is happening, who the key players are, what the pressures are and what role that profession plays in the business world.
To kickstart your research, you should be reading the headlines of trade publications (these are often easily found via Google). You can get an idea of the current discussion topics and how they relate to the industry.
You may want to use social media and forums to improve your knowledge (LinkedIn is great for professional networking groups).
You could even research online learning platforms to understand what skills are required.
Make a note of any new developments or trends, pay attention to some popular campaigns, and read any opinion pieces written by industry leaders.
Of course, you do not have to agree with their opinions, but it could help inform your understanding of the subject if you can namedrop high profile people during your discussions.
You should also seek to find out if any professional bodies or licensing agencies require membership/licenses.
From here, you can identify any specific codes of conduct that the profession must adhere to or any specific federal/state laws that they have to follow.
For example, those working in the financial sector will have to follow the stipulations set out by the Federal Reserve Board (FRB), the Federal Deposit Insurance Corporation (FDIC), or the Securities and Exchange Commission (SEC).
You should also look to establish if any other sectors align closely with that industry.
For example, those working in HR and marketing are now widely working alongside psychologists and data analysts to expand and develop their remit.
Similarly, those working in health and social care professions may regularly work and collaborate with colleagues in policing, education or criminal justice.
Pay attention to how seemingly different industries can align and collaborate in new, innovative ways.
Step 2. Consider Your Personal Career Goals
Think carefully about what you want to achieve in life personally and professionally.
If you know that you want to have a great work-life balance, then perhaps a career working on Wall Street isn't the best fit for you.
Similarly, if you know what you want to be mortgage-free by the time you're 40, then you may want to steer clear of a career in teaching.
If you are ambitious, use your research to identify the projected career path for that profession. Are there areas for vertical career progression?
Are there opportunities to sidestep into horizontal career opportunities? How long does it take to move from one level to another?
Does it require significant postgraduate study to get ahead, or is career progression based upon merit and hard work?
You may want to consider whether you have already undertaken the training required for the job.
For example, perhaps you took a module in college, or you have the transferrable skills needed to make a career change.
If you believe that you already have some of the necessary skills to work in the industry, do not be afraid to reference it within your answer.
Tips for Making a Great Answer to the Interview Question: "What Draws You to This Industry?"
You may find that writing down an answer to this question before your interview can help you to nail your response.
Here are some simple tips that can help you to improve your answer.
Do not be afraid to show off. What you know about the industry. This is your chance to show that you have researched wide and far and that you can answer any follow-up questions.

Consider your communication skills. Are you saying enough to open up a wider conversation, or are you simply repeating something you read online? Do not be afraid to have an opinion – if you have read something from an industry figure, you do not have to agree with their perspective.

Stick with what you know. If you are unsure of a fact or not confident you understand a technical element of that industry, then leave that information out of your answer. Instead, you want to showcase the positives of what you have learned.

Be concise. This question is not there to show everything you know about the industry. It's to give the recruiter the confidence that you know what to expect from the profession. Stick to four to five sentences as a maximum. This is enough to show your understanding without taking too long.
Example Answers to the Interview Question: "What Draws You to This Industry?"
With this information, let's look at how you can collate an answer that impresses a recruiter during a job interview.
What Draws You to a Career in Marketing?
I'm fascinated to see how marketing is evolving and how it has emerged as a core component of any business strategy. I understand that many senior board-level executives are emerging with a marketing background. This is clearly because marketing drives the sales of products and services by understanding exactly who the customer is and what they are looking for.

It's an industry I'm eager to join because I can see that it's an exciting and fast-paced profession with ample opportunities to innovate and become part of something special.

I've always been keen to work with those who are creative and lead the way, and I feel that the courses and modules that I completed as part of my communications degree match the skills required of any competent marketer.
Sales is a competitive industry, and it takes someone with the skills and savvy to be able to persuade a customer to purchase an item. I think it is closely aligned with behavioral psychology, which I studied at school.

At the heart of any sales team, you need to understand how to get a customer to react positively to what you are selling. From researching the history of great sales teams, I think it's interesting to see how sales have changed its approach, and what worked well just a few years ago may now need a different angle.

I'm keen to work in an industry that rewards fast and agile working and provides an opportunity to work with and learn from others.

I believe it's a career full of progression, and I hope that one day, I'll be able to lead and motivate a sales team of my own.
Hospitality is such a vibrant industry, with many opportunities to work with others as part of a team.

I love the idea that anything I do can directly make someone else's day better, whether it's helping them to have their dream wedding or going that extra mile to help a customer enjoy a better meal.

I am a people person. I love working with different people and thinking of creative ways to make an event bigger and better. I know that many people shy away from hospitality because they may be afraid of the shift patterns, but that is something that I'm attracted to.

I want to be able to know that each day is different and that I can work with different teams on multiple projects.
Final Thoughts
Now that we have taken you through step-by-step how to answer the interview question "what draws you to this industry?", it is easy to see how your research and preparation could aid you in the entirety of your interview.
When preparing to meet a recruiter, you should never use your research for one particular question.
Instead, you should make notes of your research and consider how you can use that knowledge to collectively inform all of your answers and responses to every question.
Within this particular question, you are taking the time to understand the wider profession – what to expect and how you could fit in.
By carefully considering its history, the latest trends, and the influential figures, you are not just improving your answers, and you will be actively improving your capabilities to do the job once you have been hired.
---