How to Answer the Interview Question: "What Do You Know About Us?" or "What Do We Do?"
One question you are almost guaranteed to be asked in your upcoming job interview is, "What do you know about us?" or "What do we do?".
This question is designed to help an employer find out more about your interest in the company.
It also helps them understand the level of preparation you've carried out and how much effort you've put into researching your prospective employer.
In today's competitive jobs market, it's essential to stand out from your competitors. A question such as "What do you know about us" is an excellent way for employers to compare answers of various candidates, each with their own skills and career history.
It shows which candidates have merely read the company website (and therefore put in little effort), and which have used their skills to do some comprehensive research.
It's important to remember that a job interview isn't just about a recruiter interviewing you to find out if you fit in with their requirements. It's also about finding out if that prospective employer meets your expectations.
Your research should help you to understand what to expect from that company if you were hired. It should allow you to visualize what that employer could be like, and whether there are any red flags from your perspective that could indicate it may not be a good fit for you.
It will also help you to formulate some questions to ask the interviewer.
In short, your research into the firm is as much for your benefit as it is theirs.
What Are Employers Looking For in Your Answer?
There are many reasons why an employer may ask you this question. They can analyze your response to gain an insight into who you are as a person.
Your Work Ethic
Recruiters want to know that you've tried to research them.
Some candidates may simply recite facts from the company website. Other candidates will make a considerable effort to research that company's position within the marketplace.
Dedicated candidates may identify what employees think of the company using sites such as Glassdoor or LinkedIn.
They may investigate the company's financial position. They could even take the time to read annual reports or trade press to find out what others are saying about that company (good and bad).
The more information you glean, the more you show that you are a hard worker. If you've gone the extra mile in your research, it indicates to the recruiter that you will go above and beyond, which effectively showcases your work ethic.
Your Professionalism and Excitement
Employers want to see that you genuinely want to work for them. This is your chance to show how excited and motivated you are. It's an opportunity to demonstrate that you have put in maximum effort for the interview because this is the right job and the right company for you.
If you make minimal effort to research the organization, this will come across in your answer.
It could inadvertently leave the recruiter with the impression that you simply didn't care enough to try.
A lack of research could indicate that you don't have the level of professionalism that the company is looking for from its employees.
How to Prepare Your Answer
Now you know the importance of thorough preparation and research, how exactly do you go about it?
Do Your Research
Let's start by looking at the type of information you should be looking for:
What does the company do? What services or products does it offer?
Who is its target customer?
Why is its product or service needed?
Does the company have a corporate mission statement? What does it mean, and why is that mission statement important?
What are the company values?
What do former and current staff say about the company as an employer?
What does the company say about societal issues such as gender, diversity and race? Is there any publicly available information about diversity and inclusion?
What do its customers say about it?
Does the company have a good reputation amongst its audience?
How many employees are there? Is it a large or small business?
How many branch locations are there?
Does it have an employee benefits program?
What sets this company apart from its competitors? What is its unique selling point (USP)?
Who are its competitors within the marketplace?
Are there any recent developments of interest within the company? Have any new services or products been launched? Have there been any critical appointments within the management structure or new branch openings?
What is the history of the company? When did it start, and how has it evolved?
As you can see, there is a lot to think about. Where do you find all this information?
Your starting point should always be the company's website.
Look in detail at the information provided, including annual accounts, diversity reports or corporate social responsibility reports, if this is available.
If the company is a publicly listed organization, you should be able to access its financial records via annualreports.com.
If the company has a head office based in the UK, you could also try searching at Companies House.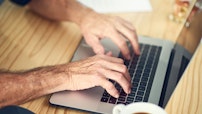 Answering the Interview Question: "What Do You Know About Us?" or "What Do We Do?"

Look through its social media channels.

Pay attention not only to what it is posting, but the engagement on its posts.
What are customers responding to?
How are people talking about (and to) the company on social media?
Are there any relevant hashtags you should be searching for?
Social media sites such as Glassdoor and LinkedIn are great ways to discover what other people, including current and former staff, are saying about the company.
Remember to be open-minded – people who have had a negative experience (which may not necessarily be the company's fault) are more likely to leave a bad review.
You can also use the Google News tab.
Search the company name and see what comes up – you may find some recent or historical news articles that mention it.
Alternatively, search for that firm within the relevant trade press. Has the company won any recent awards? Has it showcased any exceptional work or made exciting appointments within its team?
Finally, don't forget to look into alumni organizations.
Perhaps this employer has connections with your school or university. Do what you can to try and find out as much as possible about the employer.
How to Create Your Answer
Now you know what information you should be looking for and where to find it, let's turn our attention to creating a comprehensive answer.
As you conduct your research, jot down some notes. This will allow you to gather your thoughts.
Your notes will also be helpful when deciding what questions to ask during your interview.
There are three key elements to preparing a detailed answer:
Decide if there are any particular facts you want to discuss
Highlight any significant areas of interest
Remain positive and enthusiastic about the company
The more time you spend working on your answer, the greater chance you have to impress the recruiter.
What to Avoid When Answering
As with any type of interview preparation, it's all about hard work and effort. Recruiters will know who has put in the commitment to researching the company and who hasn't.
Therefore, be specific about the information you find out, rather than vague, and don't rely solely on the company's homepage.
The more specific and detailed you can be, the more it highlights your work ethic and professionalism. Yet, at the same time, you need to be clear and concise.
You want to tread that delicate balance of showing you've done your research without resorting to talking at length about everything and nothing.
It's also important to remain positive at all times. The employer wants to know that you are enthusiastic and keen to work with them.
It doesn't bode well from their perspective if you focus on a negative area (perhaps the company has hit a rough patch).
Example Answers
To help you see all this advice in practice, here are some sample suggestions of how you can answer the interview question, "What do you know about us?".
These example answers are concise while being optimistic and enthusiastic. Each one compliments the company and highlights something that you have found in your research.
Example 1
I'm keen to work with you because you have an incredible reputation. I was inspired by your work with the bank, helping them launch that new app. The innovative ways you used the mix of creative imagery and video to appeal to the target customers were incredible. You deserved to win at the National Marketing Awards.

I'm keen to work with a firm like you. You always lead by example and show a commitment to learning and development. I find it inspiring how much your company has grown over the last five years, and I would welcome the opportunity to be part of this ongoing journey with you.
I appreciate that you have retained your family values and have not forgotten where you came from. You've expanded to eight locations across three cities, yet you remain a key part of our local community. Several of my friends and family members have worked with you over the years, and none have a bad word to say about you as a company or as an employer.

Your clear commitment to employee training and development is why so many people want to continue working with you throughout their careers, and I feel that we would be a great match. I would be honored and excited to work with you.
I have long been an admirer of your business. Your reputation both locally and nationally speaks for itself. It is clear that your customers have full trust in and respect for you and that your services make a huge difference in our local community.

I know several members of your team well – I went to school with Jane Bloggs, who works in your HR department, and she speaks very highly of you. I also live near Joe Delaney in your IT team. He has told me that you're always open to new ideas and technical innovation to enhance and develop your services. This excites me because I believe you are a company that is keen to progress yet maintain a commitment to the local area.
I recently read in Marketing Week how you are using a mix of technology and psychology to inform and develop your marketing campaigns. I was fascinated by how excited your CEO Mark Jones sounded, and it shows that you are a forward-thinking company looking to transform the entire sector. This clear enthusiasm from the top will filter through to the rest of the team.

I want to work for a company that will inspire and challenge me yet support me to meet my potential, and everything I've read suggests this is what you do. I believe that you give everything you can to your clients and your employees, and I would welcome the challenge of joining your team.
Final Thoughts
This question may at first seems quick and easy to answer, but your response can give away much more about you than you realize.
When preparing for a job interview, use the research process outlined in this article to help clarify your thoughts or set your expectations. If you understand who the company is beyond the information available on its homepage, you will have an advantage over candidates who haven't done their research.
Your response needs to show how much effort you've made. Show that you are enthusiastic and motivated, and that you have put great effort into researching the company.
Consider the research process as a valuable tool in deciding whether this is the right company for you. Job interviews are a two-way street. You need to be able to ask questions of the recruiter as well, and the information you gather during your research will help you to know what to ask, and to decide if you are a good match.
---