Thales Graduate Scheme: Steps and Specifics
What Is Thales?
Founded in 2000, Thales is a multinational organization with headquarters in Paris.
This engineering company designs and builds electrical systems, providing services to the aerospace, space, transport, defence and security, as well as digital identity and security sectors.
Most of us use Thales systems regularly without even realizing. For example, millions of airline passengers use Thales in-flight entertainment every year and nearly all trains in the UK are fitted with the Train Protection and Warning System from Thales.
With operations in over 56 countries, Thales generated a revenue of €17 billion in 2020. The company employs more than 80,000 staff worldwide in a range of professions.
Job roles at Thales are split into 15 job families, all contributing to the success of the organization.
As a successful global business enterprise, the Thales graduate scheme is highly sought after. It is comparable to the BAE Systems Graduate Scheme, Airbus Graduate Scheme and Babcock Graduate Scheme.
To gain a place on the Thales graduate scheme, you will need to take part in a competitive application and recruitment process.
Thales Group hires graduate staff in two main areas – Engineering and Business Management and Finance. There are a number of specific engineering roles available, with opportunities in electronics, hardware, mechanical, manufacturing, mathematical modeling and more.
Thales' Business Management and Finance graduate scheme offers a chance to gain experience in a range of business functions, including commercial, procurement, sales and marketing and head office operations.
A specialist Finance stream is also available for candidates who want to pursue a career in financial services. Graduates must complete three rotations as part of the scheme. Following successful completion of the third rotation, you will be offered a permanent job role.
The Thales Graduate Development Program (GDP) takes between two and four years to complete. It runs alongside either an engineering role or placements related to the Business Program. The GDP covers:
An introduction to Thales
Culture and strategy
Internal processes
Formal training (for example, specialist courses, seminars and visits)
The GDP is accredited by engineering institutions, including:
IET
IMechE
Institute of Physics
Royal Aeronautical Society
Thales recruits more than 120 graduates per intake, with applications opening every autumn.
Applications for the Thales Graduate Program 2021 will open in September 2021.
What Are the Prerequisites?
If you are a recent graduate, you can apply for the Thales graduate scheme. However, it also accepts applications from mature students. To be eligible, you will need to be studying for (or have graduated from) a STEM degree subject – Science, Technology, Engineering or Mathematics.
Work experience is not essential – in fact, applicants who have extensive previous experience may be redirected to the professional hire application route.
To be selected for the graduate scheme, you will need to be an effective team player and collaborator, with the people skills and motivation to take full advantage of the opportunities you are offered.
Although the work environment can be challenging, Thales provides extensive career development opportunities and plenty of high-level exposure to the business. As a member of the graduate scheme, you will be treated as an individual and encouraged to progress at a pace to suit you.
Thales seeks to recruit staff with the following skills and attributes:
Ambition and drive
Solution-oriented problem-solving skills
Cooperation and collaboration with others
Team player
Willing to be accountable
Confidence and ability to influence stakeholders
Self-motivation and ability to manage own workload
All applicants will be expected to gain security clearance.
What Is the Thales Graduate Scheme?
The Thales Graduate Program aims to develop aspiring leaders. Successful applicants will have the chance to contribute to the future of engineering at Thales.
This rotational scheme sees graduates working at various UK locations. During the first two years, graduates work in a range of different business units and engineering disciplines.
Thales offers a supportive working environment and strives to help graduates learn as much as possible throughout the scheme.
Following successful completion, you will undertake two year-long work placements to consolidate your learning and build on your knowledge.
For engineering graduates, the Thales Graduate Scheme salary is in the region of £27,000, although the exact amount varies by program. Structured assessments are used as part of a performance-related pay scheme. Extra benefits include:
Generous paid holiday entitlement
Opportunities to work overtime (depending on job role)
Company pension scheme
Professional registration support for engineers
Industry-recognized accreditations
Flexible working opportunities (depending on division)
Flexible benefits scheme
Employee assistance program
Employee volunteering scheme
Annual conference for staff on the graduate scheme
Relocation support and assistance
The Thales graduate scheme is split into the following streams:
Engineering
Finance
Business
The course duration varies between two to four years, depending on your chosen stream.
Thales UK locations include:
Glasgow
London
Doncaster
Crawley
Cheadle Heath
Cambridge
Belfast
Bury St Edmunds
Reading
Templecombe
Bristol
Birmingham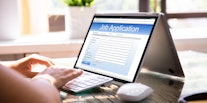 Thales Graduate Scheme: Steps and Specifics
How to Apply for the Thales Program
Thales operates a structured application and recruitment process for its graduate scheme. Applications are generally only accepted online.
Stage 1 – Application Form
This is your opportunity to tell the recruitment team about yourself – including your skills, qualities and attributes. Include details of why you want to work for Thales and your career aspirations.
The application form is simple to complete. It also allows you to import your details from LinkedIn and upload a resume or CV.
You only need to fill in the questions marked with a red star – all other questions are optional. However, completing all of the questions will offer you more opportunities to tell the recruiter about your skills and experience.
Once submitted, your application form will be reviewed by a recruitment specialist. If they think you would be a good fit for the role you have applied for, they will contact you to discuss your application further.
If your application is not shortlisted for the role you have applied for, the specialist may be in touch to see if you are interested in being considered for other job vacancies at Thales.
Stage 2 – Online Testing
The online assessments are designed to measure whether you would be a good match for the role you have applied for. They are also used to assess whether you are a good fit for Thales.
As part of the application process, you will be expected to take the Thales psychometric test, usually provided by Saville Consulting. The test questions will vary, depending on the role you have applied for. However, you will probably need to answer a combination of:
Diagrammatic analysis questions – This part of the test will assess your aptitude for abstract thinking, for example, by identifying patterns or sequences.

Motivational personality questions – This part of the test will assess your personality and characteristics. You will be asked to rate a list of personality traits and then decide which are the closest match for your own personality.

Numerical analysis questions – This part of the test will assess your aptitude for mathematics and interpreting data. You will be shown a graph or chart and asked to use the information stored within it to solve a problem.

Verbal analysis questions – This part of the test will assess your communication skills, including your ability to draw conclusions using written information. You will also need to demonstrate a good vocabulary. You will be asked to answer questions relating to specific passages of text, choosing either true, false or more information required.
The assessments are an important part of the Thales recruitment process. If you do not score highly enough, your application will not progress to the next stage.
It is important to do as many practice tests as you can. This will help you to familiarize yourself with the format of the questions and improve your time management skills.
Try not to spend too much time on a single question – if you are not sure of the answer, it is usually best to either guess or return to it later.
Preparing for psychometric or personality tests can be daunting. Find out as much as you can about Thales before answering the questions, as this will give you an indication of the personality traits and characteristics Thales is looking for. That said, you should always answer the questions truthfully and professionally.
When it is time to take the tests, think carefully about your environment. Ensure you work somewhere quiet and free from distractions.
Stage 3 – Thales Telephone Interview
You will be able to elaborate on the information that you provided in your application form. Tell the recruiter exactly why you are suitable for the role you have applied for – this is your chance to prove why you are the best candidate for the job.
You might be asked to do a digital or video interview instead. This will probably involve answering a series of questions and sending a video recording to the recruiter.
Stage 4 – Thales Assessment Center
This is the final hurdle of the recruitment process. It is your chance to learn more about Thales, including the organizational culture and values. You will also meet management staff and fellow applicants.
The assessment center will allow you to show your skills and qualities in action. You will take part in a range of exercises, including:
Written exercise – You will be given a case study and asked to write a report with your conclusions and findings.

Group task – You will work with other applicants to solve a case study of problems within a fictitious difficult company. It is important to show that you can work in a team, communicate effectively and problem-solve.

Presentation and formal interview – You will prepare and present on a subject chosen by the recruitment team. In some cases, you will be provided with the subject prior to the assessment center, but you might only be given a short window of time to prepare it on the day. The recruiters will ask questions about your presentation, followed by a set of general interview questions.
If you are successful at the assessment center, you will be offered a job role at Thales.
Final Thoughts
Thales seeks to recruit the very best candidates for its graduate scheme, so the recruitment process is designed to challenge applicants. Having a clear understanding of your personal strengths and weaknesses is a good starting point. This will allow you to schedule plenty of time to address your development needs.
You can find many online resources to help you prepare for the online assessments you will face during the Thales graduate recruitment process.
Thales offers excellent benefits, remuneration and career development opportunities. The graduate scheme is highly competitive, so you will need to dedicate significant time and effort if you want to stand the best chance of being successful.
---