Lloyds Bank Application Process
All products and services featured are independently selected by WikiJob. When you register or purchase through links on this page, we may earn a commission.
Lloyds Bank is part of the Lloyds Banking Group (LBG).
LBG's brand portfolio includes well-known UK businesses, such as the Bank of Scotland, Halifax and Scottish Widows.
As the largest financial services group in the UK, the LBG serves 25 million customers.
Lloyds Bank has helped meet the banking needs of British citizens, communities and businesses for over 250 years.
Working for Lloyds Bank offers the chance to pursue many career paths, including:
Customer service
Branch management
Contact centre
Business development
Product management
Specialist advice
Lloyds is committed to personal and professional development. Each member of staff possesses a personal development plan. This helps them to achieve their career goals.
Lloyds Bank offers a competitive benefits package. This includes a pension, private healthcare, discounts and a performance-based awards scheme.
Lloyds Bank Early Careers
Lloyds Bank is a popular choice for job seekers; therefore, the recruitment process is highly competitive.
Lloyds Bank aspires to recruit ambitious employees with excellent people skills.
You will be expected to motivate others and maintain effective working relationships. Lloyds offers employment opportunities to suit a range of different skill sets and career backgrounds.
Possessing the ability to think logically and creatively is important. This is reflected in the recruitment process.
You will participate in problem-solving tasks to demonstrate your suitability.
You will need to be familiar with the organisation's values and expected behaviours:
Keeping it Simple – Lloyds Bank uses lean working methodologies to concentrate on things that matter to the company and its customers, such as sustainability and accessibility.

Making a Difference – Collaborative team working and high levels of trust mean that Lloyds Bank employees can reach their full potential, ensuring they can deliver the best possible service to customers.

Putting Customers First – Lloyds Bank puts its customers at the centre of everything it does. Key priorities include building relationships with customers and improving the customer experience.
You should keep these values in mind at every stage of the application process, showing that your own values align with Lloyds Bank.
Lloyds Bank assessors will be looking for applicants with:
Graduate Schemes
Lloyds Bank has six graduate schemes to choose from:
1. Commercial Banking
You will help to shape the economy by serving the banking needs of a range of clients, from small start-up businesses to national corporations.
You will assist UK clients with global trading and local investments, designing industry-leading products and helping clients to manage risk.
Duration: Two years
Location: London (with national placements)
Qualifications: One of the following – ACT, CFA, LIBF and CIMA
You will use your mathematics, coding and technology skills to collect and analyse large data sets.
Your findings will help our teams to identify opportunities and resolve challenges.
You will create data-led fixes for several problems, creating software and working with robotic process automation.
Duration: Two years
Location: London and Bristol (UK placements may be required)
Qualifications: Various according to graduate development requirements
3. Finance
In this role, you will be involved in more than accounting. You will analyse data changes and provide advice to the business and your clients.
You will identify patterns, assess the impact of your findings and use this knowledge to help build new strategies.
Duration: Three years
Location: Initial placement in Bristol, all other placements are in London
Qualifications: CIMA or ACA (Chartered Accountant status)
4. Retail Customers and Products
You will help to manage and improve Lloyds Bank's competitive product portfolio. This includes loans, savings, mortgages and credit cards.
You will listen to the ever-changing needs of customers and help to design products and services that will meet these.
Duration: Two years
Location: Various – including Bristol, Chester, Cardiff, Halifax, Leeds and London
Qualifications: CIMA Certificate in Business Accounting
5. Risk Management
Risk identification is an essential part of the financial services industry. It covers everything from economic crime to technological threats.
As part of the Risk Management team, you will play an essential role in helping to protect Lloyds Bank's 26 million customers and one million businesses.
Duration: Two years
Location: Various, including Birmingham, Bristol, Edinburgh, Halifax, Leeds and London
Qualifications: Professional risk management certification
6. Software Engineering
Lloyds Bank is committed to innovation, investing up to £2billion in this area each year.
As the UK's biggest digital bank, it has over 17 million active online customers.
In 2020, the bank was awarded Euromoney's Best Digital Bank in Western Europe.
As a software engineer, you will develop software and other technology services to improve the customer experience.
Duration: Two years
Location: Various, Bristol, London, Manchester, Edinburgh and West Yorkshire
Qualifications: Various according to graduate development requirements
Internships
Undergraduates can gain valuable work experience with a paid 10-week summer internship in one of the following areas:
Commercial Banking
Finance
Retail Customers and Products
Summer internships are available at various locations. These include Bristol, Birmingham, Edinburgh, Leeds and London.
Applicants need to expect to achieve a 2:2 degree or higher and be in their penultimate university year.
Apprenticeships
Apprentices at Lloyds Bank have opportunities to discover and explore their areas of interest. The work they do has an impact on millions of customers.
They are offered access to many development opportunities, enabling them to further their career. Mentorship is available from experienced business leaders.
Applications are accepted from both school leavers and people seeking a career change.
Apprenticeships are available at Levels 2 to 6.
For Level 2 (Intermediate) and Level 3 (Advanced) apprenticeships, applicants must demonstrate proficiency in English and maths.
For Level 4 and above (Higher Level) apprenticeships, applicants must be educated to A-level standard and/or have already achieved an apprenticeship at Level 3.
The duration of each apprenticeship is different; however, they range between 12 months and three years.
Apprentices are employed permanently and receive a full salary from their first day. At the end of the apprenticeship, they receive a nationally recognised qualification.
They also receive a Lloyds Banking Group 'graduation' certificate.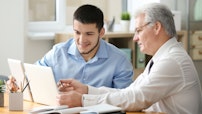 Lloyds Bank Application Process
Apprenticeship recruitment takes place throughout the year.
At Levels 2 and 3, start dates are offered throughout the year. For Level 4 and above, apprentices start in either September or October.
Application Process
The application process is different for each of the training schemes.
If you want to apply, it is important to become familiar with the steps you will be expected to follow when you apply for your chosen career path.
This will help you to feel organised and prepared for every stage.
Graduate Application Process
Stage 1: Application Form and Online Assessment
The Lloyds application form is easy to fill in.
You will need to register your details and provide basic information about yourself. However, you will not be asked to provide a CV/resume.
Following submission of the application form, you will have five days to complete the online assessment.
Your application will not be reviewed until you have submitted these online tests.
The online assessment is designed to give you an overview of Lloyds Banking Group. It will help you understand how the company aims to meet the needs of its customers and the communities it serves.
It should take around 90 minutes to complete.
Set aside some time to complete this in a quiet space and make sure you have a notepad, pen and calculator to hand.
If you are applying for the Data Science or Software Engineering graduate scheme, you will be asked to complete additional tests.
The online assessment is a series of SHL-style assessments including verbal, numerical and inductive reasoning.
You will also need to answer some situational judgement questions.
You will receive a feedback report within a few days of completing the first stage. This will advise whether your application will progress to Stage 2.
Stage 2 – Job Insight Assessment
This is designed to help you understand the activities and projects you will be involved with on the Lloyds graduate schemes.
You will be asked to indicate how you would respond to a variety of different challenges in the workplace.
It should take you around one hour to complete, although it may take up to 90 minutes for Commercial Banking and Finance applicants.
If you pass the job insight assessment stage, you will be invited to book a place at an assessment day.
Stage 3 – Assessment Day
This is the final step of the graduate application process. The Lloyds assessment centre is held virtually using Microsoft Teams.
It is a full day of face-to-face assessment activities. These include problem-solving, group activities and a one-to-one interview.
The day will include:
Case study and presentation – You will be asked to review a pack of information relating to the case study before presenting your thoughts back to the group. This task will be used to assess your analytical skills and ability to create and present information within a short timescale.

Group exercise – Your team will be asked to analyse some information and form an answer to a question as a group. This task will be used to assess your teamwork skills; therefore, the process you and your team follow to arrive at your answer is important.

One-to-one interview – Lloyds Bank uses competency-based interview questions. The assessors will expect you to offer specific examples to give context to your answers.
Most importantly, you will need to show that your personal values align with those of the company. Asking relevant questions is a good way to demonstrate your interest and enthusiasm for the career opportunity.
Before attending, think about your reasons for applying for a career with LBG. Consider why you have applied for your chosen scheme.
Ensure you can verbalise this, as you are likely to be asked this at some stage during the assessment day.
You will also have the chance to learn more about what it is like to work for LBG, including their key values and culture. You will meet current employees on the graduate programme.
They will talk to you about their experiences and answer any questions you may have.
Internships Application Process
For entry into an internship, you will have to pass stage 1: application form and online assessment and stage 2 – job insight assessment as outlined above.
Applicants successful at the job insight assessment stage will be offered a place to join the internship scheme.
Apprenticeship Application Process
For entry into an apprenticeship, you will have to pass the following stages:
Application form and online assessment – Applicants for higher level apprenticeships (Level 4 and above) may be asked to complete additional tests. These tests are designed to assess their overall strengths and mathematical skills.

Interview – This will be either face-to-face, telephone or video-based. For Level 2 and 3 apprenticeships, this is the final stage of the application process. Successful applicants will receive an offer of employment. For apprenticeships at Level 4 and above, applicants who pass the interview stage will be invited to attend an Assessment Day.

Assessment day – The virtual Assessment Day includes virtual challenges and further strengths-based interview questions. Candidates who are successful at the Assessment Day will receive an offer of employment.
Example Lloyds Bank Interview Questions
Why do you want to work for Lloyds Bank? – Your answer to this question should align with the company mission and values.

What do you know already about Lloyds Banking Group? – Carry out research before the interview. You should look at a variety of sources, including news sites, journals and financial publications.

What can you tell us about the values of Lloyds Bank? – Familiarise with the values and think about your own approach to work. Highlight why these values are important to you.

Why have you chosen this programme in particular? – Think about your motivation for applying and your future career goals.

Why do you think this training scheme is right for you? – Think about your personal strengths and your objectives for the future.

What makes you a good candidate for this job role? – Talk about your transferable skills and experience and explain what you can bring to the team and organisation as a whole.
Top Tips for Applying to Lloyds Bank
Know your strengths and remember to demonstrate these during each stage of the interview process.
Be yourself – Use the application process to show you are passionate about working for Lloyds Bank. Think about why you are applying for your chosen career path and how you will articulate this during the recruitment journey.

Learn more about Lloyds Bank's company values and how these relate to your own values – Ensure these values are at the forefront of your mind when answering questions, completing tests or taking part in activities.

Improve your commercial awareness – Research the latest industry news and developments. Be ready to talk about what you have learned during the recruitment process. Consider how the information you have learned will affect Lloyds Bank and its competitors.

Speak up if you need extra support with the application process – Lloyds Bank recognises that every applicant is different. The company celebrates diversity and has taken steps to ensure the application process is accessible to all.
Final Thoughts
Lloyds Bank employs people with a range of skills and experience. It offers several different early career training schemes.
These help employees and future employees to learn on the job while receiving a generous salary and benefits.
Jobs at Lloyds are highly desirable; therefore, there is a competitive recruitment process that differs for each of the training schemes.
Applicants must take part in various assessment activities. These include skills tests and a face-to-face interview.
Lloyds wants to hear from people whose values align with its own company values. Applicants are encouraged to be themselves during the application process.
---