Marshall Wace Graduate Scheme
What Is Marshall Wace?
If you have graduated from university with a degree in finance or economics, it is very likely that the name Marshall Wace is familiar to you.
The hedge fund has been in operation since 1997 and has invested more than $43 billion in various technologically innovative markets.
Though the investment corporation started in London, its offices are now situated across Hong Kong and New York.
Marshall Wace works predominantly in short and long-term equity and towards the strategizing investment procedures for various entrepreneurs and companies worldwide.
Working at Marshall Wace is both rewarding and consuming. There are a total of three teams that help Marshall Wace calculate where to implement its investments:
The investment team
The non-investment team
The technology team
Each team has a body of employees working on the corporation's future prospects and security.
Becoming a part of Marshall Wace involves a competitive process, and the graduate schemes offered in London are split into two streams.
The Technology Graduate Programme and the Quantitative Associate Scheme are designed to look for candidates in a variety of fields.
As Marshall Wace is one of the world's leading hedge funds, it requires the ideas and efforts from multiple academic disciplines.
In this article, you will learn about the two graduate scheme streams, how they are run and how you can work towards a career at Marshall Wace.
In addition, you will find out about the major differences between the two streams and how you can best prepare yourself for success.
What Are the Prerequisites for the Marshall Wace Graduate Schemes?
Each stream has different preferences and therefore different requirements. However, it is important to note that Marshall Wace is looking for candidates with broad and transferable talents.
The Technology Graduate Programme insists that candidates are driven by design and innovation. Degrees in areas that specialize in these qualities are highly recommended.
Knowledge in industry, technology solutions and computer-related degrees are also good for this stream. You will be working with Marshall Wace's intricate finance systems and being comfortable with them is essential.
On the other hand, the Quantitative Associate Scheme prioritizes candidates who are good with data and analysis. Any science-related, mathematics or economics degree is the foundation needed to make a success of this programme.
The applications for both streams open in September. In the meantime, it is worthwhile working on your interview and presentation skills.
The Quantitative Associate Scheme will be primarily set in the London headquarters. In contrast, the Technology Graduate Programme could potentially see you travelling to one of the international offices during training.
To apply, Marshall Wace will put your CV through a screening test.
Ensure that you submit your strongest portfolio in this case, as the chances to apply are finite and restricted to short periods at a time.
You will also be taken through a 30-minute telephone interview, where you will get the opportunity to ask further questions about what it is like working for Marshall Wace.
Successful candidates will be then invited to complete a written test and attend a networking event.
This is a fantastic opportunity to meet Marshall Wace employees and other individuals working in this corporate sector.
If you are successful with your written test, you will be invited to attend an assessment center, where you will carry out further group activities, presentations and interviews.
You can read more about assessment centers so that you can become comfortable with the prospect.
Whichever pathway you choose, be assured that there are viable careers in each and that Marshall Wace is looking to find you a position within its team.
As these roles are complicated and, in many ways, interlinked, you may find that your skills lie elsewhere. Marshall Wace will recognize this and inform you of the potential options you have.
Showcase all of your talents during the application process and be ambitious in your projections.
Quantitative Associate Scheme Vs Technology Graduate Programme
As mentioned above, there are similarities between the two streams. However, the distinct careers they eventually lead into are different, and it is worth discussing the differences to expect.
Career Pathways
On the Quantitative Associate Scheme, you will have more opportunities to build a career that is numerically based. As Marshall Wace needs to calculate where to place its investments, you will find yourself in analysis and consultancy.
These careers are highly valuable and competitive, but they have great financial rewards and sustainability. It is likely that you will be positioned in one place, yet there are always possibilities of being involved in Marshall Wace's international work.
On the other hand, the Technology Graduate Stream will lead you toward careers surrounding Marshall Wace's infrastructure.
If you have ideas of a career in cyber security, internet services and innovative design, then the Technology Graduate Stream will help you work towards these goals.
If you are not working within collaborative environments of design and creation, it is likely that you will work on the technologies independently.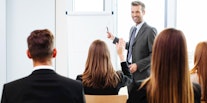 Marshall Wace Graduate Scheme: Quantitative vs. Technology Stream
Training
Both graduate courses are 16-month schemes that train candidates in a variety of ways. Further, they both aim at creating specialized candidates.
It is safe to say that, after the 16 months have passed, the training you will have received will ultimately play a significant role in determining your career pathway.
On the Quantitative Associate Scheme, you will receive daily mentoring on a non-rotational basis. This means that you will become specialized quickly and not have to worry too much about learning things outside of this faculty.
Further, once you have developed the individualized skills needed for quantitative analysis, it is at this point that you may be offered opportunities in one of the overseas offices.
The major point of consideration in this scheme is the consistency. You will likely be committing to doing the same tasks until you master them.
In contrast, the 16-month scheme of the Technology Graduate Programme is more varied and dynamic. You will be working across multiple teams who work in creative design and IT products.
This gives you an opportunity to pick up a wide range of skills to use in your future career.
The mentoring is also different. Instead of daily tutoring, your mentoring programme will be more personalized to your career trajectory in the long-term.
Communication is key in the Technology Graduate Programme, and as you work on one or two projects, you will be bouncing ideas with various other colleagues.
Skills
With the training being very different, the skills needed to succeed are as diverse, too.
For success in the Quantitative Associate Scheme, you must be competent with research and data. The most logical minds will succeed in this course.
Further, you must be academically minded. Dealing with large amounts of statistical analysis takes its toll on anyone, so you must be able to absorb this quickly.
Being organized, dedicated and independently minded is also helpful within this stream.
Though there is cooperation involved in the role, it is likely that you could be working long hours on solving problems alone.
Diversely, the Technology Graduate Programme is more inviting to creative collaborators and communicative team members.
Leadership skills and the ability to communicate are often sought after in the technology roles that Marshall Wace offers.
Environment
With the two departments being different in approach and outcome, the environment each one operates in is also different.
There is collaboration between both of the schemes, and you will cross paths many times over with graduates from the other scheme.
However, your work and the time you will dedicate to it will determine the environment you spend most of your time in.
For the Quantitative Associate Scheme, most of your time will be spent in analysis labs. You will be working with figures, so your space will be dominated by these elements.
Expect to be in front of large sets of mathematical data. It is also likely that you will be working independently for large amounts of time.
Introverted workers and people who just want to focus on the job at hand are best suited for these types of environments.
Further, you will have to be comfortable with workloads that force you to spend a great deal of time thinking.
The Technology Graduate Programme is somewhat different. As discussed, there will be moments when you will be spending time working alone, but you will also have more opportunities to discuss and build on ideas with colleagues and clients.
You will be in a more creative environment, so there will be more conversations, briefs, meetings and updates with other team members.
Working on certain facets of technological innovation may be something that extends past the hours in office, as much of the time here will be about the presentation of your thoughts and ideas.
If you are more extroverted and like to share your creative output, then the Technology Graduate Programme could be for you.
Tips for Success
With Marshall Wace being one of the world's leading hedge funds, the roles are highly valued.
It has just under 400 employees and is based across five locations in the world. With this in mind, you will be joining a close-knit community where every employee works together towards the same goals.
Getting your foot into this environment in difficult, so here are three great tips that can really give you an edge in the application process:
1. Make Sure You're Prepared
With all corporate enterprises, the application process is intricate. You must revise the steps of the process before submitting an application.
Further, you must also have all of your documents and qualifications to hand. Being organized will save you time and show a degree of seriousness to Marshall Wace.
Once you have done so, it is essential that you practice your interview, presentation and assessment skills.
The 30-minute telephone interview that Marshall Wace conducts is its first opportunity to analyze you as a potential employee. If you are unsure of why you are applying or what career you want at Marshall Wace, the recruitment team will notice this.
Be confident and assertive in your reasons for applying. Further, do not hesitate to ask questions. An inquisitive candidate is a sign of someone who is interested in the corporation.
You will also be invited to complete a written aptitude test and to attend an assessment center.
Revise the aptitude tests beforehand, as they will serve you well in both of these recruitment steps.
Further, spend time researching what happens at assessment centers and how you can stand out from the crowd.
If you follow this advice carefully, you will increase your chances of success.
2. Be Ambitious
With such a tight knit group of employees, Marshall Wace is looking for candidates who are as ambitious as the existing team.
If you are successful in landing a graduate scheme, the hard work does not stop at this point. You need to keep bringing new ideas to the table.
Marshall Wace wants its team members to be constantly thinking about the ways in which they can contribute and improve the company.
The industry is demanding, and Marshall Wace wants to keep on top of the rest of the competition. Bringing new initiatives and fresh approaches to work on a regular basis is the best way that Marshall Wace can do this.
You ambition should be the thing that drives the company forward.
3. Be Socially Responsible
As well as being a company driven on success, Marshall Wace thinks carefully about its impact on the world.
The staff working at the corporation are intertwined with this, as well, and they are always thinking about ways they can build a culture that supports the local communities and charities they work with.
Each region has a charity of the year program, and, during the lockdown period, Marshall Wace's employees worked hard with the charity Mealforce to provide food to families who could not access basic necessities.
Initiatives like these are what keeps Marshall Wace in touch with the rest of the world, and you, as its employee, will also be contributing to its altruistic initiatives.
Your career is important, but your impact on the world is even more so. Joining Marshall Wace will give you the opportunities to effect change on an international scale.
Join the company with socially responsible ideas and opinions.
Final Thoughts
The hedge fund has become one of the world's leading investment bodies over the past year. It is currently looking to expand its impact even further.
With such a drive to continue the success it has built, it is searching for fresh ideas and talented individuals who can make this ambition feasible.
The time to join Marshall Wace has never been better, and your skills in technology, analysis and creativity are all sought-after. Take the time to prepare your application and get ready for the great career awaiting ahead.
---