The EDF Graduate Schemes
All products and services featured are independently selected by WikiJob. When you register or purchase through links on this page, we may earn a commission.
What Is EDF?
EDF is a British energy company specialising in selling natural gas and electricity to homes and businesses across the UK.
It has more than 13,000 employees and 5.7 million customer accounts.
EDF is UK-based only, with main offices in London, Croydon, Exeter, Sunderland, Hove, Crawley and Barnwood.
It is the UK's biggest generator of zero-carbon electricity, using only wind, solar and nuclear.
It employs the brightest and most innovative minds and has positions for every stage of your career.
Current departments include:
Digital
Sales, communication and marketing
Project management and business change
Nuclear new build
Human resources (HR)
Legal, strategy and compliance
Engineering, nuclear and scientific
Health, safety and security
Finance, trading and risk
Customer service and operations
Data, tech and IT
What Are the EDF Graduate Schemes?
EDF is committed to creating sustainable energy for the future and helping the UK achieve its net-zero carbon emissions.
To facilitate this, it invests heavily in its graduates. To date, there are six graduate schemes you can apply for:
Engineering Graduate Scheme
Designed for engineering or science students, this 16-months scheme will give you all the tools and knowledge you need for a successful career shaping the future of energy.
At the end of the scheme, you will have earned your chartered status and will have the opportunity to work as a permanent member of the Nuclear Development team.
Location: East Kilbride, Gloucester, London, Bristol or Hinkley Point
Programme structure:
1 to 3 months – Introduction
4 to 11 months – CTO and power station placements
12 to 16 months – Final wrap-up in your main office and STEM Ambassador training
Design Engineering Graduate Scheme
At 30-months long, this graduate scheme is comprehensive and an incredible opportunity for those passionate about design engineering and nuclear energy.
Your programme will include 18 months in France working with Edvance, a joint partnership between EDF and Framatome (engineering, procurement, construction and commissioning organisation).
Location: Hinkley Point, Bristol, France
Programme structure:
Week 1 – Introduction and networking
1 to 12 months – Hinkley Point and Bristol
13 to 20 months – France
End of placement – Interviews for a permanent position
Renewables Commercial Graduate Scheme
New for 2021, this 36-month bespoke scheme is tailored specifically for those excited about renewable energy.
You will spend your time developing your understanding of renewable energy and completing projects that support commercial, analytical and strategic advice to internal stakeholders.
To apply, you will need a 2:1 bachelor's degree in any field and an understanding of renewable energy.
Location: Durham or Edinburgh
Programme structure:
1 to 12 months – Placement with Strategy and Analysis team
13 to 24 months – Placement with Development team
25 to 26 months – Final project tailored to your strengths and knowledge
Finance Graduate Scheme
Open to anyone with a 2:1 in finance, accounting, business or maths, this 36-month scheme will equip you with everything you need for a successful career within the energy sector.
In addition, EDF will also support your studies in achieving a CIMA chartered accounting qualification.
Location: Croydon, East Kilbride, Barnwood, London or Rainton Bridge
Programme structure:
Week 1 – Introduction and networking
1 to 12 months – First placement
13 to 24 months – Second placement
25 to 36 months – Third placement
During your placements, you will also have the financial support and study leave you need to complete your CIMA qualification.
Data and Technology Graduate Scheme
This 24-month programme will allow you to build specialist skills in technologies, software engineering and data techniques.
Data and technology will be the pioneering team for transitioning EDF to a low carbon future energy system.
During your four rotations, you will be responsible for the entire lifecycle of creating impactful data products.
As such, you will need a 2:1 degree in any discipline, though STEM-related degrees are preferable, and a passion for data.
Location: Croydon, Crawley or Hove
Programme structure:
Week 1 – Introduction and networking
1 to 6 months – Rotation one
7 to 12 months – Rotation two
13 to 18 months – Rotation three
19 to 24 months – Rotation four
You have the choice of completing your placements in one of the following:
Wholesales Markets Optimisation
Blue Lab
Sales and Marketing
Digital
Customer Operations
Supply Chain Graduate Scheme
EDF uses a significant number of suppliers to provide goods and services to support the running of the business.
During your 24-month programme, you will work in different areas of supply chain to give you the skills to maximise operations, understand logistics and the experience of working with key stakeholders.
Recent participants in the graduate scheme have helped obtain nearly £1 million worth of goods for the Renewables business, as well as organise the team's winter and summer events.
Location: Various UK locations
Why Work For EDF?
As part of the EDF graduate scheme, you can expect:
An EDF graduate scheme salary of £27,500+
25 days' annual leave, plus bank holidays
Relocation allowance and support
Wellbeing and support services
Flexible benefits packages depending on lifestyle – travel insurance, gym membership, health screening
Support for CIPS professional qualifications
Financial wellness tools
Employee discounts
When to Apply for the EDF Graduate Scheme
EDF typically opens its recruitment in September, with the deadline being December and assessment centres in February or March.
It is advised that you apply for one of the graduate schemes in your final year of university.
EDF Graduate Scheme Application Process and Tips for Success
Online Application
In this first stage, you will need to fill out a form centred around your work experience and academic history.
Depending on the graduate scheme you are applying for, there may also be some additional motivational questions, such as:
Why are you interested in this industry?
Why do you want to work for EDF?
You will also have to upload your CV.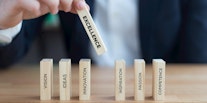 EDF Graduate Schemes: Six Specialisms and Tips for Success
Tips for Success
Align your resume to match the job description and EDF's values.
With so many applicants, a computer will likely scan your CV rather than a human being. Try to include as many keywords as you can from the description.
When listing your achievements and work experience, try to include these phrases and values:
Ensuring safety is a priority
Social environmental responsibility
One team
Excellence
Integrity
Prepare everything over the summer break, so you are ready to apply as soon as it opens. It continuously reviews applications, so it is best to send in your CV early when everyone is fresh.
For the motivational questions, try to avoid generic answers. Include facts, details or reasons that are not so well known.
For example, everyone will want to work for EDF because it is innovative and carbon-neutral. You want to work there because it supports diversity in the workplace and commits to personal and professional progress.
Think outside the box, and don't be afraid to show some of your personality.
Online Aptitude Tests
Depending on the EDF graduate scheme you are applying for, you may have to complete a series of online aptitude tests.
The two most common are numerical reasoning and logical reasoning.
Both tests are supplied by SHL, which means there are plenty of free practice tests available online.
The numerical test measures your ability to make the correct decisions based on the given data.
You will have just under one minute to read a question, analyse the information and provide the correct answer.
The logical reasoning test is a little more complicated. In this test, you will be presented with five diagrams filled with different shapes. You will need to identify the pattern and decide which comes next.
There is no limit to how complicated these patterns can get, but they are usually 3D shapes focused on size, colour, movement or arrangement.
Tips for Passing the Numerical Reasoning Test
The level of questioning will be similar to that of GCSE maths, so brush up on your:
Basic arithmetic
Percentages
Equations
Ratios
Fractions
Chart and graph reading
Improve your speed and accuracy by practising as many numerical reasoning tests as you can find. The more you do, the more you will understand.
Dedicate time to practising your mental maths. You don't have long to answer each question, so you need to calculate quickly in your head.
Complete practise tests under timed conditions.
Tips for Passing the Logical Reasoning Test
The type of questions found in logical reasoning tests are off-putting if you are unfamiliar with the format.
Before your test, watch videos describing how these tests work and how best to identify the patterns.
Practise as many logical reasoning tests as you can find or until you feel comfortable answering them.
Once you are familiar with them and can find the patterns quickly, begin practising under timed conditions.
First-Round Interview
Your first-round interview will most likely be a telephone or video call.
It will last around 30 minutes, and it is your first real chance to impress your recruiter. The type of questioning will be competency-based.
Tips for a Successful Telephone Interview
Do your EDF research – know its values, projects and ambitions for the future, key stakeholders and current turnover. Whatever information you can find, make a note of it.
The person interviewing you cannot see your workspace, so have as many notes with you as you need. Include the EDF details and facts that you want to mention, as well as your achievements and experiences.
To make things easier, write each of the EDF values on separate pieces of paper and the skills or experience you have as examples. Doing this will help you focus your answers.
Research the most common competency-based interview questions and rehearse your answers.
Your answers should follow the STAR format:
S – Situation
T – Task
A – Action
R – Result
For example, a popular question is:
'Tell me about a time when you used effective time management and achieved success.'
An example answer might be:
Situation:
During my final semester last year, I had a big group project to finish, an individual assignment and I was working at an internship three times a week.
I decided that not only was I going to get top marks on both assignments, but I was going to get a letter of recommendation from my internship supervisor, and I was going to maintain all my social commitments such as going to my gym classes and the weekly movie night.
The first thing I did was buy a planner and write in all my non-negotiable commitments, such as classes, sleep, the movie night and my internship. I then sent out messages to my project members asking when we will meet and if we can make it a regular appointment. Once those sessions were booked in, I decided which gym classes I could make. The spare time was dedicated to my individual assignment and any extra studying I had. I also scheduled in some downtime.
Being that disciplined was difficult at first, but it quickly became second nature. In the end, I enjoyed the structure, and I loved not feeling stressed and overwhelmed. I got top marks for both assignments and the best recommendation I've ever had. The time management principles I learned that semester are ones that I now apply to my daily life.
Finally, write down the questions you want to ask.
We often forget that recruitment processes are two-way. The role and company culture need to fit you just as much as you need to fit them, so ask the questions you want.
EDF Assessment Centre
Assessment centres can be intimidating. There are often hundreds of people there, and you all move quickly through different activities.
However, it is an excellent opportunity to network with your colleagues and ask the questions you may have been too scared to on the video call.
Typically, your EDF assessment centre will follow this schedule:
Group exercise – This is designed to assess how well you work and solve problems as a team.

Role-play exercise – This exercise tests your negotiation skills and analytical thinking. For the first section, you and your partner will have about 20 minutes to analyse some information and prepare a response. In the second section, your interviewer will pretend to be a customer, and you will need to solve their query.

Written exercise – For this exercise, you will need to write a response to a problem detailed in your brief under timed conditions.

Presentation – The presentation is designed to test your communication skills. The recruiters will be assessing your body language to decide how well you will cope presenting to key stakeholders and explaining your point of view.

Additional interviews – Depending on the scheme you have applied for, you may have to complete another interview. It could be one-on-one or in a group, but the questions are likely to be competency or strength-based.
Tips for Passing the EDF Assessment Centre
In the group exercise, you must show that you are confident and can coherently share your ideas. However, you must also show that you can listen to others without interrupting and develop their ideas.
Role-plays can be particularly challenging and uncomfortable. To perform well in this exercise, try your best to visualise yourself in the workplace, dealing with this customer in the real world.
For the written piece, skim through your brief, highlighting all the key points. To help format your answer, use the PEE acronym – point, example, explanation.
Keep your reply concise, and if you need to, only focus on two or three arguments, rather than trying to fit everything in and running out of time.
Don't forget your spelling and grammar.
During your presentation, show positive body language by standing tall and facing your audience. Speak clearly and at a normal pace. It is tempting to rush your words to get finished quickly, but that is not how you would hold a meeting full of stakeholders.
For the assessment day as a whole, make sure you look the part – your clothes are cleaned and ironed, and your grooming is of a high standard.
Bring with you anything you might need such as:
Hand cream
Breath mints
Wet wipes in case of any spillages
A bottle of water to keep hydrated
Copies of your CV
Any notes you think you'll need
A pen and a notebook
Final Thoughts
EDF has a lot to offer in the graduate market, and it invests a lot of time and money recruiting the best.
To stand out in such a large talent pool, ensure you:
Do your research
Avoid generic answers
Look the part
Show your personality
Align yourself with EDF values
Believe in yourself
---