Commerical Driver's License (CDL): Definition and Types
If you are considering a career that involves driving commercial vehicles, you will need to possess a commercial driver's license, or CDL.
It's crucial that you have the proper type of CDL for the position you are considering. The rules can be a little complicated as there are different classes of CDL available.
For this reason, you must familiarize yourself with all the requirements for driving different types of commercial vehicles. This article covers what a commercial driver's license is, the different types of CDLs available, and comprehensive information about why and how to get them.
What Is a CDL?
A CDL is a document you need for operating commercial vehicles in the transport industry.
Due to the complexity of these motor vehicles, the knowledge you gain to pass a standard driver's license isn't enough to drive them. There are other driving jobs where you can use a regular license with no experience.
A CDL is required to drive any type of vehicle used for commercial purposes, including buses, semi-trucks, dump trucks and tractor-trailers. The criteria for operating each of these often vary by state, but in most cases, you will need to gain a specific skill set.
So if you are considering getting a CDL, it's worth looking into the CDL guidelines that apply in your state.
What Jobs Need a CDL?
When considering commercial drivers' positions, the first job that comes to mind is a truck driver. While this position certainly requires a CDL, these types of licenses are needed for a wide variety of jobs, most of which are well paid.
Gaining a CDL could open the way to new opportunities and provide you with flexibility when looking for employment. Whether you are willing to travel long distances or looking to stay close to home, a CDL can help you get the position you desire.
Some driving jobs you can obtain with a CDL are:
Long-haul truck driver – Also known as 'over-the-road' (OTR) drivers, they are on an open road for hundreds of miles a day as they transport cargo across larger regions. They may also drive across one or more countries, staying behind the wheel for weeks at a time. For this reason, there is always high demand and more than generous salaries for OTR drivers.

Short distance truck driver – Drivers who aren't willing to drive long distances on an open road may get a local trucking job. Typically, this will entail working for a regional transportation service or a delivery company. There are many of them in each city, and some are even localized for particular suburbs. Due to the booming demand for delivery services, companies are always hiring drivers.

Heavy-equipment hauling driver – They are a specific type of hauling trucker who transports heavy cargo across longer distances. This involves lifting the equipment onto a flatbed truck or trailer and applying specific safety measures when traveling. Because of this, these drivers are required to undergo much more intense training to get their CDL. However, their paycheck also reflects their skills and responsibility.

Bus driver – A professional bus driver is also a position that requires a CDL. There are many different types of buses, including chartered routes, sightseeing tours, school buses and transit across cities/states. Whatever position you apply for, transporting people safely is a job with great responsibility.

Dispatcher – While dispatchers with a CDL need similar skills to the drivers, they work in a different setting. Instead of driving the vehicle, they use a radio to communicate with the driver of the company they work for. Their job description often includes delegating and problem-solving as well. It's another job that's in high demand.

Truck driving school instructor – Drivers with extensive CDL experience may use their knowledge to train other drivers to get their commercial driving licenses. While it's another job that doesn't require you to drive actively, getting aspiring drivers through specialized training can be a very rewarding experience. Instructors contribute to making the roads safer and increasing the reliability of the services that the drivers will perform.
What Are the Types of CDL?
State and federal laws require every driver who operates commercial vehicles heavier than 26,000 pounds to have a CDL. There are further criteria for the different types of motor vehicles.
The combined weight of the truck and the trailer, and the type of cargo it carries also plays a role in this classification. CDLs fall into three main categories: A, B and C.
Class A CDL
If a vehicle has a gross vehicle weight rating (GVWR) of over 26,000 pounds, its driver is required to have a Class A CDL. This maximum load is measured for both vehicles that carry weight by themselves or via an attached trailer. The Class A CDL also applies when the weight of a towed trailer with cargo is more than 10,000 pounds, regardless of the truck's weight.
You will need a Class A CDL if you want to operate:
Any truck and trailer, even double and triple ones
Flatbeds
Livestock carriers
Semi-tractor-trailers
Tanker vehicles
Gaining a Class A CDL means you can operate most other vehicles that require Class B and Class C driving licenses, depending on requirements.
Class B CDL
A Class B CDL is required for drivers who operate vehicles with a GVWR over 26,000 pounds, similar to the previous category. The only distinction is that the rules apply even if the trailer towed weighs less than 10,000 pounds.
Due to this, a Class B CDL is required for a lot more types of motor vehicles, including:
Box vans
City buses
Dump trucks with small trailers
Large passenger buses
Tourist buses
Tractor-trailers
Trucks and trailers, whether a single vehicle or combined
Segmented passenger buses
Straight trucks
In some states, an owner of a Class B CDL will be able to drive vehicles that require Class C commercial driving licenses.
Class C CDL
Drivers who operate a motor vehicle designed to transport at least 16 people must have a Class C CDL. The headcount includes the driver themselves and applies to even small passenger vans.
The same rules apply if a vehicle is transporting any type of hazardous material, which are federally classified hazmats. In addition to this, a Class C CDL may be needed for any other type of commercial vehicle that doesn't require a Class A or Class B CDL.
CDL Endorsements
Apart from the proper class of CDL, certain types of commercial vehicles are issued special CDL endorsement by the state. After getting their Class A, B or C CDL, the driver must pass additional testing to receive the specific endorsement.
While this typically applies for vehicles with a GVWR larger than 26,001 pounds, the available endorsements may differ from one state to another. That being said, most states usually employ the following endorsement guidelines:
H Endorsement – This type of permit allows the driver to operate vehicles transporting hazardous materials. Obtaining this endorsement typically requires passing a written test about handling hazardous materials.

N Endorsement – This endorsement allows the driver to operate vehicles hauling flammable and non-flammable liquids and gases. It also entails passing a written knowledge test about these materials.

P Endorsement – This permit allows its holder to conduct buses or vans with 16 or more passengers, driver included. This type of endorsement requires passing both a written and a road test. Bus drivers must also pass a federal background check and, in addition to the P endorsement, obtain an S endorsement as well.

S Endorsement – Obtaining this endorsement is obligatory for every potential bus driver. They also must undergo a comprehensive background check. Due to the enormous responsibility of their future job, all bus drivers need to pass a complex road skills test and written test before obtaining their endorsements.

T Endorsement – This permit enables its owner to drive a vehicle towing double and triple trailers. Obtaining this endorsement requires passing a written test about driving long motor vehicles safely.

X Endorsement – The holder of these endorsements can operate tankers carrying hazardous materials. It essentially requires passing the same written knowledge test as needed for the N endorsement.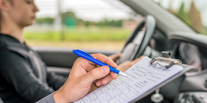 Commerical Driver's License (CDL): Definition and Types
How to Get a CDL
Regardless of the type of commercial driver's license that you are aiming for, there are some requirements that you must meet. Not only does a CDL permit you to drive a commercial vehicle, but it also shows you can do it safely.
Apart from knowing basic rules of traffic, you must familiarize yourself with your vehicle and potential cargo. Below you will find some information about CDL training and what the road toward getting your commercial driver's license may look like.
Whether you are new to trucking or want to upgrade your knowledge of driving commercial vehicles, it's also a good idea to look into your local laws and regulations. They can give you a clearer picture of what requirements you may need to fulfill in your state.
Basic Requirements for a CDL
Regardless of which state you are trying to earn your CDL in, you must comply with a few basic requirements. While there are variations in the guidelines, most of them follow the same principles.
Some of these general requirements include:
Minimum age limit – this varies from 18 to 21 years of age
Currently valid non-commercial driver's license
Getting a commercial learner's permit at least 14 days before applying for a CDL
Not holding a CDL in any other state
Not having a previous disqualification due to Federal Motor Carrier Safety Administration regulations
A fee for getting a CDL paid through the Department of Motor Vehicles (DMV)
What Does CDL Training Include?
While it's not absolutely necessary for drivers to go through specialized training to obtain a CDL, doing so will empower you with all the knowledge you need to keep in mind to drive safely. This is particularly important if you are new to the world of commercial vehicles.
As mentioned before, driving commercial vehicles requires you to employ additional safety measures. Because of this, the driver of a commercial vehicle is subjected to much stricter standards and regulations. CDL training can help you learn these.
Different states and even driving schools may enable you to complete your CDL training in various ways. A popular path is through a program sponsored by a company looking to employ drivers. Although this way often takes longer and tends to be expensive, candidates who successfully obtain their CDL often land profitable driver positions right away.
If you are looking for a program with lower tuition costs, you can try your luck with specific driver-training programs for truck drivers. These are also often carried out by companies looking to offer jobs to drivers who complete their program.
Most CDL training programs consist of two equally important portions:
Theoretical classroom education – Before you get to drive a truck, you must learn the basic rules pertaining to maneuvering larger vehicles on the road. Federal and state laws governing the type of CDL you are aiming for are also taught during this part of the training course.

Practical training – The second part of the course begins with observing how to maneuver the rig when done by the instructor, followed by practicing to drive yourself. The purpose of this is to prepare you for the CDL exam, which is the last step to earning a CDL.
The Elements of a CDL Exam
To get a CDL, you are first required to hold a CDL permit, which you can get through a written exam. This exam consists of three main sections:
General knowledge of vehicle and road safety
Combination vehicles
Air brakes
You may also be required to show understanding of concepts such as:
Basic driving skills including shifting gears
Maintaining a field of vision in traffic
Proper vehicle-inspection techniques
Calculating the proper stopping distance
Maintaining appropriate distance while driving
Adapting to severe weather
How to act in an emergency situation
Controlling vehicle speed in dangerous situations
The final CDL exam consists of three portions:
Vehicle inspection – Examining the vehicles before and after trips
Road test – Involves merging in and out of traffic, crossroads, changing lanes and turning
Backing test – Includes reversing, parking exercises and docking
Since the specific conditions for getting a CDL often vary from state to state, this list should only serve as a basic guideline of what to expect in a CDL exam. For more comprehensive information about the requirements in your state, visit your local DMV.
Final Thoughts
Hopefully this article has given you a good idea of what a commercial driver's license is and why you need one. With a CDL, you gain a new, and often very specific, skill set that enables you to safely operate commercial motor vehicles.
While the knowledge you gain through it follows the same principles as a standard driving license, there is a lot more to it. For this reason, there are several different types of CDL classes, preparing drivers to operate different types of commercial vehicles.
If you are considering applying for a commercial driver's position, make sure to check what type of license is required for that particular job. This may vary from one state to another, so you will have to go by your local regulations.
---