Best Jobs for Helping People
Whether you are at the early stages of your career or considering a significant change, finding a fulfilling role is the top priority for most people.
And what could be more fulfilling than a career that helps others?
What Kinds of Jobs Help People?
Of course, many careers that help others are based in the healthcare profession.
However, there is a vast array of jobs that have a positive impact on others, such as in the fields of education, law, security and much more.
What Jobs Make Others Happy?
Making others happy is usually the common denominator amongst jobs that help people.
Making someone happy might involve making them safe or comfortable in their current environment.
This is why jobs such as midwives and lawyers are extremely common amongst those who want to help others.
How to Know if a Helping Profession Is for You?
These career paths often include working long shifts and unsociable hours. There is usually a great deal of study and training involved, especially for those aiming for senior positions.
So, to succeed in a helping profession, you must have a genuine passion.
You must also have an enthusiasm for the field you are pursuing. This might be fitness, a medical profession or even using your language skills.
What Skills Are Needed in Careers That Help Others?
Compassion and understanding are crucial skills for those who want a career in the helping professions.
Additionally, determination and perseverance are essential. Jobs that help people can be tough, as you often deal with individuals at the most challenging points of their lives.
People who are searching for a career that helps others are not generally money motivated. Although there are considerable salaries to be made in some professions, entry-level positions will typically offer lower-than-average wages.
For those hoping to progress into senior roles, leadership skills will need to be demonstrated.
12 Jobs That Help People
1. Emergency Call Handler
Average salary: $43,290
An emergency call handler is someone who answers 911 calls and ensures the correct department is dispatched.
This means you will be responsible for speaking to individuals in dangerous situations, including fires, road traffic accidents and violent attacks.
When someone has gone through a trauma, the emergency call handler is likely to be the first person they speak to. This means the impact you will make on their life is tremendous.
How to Become an Emergency Call Handler
A high school diploma or GED is necessary to seek employment as an emergency call handler.
Various community colleges offer courses on emergency call handling; these can be hugely beneficial.
Apply for positions in your area. On-the-job training will be provided. Employers generally look for those who can demonstrate their strengths, such as a willingness to learn.
2. Interpreter or Translator
Average salary: $52,330
Interpreters and translators are people who convert information from one language to another.
They are often required to translate in both written text and orally.
An interpreter is an excellent job for those who are bilingual and want to help others. Interpreters are required in schools, hospitals and courtrooms.
Without access to an interpreter, individuals can be left without the medical assistance they require or adequate legal representation.
How to Become an Interpreter or Translator
Interpreters do not generally need any formal training. However, they must be fluent in the languages they wish to interpret or translate.
Most translators choose to gain a certification or accreditation to prove their competency. There is no single centralized body, and various institutions offer certification exams.
Some translators choose to work for an agency that supplies them with regular work, while others prefer to work alone.
3. Personal Trainer
Average salary: $40,510
A personal trainer is a qualified expert who is hired to help others achieve their goals.
People choose to work with personal trainers for several reasons, such as to help them lose weight or reach a specific fitness target.
Personal trainers generally work with clients on a one-to-one basis but can often teach groups.
Personal training is a great career choice for those who have a passion for fitness and love helping others achieve their goals.
Many personal trainers now choose to work remotely, offering their clients video sessions rather than in-person training. There are very few roles in the helping professions that offer this level of flexibility.
How to Become a Personal Trainer
There is no set route to becoming a personal trainer. You must have a passion for fitness and excellent communication skills.
There is a vast range of personal training courses available. Ensure you do your research and choose a path that best suits your needs.
Once you have passed your course, you can start applying for jobs at local gyms. If you intend to start working for yourself, you must begin marketing your services as soon as possible.
4. Police Officer
Average salary: $67,290
Police officers are responsible for enforcing the law. There is a great deal of responsibility in this career, but it is also hugely fulfilling.
The job is extremely varied and can include arresting and interviewing suspects, inspecting crime scenes and giving testimonies in court.
Being a police officer revolves around keeping people safe, so it is an excellent career path for those who love helping others.
How to Become a Police Officer
To be a police officer in the US, you will need to be a US citizen, have no criminal record and hold a driving license.
The minimum academic requirement is a high school diploma or a GED. However, some who want to reach the more senior ranks obtain a bachelor's degree before joining the police force.
You will need to pass an entrance exam, which may differ depending on what state you are in.
You will then need to graduate from the police academy, a formal training period generally lasting six months.
Once you have graduated from the police academy, you will be permitted to begin working as a police officer in your state.
5. Assistance Dog Trainer
Average salary: $37,950
An assistance or service dog trainer is an excellent job for those who love animals.
Service dogs include those who protect the home and dogs who assist the blind.
For individuals who have a passion for animals and want to help others, this is an excellent career path.
These animals will go on to provide an invaluable service, and you have taught them all they know.
How to Become an Assistance Dog Trainer
Before undergoing any formal training, it is recommended that individuals volunteer at their local dog shelter or dog training center. This will help familiarize yourself with being around animals for long periods.
There are many assistance dog training programs across the country. Most of these offer a three-year apprenticeship program.
6. Lawyer
Average salary: $126,930
A lawyer's duty is to protect the legal rights of individuals or companies.
Their work is often complex, and can involve heavy research, advising clients and representing them in court.
The law profession spans a wide range of specialist areas. While those working in corporate law may not be motivated by helping others, many other lawyers are.
For example, those working in family, criminal or immigration law have likely dedicated their lives to helping others.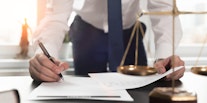 12 Best Jobs for Helping People
How to Become a Lawyer
Earn a bachelor's degree. This can be in any related subject such as history or English.
Next, you must pass the Law School Admission Test (LSAT). This is essential before completing your law school applications.
You must then complete the Juris Doctor degree. This must be achieved in under three years and offers an opportunity to specialize in a particular area of law.
Finally, the bar examination must be passed before you can apply for a license to practice as a lawyer.
7. Firefighter
Average salary: $52,500
Being a firefighter is considered one of the most dangerous jobs in the world. As well as putting out fires, firefighters are responsible for attending emergencies such as car accidents and floods.
Firefighters risk their lives to save others, meaning there is perhaps no better career for those with a passion for helping.
How to Become a Firefighter
To become a firefighter, an individual must have no criminal record and be clean of drugs.
A new workout regime may need to be adopted as all firefighters must be physically fit.
A firefighter must have a GED certificate or a high school diploma.
Volunteer with your local fire department. This will help you to understand if this is the right career for you and help you with an application later down the line.
Before you can apply for a firefighter position, you must pass a written test, Candidate Physical Ability Test (CPAT) and psychological evaluation.
8. Nurse-Midwife
Average salary: $117,670
A nurse-midwife is someone who supports a mother during pregnancy, birth and the postpartum period. Most nurse-midwives are licensed to work in hospitals, homes and birth centers.
Midwives are responsible for the safe delivery of babies and giving new mothers their introduction into motherhood. This makes the career path one of the most rewarding for those who want a job that helps others.
How to Become a Midwife
It takes on average eight years to become a qualified nurse-midwife. Therefore, individuals must be sure this is the right path for them.
First, you must obtain a bachelor's degree in nursing. This must be from an institution accredited by the Accreditation Commission for Education in Nursing (ACEN).
Anyone wanting to pursue a career as a midwife must then work for at least one year as a nurse before entering further study.
A master's degree in midwifery must then be completed, which generally takes three years.
Most states then require a license to practice, so a further exam may be required before you can begin working as a nurse-midwife.
9. Elementary School Teacher
Average salary: $60,660
An elementary school teacher is responsible for children from the age of six. It is a hugely rewarding job. The teacher will usually stay with the same group of children throughout the whole day, watching them flourish over the academic year.
Elementary school teachers have a significant impact on the lives of children, so it's an excellent career for those who enjoy helping others. For a successful career as an elementary school teacher, you must be compassionate, patient and kind.
How to Become an Elementary School Teacher
Earn a bachelor's degree in elementary education. This will generally take four years.
Next, an internship must be completed in an elementary school classroom.
Finally, you must pass the specific state licensing exams.
Once you have passed the licensing exams, you can begin applying for elementary school positions.
10. Funeral Arranger
Average salary: $59,000
Funeral arrangers work with recently bereaved families to help organize send-offs for their loved ones. They work closely with the funeral director to ease the stress and burden on the family at this sad time.
A funeral arranger helps families through the most challenging times they will ever face. It is an excellent job for those who want to help people, as providing practical and emotional support is essential.
How to Become a Funeral Arranger
The requirements to become a funeral arranger vary significantly between states, but almost all require an associate degree.
Next, an aspiring funeral arranger must complete an apprenticeship, which will last between one and three years.
A final exam must then be completed to obtain a license to work as a funeral arranger.
11. Social Worker
Average salary: $51,760
Social workers work with various vulnerable groups and individuals to help them cope with everyday life. They use specialist skills to develop strategies for those who are struggling in their current situation.
Social workers may be based in offices, schools or prisons. The work is generally flexible and will vary depending on the needs of their clients.
Social work is an excellent career for those who have a desire to help others, and the scope is vast. Social workers generally work with vulnerable people, including children, offenders and adults with mental health problems.
How to Become a Social Worker
Obtaining a bachelor's degree is the first step. This should be in social work or any other related field, such as nursing.
From here, it is possible to obtain an entry-level position. However, those who want to pursue a more specialized career must complete an internship in the relevant area.
A master's degree in social work should then be pursued, which generally takes two years.
Depending on the requirement of the specific state, a certification or license must then be granted to enable the individual to practice.
12. Optometrists
Average salary: $118,050
For an alternative career in healthcare, consider the field of optometry. An optometrist is a doctor who specializes in caring for the eyes.
The scope of the role goes beyond merely prescribing glasses and involves diagnosing health conditions including astigmatisms, glaucoma and cataracts.
A career in optometry is excellent for those with a passion for helping others. Eye health can have a dramatic impact on an individual's overall wellbeing and quality of life.
How to Become an Optometrist
First, complete an undergraduate degree. Most successful optometrists study either biology or chemistry at this level.
Next, the optometry admission test must be taken and passed. This exam is essential to secure a place at optometry school.
Four years at optometry school follows undergraduate study. This is a doctoral degree that provides the specialized knowledge required.
Finally, all optometrists must acquire a relevant license to work legally. Licensing law differs between states, and some require a further clinical exam before issuing.
Final Thoughts
There is more than meets the eye when it comes to finding a career that helps others.
Although entry salaries are generally low, substantial amounts of money can be made from the helping professions.
Rest assured that it is never too late to consider a career change, as many choose to transition into a helping profession later in life.
---