Online Jobs for Students: 20 Best Part-Time Remote Jobs for Students
All products and services featured are independently selected by WikiJob. When you register or purchase through links on this page, we may earn a commission.
Student life is expensive. Many college students are considering working part time remote jobs as an alternative to traditional part time remote jobs to help with this.
The job market is constantly changing. More companies are outsourcing work to freelancers and remote workers.
This creates opportunities for students. The best online jobs for students are part time remote jobs or a series of one-off gigs.
The ability to choose when and how much to work is ideal for students. They can increase or reduce their hours depending on their college workload.
What Are The Benefits of Online Jobs For Students?
Benefits of online jobs for students include:
The ability to work flexibly around studies
Often very little or even no experience is required
No travel costs or commuting necessary
Professional work clothing is not required
What to Consider When Looking for online jobs for students
What Type of Online Work Do You Want?
Remote part time jobs offer part-time work that is flexible. However, you may be restricted to the hours set by the company rather than able to choose your own.
These types of online part time jobs have a guaranteed income each week or month. This makes them a secure option if you have a financial goal to meet.
Gig work is completed on a project-by-project basis. The benefit of this is greater flexibility, as you only take on what you want.
These jobs are easy to fit into a study timetable. The downside is that you have to keep searching for more work or prospective clients, and work is not guaranteed.
They offer no security of earnings or sick pay. But, you do have the freedom to choose which projects you want to work on and when.
What Equipment or Resources Will You Need?
For the majority of roles, a laptop and a good internet connection are all that you need to start with.
For some roles, you might need to buy a headset. This will be an advantage for jobs involving audio or phone calls, such as audio transcription.
You will need to find a quiet and comfortable place to work from. Working from a private home will be less distracting than working from a dorm room.
All roles need dedication and motivation. The drive to improve your skills and pursue all opportunities will increase your success.
How Much Money Do You Need To Earn?
Consider what your financial goals are when applying for remote part time jobs.
If you are aiming to earn a minimum goal per month, online jobs for students are the best choice.
Perhaps you sometimes need additional money for shopping trips, groceries or social events. In this case, gig work and short-term project work are suitable options.
What Skills Do You Have?
Any previously gained skills and experience can be transferred to a part time remote job.
As a student, you have already developed research skills. You can meet deadlines and are comfortable working with computers.
Not all roles require experience. Being willing to learn new skills and having a positive attitude are both valuable attributes that apply to any online jobs for students.
20 Best Online Jobs For Students
Here are the 20 best online jobs for students and how to find them.
1. Blogging
Creating a blog is one of the best jobs for students.
Setting up a professional-looking blog can involve initial costs. These vary depending on your domain name and hosting providers.
To make money from a blog, you will need to optimize your blog content for search engines and monetize your blog through affiliate marketing. This involves promoting products to receive a commission.
Other options include selling online courses and ebooks, advertised through your blog posts.
You could also write sponsored posts and get paid for online ads.
Pay for this job varies from $10 per month to over $10,000. This depends on your posting frequency and the popularity of your blog.
2. Freelance Writer
If you enjoy writing, there are a range of opportunities for online writing part time remote jobs. High-quality written copy is in high demand from many organizations.
This role requires research skills and a good command of language. Article writers can expect to earn from $20 to over $500 per article, depending on word count and depth of research required.
You could start as a freelancer or join a writing platform that often pays by the word. Many sites require you to take a grammar test or provide some written samples.
Create an online portfolio of writing samples. Then apply for remote part time jobs on Upwork or ProBlogger.
3. Search Engine Evaluator
This role suits those with technical and communication skills. It involves evaluating search engine results and providing feedback on accuracy.
Opportunities are available on search engine evaluation sites. Popular sites include Appen, Lionbridge and Google.
This online job for students pays between $12 to $15 per hour. It may require a time commitment of 10 hours per week.
4. Online Tutoring or Teaching
Tutoring online is an ideal way for students to be paid to share their subject knowledge. There are opportunities to work freelance or for a company.
Remote part time jobs can be found on websites like Tutor.com or Wyzant. You can expect to earn between $12 to $25 per hour depending on your skills and experience.
Teaching ESL (English as a second/additional language) is another opportunity. Some sites provide lesson plans for you to follow, while others require you to make your own. Lessons are often delivered via Skype.
5. Audio Transcription
This remote part time job involves listening to audio files and typing what you hear.
You will need high levels of concentration and attention to detail. Accurate typing skills and typing speed are also important.
Online jobs for students are available on various online platforms such as Rev.
Payment varies between sites, but you could earn around $15 to $25 per hour. Transcriptionists are often paid by the audio minute rather than for an hour of work. Students with specialisms such as law or medicine can earn more.
6. Online Recruiter
An online recruiter is responsible for posting job vacancies, reviewing resumes and screening applicants. Usually this will be as part of an agency on behalf of a firm.
The role may involve carrying out the initial interview with applicants. This makes it an ideal choice for those studying human resources.
You can expect earnings of between $20 to $40 per hour. Vacancies can be found on sites like CareerBuilder and Remote.co.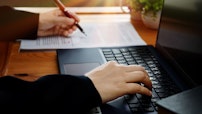 20 Best part time remote jobs for Students
7. Freelance Proofreader
Proofreaders check documents for spelling and grammatical errors. If you enjoy reading and spotting mistakes this could be a good choice of remote part time job.
You can expect to earn between $12 to $50 per hour. It involves concentration and attention to detail, as well as a good command of English.
Proofreading jobs are often advertised on sites such as Upwork or Freelancer.
8. Customer Service Representative
Customer service representative roles involve dealing with customer inquiries. This might be via phone, email or webchat.
You will need good interpersonal skills and a quiet working environment. A headset may be needed for phone calls.
This role is often a regular fixed shift over 24 hours. part time remote jobs are available.
Earnings are between $15 to $30 per hour. Opportunities can be found on job sites such as Glassdoor or We Work Remotely.
9. SEO Consulting
SEO consultancy is a good part time remote job with attention to detail and computer skills. Earnings vary from $15 to $50 per hour.
The role involves improving the search ranking of a website. This might involve creating backlinks or optimizing pre-existing written content.
There are free online courses available to learn the basics of SEO. Online part time jobs are advertised on websites like Job in SEO and People Per Hour.
10. Niche Website Creator
If you have a particular interest, consider creating a website around it.
This will showcase your subject specialization and your skills, as well as increasing content for a subject you enjoy. You can create a passive income stream through affiliate marketing, similar to a blog.
A niche area will enable you to rank your website through search engine optimization. There will be fewer websites on niche subjects, such as 17th-century Estonian embroidery, and therefore it will be easier to rank highly in search engines sooner.
This is important because income will vary depending on how successfully your website reaches an audience.
11. Website Designer
Being a website designer does not necessitate an understanding of coding. Many companies need basic websites created quickly more than they need fancy, custom websites.
Free, customizable templates are available on Squarespace and Wix. This will enable you to learn the basics of web design.
Earnings as a website designer will depend on your experience and eye for design. Create a portfolio of websites to showcase your skills.
12. Stock Photographer
Amateur photographers can upload their pictures to online stock photo websites. When these are purchased you receive a commission.
It might be necessary to purchase a quality camera. There are free photography courses online to help you increase your skills.
You can get started by creating a portfolio on Shutterstock, iStock or Getty Images.
13. Voice-Over Work
For this part time remote job, you may need to invest in a high-quality microphone. This role involves recording voice clips for instructional videos or podcasts.
Voice recordings can be edited using free audio software, and opportunities for remote part time jobs are advertised in many places online.
Earnings vary depending on the gig, but you could earn around $25 per audio clip.
14. Social Media Manager
A social media manager is responsible for organizing and monitoring the online presence of a company.
Tasks might include creating advertising campaigns, engaging with social media audiences and maintaining an active presence online.
Digital and graphic design skills are a bonus for this job.
Opportunities are advertised on Indeed, Upwork and People Per Hour.
Rates average around $30 per hour.
15. Virtual Assistant
A virtual assistant role involves a range of administrative tasks. Essentially, you would be working as an office or personal assistant, but remotely.
These include making phone calls, inputting data, creating spreadsheets and other admin work.
It requires good organizational skills and an ability to manage your own workload.
Hourly rates are between $10 to $20. Positions can be found on Flexjobs and Indeed.
16. Data Entry
Data entry roles do not require any previous experience. You need good attention to detail and accurate typing skills.
The job involves entering information into a computer system. A fast typing speed and knowledge of Microsoft Office are beneficial.
Data entry online jobs for students can be found on sites like Fiverr, Upwork and Indeed.
17. Sell Products Online
There are various methods to sell products online. You could set up an Etsy store to sell artwork or free printables.
You could also upload artwork onto a print-on-demand website, such as RedBubble or Spoonflower. These sites will print your artwork onto a selection of items that you choose when a customer orders something and sends it directly to them.
Alternatively, create a drop-shipping store. Products are advertised in your store but delivered to the customer via a third party. This differs from print-on-demand as it usually does not involve you creating art.
If you have an eye for a bargain, sell items from thrift stores on eBay.
Earnings for these roles depend on the price of the products you sell and how well you advertise.
18. Graphic Designer
Graphic designers create different types of visual media. These include logos, brochures and social media posts.
Adobe Photoshop software is recommended, although free alternatives such as GIMP exist. Canva is useful for beginners to learn basic design skills.
You can apply for remote part time jobs on Fiverr, 99Designs and Indeed. Hourly rates vary between $15 to $50 depending on skills and previous experience.
It is advisable to create a portfolio of designs to share with potential clients.
19. Digital Marketer
Digital marketers promote brands and products online. This is done through email campaigns and social media channels.
You will be responsible for creating and analyzing marketing campaigns and sourcing opportunities to benefit the business.
Hourly earnings start from $15, increasing with experience.
20. Video Editor
As a video editor, you will be responsible for creating videos that can be used online. You will need to be able to edit video content and create graphics.
Get started by practicing editing techniques. Then create a portfolio so you can pitch your services to clients.
Earnings for video editing start at around $40 per hour.
Final Thoughts
The changing job market in 2021 has created a wealth of online jobs for students.
When choosing a remote part time job, consider what time you have available. If possible, align the job with your career goals to earn skills relevant to your future.
Working online offers students a flexible way of working. It provides valuable experience for future jobs and can be included on your resume not only as work experience but also as evidence you are self-driven.
---