10 Great Career Change Jobs for Teachers
All products and services featured are independently selected by WikiJob. When you register or purchase through links on this page, we may earn a commission.
Why Might Teachers Seek a Career Change?
Whether you are looking to break from the classroom and shift sector completely, take on a new and refreshing challenge, or find a more flexible role to make space for family, friends and other commitments, there are plenty of options out there for teachers looking to shift into a new career.
A teacher's stamina, drive, organization and communication skills, as well as teaching qualifications, when coupled with a real drive for personal development and change, will be highly valued.
It is not unusual for teachers to seek out an early or mid-life career change.
Statistics show that more than 80% of teachers in America claim that their workload is unmanageable, and at least 70% of teachers claim their environment has a negative effect on their physical, emotional and mental well-being.
One hour's teaching can take up to three hours of planning, and this coupled with the demand for results and pressure of league tables, can mean work often flows into evenings, weekends and holiday breaks.
Whilst most teachers are passionate about face-to-face work and relationship building, the extra workload takes away from valuable time that should be used to get to know students.
Teacher salaries, in comparison to some other graduate roles, are low and it is not uncommon for teachers to seek out higher-paying work.
Teachers may not wish to progress up the career ladder in education to principal or other leadership roles if their passion lies with children, learning and knowledge, and instead seek out new professions in which they can still work with people, away from classroom stress.
Whilst the creativity and imagination involved in teaching is also often a draw to the job, after a few years of teaching the same curriculum with little time to innovate, teachers often seek other outlets for developing these skills professionally.
The good news is that even a few years in teaching will equip anyone with stamina, great communication and an excellent understanding of how a large organization, such as a school, runs with the necessary skills to do well in many professions.
Even if you have only spent a few years working in the classroom, you will have developed skills which many other professionals will not have:
You will have confidence speaking in front of medium to large groups.
You will have social awareness and patience from working with a very wide variety of individuals with differing needs, skills and who may not speak English as a first language.
You will be able to listen, analyze and problem solve in collaboration with children and co-workers alike.
You will have great organizational skills.
Time management is an invaluable skill in any working environment. In teaching, however, it is essential to plan desk work around teaching hours, as very little time is set aside for planning, evaluation and marking. This means teachers have a unique ability to use time productively, prioritize and multitask effectively.
Most graduates working in office environments will not have the opportunity to manage and support other people at a junior level, whilst teachers spend most of their time directing and guiding large groups and monitoring their progress.
Teachers are also designing projects from their first days in the classroom, and understand how groups can collaborate to achieve results quickly.
Will I Need Further Qualifications?
A teaching qualification is in itself valuable. Depending on the next career steps you choose, you may need to requalify, but it is by no means an obligation.
One huge asset you have as a teacher is holiday breaks. These can be used for free study, career research, and taking on voluntary roles or work experience.
This is a great way to road-test a new career option before investing in further training and will demonstrate your enthusiasm and commitment to prospective employers.
Before investing in any training, try out options using short free training courses, and make sure any qualification you do decide to study for is accredited and recognized in the industry or sector you want to enter into.
Top Ten Career Change Options for Teachers
Career Options for Teachers Within Education
If you are still passionate about education and making a difference to young people's lives, there are options out there for ex-teachers:
1. Private Tutor
Private tutoring is a flexible, profitable job that provides a break from the classroom environment.
Whilst still working face-to-face with students, you are likely to be working with young people who are motivated to learn, and will be able to see real and rewarding progress as a result of your work.
Families seek out tutors for all ages and for all sorts of reasons. Some tutors will support students in getting into universities or passing entrance exams. Others may need support for students with learning needs or with homeschooling.
You can find work as a private tutor through agencies or online tutoring companies. Alternatively, you can set up your own business and fix your hourly rates.
If you have a specialist degree or were teaching a specific subject at K-12 level, this will definitely help with a new career in tutoring.
To become a private tutor, you will not need to requalify or take on any further study.
2. Learning Support Assistant (LSA)
As an ex-teacher, you will have demonstrable experience of supporting students with a variety of learning needs.
As an LSA you will be working one-on-one with students to intervene in their learning journey and provide them with the specialist support they need.
Like tutoring, working as a Learning Support Assistant involves getting to know students in greater depth than a teacher can in a classroom. You will see rewarding and rapid progress up close, whilst also having less of the burdens of marking, planning and assessment.
Within a school context, you will be liaising with other teachers; an understanding and empathy of their workload will be a real selling point when applying for an LSA job.
Learning support assistants don't just exist in schools; they also work in after-hours clubs, universities, guidance counseling and youth work.
Learning support assistants are common in elementary school, but also exist in middle schools, high schools, and within colleges and universities.
Specialist education centers for students with different learning needs also often require one-to-one support workers, so there are ample opportunities for ex-teachers to shift into these kinds of roles.
3. Textbook and Online Learning Editor
If you are a teacher who enjoys the planning process, textbooks and curriculum development could be a great option for you.
Educational publishers are often looking for ex-teachers to write or edit new textbooks and resources, and with the new lean toward online and blended learning, teachers who can evidence writing and proficiency with technology will be especially valued.
You could also consider writing about education for blogs, newspapers and specialist teaching publications.
The publishing community frequently employs freelance workers, and so this is an option that provides great flexibility, or the option of taking on this work alongside face-to-face tuition or support work.
If you feel editing or proofreading might be a better option for you, begin by looking for freelance work or by approaching a publisher directly to offer a service.
As a teacher, you have an opportunity to try out some work in holiday time or out of hours before leaping into a new editorial career.
To find out which jobs fit your personality best, visit our partner CareerFitter and take the Career Test for FREE.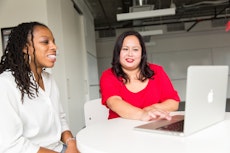 10 Great Career Changes for Teachers
Corporate Career Changes for Ex-Teachers
It is tempting to view your teaching experience as irrelevant to the profit and results-driven corporate world.
However, learning and development are central to every good organization, and a teacher's understanding of the learning process can be invaluable to any company which values training and development as a part of its offering to staff.
4. Corporate Training
Corporate training is a career area that spans a lot of jobs which will appeal to ex-teachers.
Mentoring and coaching individuals, running training and facilitating workshops, planning courses, and facilitating smooth communications are all tasks that corporate trainers do every day or specialize in.
Some companies run training in-house, under the umbrella term of 'Learning and Development', and others choose to bring in training or leadership consultancies to offer their teams mentoring and facilitate development events.
Good corporate trainers act somewhat like consultants; they will design courses and training by first visiting a company, or department within a company, to evaluate challenges and needs, and from there, will design learning solutions to implement to company employees.
Freelance facilitators and coaches also exist, although most start their careers in-house.
Facilitation, and learning and development agencies also exist, which will source work for associate facilitators and trainers.
Now, with the shift towards working from home, many companies are looking for online learning and facilitation, meaning opportunities in e-learning and writing courses are also in high demand.
If planning, rather than delivering, learning is your strength, e-learning (or learning design, as it is sometimes called) are terms to research.
5. Human Resources
The role of human resources within a company is to assist personnel to achieve their best by investing in their skills, wellbeing and personal development.
As well as this, human resources teams oversee recruitment and the legal aspects of contracting workers, as well as evaluating progress and targets through appraisals.
Ex-teachers can offer experience in continued evaluation to the role, as well as great interpersonal skills.
To work in human resources, you will need to requalify or take on extra training.
There are various levels of diplomas and degrees available, including a full master's in Human Resource Management.
As with any career option, find some free taster training before you commit, and talk to HR professionals working in contexts and sectors which interest you to assess what is necessary.
6. Business and Education Consultancy
Consultancy in the corporate sector is a broad term that encompasses many activities teachers will be skilled in already.
Consultants visit businesses to offer expertise and advice in management, strategy, training and operations.
It's a highly sociable profession, involving a lot of conversation and face-to-face analysis and problem-solving. Whilst the workload can be heavy, it is a profession which offers much greater opportunity for progression and development, especially for teachers with good undergraduate degrees.
Within the education sector, consultants visit schools to evaluate management processes, offer training and support schools with their improvement plans.
Sometimes schools will bring in education consultants to improve league table ratings, and others will ask educational consultants with behavioral specialisms to support students with difficulties.
Education consultants usually have at least ten years of experience as a teacher, or even assistant head or principal teacher, under their belts before launching into consultancy work.
7. Administration
As teachers have no choice but to maximize their organizational skills to manage workload around face-to-face teaching, administration can be one of the best roles to move toward if you are looking for a complete change from the classroom environment.
If working in an office environment appeals, shifting to administration within a school context can be a great place to start, either working in a school office or as a PA to a principal.
This can be a great starting point for transitioning to administrative roles in corporate organizations; for example, assisting a CEO.
This kind of transition would not require any further training; however, it will be important to revise your resume to emphasize the organizational skills you have acquired in your teaching career.
8. Museum Assistant
Museums and galleries provide ample opportunities for ex-teachers. Roles can range from curation and assisting general visitors, to managing learning programs, designing workshops and leading school groups on visits.
These roles provide a perfect opportunity for teachers looking for the freedom to develop their planning and teaching practices without the constraints of a curriculum or teaching to an exam.
Especially for knowledge-driven teachers with specialisms in history, art or related subjects, museums will welcome experienced teachers who can inspire and engage with visitors and young people, and who are keen to continue learning and sharing their knowledge.
This is a career option that would not require any further training. Volunteering or making contact with departments in museums that interest you ahead of applying for a paid role could be a great way to make an entry into this kind of work.
9. UX/LX Design
User experience design is a rapidly evolving sector of the technology industry.
User experience designers play an important role in a web, app or tech product design team and act as the bridge between the users and developers.
They research user experience through face-to-face interviews, analyze their needs and frustrations with existing or prospective products, and liaise with back-end design teams to improve the usability of a design.
Importantly, a UX designer's key role is to create a process that is learned and internalized at first use, and therefore a teacher's understanding of the learning process is really useful in this world.
UX design involves plenty of face-to-face research, and a design planning process similar to that used when planning lessons or curriculums.
There are plenty of free UX design courses available, but most real roles will require a portfolio of real design work.
Most UX designers have done a training conversion course, and as it is a relatively new profession, there are more and more of these emerging as time goes on. It is a well-paid role with plenty of opportunity for progression.
10. Coach
Coaching is different from mentoring. A mentor is an expert in their field who wishes to share their knowledge with a mentee, however, a coach helps a client to arrive at their own conclusions through carefully-considered questioning.
Teachers are highly skilled in constructive questioning, and for those teachers who enjoy the one-to-one conversational aspects of their work, coaching could be a perfect option.
There are a lot of different types of coaching. Career coaches are common, as are life and leadership coaches. Fitness, well-being and relationship coaches are also common.
Coaches most often work in a freelance capacity and find their own clients, either privately or by approaching corporations.
There is a lot of training available for coaches, and it is important to check its credibility before diving in. Try a free taster course or speak to a successful coach before you invest in a longer training course to find out what is required in the kind of coaching you are interested in.
Final Thoughts
Teaching is unlike any other profession, and as such, it will be important to revise your resume and LinkedIn profiles to emphasize the skills and experiences which are relevant to your career shift and which will entice and attract new employers.
Take time to try out new roles where possible, either through short free training courses, volunteering or shadowing, and speak to other teachers who have made shifts into new careers about their process.
It is important when shifting into a new industry to become acquainted with the jargon of the sector, so having conversations with people working within it is a great way to start learning this.
As an experienced professional, any ex-teacher has stamina, work ethic and attitude to offer an organization that a new graduate or even an experienced professional might not.
So, with confidence and careful consideration, making a shift out of teaching into a new role is not only possible but could be a fruitful fresh start.
---