Top Skills Employers Will Look for in 2023
For years it has been said that we were on the cusp of a digital revolution, and we can now say that this revolution has finally arrived.
During the 2020 pandemic, millions of workers were asked to begin working from home. Schools switched to online learning and the need for social distancing meant that firms invested heavily in new automated technologies which would limit the need for human face-to-face contact.
But these changes have also meant that skills that employers look for will likely change dramatically.
Hiring managers and recruiters will be looking for candidates with:
They'll need to have a workforce who can adapt to change and find solutions to unexpected problems.
Therefore, we anticipate that in 2023, job seekers should look to upskill themselves and ensure that the skills sections of their CV or resume reflect the skills that employers will be looking for.
What Are the Top Skills That Employers Will Look for in 2023?
According to a report published in October 2020 by the World Economic Forum, businesses will continue to embrace new technologies which will inevitably create emerging skills gaps.
Among the business leaders surveyed, just over 80% report that they are accelerating the automation of their work processes and expanding their use of remote work. A significant 50% also indicate that they are set to accelerate the automation of jobs in their companies.
Source: World Economic Forum, The Future of Jobs 2020 (published October 2020)
Whilst automation and artificial intelligence has been feared by some for the job losses that it could create, there's also ample opportunity to welcome new technologies for the creation of job roles.
After all, popular jobs such as SEO specialists and app developers were unheard of just fifteen years ago.
With this in mind, we're sharing details of what we believe to be the top skills that employers will be looking for in 2023.
We've broken our skills list into two sections; technical skills and soft skills.
You should use these suggestions to improve your CV or resume, giving prospective employers ample opportunity to understand why you would be a great addition to their team.
The Technical Skills That Employers May Be Looking for in 2023
As more businesses use technology to increase their potential, it's important to ensure that you try to highlight your technical proficiency.
There will be a clear skills gap emerging in the near future and businesses will be looking for employees with the skills to help them cope with these emerging ways of working.
Here are some suggestions of technical expertise that we expect firms may be specifically looking for over the next 12 months:
1. Artificial Intelligence
Artificial intelligence isn't about robots taking over the workplace. Instead, it's about finding ways to use machine learning and automation to streamline systems and processes.
In some cases, AI may lead to a direct loss of jobs (the WE Forum estimates that by 2025, the number of tasks managed by machines and people will be equal) but it can also create new opportunities.
Job seekers are encouraged to try and upskill themselves so that they can be ready to work in the new roles created by AI and machine learning.
For example, many HR and marketing teams are now using big data (facilitated via AI) to make strategic predictions for business growth.
Therefore, those who have the analytical capabilities to understand and interpret this data may find themselves highly sought-after.
Top tip: Why not read our article about working as a data analyst?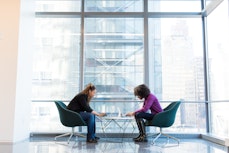 Top Skills Employers Will Look for
2. Cloud Computing
The 2020 pandemic forced businesses to move away from traditional office-based work and this trend is set to continue.
With workers operating at home, businesses have relied on cloud computing software (using tools such as Office 365 or Microsoft Teams).
This reliance on cloud computing will become increasingly mainstream and businesses will be looking for internal employees who can use these platforms quickly and easily.
3. Computer Networking
Another aspect of remote working is the need to facilitate computer networks that enable staff members to work collaboratively.
Businesses will be keen to hire computer science majors who are not only able to install network solutions but have the ability to identify and rectify any technical issues that may arise.
This doesn't mean that you need to retrain as an IT engineer, but if you are used to working across networks or you have experience in specific software, you should highlight this on your resume.
4. Digital Marketing
More than ever, businesses have had to be creative about how they market their products and services. Many firms have turned to digital marketing solutions to raise awareness and drive business growth.
Thanks to new technologies, social media opportunities and search engine opportunities, digital marketing is one of the fastest-growing areas with ample opportunities for career progression.
Candidates with experience in digital marketing solutions (such as content marketing, social media analysis, website management) will have plenty of options.
An added benefit of digital marketing is that it can use many transferrable skills from those working in adjacent areas such as PR and journalism or even human resources or project management.
5. Mobile App Development
These days, most search engine traffic takes place on phones and tablets. Consumers are no longer tied down to heavy computers or laptops to work and interact online.
Therefore, businesses must be visible to consumers who are using digital devices.
Mobile app development has been around for many years, and the role has expanded beyond mere app development.
Working with businesses to become mobile-ready can be about ensuring that websites are optimized for mobiles/tablets (for example, easy to read on small screens) or it can be about finding ways to ensure that brands look consistent across all platforms.
There are many online courses that you can use to upskill yourself and learn more about mobile optimization.
For those working in marketing/PR or copywriting job roles, you should use your resume to highlight your knowledge of writing specifically for mobile.
6. SEO/SEM Marketing
SEO (Search Engine Optimisation) and SEM (Search Engine Marketing) are closely aligned with digital marketing.
Simply put, it's a role that ensures businesses are easily found on search engines.
This is a technical role, and requires an understanding of how search engines use algorithms and analytics to create search rankings. It's also closely aligned with copywriting, PR and marketing because SEO and SEM are about having the right content in place to meet search queries.
We highly recommend the free Google Academy courses which can provide knowledge of how SEO works and the importance that it plays in today's marketing and business strategies.
7. UI/UX Design
Traditionally, websites were all about selling your product and finding ways to increase your brand visibility. In recent years, technology has allowed us to change the ways that we work.
We can use software to track how consumers are using websites and use this data to make significant improvements.
Graphic designers and website development teams may be used to working on UI (User Interface) projects, which is typically the look and feel of a website or mobile app. They'll understand how to make a website look visually appealing.
They are now having to integrate User Experience (UX) into their strategies as well.
This is understanding how an individual uses a website. It considers their entry/exit points as well as their journey throughout their website usage.
It may monitor how many pages they look at or identify any particular barriers which could prevent the user from completing their intention (such as not purchasing an item that they had been looking at).
Businesses are increasingly putting their consumers at the forefront of any web development strategies – so graphic design and web development teams should be aware of how to make this a key part of their skill set.
Similarly, marketing professionals should understand the role that UX design plays and should be well acquainted with free tools such as Google Analytics to understand how to ensure that websites are working as effectively as they should be.
8. Video Production and Editing
Watching video content has soared in popularity. Messaging from videos is often memorized far more than written content and is a great skim stopper, allowing brands to push their promotional messages effectively.
You don't need to be a filmmaker to create effective business videos. There are many free tools and software platforms that allow you to learn how to film and edit videos such as Lumen 5, Canva, GarageBand, iMovie, etc.
The Soft Skills That Employers May Be Looking for in 2023
Many employers are also looking for a variety of softer, interpersonal skills in 2023.
They understand that the world of work has changed and new skills are needed to navigate these choppy waters.
Interpersonal and soft skills that employers may be looking for in 2023 include:
9. Critical Thinking and Analysis
Employers will be looking for staff who can think critically about the data presented to them and analyze how to use that information to their advantage.
The proliferation of big data means that, thanks to technology, they have access to more information than ever before, and they can use this to make strategic business decisions.
You should use your resume or cover letter to provide examples of times when you have been able to implement critical thinking and analyze a wide variety of data.
10. Problem Solving
Businesses need to have the agility to adapt to new ways of working quickly and easily.
They'll be looking for employees who can find ways to overcome problems and use creative thinking to improve productivity.
Problem-solving is likely to be a common search term used by applicant tracking systems that use automation to filter through job applications.
11. Self-Management
You need to show that you can manage your workload and that you have the motivation to work independently – especially now that many workers will work from home.
Within your cover letter or your personal mission statement, you need to emphasize that you have effective time management skills and that you can facilitate your own workstream, even when you are not working alongside colleagues.
12. Active Learning and Development
Employers are looking for candidates who take a personal interest in their career development.
Many HR teams are finding it difficult to facilitate learning and development programs for remote staff, and it can be much harder for line managers to assess your capabilities when you're working from home.
If you can show examples of moments where you've taken an active role in enhancing your own development, you'll show yourself to be a natural asset to the team.
This could be through making the most of professional memberships, reading professional trade publications or journals, or even using free online training programs to enhance your technical skills.
Showing that you can be in control of your continuing professional development is something that many employers will be looking for from resumes and cover letters this year.
Final Thoughts
Although this list isn't exhaustive, it does provide a starting point for considering what skills employers are looking for.
Knowing how to showcase your skills on your resume isn't about embellishing your past experience. It's also not about retraining into new areas.
It's about understanding that the world of work has changed and knowing how to demonstrate that you have the necessary skills that employers are looking for.
It's about anticipating what employers may need now, and what skills they may need in the future.
If you can show that you have the attributes to fill any skills gaps, then you will enhance your employment prospects.
It's also important to remember that whilst the use of technology has accelerated over the past year, the digital revolution isn't something that we should fear.
Businesses will need hard-working and highly-qualified staff to help them through this evolution. Whilst automation will likely lead to many job losses, new jobs will inevitably emerge.
Therefore, you could devote this year to your professional development and give yourself new technical skills that employers will need moving forward into 2023 and beyond.
---