Microsoft Job Application and Interview Process
Introduction to Working for Microsoft
Founded in 1975 by Bill Gates and Paul Allen, Microsoft is a highly regarded developer of computer software, operating systems and electronics.
In 2019, Microsoft was valued at over $1 trillion.
The company continues to go from strength to strength, often being grouped with other tech giants such as Apple, Facebook, Amazon and Google.
As an employer, it offers generous salaries and an excellent benefits package, including healthcare insurance and exclusive discounts. Microsoft headquarters has on-site shops and services, and employees have access to a company shuttle bus.
Employees work on exciting projects and enjoy a varied, interesting workload.
Microsoft employs over 150,000 employees around the world and was rated second in Glassdoor's Best Places to Work in 2021.
Microsoft is nearly always recruiting for tech roles including software engineers and developers. In particular, the company seeks to recruit candidates with the skills required to work with Azure, Microsoft's cloud platform.
In addition to technical positions, there are also opportunities to work in business functions such as finance, human resources and research.
What Is the Company Culture?
Microsoft describes itself as a tech company whose mission is 'to empower every person and every organization on the planet to achieve more'.
To help achieve this mission, Microsoft has a set of key cultural attributes which it expects employees to commit to:
Growth Mindset
Microsoft seeks to recruit curious people who are motivated to grow and develop. These are people who can quickly learn new skills and easily connect with other people to bring new ideas to fruition.
It describes this as having a 'growth mindset', which it believes should be applied in all aspects of the business.
Microsoft is committed to nurturing potential within its workforce, helping people to do their best work every day.
Customers at the Center of Everything
Microsoft wants its teams to put the needs of the customers at the center of everything they do.
It encourages employees to learn about customers' needs before developing solutions that will go above and beyond their expectations.
Diversity
Microsoft recognizes that the world is diverse. It believes the company can provide a better service by representing all groups.
It expects employees to recognize their own biases and alter their behaviors, ensuring every group can make a contribution at Microsoft.
It believes that being inclusive ensures the delivery of innovative products and services.
Microsoft does not only value diversity, it actively seeks out differences, inviting them to contribute to the business.
Team Values
Microsoft's workforce is one team of people working towards the same mission.
The company expects its employees to listen to other people's ideas, collaborating with people outside of their area of work to bring products and services to life.
Employees are expected to act with integrity, treat one another with respect and be accountable for their actions and words.
Managers must commit to being key role models for Microsoft's culture and values. They will be expected to coach others and promote a work environment where everyone can do their best work.
What Does Microsoft Look For in Its Employees?
A desire to learn is one of the most important traits that Microsoft recruiters look for. You will also need to be:
Highly intelligent
Passionate about technology and innovation
Willing to work hard
Keen to excel
Microsoft has a set of core competencies which are assessed throughout its hiring process:
Collaboration – The interviewer will be looking for evidence of effective communication skills. You should be able to provide examples of situations where you have communicated effectively within your team, and with people outside of your team.

Drive for results – You will need to show that you have the tenacity to deliver on your commitments, regardless of any obstacles you may face. You will need to be someone who is always looking out for the next challenge, holding yourself and others accountable for the actions of your team.

Customer-focused – Microsoft seeks to empower every individual and every organization to achieve more.

Influencing for impact – You should be able to use your communication skills to effectively influence and persuade others.

Judgment – You should be able to effectively evaluate complex problems, using your business awareness to make evidence-based decisions.

Adaptability – You will be able to cope with uncertainty or issues with agility in the workplace.
Can You Apply For More Than One Job at a Time?
Technically, yes. However, it is always best to consider your skill set, the area you would like to specialize in and which team you are interested in.
Microsoft Job Application Process
Jobs at Microsoft are highly desirable, so the company uses a structured hiring process to recruit new employees.
Prospective employees can search and apply for jobs via the Microsoft Careers website.
You can set up a personal profile, which will enable you to make applications, receive job alerts and check the status of your application(s).
First Stage – Application
The first stage is the completion of your application through the Microsoft Careers page.
This includes the submission of your resume.
It is important to finetune your resume before applying. Keep it concise and relevant to the job role you are applying for, with the 'headlines' of your past experience on the first page.
The recruiter will be interested in hearing about your accomplishments, strengths, and specific skills and qualities that would make you suitable for the role at Microsoft.
It is important to focus on what you have achieved in previous job roles, so avoid only listing your duties. Attach documents or links to your past work if you can – this will help to illustrate your style of working.
If you are involved in voluntary or extracurricular activities outside of work, include a summary as part of your resume. Again, this helps to bring your resume to life and tells the recruiter more about your personality and interests.
Your application will be reviewed, and if the recruiters think you are a good match for the job role, they will contact you for an initial telephone discussion.
If you are not contacted, your details will be added to the shared candidate database. This means that you could be contacted about other career opportunities with Microsoft in the future.
Second Stage – Phone Screen Discussion
The main purpose of the phone screen discussion is to review your resume.
During this short call, the recruiter will also ask you some behavioral questions. These are designed to establish your level of curiosity, willingness to learn and leadership qualities.
For technical roles such as engineer or developer, the phone screen will be longer (around 45 minutes).
You will be asked more technical questions relating to algorithms and data structures.
You will need to answer a coding question using a shared editor, and develop a solution within 30 minutes. Although C# is Microsoft's programming language for Windows.NET, candidates are not expected to know a specific language.
Third Stage – Telephone Interview
If you successfully pass the phone screen stage, you will be asked to attend a telephone interview. This usually takes place a week or two after the phone screen.
To help you prepare, the recruiter will supply in advance an agenda and an overview of the topics you will be asked to talk about.
If you have applied for an engineering role, you may be required to attend a second telephone interview. This time, you will be interviewed by an engineering manager or senior developer.
The interviewer will be looking for evidence that you have a solid understanding of algorithms (quicksort, divide and conquer, mergesort, depth-first search, breadth-first search) and data structures (hash tables, linked lists, queues, stacks and arrays).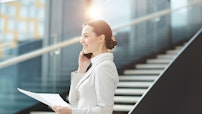 Microsoft Job Application and Interview Process
Fourth Stage – Face-to-Face Interviews
Applicants successful at the telephone interview stage will move forward to a series of on-site, face-to-face interviews.
This consists of up to five interviews, plus a lunch with the team you hope to join.
You should consider the lunch as part of the formal interview process.
During each interview, you will be assessed by a panel of two Microsoft employees. This helps to avoid unconscious bias in the interview process.
As you progress through the interview stages, the person interviewing you becomes more senior. High-quality communication skills and a professional approach will be vital.
The interviews will take place in quick succession, so it can seem a long, tiring day.
At each round of interview, the panel will mark you as either 'hire' or 'no hire'. If you receive three 'no hire' decisions, the interview process may end early and you could be sent home.
The final person who interviews you is referred to as an 'As Appropriate' or 'As Ap'. Along with the recruiting manager, the As Ap has the power to decide whether or not you will be hired.
At the end of the on-site interviews, you will receive feedback promptly. If you are to be hired, you will receive a job offer quickly – sometimes on the same day.
If you are applying for a non-developer role, you will most likely move straight from the phone screening stage to the on-site interview stage. The interview will be held at the Microsoft location you have applied to work at. All expenses will be reimbursed to enable you to attend.
Fifth Stage – Formal Offer or Rejection
Following the on-site interview, you will usually receive a formal offer or rejection.
In some cases, you may be asked to attend one final interview with human resources.
This interview is made up of technical and behavioral questions and is designed to ensure you are the right candidate for the role.
There will also be an opportunity to discuss the salary and benefits package.
What to Expect When Being Interviewed for a Technical Role at Microsoft
Technical interviews are designed to assess the candidate's problem-solving abilities. You will be expected to show technical excellence and the ability to work in accordance with Microsoft's core competencies.
The interviewer will be interested in finding out more about:
Your general approach to problem-solving, plus your ability to use strategic thinking to solve more complex issues
Your knowledge relating to technical methods and principles
Your technical agility
In addition to the above, you will be required to answer competency-based interview questions.
At present, the entire Microsoft interview process is conducted virtually, due to the pandemic. If you require any accommodation to help make the virtual interview process accessible, you can contact the recruiter to let them know in advance.
The interviewer will be interested in more than just your answer to a technical question. It is important to clearly explain your approach to solving a problem and how you break down data and information.
They will also want to gain an understanding of how you think, whether you can show empathy for customers and your thought process when making decisions. Time management is an important skill, as you will be allocated a specified time limit for the interview and the coding tasks.
You should be able to demonstrate that you can work with existing platforms, but also that you know what is required to create a completely new platform or system.
Preparing for an Interview With Microsoft
Carry Out Detailed Research
Your research should be split into three key areas:
The company – Visit the Microsoft website to learn about its history, culture and mission. You could also look at social media profiles, blog posts and news articles.

The interview panel – Visit LinkedIn to view the interview panel's profiles. This will help you to understand their job roles, priorities and areas of interest. You can use this knowledge to tailor your answers at the interview. It will also help you to decide on the best questions to ask them.

The role you are applying for – Dedicate some time to reading the job description and/or person specification in detail. Highlight any areas you need clarification on and make notes on how your skills and experience will help you to perform well within the role.
Revise Microsoft's Core Competencies
Be familiar with and comfortable talking about Microsoft's core competencies. Think about your values and where there are similarities. Write down some examples of past projects where you have had to apply these values.
Check Your Video Calling Equipment
Set up your teleconferencing technology and make sure it is working properly. Familiarize yourself with all of the functionality.
If you want to build up your confidence, you could try holding a mock video interview with a family member or friend.
Be Prepared to Sign an NDA
As a Microsoft job applicant, you will have access to confidential information regarding its business operations.
You will be required to sign an NDA (non-disclosure agreement) to confirm you will not share information.
Collate Evidence of Your Past Projects
Having this information to hand during the interview will be a useful visual aid to prompt you to talk about your accomplishments.
Think about your goals or vision for the future. What do you hope to achieve? What would you like to achieve working for Microsoft? Think about how your own goals are related to Microsoft's mission statement and key objectives.
Tips for a Successful Application and Interview Process
Be yourself – Microsoft values authenticity and uniqueness. It is important to be honest throughout the Microsoft recruitment process.

Limit distractions – As the interview process is currently virtual, you will need to find a suitable place to answer the video call. Inform anybody you live that you will be having an interview so you are not interrupted.

Wear something professional, but comfortable – Microsoft specifically advises that they don't expect interview candidates to 'dress to impress'. You do not necessarily need to wear a suit, but you should still aim to look smart.

Focus on Microsoft's core competencies and those relevant to the job role you are applying for. You should have these in mind when answering each interview question.

Be ready with questions – Use your preparation and research to compile relevant and interesting questions for the interview panel. They are already working for Microsoft, so this is your opportunity to ask anything you want to know about the job role or what it is like to work for Microsoft.

Use the STAR model for answering questions – What was the situation? What tasks did you take responsibility for? What actions did you take to achieve your objectives? What were the results? What went well? What would you do differently next time? Applying this structure to your answers will help you to give a clear and concise response.

Be ready to demonstrate your thinking and share reasoning – The interviewer will be interested in more than just your answer. They will want to know how you arrived at a particular solution and why you followed the process that you chose to get there.

Ask questions if you need clarification – If you are unsure of what is expected of you, it is always best to speak up so that you have a better chance of giving a good answer.

Update your resume – This should be updated to reflect the job role you are applying for. Focus on the requirements of the job description and include information on any relevant experience, qualifications or skills you have. Use active verbs to describe what you did – for example, use 'persuaded' instead of 'presented', and 'delegated' instead of 'led'.

Create a Microsoft Careers profile – This will make it easier to apply for job roles. You can save multiple resumes to your profile and receive notifications on the status of your application.

Choose your coding language – As stated, you will not be expected to know a specific language. However, you should stick to using the one that you are most comfortable with for the coding tasks. This will ensure you can give your best performance.
Final Thoughts
Jobs with Microsoft are highly desirable, so the company uses a structured hiring process to recruit the best talent.
Applicants should spend time becoming familiar with the company mission statement and values, incorporating these into their answers at the interview.
As this is a highly competitive environment, thorough interview preparation will be vital. Your preparation should cover all aspects of the hiring process, from learning about the company and interview panel to practicing your technical skills.
---