Network Rail Application Process
All products and services featured are independently selected by WikiJob. When you register or purchase through links on this page, we may earn a commission.
Network Rail is the public sector organisation responsible for railway infrastructure across England, Scotland and Wales.
In 2019, it restructured business operations and now runs 14 devolved routes across five regions:
Eastern
NorthWest and Central
Southern
Scotland's Railway
Wales
Western
Each of its 14 routes is essentially its own business, fronted by a route-specific leadership team, with the aim of providing services on a localised level to better meet the needs of regional customers and stakeholders.
It does this through four key business areas:
Operations – This division is responsible for the safe and efficient operation of the rail network. It covers all operational processes and systems, from station-based customer service to signalling operators and incident response teams.

Maintenance – This area ensures the entire infrastructure is kept in working order, by performing routine maintenance on all systems and assets that make up the network.

Engineering – Roles within the engineering division are diverse. As a business unit, it is responsible for Network Rail's commercial activity, like supply chain and procurement, continued maintenance, and repair, plus architectural engineering for the development of Network Rail managed stations.

Professional services – This division is responsible for behind-the-scenes activities and encompasses departments including HR, finance, IT services, communications, project management and legal.
As an organisation committed to diversity, inclusion and employee development, Network Rail offers a range of exciting career opportunities across its broad spectrum of business activity.
Network Rail Graduate Programme
Every year in October, Network Rail welcomes applications for its various graduate schemes.
Successful applicants will begin their placement the following September.
These are all paid, rotational placements with an annual salary of £26,500, a £2,000 joining bonus and a range of employee benefits, including 28 days holiday entitlement per year, pension schemes and discounted travel.
Graduate placements are offered in both engineering and business function roles.
Engineering Placements
There are three schemes offered in this area:
Mechanical Engineering
Civil Engineering
Electrical and Electronic Engineering
These are all two-year placements that come with an additional two years of support on completion.
To apply, you will need a minimum 2:2 in an accredited Institution of Mechanical Engineers, Institution of Civil Engineers or Institution of Engineering Technology degree, depending on the placement you are interested in.
All engineering placements give participants the opportunity to contribute towards their professional qualification as either an incorporated engineer (IEng) or a chartered engineer (CEng).
Business Function Placements
There are multiple schemes offered in business functions. These vary in duration but are all open to graduates with a 2:2 degree or above in any subject, with the exception of the Property graduate scheme.
All also offer ample opportunity for career development and will see participants working towards an advanced qualification within their field.
Below is a list of all business function graduate schemes with Network Rail, with details on length and professional development opportunities.
IT and Business Services – A two-year placement leading to either a Prince2 IT Infrastructure Library (ITIL) or an APM Project Management qualification.

Operations and General Management – An 18-month placement with a chance to undertake a Passenger Transport Operations Management Level 4 Apprenticeship.

Commercial and Procurement – A 20-month placement leading to a Chartered Institute of Procurement and Supply (CIPS) Level 4 qualification.

Network Strategy, Planning and Analysis – A two-year placement with the opportunity to work towards chartered status in transport planning.

Project Management – A two-year placement during which participants will gain both a Level 4 Associate Project Management qualification and Association for Project Management Qualification (APM PMQ).

Finance – A two-and-a-half to three-year placement complete with a Level 7 apprenticeship. Participants of this scheme will also be awarded Associate status with the Chartered Institute of Management Accountants (CIMA).

Property – A three-year placement after which successful participants gain Member of the Royal Institution of Chartered Surveyors status (MRICS). For entry into this scheme, you will need a Planning and Development or Commercial Real Estate degree. This will need to be accredited by the Royal Institute of Chartered Surveyors for the commercial property route.
In addition to the above, Network Rail also offers Year in Industry placements.
These salaried positions are open to students on sandwich courses, and are available in the following areas:
Mechanical Engineering
Civil Engineering
Electrical Engineering
IT and Business Management
Finance
Project Management
General Management
Environment and Sustainable Development
There are also a number of apprenticeships and summer internships in several business areas.
Network Rail Application Process
The Network Rail application process is the same for all graduate schemes and summer or Year in Industry placements.
There are five stages of recruitment, each of which is explained in further detail below:
1. Match-Me Quiz
The match-me quiz is a purpose-built questionnaire designed to give you an introduction to what working life at Network Rail is like.
You will work through various questions which ask you whether certain activities are something you enjoy, with the aim of matching you to a specific job role.
This first stage of the Network Rail application is voluntary, but it is highly recommended that you choose to participate.
If you do so, note that your answers here have no bearing on the rest of your application.
Alternatively, if you already have a good understanding of the roles available and are certain you wish to apply, you can move directly on to stage two.
2. Online Application and Situational Judgement Test
In this step, you will fill out a standard application form to provide Network Rail with your personal details and ensure you meet the eligibility criteria.
You will then be asked to complete an online situational judgement test.
These are a form of psychometric testing used to assess behavioural characteristics and working preferences.
You will be given a series of hypothetical scenarios followed by multiple-choice options. These options will be different types of responses to the given scenario, and you will need to select which you personally see as most fitting.
The hiring team will use your results to see how well your working style fits with Network Rail's culture.
There are no right or wrong answers on a situational judgement test so you should try not to overthink things. Doing so is likely to result in an inconsistent profile, so be honest and go with your natural instinct.
3. Psychometric Game
To assess verbal, numerical and logical reasoning skills, Network Rail takes an alternative approach to most other companies, preferring to use gamification in favour of traditional aptitude tests.
For this digital exercise, you will need to download an app and complete a series of different tasks specifically designed to test your natural abilities in language comprehension, numerical interpretation and logic.
Most candidates spend between 20 and 30 minutes on the psychometric game, and you will have a chance to complete a practice task before you begin.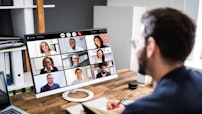 Network Rail Application Process
4. Video Interview
Successful applicants will then be invited to a video interview.
This is made up of prerecorded questions, to which you will have an allotted time frame to record your answer for each.
The questions asked will delve deeper into your motivations for applying to Network Rail, what you see as your greatest strengths, and why these make you a strong candidate.
You will also be asked to provide real-world examples of past challenges and successes.
When preparing for this interview, consider your experience and what scenarios you can refer to that will show alignment with Network Rail's core values.
You should also follow basic video interview tips, like ensuring you have a stable internet connection, that you look directly into your camera when recording your answers and that you use appropriate body language throughout.
5. Assessment Centre
For the final stage of your Network Rail application, you will be invited to attend an assessment centre.
This may be in person at one of its regional offices, or it may take place virtually.
The Network Rail assessment centre schedule includes a number of exercises and a final interview.
The exact exercises you are asked to complete will vary based on job role, but you can typically expect to take part in some or all of the following:
Assessment centre group exercise – These will see you working with fellow candidates, usually to analyse a given set of information and formulate a solution to a hypothetical problem. Your decision making, problem solving and collaboration skills are all being observed here.

Case study exercise – This solo task will see you presented with certain information, which you will need to analyse and use to make a recommendation for the organisation. You will then need to present your suggestions to an assessment panel.

Aptitude testing – You may also be asked to complete verbal, numerical and logical reasoning tests to back up your psychometric game results. If you are applying for one of the engineering graduate schemes, you will also sit an inductive reasoning test.
For the interview section of the Network Rail assessment centre, you will spend around an hour discussing your skills, experience and aspirations with a member of the hiring team.
There will also be networking opportunities, where you can speak with members of the leadership team and those currently employed on graduate schemes.
Pre Employment Checks
If you are selected as a successful applicant, Network Rail will conduct a Government Baseline Standards Security check (BPSS) before making a formal offer.
This covers your identity and right to work, a criminal record check, medical assessment, and employment history verification.
Where required, candidates may also be subject to drug and alcohol testing, and National Security Vetting (NSV).
Top Tips for Applying to Network Rail
Know Network Rail
Throughout the entire application process, you will be judged on a set of predetermined criteria.
Whilst these are not explicitly listed, and may change slightly depending on job function, you can get a good idea of what the organisation looks for by doing your research.
Look into its priorities and core values, read up on its latest projects and future plans, and delve down into the job description of the graduate scheme you are applying to.
In the latter instance, Network Rail is fairly transparent and gives a detailed candidate profile for each. Use this to guide you at every stage.
Make Preparation a Priority
The Network Rail application process is well communicated. Since you have the information at hand on the whole process, do not wait to see if you progress before you start preparing.
Take practice situational judgement and aptitude tests, research potential interview questions and consider your responses, and read preparation advice for assessment centres.
Even if you do not make it through to the latter stages of recruitment, you have not wasted your time, since this preparation is transferable to other job applications.
Reflect on Your Experience
In both your video and final interview, you will be asked to respond to competency-based questions that require real-world examples.
With that in mind, it is important to think about your past achievements and how these demonstrate the key skills required for the role.
They do not have to relate to professional experience. You are applying for a graduate scheme after all, and Network Rail will not expect you to have years of work history to refer to.
Think about achievements in your academic career and personal life, and the transferable skills these demonstrate, like teamwork, communication and leadership.
Show a Customer-First Perspective
Network Rail's top priority is to put passengers first, and regardless of your role within the organisation, this should be your own motivation.
Keep the end user of Network Rail's service in mind as you work through your situational judgement test, group and case study exercises.
Also, be sure to relate your responses to interview questions back to your customer first perspective.
For example, when explaining your skills, articulate how these can help improve business operation and performance.
Be an Active Participant
If you progress to the final stage of the recruitment process, make sure you stand out from the crowd by participating at every possible opportunity.
Brush up on your networking skills so you are confident in engaging with others at your assessment centre, regardless of seniority level.
In assessment centre exercises, play an active role whilst encouraging others to do the same, and have a list of questions prepared to ask in your interview.
This final stage is as much a chance for you to explore Network Rail as it is the hiring team to get to know you. Use it to do just that and show you are an enthusiastic candidate prepared to make a valuable contribution.
Final Thoughts
Network Rail is a dynamic organisation that is constantly evolving to provide better standards of service. What it is looking for in its graduate recruitment are applicants that can bring new ideas, new skills and a fresh perspective to the table.
Whichever business area you apply to, make it evident that you are such an applicant throughout, and remember to add strength to your Network Rail application by aligning with its customer-first perspective.
---