What Is Direct Hire, and How Does it Work?
What Is a Direct Hire?
Direct hiring is when a company offers you a job without using a third party. These jobs are typically permanent or long-term positions with benefits, a salary and paid time off (PTO).
The recruitment process tends to be longer and more thorough. As the employer is making a long-term investment in you, they want to ensure you are the right person for the job.
While a recruitment firm might manage the initial recruiting process, you report to the hiring company if your application is successful.
A company will directly hire for several reasons:
Fill positions for leadership roles
Create a loyal and permanent workforce
Recruit higher-quality talent
Simplify the hiring process
Examples of Direct Hiring
As a rule, positions that require specific skill sets or are in high demand are most likely to be direct hires. These include:
Managers and Executives
Leaders are integral to a company's success, which is why recruitment for these roles is so thorough.
Having a temporary manager can hinder a company's growth and operations. For this reason, these roles are direct hires.
Unique Skills
Positions that require unique hard skills are often direct hires.
These positions are particularly common in STEM careers where, once recruited, the company does what it can to keep employees.
Advanced Qualifications
If the role requires a doctorate or master's degree, the employer will use the direct-hire approach to discuss candidates' qualifications or research.
Medical professionals and scientists would fall under this category.
Not Enough Candidates
On some occasions, there are not enough candidates to fill the available roles.
In cases like this, the company might 'head hunt' and offer the direct hire a better package than their current employer.
Recruiting Events
Many companies that offer graduate programs will attend on-campus career fairs to encourage the top candidates to apply.
Such professions might include:
Software engineers
Scientists
Analysts
Why is Direct Recruitment Desirable for Employees?
For an employee, direct recruitment is preferable because it:
Supports Career Goals
For your lifestyle and long-term career goals, you may prefer to be in a stable, permanent position with opportunities to progress through the company.
Temporary hires have very little chance of being offered development options.
Better Benefits
As direct-hire roles are skilled positions, there are often more employee benefits and a better salary.
Benefits may include:
Paid time off
Incentives such as cycle-to-work schemes
Subsidized gym memberships
Retirement plan
Health insurance
Greater Job Security
As your employer is investing a lot of time and money in you, there is less chance that you will lose your job.
Why is Direct Recruitment Desirable for Employers?
For employers, the benefits of direct hires are:
Lower Recruitment Costs
If none or very little of your workforce is temporary or contract-based, there is no need to hold regular recruitment drives.
Employing a direct-hire means that their costs (salary, retirement fund, health insurance and other benefits) are your responsibility. While this could be a disadvantage, not paying a third party for those services might be more cost-effective.
Increased Employee Retention
When employees are appreciated and supported, they remain within a company for longer.
Direct-hire positions usually come with career prospects, constant training and professional development programs.
Higher Quality Employees
As direct-hire roles are often skilled, the types of candidates they attract are:
Career- and goal-driven
Knowledgeable with specializations
Highly educated with a strong work ethic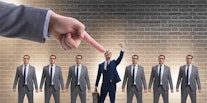 What is Direct Hire, and How Does it Direct Authority Work?
How to Find and Secure a Direct Job
As with any job, having a strong resume, developing the right skill set and practicing your interview technique will help secure your dream job.
However, when it comes to direct-hire positions, there are several things you can do to find and secure a direct job.
Sign Up With a Recruitment Agency
Though it is a direct hire, most companies use a recruitment agency to help filter candidates.
Ensure the agency you choose works with the types of companies you want to be employed by.
A recruiter can also help make your cover letter and resume stand out and offer support to prepare you for the interview.
Sign Up for Email Alerts
Most companies send out adverts for their next recruitment drive or for any positions that need filling.
Being on their mailing list will allow you to keep up to date with any company news – information that will be useful during your interview.
Apply on the Website
Some companies have an online application system where you can submit your resume and a cover letter.
This process may be quicker than waiting for a recruitment drive.
Set Up Social Media Alerts
Many companies advertise new openings on social media. LinkedIn is especially common as there is usually a link to quickly apply for the role.
As with signing up to mailing lists, following their social media will keep you updated with company news.
Send Speculative Applications
If you have the email address of someone from HR or the department you want to work in, send them your speculative cover letter and resume.
They will either keep you on file, invite you for an interview/conversation or not respond.
Whatever the outcome, you have shown an interest that may pay off in the future.
Frequently Asked Questions
The recruitment process for direct hiring is:
Candidates are sourced from various networks using recruitment agencies. The bigger the talent pool, the greater the chance of finding the ideal candidate.
A screening process takes place, which may include online psychometric testing and a telephone interview. This ensures candidates meet the requirements and fit the company culture.
Final interviews are carried out by the company based on recommendations from the recruitment agency.
A final offer is made and the new recruit starts the onboarding process.
Aside from direct hiring, there is also:
Temporary hiring – Used when a short-term position needs filling, such as working for a company for six months to complete a project or over the holiday period in retail to accommodate the extra footfall
Contract – This position is also temporary, but you are employed to complete a specific task, such as construction work on a new building
Contract-to-hire – This is when you are employed for a set amount of time with the potential to become a permanent employee
Direct hiring in the government is something entirely different to direct hiring in the corporate world.
In this case, it is when a government department requests a direct-hire agency to headhunt candidates.
This process skips the typical recruitment process and usually occurs when there are few possible candidates or multiple positions need filling.
The disadvantages of direct hiring are:
You have to pay a fee – This is typically 15% to 25% of the new employee's total first-year salary. For senior and hard-to-fill positions, the fee could be up to 50%.

You take on all employee expenses – This means adding them to payroll, funding their health insurance, contributing to their retirement fund and any other employee benefits they might have.

A more time-consuming recruitment process – With direct hires, multiple interview rounds and online testing ensure the best candidate is found. Hiring the wrong person is a cost no company wants.

No trial periods – The goal of a direct hire is to employ someone permanently. This means that there is no temporary contract to assess their skills. You have to be confident that you have recruited the right person.
To get a referral for a company, you first need to network with current employees.
When you feel your relationship is strong enough, send a letter or email to that person asking them to recommend you.
This letter or email should include the position you want and why you think you are an ideal candidate.
Make it clear that this person can say no if they choose and give them time to think about it.
If you don't know anyone from the company you wish to work for, speak to your career or alumni office to see if they can put you in contact with someone.
The preparation process for all interviews is the same, whether the job is a direct hire or not.
In the build-up to your interview:
Research the company and your role
Update yourself on any industry news and trends
Research and prepare common interview questions
Write down the questions you want to ask the interviewers
Prepare your clothes ahead of time and ensure you are well groomed
---