Example Templates For Your CV or Resume
All products and services featured are independently selected by WikiJob. When you register or purchase through links on this page, we may earn a commission.
Writing the perfect CV is an important step towards gaining your dream job.
But what exactly is the perfect CV?
Every job has different requirements – and what's perfect for one job or organisation will certainly not be right for another. For instance, a management, medical assistant or performing arts role will require different skills and experience to a software engineer, graphic design or accounting position.
The solution is to ensure that your CV is tailored to your exact situation.
While CVs must be smart, professional and easy to read, it is the content that you should prioritise.
Knowing what information your CV needs to showcase – and presenting that information in a way that is appealing to recruiters – is the first step to creating a successful CV.
In this article, we're going to take a closer look at three different types of CV:
Qualifications-focused
Experience-focused
Skills-focused
Which is the most appropriate for you will depend on where you are in your career and what sort of role you are applying for.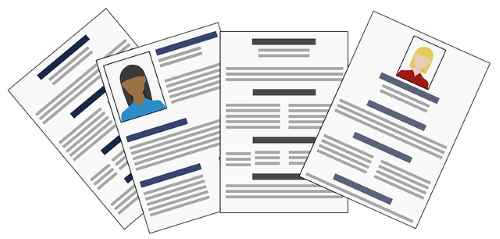 What Information Should Every CV Contain?
Your CV should be one to two pages long. As a minimum, it should contain:
Your full name
Your address, telephone and email
Your educational history (most recent first)
Your professional/work experience and employment history (most recent first)
Professional accreditations/qualifications if you have any (for example, ACA)
Specialist skills (for example, administration, typing, book-keeping, etc.)
The title of your CV should be your name, placed clearly at the top of the first page where it will be easily found by the reader. The next two or three lines should contain your contact details.
Include a short personal description, statement of qualifications or resume objective at the start of your CV, stating your career goals, hopes and aspirations. Always write your CV in the third person and stick to professional language. Carefully consider what buzzwords, power words or action verbs you may want to include. If you don't want to write the CV yourself, you may wish to use a CV writing service instead.
Note that your CV should not include your date of birth or your age, due to age discrimination laws. Neither should it include photos of you or contacts for references at this stage.
For more, see this detailed article on how to write a CV.
You should also generally include a cover letter to explain your suitability. You should do this even if applying by email. Be aware that cover letters are not always read and, therefore, you should include any particularly relevant information on both your CV and cover letter.
Read more on how to write a cover letter.
Template Example for a Qualifications-Based CV
A qualifications-based CV focuses on your suitability for the role by showing that you have qualifications that relate directly to the job. It is often used by people who are early on in their careers or looking for their first job.
Where possible, it is useful to back up any qualifications you hold with evidence that you have applied this knowledge – whether that is in the workplace or through a hobby, volunteering or interest.
Write your educational history in reverse chronological order, with the most recent qualifications first. Your level of education will dictate how much detail you should include in your CV.
For example, if you have a university degree, you do not need to include a list of your GCSE or high-school subjects – just the grades will suffice.
You should include: 
The date the qualification was attained
The grade obtained
The name of the subject
The name of the establishment, university or college from which you qualified
The city/county of the establishment (if abroad, only include the country)
Any additional details that you may wish to add that may support your application
Here is a useful template for this type of CV, with further tips for writing your own:
Template Example for an Experience-Based CV
The experience-based CV focuses on what you have done previously that demonstrates your suitability for the role you are applying for. It tends to be most appropriate for people who are established in their careers and are applying for a new role with a direct link to their previous experience.
For instance, you may be a nurse or teacher with several years of experience in your role and you now wish to progress to a more senior position in your career.
This type of CV aims to demonstrate how your employment history has led you to applying for this position. It explains what you have done that makes you a good fit for the target role.
Make sure you list your employers in reverse chronological order, with the most recent first. Include:
Dates of employment
Company/organisation name
City (or country where relevant)
Job title
Details of position – what you did and experience gained (including any training courses attended or skills acquired)
Make sure you include any relevant internships or work experience here, clearly marking these positions as such. Use bullet points to describe roles, key skills and any further details more concisely.
Never write anything negative about a past or present employer on your CV.
Here is a useful template for this type of CV along with further tips:
Template Example for a Skills-Based CV
A skills-based CV is particularly useful for people who are looking to move into a new area or sector and want to showcase their transferable skills.
Perhaps you've worked in customer service or as a receptionist and want to go into housekeeping, or you want to transition from a retail role to a bartender position. All of these areas require certain skills that will be valuable across many other roles too, such as cashier skills, communication skills and good time management.
This type of CV demonstrates your suitability for the role by showing what skills you will bring with you when you might not have much directly relevant work experience. As such, it is particularly valuable for career changers.
When choosing skills for your CV, make sure they are relevant and support your application. Remember to include anything that you think will set you apart from other candidates. Examples include:
Book-keeping
Foreign languages
Specialist IT skills
Familiarity with Microsoft Office, email or the internet is expected, so it is not necessary to mention this unless you are particularly able.
Here is a useful template for a skills-based CV with tips for writing your own:
---