How to Write a Teaching Cover Letter
What Is a Teaching Cover Letter?
A teaching cover letter is the first impression that will decide whether or not a school will interview you.
Therefore, whether you are applying for your first job, looking to specialize, looking to shift into a new education area or advance to a leadership role, demonstrating that you match the specification in the job advert and that you are genuinely passionate is key.
A good cover letter for any position is crucial – your cover letter, before a resume, is what will grab a recruiter's attention, highlight your specific skills and experience, and demonstrate that you are the best fit for their organization.
However, in teaching, where qualifications are standardized and therefore don't vary very much between applicants, it is of extra importance to demonstrate your skills, experiences and fit in punchy, succinct and direct writing.
Realistically, you have around thirty seconds to capture the attention of the reader. So do your research (writing to a named individual is always more effective than a general 'to whom it may concern'), and make sure your letter highlights the specific experiences and skills which will benefit the organization you are applying to, tailoring your letter for each new application you write.
What Should a Good Teaching Cover Letter Include?
A good cover letter demonstrates that you:
Are genuinely interested in, and could contribute actively to, the school you are applying to

Have specific skills and experiences which you could contribute to the role

Are passionate about your specialism whether it is working in the early years or teaching a specific subject at high school, and can demonstrate why you think your work is important

Meet or exceed the key competencies and qualifications outlined in the job description
The quickest strategy for ensuring you make the shortlist for an interview is to use the language of the person specification or job description for your teaching position verbatim.
Doing this will also ensure your letter is tailored to the organization you are writing to.
Here are some of the key things to include:
Your Knowlege of the School
A good cover letter demonstrates you are genuinely interested in working for the school you are applying to. So, do your research.
Start with the school website and identify anything that the school prides itself on. It could be extracurricular activities and arts, great exam results, or including and communicating with families.
Even better than researching, many schools will welcome visits from prospective teachers. A visit allows you to present yourself well ahead of application, as well as to evaluate for yourself the culture of the school, the environment you will be working in, and to ask questions of current staff about the school culture.
Specific Examples of Your Work Experience
Make sure you acknowledge any specific examples in your teacher cover letter and demonstrate how your experience shows you could contribute to the school's values.
For example, in an elementary teaching cover letter, the job description could include sentences such as:
'Essential: three to five years of experience working with children in elementary schools'
'Knowledge of child development in early years'
Your sentences can echo this directly:
I have five years of experience working in elementary schools as a specialist teacher.
My knowledge of child development in early years is exemplary and evidenced by...
Your Passion and Motivation
Your passion for your specialism should also be evident in your writing. You could build on the sentences above to explain your motivation for becoming and staying in education.
For example:
I have five years of experience working in elementary schools and am driven by the belief that the impact of schooling on children is greater than any other stage of their school career.
I am fascinated by development in early years and am motivated by a desire to make a positive and lasting impact on each class I teach.
Key Specialisms
There will be key differences between:
A substitute teacher cover letter – Specialist teachers working with students with needs should be specific about their experiences. If you have worked with deaf children, your knowledge of sign language and any extra training are key competencies to highlight in your letter. If you have worked with children with autism or children for whom English is not their native language, these are experiences that will have grown very different skills. Again, a specialist teacher cover letter should evidence the willingness to learn new skills, as well as key learning experiences developed in previous roles.

An elementary teacher cover letter – This should highlight your experiences of working with specific age groups, as well as your willingness to transition to an older or younger class if that is what the job description requires (or to continue to develop and upskill as a teacher within the same age bracket if necessary).

A preschool teacher cover letter – This needs to emphasize your interest in working with young children and the experiences you have had doing so.

A high school teacher cover letter – This should explain and evidence your passion for your subject, as well as the reasons you think your subject is crucial to the curriculum. Evidence of extra-curricular support and offers will always be valuable. For example, a music teacher should always speak about bands, shows, and events they have contributed to or organized in previous roles.
How to Write a Good Teaching Cover Letter
With each paragraph of your teacher cover letter, be succinct and remember who is reading.
Don't just talk about yourself, but link each experience and skill you highlight to a requirement of the job description. And of course, be proud and frame everything positively.
For example, if there is a requirement on the description which you don't feel confident about currently, explain that this is an area in which you are hoping to develop.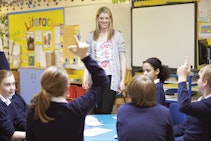 How to Write a Teaching Cover Letter
First Paragraph
Begin by addressing an individual, ideally the recruitment manager at the school.
The job description will likely explain who to return the application to, and if it doesn't, call or write to the school to ask who to address the application to.
For example,
Dear Mr. Jones,

I am writing to apply for the position of [job title] currently advertised on your website.
Your first paragraph is your chance to grab their attention, so be upfront and snappy, formal but enthusiastic.
Give an overview of the experiences and skills which match you to the role and start linking them to the school straight away.
For example, if a school has lots of photos of performances on its website, mention your experience in delivering these in the first paragraph:
With over three years' experience working across all year groups in elementary schools, and a particular interest in delivering creative arts projects both in schools and in the community, I am confident that I could make an outstanding contribution to your school and its vibrant community.
Job adverts and person specifications are often generic and copy-pasted, therefore show you've done your research from the outset.
Second Paragraph
In your second paragraph, dive deep into your experiences but select the ones which match you to this job specifically.
This is your chance to demonstrate that your experience, as well as extra contributions to school culture, place you ahead of any other candidate for this role in particular.
Your experiences can and should include voluntary work undertaken in the school and community, but should always relate directly to the organization you are applying to.
What is it that sparked your interest in working in this school in particular? Take time to reflect on this carefully.
Begin each sentence with the point from the job description, embedded in a sentence about yourself.
For example, if an essential requirement is that you have made significant improvements to literacy at your school, your first sentence should relate to this:
I have made significant improvements to progress in literacy in my current role. When I started, most students in K-12 were making below expected progress in English. Two years later, having embedded a strategy targeting underachieving students, now over 70% of students in K-12 have met or exceeded their expected reading levels. I did this by [outline your steps] and would feel confident in raising standards in literacy quickly and strategically at [name the school you are applying to].
Address each of the essential competencies outlined in the job description. To be succinct, if you can address multiple requirements from the person specification with one experience, evidence all of these in one paragraph, or better still, sentence.
Avoid talking about all of your experiences in a general sense. Draw out times in your career where specific actions you have taken have resulted in evident improvements in your class or organization, and describe these in detail.
Third Paragraph
Your third paragraph should demonstrate how your qualification has equipped you with the skills you need for this role in particular.
Your teaching qualification will be very similar to other applicants', regardless of whether you are a new teacher or this is your third or fourth post. So, talk about the experiences you acquired during your student teacher placements, and how these have reinforced your passion for your specialism.
If you are writing a K-12 or high school teacher cover letter, emphasize experiences from your undergraduate degree or previous professional experiences that support your enthusiasm for your subject specialism.
If you are writing a preschool or elementary school teacher cover letter, describe any important learning experiences you acquired in training, explain why you chose your training course and how this relates to the school you are applying to.
The communities you trained in will impact your suitability for a role.
For example, if you have trained in a rural school, you will need to work hard to explain how your experiences make you suitable for a role in an urban community.
If you are moving across state or cross country, research the demographics of the school you are applying to and it's particular needs.
Your recruiter may not be aware of the demands of the schools and communities you have trained in, so link these to those described in the job description.
For example,
During my teacher training, I worked in two schools in upstate New Jersey, where the majority of students did not speak English. I would therefore feel confident in supporting students in [new State] who have moved from other countries.
Any commendations you received during your training should also be highlighted here, as well as any further professional development or study you have taken during your teaching career if this is not your first post.
Fourth Paragraph
Your fourth paragraph should dig deep into the reasons this organization appeals to you specifically and is your opportunity to demonstrate that you have done your research and have read the website and inspection reports before applying.
You can also demonstrate that you can add value to the organization by addressing any specific problems that the school is currently facing.
For example,
I feel privileged to have made an impact in a diverse community in my [name current school] by offering performing experiences to students by running annual marching band shows. I would love to contribute to the [detail any events you notice this school runs regularly] and would love to add more to this aspect of [name the school]'s extracurricular program.
Final Paragraph
This paragraph is your call to action, and an opportunity to summarise the key reason you, above any other candidate, are ideal for this position.
You should briefly summarise and reinforce the points you have highlighted in your letter so far, and let the recruiter know you are keen to be interviewed.
Keep it succinct and go out on a high.
In summary, I am passionate about my subject/specialism, and keen to move into a role where I can make an even greater impact on academic and extracurricular life in school. I would love to work at [name new school] and think I would make a great contribution not only to my classes' attainment but also to provide further opportunities outside the classroom. I am enthusiastic, experienced, a great team player, and think I would make an excellent fit for your school as I meet all the competencies outlined in your job description. I look forward to hearing from you about my application and hope to meet you at the interview.
Top Tips
Show your passion – Through succinct writing and specific examples, make it clear that there is nothing else you want to do professionally. Schools are keen to recruit committed staff who will stay in their jobs and make significant contributions to the wider life of schools.

Don't generalize or reuse letters for multiple applications – Tailor your application to each school by echoing the language of the person specification and job description directly, and mention the name of your prospective school as often as possible. Start each letter from scratch, even if you are reiterating points from previous applications. You will save time by planning each letter carefully, following a structure and rewriting each sentence.

Use checking tools – Spell checkers, as well as tools such as Grammarly, will help you hit the right tone with your letter. Nothing beats another pair of eyes going over a letter, so find a friend or family member who can give your letter a read before you send it. Start writing your letter well before the deadline to make sure you have time to check for any mistakes and reflect on what the school is looking for.
Example Cover Letter
Dear Mr. Jones,

I am writing to apply for the position of high school English Teacher currently advertised on your website. I have five years' experience of working as a specialist English teacher in high schools and am genuinely motivated by seeing students progress in their literacy and writing, which are skills that will stand them in good stead for life. I am also passionate about drama and believe I would make a great fit for Greenwood High, as your school already has such a strong performing arts offering which I would love to contribute more to.

I feel confident I could make a significant, positive impact on Greenwood High students' literacy and love of reading, as well as grades in English assessments. In my current role, I have taken the lead on English in the 9th and 10th grades.

When I started at the school in 2017, fewer than 20% of our students were reading at their age level. Through careful planning and implementation, which began by assessing each student in my class individually, I raised this percentage to over 60% by the end of 2019. Moreover, I feel I fostered a genuine love of reading and curiosity around literature by allowing students to make choices over set texts and be self-directed in their learning. I believe I could help students at Greenwood High make similar or even better progress.

I qualified as a teacher in 2015, and during my training, I mainly worked in schools where most students did not speak English as a native language. Making a difference in these marginalized communities was one of my main motivations in selecting my training course, which I passed with merits. Notably, I also hold an undergraduate degree in English Literature and Education, which demonstrates my commitment to using literature and language to improve young people's lives.

Greenwood High would be an excellent fit for me as not only do I feel confident in supporting students from diverse backgrounds, such as those in your catchment area, in achieving their best in English at high-school level, but I would also love to add to the already vibrant extra-curricular opportunities in drama and debate which you already offer.

In my current role, I established and ran an annual Shakespeare festival, in which over 100 students took part by performing abridged versions of their favorite plays. I see that your school also has an annual drama performance, and I would love to take part in making this happen.

In summary, I am an experienced and driven English teacher with a genuine passion for my subject. I have experience in working with students similar to those at Greenwood high and raising attainment both through careful planning, assessment and communication in class, but also by building great relationships with students and staff through extra-curricular activities.

I would love to work at Greenwood High as, following my visit, I know it to be a positive, creative and exciting school that really supports its students in achieving their best. I am available for an interview at any time, and I look forward to hearing from you concerning this application.

Kind regards,

Emma Jeffrey
Final Thoughts
As it is unlikely a recruitment manager will read anything except the tag line of your resume, your teaching cover letter, no matter your specialism, will be crucial to getting onto the interview shortlist.
Every school is different, and whilst job adverts and person specifications might look similar role-to-role, go beyond these to read around the organization in detail, and address its needs and values directly in your teacher cover letter.
Be authentic, and be succinct. Your letter is not about you, but about the unique value you can bring to that organization in particular. So, keep it brief, formal and enthusiastic, addressing the needs you can meet with your real-world experiences.
Your teacher cover letter is your only chance ahead of the interview to demonstrate that you are the best fit for the job, so make it count.
---