How to Conduct an Online Job Search
The internet, online job boards and social media have completely transformed how the job application process works.
Not too long ago, if you were looking for a job, you would print out your resume and start visiting businesses or calling them one by one to see if there were any vacancies.
Now, almost every organization will advertise online when an opportunity is available.
You can also create a profile for yourself online either on a job search site or networking sites such as LinkedIn allowing you to market yourself so that HR Managers and recruiters can connect with you.
Searching for jobs online has become a very streamlined and efficient process giving job applicants access to a range of opportunities and the ability to apply quickly from the comfort of their home.
However, while the internet has made the availability and accessibility of jobs very convenient, it has also filled the market with lots of information. Available opportunities are highly sought after, making it very competitive.
A survey conducted by Glassdoor found that, on average, each job opening has about 250 applicants and, of these, about six will get an interview, and only 1 of them offered a job.
10 Tips to Conduct an Online Job Search
Step 1. Fix Your Online Presence
Employers need to be able to find you online, but it is also important to curate what they find out about you. A resume is only one way that a potential employer or recruiter can find you.
Platforms such as LinkedIn are an essential part of your job search toolkit and a great starting point for your professional voice.
Many recruiters use the platform as their primary search tool when they know of a vacancy.
Similarly, other social media platforms are increasingly used as ways of finding new talent.
For example, search your industry and geographical region on Facebook and you will often find a group of professionals. Many employers also have Facebook pages for marketing and recruiting, and many share upcoming job openings.
You want to cultivate your professional online presence.
To do this:
Google your name, check everything that comes up
Consider having a private profile and a public profile
Go through your personal social media accounts and make them private
If you plan to keep it public, go over what is shared very carefully, this includes Twitter posts, Facebook, Instagram, TikTok, and even news or blog articles
Think twice before you share anything publicly
Be active on your business social media, posting professional, interesting and relevant content regularly.
You want to be relevant but also make sure that all publicly available information about you online doesn't negatively impact your job prospects.
Step 2. Create Your Professional Profile
It is not enough to upload your picture and resume to various sites; you also need to know the industry and craft your skill set and experience to match.
This narrows your job search and targets your job applications – improving your chances of securing an interview.
Research your chosen industry or organization
Have a unique selling point (USP)
Write a short bio and use resume buzzwords in your profile as well as your resume. It helps keep your application relevant and marketable
Make connections and follow people
Regularly update your resume and LinkedIn profile and other professional profiles
Your pitch will be far more effective if your profile appears to be a great match with your target audience.
Tip: If you are currently employed and don't want your employer or colleagues to know that you are looking for other opportunities then be sure to turn off your LinkedIn or Facebook activity when making edits to your profile.
Step 3. Use LinkedIn to Search for Jobs
LinkedIn is the best place to search for jobs as you can proactively engage with recruiters and organizations.
It is also much easier to apply for a job through LinkedIn than it is to use different job boards.
How to search for jobs on LinkedIn:
Search for the type of job you want
Limit your parameters for location, etc.
Review the list of available jobs
If the job listing says 'Apply Now' then all you need to do is check you meet the requirements, attach your resume, double check your contact details and hit 'submit'.
This is much simpler than the application process through a company careers page or a job board.
There is a YouTube video from Career Sidekick that explains the process well.
It is also a great engagement tool. A prospective company or recruiter may write an article or post to test the market and see what potential candidates are out there.
Reaching out and connecting with them or sending a speculative application is another way to avoid the crowded job boards. Remember, it only takes one successful move to get an interview.
Step 4. Build Your Brand
In an increasingly competitive job market – recruiters and employers are always scouring the internet for new talent.
To stand out, you may want to have an online brand that you cultivate. You can do this by:
Writing articles or blogs
Participating in podcasts
Sharing creative content on YouTube
Using your skills and knowledge to help others or provide advice
Be a go-to person for the latest information on industry trends, events and news
Share content and answer questions
Being viewed as a reliable source of relevant and current information as well as someone helpful is a great USP.
If you set up a website or other online presence, it is a great idea to use your name for the URL as this allows you to rank high on a google search and be more visible to interested employers and recruiters.
Step 5. Job Boards and Search Tips
Use of Job Boards, such as Indeed.com, Monster and Glassdoor, is one of the main steps of online job searching.
Spending many hours perusing through job boards may seem like you are actively looking for work. However, this time could instead be used for upskilling, building contacts and developing a personal brand.
You can make your job search faster by using keywords to tailor your search. You can also search by job title to see what jobs are available.
Limit your search results by filters such as qualifications, salary, geographical location, etc. as well to make it more efficient.
There are many different Job Boards out there:
Some more niche job boards are: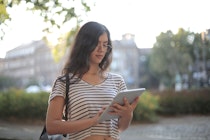 How to Conduct an Online Job Search
Step 6. Job Alerts and RSS feeds
Job search sites have many user-friendly features that will make your job search game much more effective and efficient.
Once you are happy with your search settings, you can save it so that the next time you log in, it is ready to go.
You can also register to receive job alerts from any new job postings that meet your criteria. These alerts will be in your inbox for when you are ready to apply.
It is also a great idea to sign up for RSS (Really Simple Syndication) feeds. This is an information-sharing, automated system that allows you to receive job postings from many different job boards.
Step 7. It's a Numbers Game, Be Sure to Track Your Applications
The job market is very competitive, and employers receive hundreds of applications for each job posting. To maximize your chances, you need to apply for several jobs at a time, being sure that you meet the requirements, fit the company and tailor your resume.
Set yourself a target per day or week. Think of 'finding a job' as a job by giving yourself targets and goals.
Sometimes even applying to a company without a job advertisement can help. They might be planning to post a relevant job soon, or they are growing fast and on the lookout for ambitious new talent.
Make sure to be very professional and show why you would be a great fit and be sure to tailor your inquiry even if there is no advertised post.
You should also make sure you have a way of tracking the jobs you have applied for so that you don't forget the different stages your application might be in or be unprepared when you get a phone call from a hiring manager.
A lot of job sites allow you to do this when you register with them, and some apps can help you with this as well. Even a simple spreadsheet will do.
Here is an example of such a spreadsheet created using Google Spreadsheet from themuse.com.
Step 8. Get Past the Resume Scanning Technology
Most job application portals use an applicant tracking system (ATS).
This is a system that helps organize job applications making sure that only the most relevant and qualified job seekers move beyond the automated system to the hands of a hiring manager or recruiter.
It is very important to create a resume that will get past the ATS. This includes:
Applying for jobs that you are qualified for and that you have the core required skills and using resume buzzwords that demonstrate this.

Don't apply to multiple jobs at the same company unless your qualifications and skill set match the roles.

Consider the job title you are applying for – someone who applies for both a management-level position and an entry-level position would raise a red flag.

To make sure the ATS selects your resume, make sure that keywords, such as skills, previous experience, qualifications, certifications, transferable qualities and more, are clearly stated. For example, if a tech position requires knowledge of a programming language, your resume needs to clearly say that you are highly proficient at this programming language.

Online tools such as SkillSyncer, Jobscan, and Resume Worded's Targeted Resume can help you determine what the keywords in a job description are if you are having trouble.

Don't trick the ATS – there are various ways of trying to trick the ATS – don't do any of this as it won't help you in the long run. Avoid just regurgitating keywords to get past the ATS – you want to make sure you have the achievements and experience needed and can show how you have used them and what the results were.
Have a look at our article on Applicant Tracking Systems where we explain how an ATS works and why it is used by employers.
Step 9. Networking Online and Offline
Networking is vital when it comes to job search success. Employers often prefer to hire someone known in their existing network than someone they don't know.
When people think of networking – they automatically assume that attending large networking events is enough. However, staying in touch with people you know or meeting new people at an after-work social, bumping into them at a football game or a coffee shop are great ways to reconnect.
Networking has also moved online. Reaching out to an old colleague or manager via online platforms such as LinkedIn or Facebook is a great way to form a connection and find out about new opportunities.
LinkedIn and Facebook are the most effective and powerful global social networks. In many ways, it is a giant alumni network that allows you to connect with people from your previous social groups such as your old school/college/university and connect with people from your year group or a different one.
If you are openly looking for a new job, then make sure to tell people; you never know where the next opportunity will be.
Once you make a connection, be sure to keep a record of that contact, including their position, the company they work for and the date/location/platform you connected through.
Step 10. Keep Upskilling
In the current job market, you want to keep building and checking your skill health and professional profile to stay competitive.
Ensure you are up-to-date on the many technical and online skills needed in today's jobs market to stay ahead of the curve.
If you are new to the workforce, you may also need further training or experience to get a job.
Use the feedback you get from recruiters or networking to determine if you have a gap in your resume or profile. Once you have upskilled, be sure to update your professional profile.
Final Thoughts
Finding the perfect job can seem like a challenging task, but these tips will ensure you undertake a successful online job search.
As a reminder, just take these four easy steps:
Think of the industry you are interested in and how this matches your brand and your profile

Clean up your online presence

If you happen to meet people or connect with them online, start networking. You can tell them you are looking for a job; remember networking happens organically and you don't need a special event to network

Get your resume and professional profile ready, and once finished you can start applying to jobs
If you are just starting, then apply using a mix of LinkedIn applications and Job board applications before moving onto other social platforms such as Facebook.
Once you are comfortable with that, you can make a list of the people you know and reach out and connect with them.
And finally, start targeting specific companies you'd like to work for and creating your brand.
Once you have mastered applying for jobs online, check out our interview tips so that you get that job offer in hand and get hired.
---