How to Use Linkedin to Find a Job
Whether you are an avid user of LinkedIn, totally new or you have an old account that is just sitting dormant, you should not underestimate the power of LinkedIn when looking for work.
Although widely regarded as more of a networking and sharing platform, its search functions and regular job matching alerts mean it is fast becoming a rival to some of the most popular job-seeking platforms.
If LinkedIn leaves you feeling confused and overwhelmed, here are a few tips to help you to get the best out of the website and to take the next steps towards your new career.
Getting Started With LinkedIn
If you do not already have an established LinkedIn profile, you should create one before commencing your job search.
Potential recruiters will be able to view your profile so make sure it is detailed, professional-looking and memorable.
You can add a profile picture – professional looking headshots on a neutral background work best.
Profiles with a photo gain more interaction as opposed to an anonymous, blank looking silhouette.
This is an opportunity to add a personal and human dimension to a professional page: the face behind the skill set.
Next, add a short bio about yourself. Try to come up with a catchy headline – this is a way to make a great first impression on a potential recruiter.
Once you have listed the basics about yourself, you can customize your profile adding skills, experience, education and detailed work history.
You should consider your LinkedIn profile to be an extension of your resume or CV, so ensure it accurately reflects you in a professional way.
It is important to list the college or university that you attended on your profile to easily find alumni connections.
LinkedIn also has an option to demonstrate your understanding in areas such as technical skills, design skills, business skills and specific software skills, including Microsoft Office, Adobe Acrobat and WordPress, by taking specialized assessments.
These are usually multiple-choice tests and can be repeated every three months, so if you struggle to pass initially, you have some time to prepare to take the test again.
Now you have completed your profile, you can begin to add connections.
These are other LinkedIn users that you know or share work-related interests with. Then begin to utilize the networking functions of the platform by sharing relevant posts, links to your website or blog posts.
Effective networking) will help you to get the best out of LinkedIn in the long term, so make a short-term investment in setting your profile up correctly and take the time to search for businesses that are of interest and follow them.
Finding Connections
Some people may add you as a connection on LinkedIn in a similar way people may add you as a friend on other social media sites.
You can choose whether to accept them or not.
Having more connections may help you to connect to a job that you want.
That said, having a lot of connections to people in a totally unrelated field or adding a large number of people you do not know will not be an immediate help.
You will need to invest time actually reaching out to people, sharing items that demonstrate you can add value to their business and showing that you are willing to help if someone you know asks for a referral or some advice.
Sometimes employers will ask for referrals or recommendations from their existing employees when a job opening arises, so if you have a connection within a company you are interested in, this will give you an advantage over other applicants as you will already be in the existing employee's mind.
Using LinkedIn to Search for Jobs
Step 1. Basic Search
Searching for jobs on LinkedIn is super simple.
At the top of the page, click the 'Jobs' tab underneath the suitcase icon, then fill in the desired job title/keyword and the location/zip code in the search bar.
Step 2. Refine Your Results
Once your results appear, you can begin to refine them using the drop-down menus under the tabs.
You can filter results by date posted, job type, company, experience level and remote working status in order to find exactly what you are looking for.
Step 3. Advanced Search
If you select 'All Filters', you will be presented with a detailed menu of job search results where you can check/uncheck boxes to further refine your search and see a detailed breakdown of all the hits that match the selected terms.
Using this, you can filter according to salary, city, specific job title, industry and many other options.
Step 4. Viewing Your Search Results
Once you have searched for a job and applied the required filters, the results appear in a user-friendly way.
On the left-hand side of your screen, jobs will appear as a list and, as you click on each job title, a detailed description of the role appears on the right.
This avoids having to open results in new tabs or constantly navigate backward or forward through your web browser history.
You can then click to apply, where you will be either redirected to a third-party site or able to use the 'Easy Apply' feature to apply with your LinkedIn profile and an optional attached resume.
You can also save the job for future reference and click on the company that posted the advertisement to find out more information and see their profile.
Details such as your connections or fellow alumni at the company will also appear, as well as an indication of the number of applicants the posting has already attracted.
Next to each listing, you can also select the 'Hide' icon to remove the job from your search results.
You will have the option to disclose why you chose to hide this job from your list in order to further customize the results that you get and ensure they are most relevant to you.
Step 5. Bonus Step: Upload Your Resume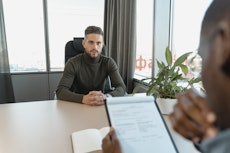 How to Use Linkedin to Find a Job
Other Ways to Show You Are Looking for Work
Share Your Blog
If you have a personal blog, you may be posting about your job search there.
Perhaps you could post details of your search in real-time, information about a career-boosting course you are studying, or even write about your career plan and dream job.
Share these posts in your news feed – it will help to keep your profile active, get you noticed, spread the word that you are job seeking and show that you are a proactive person who takes the time to update their blog, possibly outside of work hours.
Use a Banner
Underneath your profile picture on LinkedIn is a blue drop-down box that says 'Open To…'.
If you click that and select 'Finding A New Job', it will automatically add an 'Open To Work' banner onto your profile picture and create a generic post shared in your newsfeed stating that you would appreciate any help with finding work.
This explicitly notifies your connections and people who view your profile that you are open for new work roles.
Do Your Research
Make a plan, research the companies you want to work for and sign up to get notifications from them.
That way, when they are hiring, you will be one of the first to know and can get your application in quickly. This helps you feel empowered in your job search and gives you a better chance of writing a memorable, relevant application.
You can also learn a wealth of important information from a company's LinkedIn page and posts, including their ethos, mission statements, culture and scope of operation.
Take the time to read about the businesses you are interested in working for and click 'Follow' so you never miss an update.
Reach Out
There are a lot of conflicting opinions about using cold messaging techniques on platforms like LinkedIn. However, putting out feelers, especially within existing connections, is actively encouraged.
Check who you may already know at a place you would love to work for and connect with them. Then send a message saying how much you admire the company they work for, outline the skills you have and ask them to keep you in mind if any openings arise.
You could also ask about the journey they took that lead them there – people enjoy talking about themselves.
Networking should not feel too much like you are using people – you are trying to form genuine connections, albeit with a focus on work.
LinkedIn Premium
The basic features of LinkedIn are free to use. These include creating an account, sending and receiving messages, viewing profiles of individuals or companies, and searching and applying for jobs.
LinkedIn Premium is a paid membership option that offers additional features.
As a jobseeker, Premium Career would be your most suitable option, currently costing $29.99 per month.
LinkedIn advertises regular special offers including a free month's trial of premium features.
One benefit of the premium subscription is being able to see all the people who have viewed your profile.
The free version will often tempt you by showing a few thumbnails on your dashboard with the option to 'unlock' the rest of your views by using Premium.
If you are a job seeker, it can be frustrating not knowing who has checked your profile and if it was a potential recruiter. If you knew, you may be able to send them a speculative email.
Premium also allows you to see more detailed insights in your job search results, including how you compare to other candidates and salary insights, plus the option to directly message hiring managers using InMail, a premium feature allowing you to message people you are not connected to.
A library of over 15,000 online learning videos is definitely one of the most useful features available to paid subscribers.
Available on-demand, these flexible courses are led by experts and can help you with career development and learning new or improving existing skills in a way that fits around your busy schedule.
Tips For Success
Once you have decided to unlock LinkedIn's job-seeking potential, you may wonder how you can stand out amongst the millions of regular users, especially if you are reluctant to sign up for their paid subscription.
Here are a few tips for success:
Be memorable – Keep in mind that some jobs will attract hundreds of applicants. If your profile is too generic, it is highly likely that a hiring manager will overlook it in favor of more memorable candidates. Do not be afraid to stand out.

Stay active – It can be tempting to set up a great profile on LinkedIn and hope that will be enough, but to maximize the potential of the platform, you need to be an active user. Share information, interact with items in your news feed from connections and followed businesses, like or share a few relevant posts daily, add useful comments, and update your own information regularly.

Use LinkedIn after business hours – You will soon get an idea of when the people you are interested in connecting with are online and when they are more likely to view your posts. This is likely to be after they have already got home from work, so use that to increase your impact.

Keep your content interesting – Visual posts stand out on this platform as many others are text-heavy. Choose striking images that are relevant and avoid stock photos that are overused within your field.

Network – Keep adding connections, responding to requests, replying to messages and staying up to date with news and notifications. An active profile is viewed more often.

Sign up for email notifications – In the fast-paced business world, especially if you are also committed to job seeking, it is unlikely you will be able to stay on LinkedIn all day long. You can opt to get notifications sent to your email address, so you never miss a message or networking add again. You can also receive daily job posts, giving you a foundation to begin the day's job hunt on.
Final Thoughts
LinkedIn is not a platform that you can expect instant results from but if you are willing to invest some time and effort, it can become a great networking tool.
The ease and efficacy of the job searching functions will allow you to search and browse for jobs in a familiar way, as well as to find detailed information about potential employers, people at the company you may already know and alumni connections in a way traditional job-seeking sites do not permit.
---