Top CV: A 2022 Review
All products and services featured are independently selected by WikiJob. When you register or purchase through links on this page, we may earn a commission.
When you are searching for a new job, your CV is one of the most valuable tools at your disposal.
It's your introduction to a potential employer. It should highlight who you are, your skills and showcase your expertise.
A well-written CV should excite a recruiter and entice them to contact you to find out more information.
Studies have shown that recruiters will spend as little as seven seconds reviewing your CV before moving on.
So, you must figure out how to write and format your CV in a way that makes the most of every single second.
TopCV is a professional CV writing service.
It understands how to sell your story in a way that brings your skills to the forefront and makes you stand out from the crowd.
The company has professional writers worldwide who can transform your CV into something spectacular. In addition, it understands how to write for recruitment managers and ensure that the right keywords are in place that meet any automated tracking software filters.
TopCV has dedicated expertise across 65 different industries and is recommended by global giants such as Amazon, Unilever, and Barclays, so there must be a reason why so many people trust the TopCV writing service.
In this article, you'll get a comprehensive TopCV review. You'll learn what packages are available with TopCV's writing service and how they differ. And you'll find out the pros and cons of using TopCV to write your resume.
What Packages Does TopCV Offer?
There are three distinct types of CV writing services available from TopCV. Which package you choose may depend on the kind of job you are applying for, the industry you work in and your level of seniority.
As you can imagine, each package is priced differently and has different features.
To help you understand the difference between them, here is a review of each package.
The Professional Growth Package
Price: £99
Target audience: People writing their CV for the first time or those looking to start their career development
This is the basic package from TopCV. It promises to match you with a professional CV writer with experience in your sector.
For a one-off fee, you can have your CV professionally written and formatted in a way that will capture a recruiter's attention. It will also include full keyword optimisation that enables your CV to pass through automated filters.
As a package, not a huge amount is promised, but that is to be expected for such a low fee. If you are new to CV writing or unsure of how to format your CV correctly, it could be a beneficial tool.
However, it's worth noting that the professional growth package has no mention of any revisions – if you are not happy with your initial CV, you may not be eligible for any additional reviews.
Where TopCV excel is in their initial free expert review; you can upload your existing CV, and they will provide you with feedback that explains your strengths and weaknesses. From there, you can choose to invest in one of the TopCV writing packages.
The Career Evolution Package
Price: £129
Target audience: Those looking to expand on their CV. They may have a few years' experience and are looking to take the next stage in their career.
TopCV's writing services build on each subsequent package. For example, with the career evolution package, you get the same service as those who have paid for the professional growth package, but you also get a cover letter and two sets of revisions.
TopCV is so convinced by its service that they offer a 60-day interview guarantee for all who pay for the career evolution package.
For just an extra £30, the introduction of a cover letter and two sets of revisions feels like value for money. However, there is little explanation of how the cover letter and CVs are created and what interaction there is between you and your CV writer.
Previous TopCV reviews left by former customers have indicated a lack of collaboration. Your CV is written based on your initial information about your career history and goals.
Telephone conversations between you and your writer are available but are charged an additional fee. You may feel that this lack of one-to-one connection could impact the quality of your writing, as information relies on interpretation and understanding of your core skills.
The Executive Priority Package
Cost: £219
Target audience: This is designed for those working at higher executive levels. It's a better option for those who are working in managerial roles and are actively seeking to boost their profile through networking sites such as LinkedIn.
There is a big jump in price between the Career Evolution package and the Executive Priority package.
However, for the additional £100, you are promised that your CV and cover letter will be written by one of TopCV's top 10% of professional writers.
As well as getting the rewritten CV and cover letter and a 60-day interview guarantee, the executive priority package includes an overhaul of your LinkedIn profile.
This is a positive addition, as you want to feel that your CV and LinkedIn profile offer a consistent appearance. In addition, if you have not received any interviews after 60 days, TopCV will provide you with a rewritten CV for free.
However, there is no direct one-to-one communication with your professional writer even at this price. Any contact occurs via the TopCV dashboard; you may feel there is scope for misinterpretations or misunderstandings about your key skills.
What Are the Benefits of Using TopCV?
Writing a CV is a skill that many of us don't possess. After all, it's not often that we write about our own achievements and successes.
So, it's a balance to know how to write about your skills accurately, showing your skills successfully without crossing into arrogance.
Many people choose to hire TopCV because they either don't know how to 'sell' their story or are nervous about writing a CV that passes through an automated tracking system.
So, what are the benefits of using TopCV rather than other professional CV writing services?
Firstly, the price points are affordable. Starting at £99 for the professional growth package, it's an investment but a viable investment.
Furthermore, unlike other services, it's reasonable for the masses, so you can try the service without feeling that you are losing too much money.
Secondly, TopCV promises to match you with a professional writer that specialises in your sector. Considering your CV will rely on jargon and terminology to meet a recruiter's expectations, this could be hugely beneficial.
The company understands that many recruiters are relying on automated technologies to filter through CVs quickly these days.
As a result, the firm specialises in ensuring that your CV will pass through these systems, and it will use its own automated software to confirm that your CV is suitable for applicant tracking systems.
TopCV promises to have a fast turnaround – often, the written CV can be delivered in as little as one-to-two weeks. So if you have a pressing application deadline, you may want to look into this as a time-sensitive option.
The 60-day interview guarantee is also an indicator of the value that TopCV provides. For those buying the career evolution and executive priority packages, you are guaranteed an interview within 60 days.
If you do not, then TopCV will rewrite your CV free of charge. Again, as an indicator of their confidence, this is a compelling sales point, and many previous customer reviews have suggested that their 60-day guarantee is reliable.
But what really sets TopCV apart from other competitors is the free expert review of your CV.
Before you choose to sign up with a paid-for package, you can use the tool to upload your current CV and receive direct feedback on your strengths and weaknesses.
If you want an impartial insight into your CV, then this is a helpful tool to give you some useful pointers for improvements that you can make.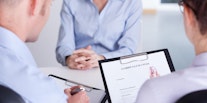 Top CV: A Review
What Are the Drawbacks of Using TopCV's Writing Services?
If you're getting the positives of using TopCV as a writing service, this review should also include some of the known negatives.
As with any global company, there will always be instances where someone is unhappy with the service that they have received.
However, these issues only become a problem when repeatedly referenced on review sites such as Trustpilot.
A few issues have come to light regarding TopCV's writing services.
The pricing structure doesn't offer a huge amount extra as you work your way through the different packages.
The difference between the career evolution and the executive priority essentially boils down to just a LinkedIn overhaul. Yet the price difference is over £100.
TopCV claims that those on the executive priority package have access to its top-performing writers. Yet that could indicate that the quality of writing isn't as good for the two cheaper packages.
For the price of the executive package, more should be offered to ensure that the client is getting value for money.
While the turnaround is a plus point when you're looking for quick service, it does ask questions about the quality assurance of the process.
For example, an individually written CV tailored to the person should take time to write. In addition, the fast turnaround could lead to suggestions that the CVs are created using a standard template rather than being bespoke pieces of work for each client.
There should involve lots of collaboration between the CV writer and the person whose CV it is.
The TopCV dashboard may make it easy to email the writer directly, but there are no one-to-one phone or video calls to get to know one another.
This can lead to miscommunications and misunderstandings, as there is little time for the CV writer to really explore your strengths and weaknesses.
Many reviews of TopCV from previous paying clients have suggested that this is potentially causing a significant issue.
Many other known issues are repeatedly cropping up. For example, many previous customers have said that their CVs were returned to them with bad grammar and inaccurate spellings.
In addition, it is a common occurrence that CVs submitted by customers in the UK are receiving documents full of American spellings (and vice versa). This could result from being a global brand, but it does lead to a lack of attention to detail.
There appears to be little quality control over the final documents, with many users suggesting that the initial CVs they submitted have been tweaked rather than overhauled.
A common criticism published through Trustpilot reviews suggests that synonyms have been used that do not make sense, bringing questions about the 'sector expertise' that TopCV claims its writers have.
Frequently Asked Questions
TopCV is a legitimate CV writing service that is used by millions of customers around the world.
It has a four-star rating on Trustpilot, based on over 7,0000 reviews, and the company claims to have helped over 600,000 users achieve an interview.
Many big brands such as Unilever, Amazon and Barclays have endorsed the company. In addition, TopCV's 60-day guarantee (available on certain packages) indicates its confidence in its CV writing services.
TopCV offers an initial free CV review. This allows you to upload your CV into its online tool and receive fast feedback within two working days, indicating areas of strengths and weaknesses.
Again, this is available free of charge. Beyond this, you can choose to invest in its paid-for writing services, where one of the TopCV professional CV writers will rewrite your CV for you.
TopCV is a professional CV writing service. Once you've chosen your preferred paid-for package, you are allocated a professional writer who matches your sector.
You will communicate with the writer via the TopCV dashboard, where they will ask you questions about your history and your career ambitions.
The professional writer will spend the first week getting to know you and will deliver the first draft of your CV within a week. If you have paid for the career growth or executive priority packages, you get two rounds of amends.
TopCV is a global company that has helped over 600,000 professionals achieve an interview. The head office for TopCV is based in New York.
The 4* review on Trustpilot (from over 7,000 reviews) indicates that the majority of customers are satisfied with the services provided by TopCV.
The 60-day interview provided by TopCV can reassure you that your investment is worth it. TopCV is worth it if you can give the CV writers as much information as possible.
You need to provide information about your skills, successes and career ambitions. The clearer you are about what you want to achieve, the better your CV will be, making it worth the investment.
Final Thoughts
There are certainly mixed reviews of the impact of TopCV, but it is worth noting that most reviews will only ever focus on the negatives rather than the positives.
And with the volume of CVs written by the TopCV team globally each year, there will likely be unhappy clients.
But there are distinct positives to the TopCV writing services. For a start, the free CV review is an innovative feature that allows accurate and impartial advice in just two days, with no hard-sell to purchase a paid-for package.
This is a useful tool that should be regarded as something that can help you as you write your CV, regardless of whether you feel that you need to hire a professional writer.
It will let you know your strengths and identify whether your CV is likely to pass through automated software.
However, the low price point needs to be considered an advantage and a disadvantage. While it remains affordable to the masses, there is a truth that you 'get what you pay for'.
You cannot ask someone to work miracles for less than £100. If you want to have direct contact with your writer through phone or video calls, then you will need to pay significantly more.
Ultimately, this is a great service if you are nervous about writing a CV or at the start of your career.
However, as you start to move into managerial and executive-level positions, the service is perhaps a bit too basic to give you everything you need. But as a starting point, this is an effective tool that we recommended.
---