Top 20 Skills to Include On Your Teacher Resume
All products and services featured are independently selected by WikiJob. When you register or purchase through links on this page, we may earn a commission.
What Skills Do Teachers Need?
A good teacher's skill set is as diverse and unique as the job is.
Unlike many professions, teachers spend the majority of their days in face-to-face communication with hundreds of children and other staff members.
A good teacher has as much knowledge of their subject as they do of pedagogical theory and practice, in addition to their students' unique needs, strengths and motivations.
What is more, teaching is a practice. Good teachers arrive each day with a will to improve and try new strategies for empowering student progress; they take responsibility for driving their own professional development by seeking out new teaching strategies and integrating these into their day-to-day work.
A good teacher values their soft skills as much as their hard skills.
Communication, organization, relationship building, negotiation, speaking in front of large groups and the ability to give productive, helpful feedback in a sensitive way are all as, if not more, essential to the job than having a deep understanding of pedagogy and a passion for their subject.
Most of all, teachers need to be people who embrace and love learning and take energy from watching others do the same.
As teachers progress through their careers they will inevitably specialize and develop parts of their practice and skill set that let them stand out and be unique.
It is important as a teacher, as it is in any job, to retain an awareness of what makes you an outstanding education professional, and be able to highlight and articulate these unique skills on your teacher resume.
Top 20 Skills to Include on Your Teacher Resume
Teaching Methods
1. Subject Knowledge
For all stages of teaching, from kindergarten through to K-12 and high school, the backbone of any teacher's professional ability is an evolving knowledge of their subject, and a passion driving their willingness to share it with others.
Teachers need to highlight any special interests or strengths within their subject knowledge on their teacher resume.
For example, a history teacher might have a special interest in the Second World War or medieval history.
If in a previous role, you developed any projects or schemes of work in a particular area of your subject or led any successful extracurricular activities, these can be great ways to evidence that you are passionate about your subject and have devised skillful strategies for sharing that knowledge.
2. Technological Skills
With a rapid increase in the use of blended learning in schools, teachers need to have a strong grasp of new education technology and strategies for implementing this effectively in the classroom and for home learning.
Interesting and creative strategies for using technology for learning will be highly valued by schools.
Especially in cases where the use of technology makes the classroom a more inclusive environment for students with special needs or for whom English is a second language.
There are plenty of cloud-based software for creating music, recording podcasts, collaborating, mind mapping and creating presentations, many of which are free and designed for young people to use.
Any particular passions for integrating technology into the classroom will be highly valued by schools and should be highlighted on a teacher resume.
3. Adaptability
A teacher's average working day comprises face-to-face teaching in the classroom, planning time, assessment and one-to-one work with students.
Teachers may also take on other responsibilities as they progress in their careers, such as taking lead on certain curriculum subjects or responsibility for pastoral care.
Therefore it is imperative for good teachers to be able to shift gears and undertake a variety of tasks during the day.
The demands of teaching are ever shifting, with new strategies for effective progress assessment and new curriculums being introduced on a termly basis.
So, adaptability is a soft skill that is important to demonstrate on a teacher resume.
4. Strategies for Inclusion
Inclusion in the classroom means demonstrating cultural awareness, understanding special educational needs and being able to communicate with students who speak multiple languages, while providing challenge and support for students at different stages of their learning journey.
Teachers who demonstrate these consistently are highly skilled and, while each school has its particular demands and demographic, should highlight their particular strategies and achievements in creating an inclusive environment on their teacher resume.
Examples could include:
Adapting their curriculum to reflect the cultures of the students in front of them
Providing all students with choice and voice in their learning process
Differentiating tasks and providing resources for students who need challenge support
5. Coaching Skills
Coaches help others develop by asking great questions. This is one of the most empowering skills teachers can develop.
There is plenty of research that shows planning and carefully verbalizing questions can help learners reach deeper levels of understanding, retain more information and develop skills faster.
Really great teachers can even help their pupils learn to construct and ask better questions themselves.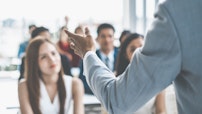 Top 20 Skills to Include On Your Teacher Resume
Teachers who take an interest in coaching models and strategies should highlight these on their teacher resumes.
Perhaps you took a course, have certification or simply incorporate aspects from certain models into your practice.
6. Leadership
Schools are usually hierarchical organizations with clear leadership structures.
The main way for a teacher to progress in their career is to escalate to middle leadership and, eventually, become a principal or assistant leader.
Therefore, leadership skills are important for teachers.
Leadership skills are easily developed in the classroom.
Being able to capture the attention of a large group, help them come to collective decisions and work together towards progress are all skills that can be applied in middle management or leadership roles.
So, emphasizing leadership skills on a teacher resume is important both for classroom teachers and for those wanting to progress in their careers.
Communication Skills
7. Listening
The first thing a great teacher does is listen to their students.
Children can take longer to articulate their thoughts and feelings than adults, and great teachers understand that they need time and space to explain themselves and receive feedback on their learning processes.
Listening and analyzing what was said are key skills for teachers, and may be the teacher's main method for assessing and evaluating a class's progress.
8. Speaking in Front of Large Groups
As well as speaking in the classroom, teachers are often required to speak at whole school events and lead gatherings, events and activities with large groups.
Therefore, having the confidence to speak in front of large groups is an essential skill for a teacher.
Particularly in performing arts subjects, teachers need to have the confidence to be slightly vulnerable yet playful and lead a large group in a fun, relatable way.
It takes time and practice to really show confidence in leading groups, and those teachers who enjoy and excel at it will be valuable to any school, so this is a skill worth emphasizing on a teaching resume.
9. Presenting
Teachers should be able to present work in a way that is accessible, engaging and useful to their students.
Presentation in teaching involves some creativity – teachers need to be able to create colorful resources, differentiated for children at different stages of their learning journey.
Presenting resources well also provides students with a standard to aspire to in their own work; modeling high-quality outcomes is an essential part of a teacher's communication with their students.
Teachers also need to be able to create excellent, captivating visuals for smart boards and displays for the classroom to create a vibrant, stimulating atmosphere for learning.
Teachers with particularly creative approaches who enjoy developing and sharing resources will be highly valued by schools. If this is one of your strengths as a teacher, be sure to highlight this on your teacher resume.
10. Writing
Teachers should be able to communicate as effectively in written English as in spoken English.
This applies to such things as spelling and grammar alongside clarity – both in the words chosen and the medium itself.
Teachers may need to practice their handwriting so they can write clearly on whiteboards, smart boards and flip charts, making good use of the visual workspace to ensure their writing is clear to students.
The quality of your written English should evidence itself in your teacher resume. However, it is still worth highlighting on your teacher resume that writing is one of your strong communication skills.
11. Giving Appropriate Feedback
Teachers should be able to give constructive, motivating feedback, both verbally while in the classroom and in writing when marking work.
There are various strategies for giving written feedback to students and each school you work in is likely to have a different marking policy to ensure that feedback is consistent across the whole school.
If you feel that you have developed a particularly effective strategy for delivering consistent feedback, then this is worth highlighting on your teacher resume.
Personal Qualities
12. Emotional Intelligence
Emotional intelligence, including empathy and an interest in the emotional wellbeing of others, is of paramount importance as a soft skill for any teacher.
Teaching is an emotionally invested profession, and student behavior requires empathy to understand and support each individual in the right way.
Emotional intelligence forms the foundations for building great relationships quickly with all students, to best help them learn.
Consider using your cover letter to give examples of times you used your emotional intelligence to help a student having a difficult time process their experiences and come to a better place suitable for learning.
13. Patience
Teaching is a demanding profession. Working with young people can often be frustrating, especially in situations where they do not understand the work despite a teacher's best efforts or when their emotional wellbeing disrupts their ability to focus in the classroom.
Patience on the day-to-day, alongside patience in committing to a long-term strategy for progress and accepting that students may take steps back before they take steps forward, is an essential skill for every teacher to demonstrate.
14. Organizational
Teachers have to balance delivering lessons with long, medium and short term planning, continual assessment, marking, and communicating with parents.
In addition to this, most schools will require that teachers attend weekly training and continued professional development courses, and sometimes take responsibility for delivering these.
When so much of your time is blocked out by delivering lessons, it is imperative that teachers can plan and organize their time to complete administrative work.
Teachers also need to be able to organize and keep track of resources within their classrooms, often with little-to-no support.
Therefore, organization is a key skill for any teacher to have to support them in many different areas of their work.
15. Relationship Building
Teachers who actively invest in building positive relationships with every student and can understand why students behave in the way they do will make a great impact.
If you are a teacher with a track record of forming positive relationships with students, and can evidence these, then ensure to mention this on your teacher resume.
16. Creativity and Imagination
Being a great teacher requires going beyond having a passion for your chosen subject. To be a great teacher, you have to switch on the imaginations and curiosity of young people, and this requires creativity.
Children need a variety of activities that stimulate all their senses and capacities in order to stay focused and engaged; so great teachers need to draw on all their skills and experiences to create learning strategies that actually have an impact.
Teachers can draw on artistic skills, acting skills and their memories of activities in schools that helped them to learn.
Creativity in teaching means cross-pollinating all of these to create the best experiences possible for students.
If you are a teacher who really empowers their practice with innovative, creative and imaginative strategies, be sure to evidence these on your teacher resume.
17. Resilience
Teachers put in long hours, with 1 in 4 teachers working more than 60 hours a week.
During a working day, the mental gear-shifts between different tasks are demanding – performing, speaking, negotiating, planning, assessing, analyzing, communicating, reflecting, writing and creating resources are all activities that a teacher might undertake in an average day.
So, teaching requires stamina and resilience that is physical, as well as mental and emotional.
If you feel you have shown resilience in the face of particular challenges in teaching, include these on your teacher resume.
18. Conflict Resolution
Conflict is something teachers will encounter every day.
Conflict arises between students in classrooms and needs to be managed carefully, perhaps by planning where students sit so they can focus and not be distracted by arguments, and by taking time to facilitate calming conversations between young people between lessons and out of hours.
Conflict arises between families and schools too, and it may fall to a teacher to communicate with a family when a student has behaved poorly or when the family has a complaint.
Having mediation skills and being able to see both sides of an argument is therefore an essential skill for any teacher.
19. Personal Development
Teaching is a practice, and also a role in which you are largely left to your own devices once you are qualified and experienced.
Once you are working independently from a mentor, it falls to you as a teacher to consciously self-evaluate and develop by testing new strategies, activities and ways of communicating with students, plus staying up to date with the latest pedagogical research.
Teachers who are motivated to develop and improve will progress in their careers faster, and evidencing any personal development success (either through training and certificates or through examples of work) on your teacher resume will be essential in creating career progress.
20. Time Management
Time management is critical to any teacher's success.
While teachers work long and demanding hours, there are relatively few hours set aside in a teacher's schedule for planning and administration.
In order to maintain your wellbeing as a teacher, it is important to manage your work schedule carefully, so you take as little learning or work home with you as possible.
The most successful teachers manage their time so their planning is completed well in advance, their resources are ready from previous years' work, and so they can give most of their focus to their students during their working days.
Managing time is a key skill to evidence on your teacher resume.
Final Thoughts
Teaching is a unique profession in its emotional, intellectual and physical demands. The wealth of soft and hard skills teachers require are broad, and so it can be hard to identify the best skills to list on a teacher resume.
Reflect on what makes you a great teacher and the ways in which you can demonstrate or evidence this through previous work you have done.
There is not space on a resume to list all twenty of these skills, so choose the ones that make you an outstanding educator and that you have concrete evidence and statistics to back up.
Each school will have different values, expectations and requirements that they are looking for when recruiting new teachers, and these should be made clear in job adverts.
With each school you apply to, tailor your teacher resume and the skills you include in it to reflect what that school is looking for.
If this is not clear from the job advert, make contact with the school to have a conversation about what they are looking for in the person they recruit.
Finally, it is always important to ask a friend or relative to check your resume for mistakes. There is no point in citing written and verbal communication skills as one of your key skills if your CV is full of mistakes, hard to read or does not make your key skills clear to the reader.
Recruiters will receive hundreds of applications each year, so place your stand-out skills high up on your resume, as they are unlikely to read to the bottom.
Hard and soft skills with evidence are even more important to list on a teacher resume than in most professions, as teachers cannot rely on having corporate brands on their resumes to create a reputation or credibility.
So, choose the skills you list on your teacher resume wisely and honestly, and make them the focus of your teacher resume.
---