OANDA vs FOREX.com
What Are OANDA and FOREX.com?
OANDA and FOREX.com are well-known and respected forex brokers.
Using their platforms, traders can buy and sell forex pairs, use trading tools and build a portfolio through a simple interface.
A forex broker offers users access to buy and sell currency pairs based on the foreign exchange price, making money from the commission charged on the spread (the difference between the buy and sell price).
Different brokers offer access to various types of trading instruments – not only forex, but also stocks, bonds, CFDs and ETFs.
Users of forex brokers are looking to make money from buying and selling currency – and the broker you choose is likely to have a range of trading tools available for you to use in combination with research and education.
OANDA is a well-established broker with a proprietary platform that was first launched in 2001, but the company has been involved in currency exchange since 1997, when it provided free foreign exchange pricing information over the internet.
It is mainly known for offering a great online experience for experienced traders, with an Advanced Trader account complete with discounts and rebates for those who trade in volume.
FOREX.com was also established in 2001, quickly becoming a globally respected online broker.
It is now part of StoneX Group Inc, a publicly traded company that offers innovation and industry-leading technology.
FOREX.com is great for beginner traders thanks to its straightforward and well-organized education offering, but also offers significant benefits to high-volume and experienced traders.
To demonstrate the differences (and similarities) between the two companies, it is useful to first establish the important details about each broker.
What Is OANDA?
Pros
Well-regulated
Accepts US clients
Great analytical tools
Customer support 24/5
No minimum deposit
Cons
Not suitable for beginners
OANDA offers a proprietary platform that is simple and straightforward to use, so beginners are able to jump straight in if they feel confident.
However, the education might be considered insufficient to take complete beginners through all the knowledge they need to be successful traders – so OANDA is really aimed more at experienced traders.
What Is the Minimum Deposit?
OANDA has no minimum deposit listed, but the smallest amount that can be traded on a Standard account is 1 of whatever your base currency is (depending on location).
So, you will need to make a deposit of some kind to start making trades unless you are only using the demo account.
If you want to take advantage of being part of the Advanced Trader loyalty program, then you will need a balance of at least $20,000 and a large monthly trading volume.
What Kind of Leverage Does It Give a Trader?
Leverage for trades depends on the location of the trader; different jurisdictions and regulators have different rules that limit regulators.
OANDA offers a maximum leverage of 1:30.
What Currencies Can You Trade In?
OANDA offers trading in 70 of the biggest currency pairs.
How Does the Pricing Work?
The commission for using OANDA as your forex platform depends on your chosen pricing structure.
There are two levels:
Spread-only: The commission is built into the spread and there are no other commissions to pay. As an example of the spread cost, EUR/USD spread cost on this pricing level is 1.4 pips.

Core-pricing and commission: The commission charged is $5 per 100,000 units (divided pro rata for less than 100,000 traded) and a smaller spread – in the EUR/USD example, this would be 0.4 pips.
Fees
There are no fees associated with opening or maintaining an OANDA account, and no charge for deposits.
There are inactivity charges of 10 of your base currency per month, after 12 months of no use.
The fees for withdrawal are higher than many other brokers, however.
Although withdrawal to debit card and PayPal is free, other withdrawals have a cost:
Credit card: The first withdrawal in a month is free; subsequent withdrawals have a $15 fee.
Bank transfer: The first withdrawal is $25; subsequent withdrawals have a $35 fee.
How Fast Is the Execution of Trades?
According to the OANDA website, execution speed using the OANDA Trade platform is 0.012 seconds.
Is There a Demo Account You Can Try Out?
OANDA does offer a demo account, and it is free to use, forever – not limited by time or a set amount of funds.
Demo account holders have full Standard account privileges and can use the platform in the same way as a live account, which makes it perfect for testing out new trading strategies.
Is It Fully Regulated/Certified?
OANDA is well regulated in a number of jurisdictions, including:
CFTC
NFA
IIROC
ASIC
MAS
JFSA
OANDA is considered a safe broker because it is well regulated and segregates client funds.
However, it is not a publicly traded company and does not operate a bank, which are criteria used to assess the safety of brokers. OANDA does publish annual financial statements, however.
How Can You Pay In?
OANDA supports a number of traditional payment methods to allow you to fund your account, including:
Wire transfer
Bank transfer
Credit/Debit card
PayPal
Proprietary Platform
Originally released as fxTrade, the proprietary platform offered by OANDA is OANDA Trade, which is available on web, desktop and mobile.
There is also a custom bridge between OANDA and MetaTrader 4 (MT4), which is a global platform popular with traders of all kinds.
Research and Education
OANDA is well-known for advanced analytical tools and customizable charts, but alongside this, there is a great research provision from the in-house team as well as third-party sources.
In terms of education, there are many seminars and video tutorials available as well as articles and blogs that are suitable for beginners and advanced traders – but users have commented that these are not easy to navigate as they are not well organized.
What Can You Do With It Other Than Forex?
OANDA is a multi-asset broker because it offers more than just forex for trading, although there isn't that much choice in comparison with other brokers.
55 CFDs
Seven indices
Eight commodities
Five metals
Six bonds
What Are the Pros and Cons for OANDA?
OANDA is a well-regulated and established forex broker that accepts US clients – which sets them apart from some other brokers that are not regulated for use in America.
OANDA offers great analytical tools – including advanced charting options – and prolific research for users to inform them and give them insight about the forex market.
Customer support is offered to clients 24/5, with access to knowledgeable help available through the telephone and live chat as well as through email.
One of the most attractive features of an OANDA account is the fact that there is no minimum deposit required to open an account and users can trade from as little as one unit of base currency.
Pros
Well regulated
Offers a number of trading instruments for clients in the US
Low fees
Great customer service
Intuitive and easy to use
Cons
No account protection to users in the US
No PayPal
Poor live chat function
Who Is It For?
FOREX.com is best for high-volume trading, offering discounts to the most active traders – however, there is an extensive library of educational resources that can support a beginner.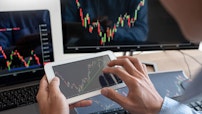 OANDA v FOREX.com
What Is the Minimum Deposit?
The minimum deposit needed to use FOREX.com is 100 of your base currency, but for maximum liquidity and leverage, FOREX.com recommends funding with at least 2,500.
What Kind of Leverage Does It Give a Trader?
As with OANDA, FOREX.com offers different maximum leverage depending on the jurisdiction and relevant regulations.
The maximum leverage offered by FOREX.com is 1:50.
What Currencies Can You Trade In?
FOREX.com offers 91 currency pairs to trade in.
How Does the Pricing Work?
Commission for trading on FOREX.com is worked into the spread – an example of the spread for EUR/USD is approximately 1.4 pips.
Fees
There are no fees for account opening or maintenance.
After 12 months of inactivity, a $15 monthly fee is added to the account.
There are also no fees for depositing funds or for withdrawals.
How Fast Is the Execution of Trades?
According to the FOREX.com website, trades carried out on their proprietary platform are fast; quoted at 0.04 seconds, with more than 98% of trades completed in less than a second.
Is There a Demo Account You Can Try Out?
There is a FOREX.com demo account available.
Once you have signed up, you have 30 days to use the account to get to know the platform, with a $10,000 balance.
After 30 days, you will no longer be able to use the demo account.
Is It Fully Regulated/Certified?
FOREX.com is regulated in several jurisdictions:
CFTC
NFA
IIROC
ASIC
MAS
FCA
CIMA
As you would think, FOREX.com is considered very safe thanks to the extensive regulation in worldwide market areas.
FOREX.com is part of StoneX Group Inc, which is a publicly traded entity on the New York Stock Exchange. It does not own a bank, but client funds are segregated.
How Can You Pay In?
Deposits can be made from the following sources:
Wire transfer
Bank transfer
Proprietary Platform
The FOREX.com proprietary platform is known as Web Trader and is available on the web and on mobile.
Users can also take advantage of access to the popular MT4 trading platform.
Research and Education
The research provision of FOREX.com includes feeds from economic news channels, as well as articles and videos from the global research team, and advanced trading tools.
The education section of the FOREX.com site is well organized and plentiful. It is set out by experience level so there is a full course of tutorials, seminars and articles for beginner, intermediate and even experienced traders.
What Can You Do With It Other Than Forex?
FOREX.com has a great range of other trading instruments that can be added to the portfolio of the user:
Five futures products
Nine cryptocurrencies
20 stock indices
380 stocks
20 ETFs
29 commodity CFDs
What Are the Pros and Cons for FOREX.com?
Pros
FOREX.com is well regulated and considered safe and offers a number of trading instruments for clients in the US.
The low fees and relatively cheap commission costs make FOREX.com an attractive option for experienced traders, and the minimum deposit is manageable.
There are no account fees, so users can deposit and withdraw as many times as they want with no other costs.
Users of the FOREX.com platform enjoy great customer service, especially over the phone, and this is available during normal market trading hours.
The demo account offered is a great way to learn how to use the platform, as well as to test out new trading strategies.
One of the best things about this broker is that the education tools are well organized and easy to follow, which makes FOREX.com a great option for beginners – and the research provision gives great insight for intermediate and experienced traders too.
The FOREX.com Web Trader platform is intuitive and easy to use, with customizable and predefined layouts that are designed for maximum control.
The mobile app is fully integrated and features all the trading, charting and integrated analysis.
Cons
Despite great regulation, FOREX.com does not offer account protection like stop loss and negative balance to users in the US.
This is in stark contrast to the protection offered for EU and UK accounts, and could be a problem for nervous traders anxious not to lose more money than they have invested.
There are less deposit methods available in a FOREX.com account, with the lack of PayPal as a funding option, but also some other online fund sources like Skrill or Neteller.
This could be considered an issue for those who have multiple sources of funding.
Another issue that some people might have with FOREX.com is that despite the phone support being brilliant, the live chat function is noted as being less than reliable.
Which Is Better Overall?
Both OANDA and FOREX.com are well-known, well-respected and well-established forex brokers, so choosing between them comes down to the details and your individual preference.
OANDA offers a great proprietary platform for experienced traders, with a desktop, web and mobile version. There is no minimum deposit and several methods of deposit, and the broker is well-regulated.
However, OANDA does have more ancillary fees, especially for withdrawals. The education provided is not as extensive or as easy to use, and there are a limited number of other trading instruments.
FOREX.com has a wide-ranging offering of trading instruments including more forex pairs, and there are no account fees except for an inactivity fee.
The education offering is extensive, supporting traders from beginner through to experienced.
Deposit types are not as varied, and there is a minimum deposit of 100 of the base currency. The Web Trader platform is not quite as straightforward to use and is not available as a desktop download.
Both brokers do not offer account protection for US clients, like negative balance, but FOREX.com does protect users in EU and UK jurisdictions.
All things considered, FOREX.com might just nudge ahead thanks to no withdrawal fees, better educational resources and a wider range of trading instruments – despite the minimum deposit.
General Tips
Choose a Reputable Broker
Choosing a good broker that is well regulated and respected is one way to protect your funds.
It is also important to look at what protection is offered for traders in your area.
Trading Is Risky
No matter how secure and reliable your broker is, trading of any kind is risky, and your capital will only be as secure as the trades you make.
This means that, to protect your assets, it is important not to deposit more than you can afford to lose.
Get Comfortable With the Platform
Whether you choose to use your broker's proprietary platform or MT4, make use of the demo account so that you can learn all the ins and outs before committing real money into your trades.
Utilize the educational resources created by the broker to help – these will often be specific to its offering.
The more you know about the platform, the trading tools and the market, the more confident you will be about your strategies.
Final Thoughts
If you are looking for a smooth trading experience, then OANDA is probably the best option, but FOREX.com does offer more variety and less fees.
Both OANDA and FOREX.com are great forex brokers in their own right, but for most traders (especially beginners), FOREX.com is probably the best choice.
As part of a publicly traded company, FOREX.com is perhaps more attractive in terms of safety too.
WikiJob does not provide tax, investment, or financial services and advice. The information is being presented without consideration of the investment objectives, risk tolerance, or financial circumstances of any specific investor and might not be suitable for all investors. Past performance is not indicative of future results. Investing involves risk including the possible loss of principal.
---