FOREX.com vs TD Ameritrade
There are only around five major forex brokers throughout the US due to the strict regulations and requirements of forex trading in the US.
Two of the market-leading forex brokers are FOREX.com and TD Ameritrade.
FOREX.com was established in 2001, and its parent company, StoneX Group Inc, is listed on the stock market. It is a global company registered with the US Commodity Futures Trading Commission and the UK Financial Conduct Authority, as well as in Japan, Canada and the Cayman Islands.
FOREX.com is considered a reliable, effective broker service that is well established and popular.
TD Ameritrade was founded as Ameritrade in 1971 and has grown significantly in recent years.
It was renamed TD Ameritrade when it acquired two other US operations in 2006. It was again bought out by another corporation in 2020, which is a merger yet to complete.
The brokerage is based and regulated in the US and is listed on the stock exchange.
What Is a Forex Broker?
Before delving more deeply into each broker, here are some key things to know about forex brokers:
A forex broker is a company that provides a platform for traders and investors to buy and sell foreign currencies.
Brokers charge a commission to buy and sell foreign currencies on behalf of their clients.
Brokerage clients can include investors for large institutions and currency speculators as well as independent traders and smaller companies.
Currency Pairs
Forex transactions are always carried out with a pair of two different currencies, and most of the time, though not always, the currencies used are those of countries in the Group of Ten (G10):
US dollar (USD)
Pound sterling (GBP)
Euro (EUR)
Canadian dollar (CAD)
Swiss franc (CHF)
New Zealand dollar (NZD)
As well as:
Although most trades occur in these eight currencies, some forex brokers allow clients to trade in other currencies, including those from emerging markets.
In simple terms, if the exchange rate between the currencies is higher than at purchase when the trader sells the pair and closes the trade, the trader makes a profit. If the exchange rate is lower, the trader makes a loss.
Forex trading, in reality, is a very complex process that can take time to master. The nature of trading also means that even the most experienced traders are taking risks that do not always pay off.
24-Hour Market
The global currency market is active somewhere in the world at every minute of the day and night.
Different time zones have different peak times of trading, and forex traders use this to their advantage, working at the times of the day that best suit their currency pairing.
Managing and taking advantage of the 24-hour market is where brokers come in. Investors can use broker platforms to follow trends, research and identify investment opportunities, and set up trades.
What Is TD Ameritrade?
TD Ameritrade is a growing brokerage that has emerged from mergers and acquisitions with other brokering firms in the US.
It is now a key player in the forex brokerage market. As a broker, it is considered an excellent option for beginners as it offers extensive learning and research services, often free of charge.
TD Ameritrade reaches many of its customers through social media platforms such as Facebook and Twitter, and traders can access its services across different platforms, including a mobile app or its responsive website.
It also offers its own electronic trading platform called thinkorswim, aimed at self-directed options traders.
The thinkorswim platform was acquired by TD Ameritrade from ThinkorSwim Group, Inc. It is a standout feature of TD Ameritrade, offering tools, analytics, educational products, online coaching programs, live chat and email support.
What's more, this service is free for all TD Ameritrade account holders.
TD Ameritrade offers behind-the-scenes access, so you can test out its Trade Architect platform and thinkorswim platform before committing.
The technical support team is also on hand to answer any questions.
TD Ameritrade offers a range of financial services, including:
Retirement advice
College accounts
Standard banking
Mutual funds
Cash management
Investment portfolio management
Although its focus is spread across several financial services, TD Ameritrade does still offer stellar forex services.
Forex investors can choose from two types of forex account:
Standard account with no commission
Standard account with commission
Although TD Ameritrade allows you to open an account with no minimum deposit, in practice, you do need to make a deposit to start using its features and services.
The minimum deposit for both Standard accounts is $2,000, and the maximum leverage is 1:50, following US regulatory requirements. Maximum leverage for exotic pairs is 1:20.
Minimum trade sizes differ, with the no-commission account asking for a 0.1 lot and the commission account asking for a 0.01 lot.
The commission is 1minimumand/or0.10 per micro lot.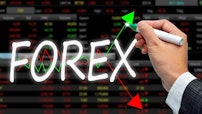 FOREX.com vs. TD Ameritrade: Which Broker Is Best for You?
You can pay into your account using electronic funding through TD Ameritrade's own automated clearing house service by bank transfer or check.
This broker offers around 100 currency pairs, including the G10 mentioned above and many exotic pairings (a major currency paired with a thinly traded currency or an emerging economy's currency).
What Are the Pros and Cons of TD Ameritrade?
Pros
$0 account minimum allows beginner investors to look around the platform before starting to trade.
No commission on stock.
No commission on an exchange-traded fund (ETF) or options trade.
Traders can use TD Ameritrade to carry out stock market research for free.
Extensive investment selection.
Access to free portfolio guidance and teachings.
Offers investors the choice of four trading platforms.
Investors can access the platform from their smartphone to trade on the go.
TD Ameritrade has around 300 brick-and-mortar branches that investors can visit for face-to-face support. These premises were acquired along with Scottrade and create a physical base for training workshops and education.
It has a presence on many online platforms, including Twitter and Facebook, where followers can stay up to date with company news and receive online support.
TD Ameritrade is branching out to the Chinese market and other Asian markets, and has a Chinese version of its website.
The thinkorswim platform provides a comprehensive service for traders and meets many of their demands in one place, free of charge.
Cons
No fractional shares.
The vast amount of content on TD Ameritrade can make it difficult to find what you need.
Trading tools are spread out across systems, so users have to use multiple approaches.
Occasionally suffers platform outages, which is bad news for investors in the middle of a trade.
Although thinkorswim is considered a success, it doesn't house all of TD Ameritrade's content, so users also have to access the website for fixed income tools and equity research.
The size and volume of content can be overwhelming and confusing.
Taking all this into account, it is clear that TD Ameritrade is a giant player in forex brokerage.
The research functions and educational content make TD Ameritrade a good choice for beginner traders and investors. The zero account minimum and no commission on ETFs, stock or options trades also allow beginners to find their feet with less risk.
For users who get stuck, customer support across multiple platforms is a huge bonus, and staff can answer questions quickly. The thinkorswim platform brings together many features in a central hub.
As a well-established company, FOREX.com is a reliable, effective service for forex trading.
It is regulated both in the US and Europe, and further afield in Australia, Canada, Hong Kong and Japan.
With an exemplary record and longevity in the marketplace, FOREX.com is considered a highly respected, safe pair of hands for investors.
FOREX.com also participates in the Financial Services Compensation Scheme in the UK, providing safety for investments up to £85,000.
FOREX.com trades in the major currency pairs made up of one of the following paired with the US dollar:
Euro
Japanese yen
Swiss franc
Canadian dollar
Australian dollar
New Zealand dollar
Outside of this, FOREX.com also supports minor and exotic pairings, with over 50 currency pair possibilities.
FOREX.com focuses entirely on forex trading. It offers two platforms, FOREXtrader and MetaTrader 4, a popular trading platform.
MetaTrader 4 allows trading in 45 different currencies and offers tools, resources, competitive pricing and technical analyses.
FOREX.com takes payment via debit or credit card, or bank transfer. It also accepts SOFORT banking, a funds-transfer facility available in the Netherlands, Belgium, Germany, Switzerland and the UK.
The minimum investment for opening an account with FOREX.com is $50, which is low compared to other brokers in the market.
With their $50, users can open a Standard account that offers a 0.01 minimum trade size, with maximum leverage of 1:30. This is below the US regulatory ceiling but meets the requirements set by the European Securities and Markets Authority (ESMA).
Average spreads with the FOREX.com standard account are 1.2 pips.
FOREX.com also offers another type of account – the Commission account, available only in the US. It requires a 10,000depositandamonthlyvolumeof25 million.
Trading at this level is very advanced, and as such, this account is only really suitable for high-volume traders.
This range of options makes FOREX.com suitable for investors and traders from beginner level up to multimillion-dollar investments.
The commission-free trading offered by FOREX.com is a big draw, but it does recoup costs through markup on service prices, so you are still paying via a different route.
Variable spreads start from 1.2 pips for a EUR/USD spread.
What Are the Pros and Cons of FOREX.com?
FOREX.com is very popular, evident from its longevity and popularity in the market. However, there are both pros and cons to the service:
Pros
Wide variety of currency pairs.
No withdrawal fee and low fees generally.
Your funds are safe, and FOREX.com has an exemplary record of protecting clients' funds.
Swap-free accounts for Muslim investors.
Low minimum deposit of just $50 for opening an account.
Commission-free trading.
High-speed service, with an average execution speed of 0.05, means you can work swiftly.
Excellent demo account, allowing you to sign up for 30 days of free access to their full platform.
MetaTrader 4 is one of the most commonly used trading platforms and is a real asset to FOREX.com.
Lower volume of content than TD Ameritrade means less overwhelm and better navigation.
Several Best in Class awards across four categories: Platform and Tools, Education, Mobile Trading and Offering of Investments.
Cons
If you are inactive on your account for a certain length of time, you must pay an inactivity fee.
No contracts for differences (CFD) inside of the US, as per regulations. It does offer CFDs in other territories.
No alternative banking services.
Maximum leverage meets European regulations and so is lower than the 1:50 offered by some other US brokers.
Lower volume of content than TD Ameritrade so you might not find the educational support you need.
It is clear to see why FOREX.com is considered one of the top forex brokers in the US. Its track record and range of services mean it works for all levels of trader.
The MetaTrader 4 platform is an industry leader and is extremely popular among investors.
The drawbacks of FOREX.com are minimal, but a lack of other banking services means you cannot manage your other financial investments with the one company.
Which Is Better Overall?
Both brokers are safe, reliable options for forex traders in the US. While FOREX.com has a long-established, solid history, TD Ameritrade is always striving to grow and develop to offer a better service for its customers.
TD Ameritrade might just have the edge for beginners as it provides such a wide range of educational materials.
For more experienced traders, FOREX.com provides a popular, effective platform in its MetaTrader 4 feature and supports high-volume trades with its Commission account.
General Tips
A forex broker is a must for all serious forex traders, as it is not possible to stay abreast of market changes and trends by yourself.
Make sure you research all forex broker options and carry out due diligence before you decide on the broker for you.
You will need to invest time in familiarizing yourself with the broker's services, platforms and features, which is time wasted if you choose a company that is not best suited to your needs.
Take advantage of demo accounts and behind-the-scenes access before deciding.
Remember that no matter which option you choose, you are still taking risks by trading in forex, and sometimes these risks do not pay off. Your capital is only as secure as your trade. Be prepared for this risk as part of trading in the high-risk, fast-moving forex market.
Final Thoughts
Both TD Ameritrade and FOREX.com are reputable, respectable forex brokerages. They present excellent options for traders, and either choice is likely to benefit you as a trader.
We suggest that TD Ameritrade is best for beginners, while FOREX.com is more suited to risk-averse investors who want a reliable, dependable service with a proven track record.
WikiJob does not provide tax, investment, or financial services and advice. The information is being presented without consideration of the investment objectives, risk tolerance, or financial circumstances of any specific investor and might not be suitable for all investors. Past performance is not indicative of future results. Investing involves risk including the possible loss of principal.
---