Equity Crowdfunding Platforms
For a business to grow and achieve success, it often needs an injection of cash.
Historically, business owners would approach a bank for a loan, or work with a team of investors, pitching for additional investment.
However, the proliferation of crowdfunding platforms and their ease of use means that many smaller firms are now turning their attention to equity crowdfunding.
But what does this mean?
Is this a new way of trading? And are savvy investors seeing a return on their money?
Let's find out.
The Top 9 Equity Crowdfunding Platforms in the UK
If you're asking yourself, 'which crowdfunding platform is best in the UK?', it's important that you undertake your due diligence and make sure that you have understood the pros and cons of each site.
Choosing to invest in any business is a big decision, and with smaller start-up companies, the risk is at its highest.
Here is a selection of eight of the best equity crowdfunding platforms available in the UK:
Pros
Low LTV investments available
Opportunities to invest in the European agricultural sector
Projects backed by assets
Transparent team and platform
Cons
Not regulated
Limited options for portfolio diversification
Short track record
LendSecured is a crowdfunding platform designed to support the agricultural industry in Europe.
Established in 2019 in Latvia, LendSecured offers investors the safest possible opportunities, presenting projects with low Loan to Value (LTV) ratios – averaging at 37%.
Projects typically include agricultural real estate, grain projects, and real estate development, specifically for small to medium businesses, and for investors, each project is specially selected for minimal risk with maximum returns. The platform boasts a 0% failed payment and up to 14% returns (including cashback and interest), and all opportunities are presented on the website and the app.
As an asset-backed platform, European agricultural businesses can find the support they need for growth and development from investors around the world.
Pros
Opportunites to invest in international real estate
Low minimum investments
Asset-backed loans
Transparent team
User-friendly platform
Good track record with no defaults
Cons
Limited investment opportunities
Monthly admin fee
Max Crowdfund is an international real estate crowdfunding platform that was founded in the Netherlands by a group of real estate professionals, giving equity investment opportunities backed by bricks and mortar.
Powered by blockchain with a user-friendly dashboard, this investment platform allows investors to get involved in crowdfunding for properties across the world. You can register as an investor for free and within minutes, and the minimum investment is just 100 Euro for many of the presented opportunities.
Once you have invested, you can access your current account balance, see performance statistics, and choose whether to make additional investments, deposit more funds, or make a withdrawal. The dashboard can be accessed through a computer or any other device, including a native Android or iOS app.
Pros
Low minimum investment from just £1
User-friendly platform available on web and mobile app
Transparent team
Automatic investment feature available
Cons
Not regulated
Limited investment opportunities
This UK-based property crowdfunding company focuses on bricks and mortar properties with excellent potential for returns.
Founded in 2014, Crowd With Us (CWU) was designed to remove financial barriers and make the property market more accessible – which is why they allow investors to get involved for as little as £1. It is simple to sign up for an account, and then you can choose an investment, keep track of the performance, and manage it all through the online source – or through the Android or iOS app.
CWU celebrates its ethos of collaboration and community, aiming to be:
Trustworthy
Friendly
Transparent
Accessible
Stable
Innovative
This social crowdfunding platform includes extra education, research and help using a podcast and blog, with easily accessed customer service when it is needed.
Pros
Fairly low minimum investment
Opportunities to invest in German real estate
No platform fees
User-friendly platform and dashboard
Cons
Limited investment opportunities
Interest on investments may be lower than through other real estate crowdfunding providers
Based in Germany and offering investment crowdfunding in national real estate, PlanetHome Investment offers support and advice for investors looking to diversify into real estate without too much risk.
With the help of seasoned investors from PlanetHome Investment, you can get involved in the property market in Germany with as little as 500 Euros without any extra costs – all the fees for the platform are collected from the borrower so your whole investment goes into your portfolio.
After a short application form, investing is fast and simple, and thanks to an easy-to-use dashboard you can see all the details about your investments, including how well they are performing.
This crowdfunded real estate platform offers an average of 6% interest on certain dates, as well as the return of the investment capital – anywhere from 6 months to 24 months after the loan is completely funded.
Pros
Regulated by the FCA
Range of start-up investment opportunities across multiple sectors
Open to UK and international investors
Range of equity, fund and convertible campaigns
Low minimum investments from £10
User-friendly platform
Cons
Investing in start-ups can come with a high level of risk
No mobile app
Investment fee
Seedrs specializes in start-up businesses across a range of sectors.
As the first equity crowdfunding website to secure FCA regulation, it is a trusted platform, making it highly beneficial for first-time investors.
You can invest as much or as little as you like, enabling investors to maximize their investment portfolios.
Registration is free but new sign-ups need to complete a comprehensive questionnaire or 'self-certify as a high net worth individual'.
This is to confirm that you understand the risks.
You will also need to verify your identity once you have chosen to invest.
Investments can start at just £10 – making it a universally accessible platform, open to anyone.
Another benefit of Seedrs is that you can sell your shares via the platform using the innovative Secondary market. This means that if you do want to pull your investment, it's easy to do so.
Pros
Regulated by the FCA
Diverse range of start-up and early-stage investment opportunities
Low minimum investments
Open to UK and international investors
Cons
Investing in start-ups can come with a high level of risk
No mobile app
Investment fee
Exit fee on investment profits
Crowdcube has helped over 960 businesses gain funding, enabling investors to profit from a staggering £50m.
This shows the huge potential available from crowdfunding platforms.
The site features a wide range of businesses, from start-ups through to more established companies seeking additional investment.
This means that it's a good choice for investors of all budgets, and all levels of experience.
Investments are as little as £10, and payment is quick and easy using the online payment facility.
Pros
Investment opportunities in FinTech and cryptocurrency companies
Open to international investors across the world
Works with more than 35 currencies
Cons
Exit fee
Fiat withdrawal fee
$1,000 minimum investment
BnkToTheFuture specializes in FinTech and Cryptocurrency businesses.
It's ideally suited for those with an interest in technical and financial innovation.
Popular with both angel investors and venture capitalists, it's been endorsed by leading experts including Sir Richard Branson.
This is a global platform; it welcomes investors from over 112 different countries and has a proven track record in supporting financial tech firms around the world.
Pros
Regulated by the FCA
Transparent team
Investment fund offers portfolio diversification
Opportunity to invest in the same businesses as super angel investors
Cons
Investing in start-ups can come with a high level of risk
£5,000 minimum investment
Set-up fee
Annual management fee
Launched in 2013, over £260m has been invested in firms via the SyndicateRoom crowdfunding website.
Built by data analysts, investment professionals and software developers, it's very much a site 'designed for entrepreneurs, created by entrepreneurs'.
This analytical approach to angel investors means that the site can match investors with the right company.
Pros
Investment opportunities across diverse market sectors
Regulated by the FCA
24/7 support
Cons
Investing in start-ups can come with a high level of risk
£5,000 minimum investment
Experienced investors may look to invest in firms listed on Angels Den.
The crowdfunding website seeks to 'connect high growth potential companies with experienced investors'.
With over 20,000 investors and 93% of its funded businesses still active, the statistics certainly speak for themselves.
Investment in Angels Den's businesses starts at a minimum of £5,000 so it's significantly more expensive than other crowdfunding platforms (such as Crowdcube and Seedr).
As an investor-led platform, potential investors can have immediate access to full documentation and pitch outlines, ready to make a swift investment.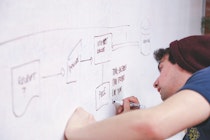 Equity Crowdfunding Platforms
What Is Equity Crowdfunding?
Equity crowdfunding is a way for start-up companies not listed on the stock exchange to achieve additional investment.
Business owners often sell shares in their company in exchange for financial support.
The investors then receive an income, based on the profit of that business and their value of shares held.
Investors are known as 'Angel Investors'.
It's a high-risk strategy.
As the companies are in their infancy, there's no guarantee that they will be a success. However, if they do succeed, investors can make big profits on their initial investments as shares are commonly bought at low prices.
Some investors are drawn to equity crowdfunding because many smaller businesses allow investors to have an input into the running of their company.
This differs from traditional shares in global corporations bought on the stock exchange.
Who Can Invest via Equity Crowdfunding?
Historically, only the very wealthy have been able to invest in businesses listed on the stock exchange.
This is because the costs to purchase shares in listed companies can be extremely high.
However, the development of equity crowdfunding platforms means that investment opportunities are much more accessible to anyone and everyone.
As equity crowdfunding is only for unlisted businesses, and primarily start-ups, the costs are much lower.
Business owners are happy to take small amounts of funding in exchange for selling shares into their business.
This means that potential investors with a knack for spotting the 'next big thing' can make a big difference – to the business itself as well as their profit margins.
What Are the Criteria for Investing in Equity Crowdfunding?
Although equity crowdfunding is accessible to all, many crowdfunding websites will have strict criteria that investors have to pass before being allowed to make their investment.
This criterion will vary depending on the website itself, but you can expect to have to complete significant questionnaires on registration.
These questionnaires will seek to establish if you have the funds to invest, how knowledgeable you are about investment opportunities and whether you understand the high risks involved.
What Are the Two Types of Equity Crowdfunding Platforms?
Before investing in a business via a crowdfunding platform, it's important to understand that there are two distinct types of crowdfunding websites available:
Investor-Led Crowdfunding
Businesses listed on these sites have been pre-screened and pre-approved by an expert investor.
This is someone who will have invested their own money into the business and negotiated strong terms.
Any additional investment into the business will have to be on the same negotiated terms to maintain equality and fairness.
Entrepreneur-Led Crowdfunding
In contrast, entrepreneur-led crowdfunding websites are driven heavily by the business owner.
They will be prepared to accept any financial investment from investors in exchange for selling shares into their company.
The business owner or entrepreneur is in control of the terms of the equity deal – and often with these websites, money is invested into businesses before the terms are negotiated.
Are Equity Crowdfunding Platforms Regulated?
UK-based crowdfunding platforms must be regulated by the Financial Conduct Authority (FCA).
It is a legal requirement for these websites to be regulated, and failure to do so can result in hefty fines.
The regulation ensures that investors are not pressured into making unwise investments.
It ensures that there is open and honest communication about the investment opportunity and that the risks and rewards are equally highlighted throughout all promotional marketing material.
Pros
You can choose to invest smaller sums of money across multiple businesses.
You can have a diverse portfolio of investments
More accessible than traditional stocks
You don't need to have a high net worth to be able to get involved
Cons
Many investors do not see a return on their investment
Lack of liquidity
It can take many years before you see a profit
Investing in start-up businesses is notoriously high-risk. After all, a significant proportion of businesses do not make it past the first three years, especially if they do not have any investment put into them.
However, if you are prepared to take the risk, the pay-offs can be enormous.
The Advantages of Equity Crowdfunding
As an investor, you can choose to invest smaller sums of money across multiple businesses.
If you have a talent for identifying business potential, this can provide you with a high return on your investment.
It's important to remember that every major business originally began as a start-up.
Jeff Bezos famously started Amazon from his garage – imagine how much your shares would be worth if he had taken advantage of equity crowdfunding?
Another benefit of crowdfunding is that you can have a diverse portfolio of investments – working with a variety of businesses across a wide range of sectors.
You can work with a large variety of businesses (perhaps local to you) and feel that your investment is truly making a difference to that business's success.
Investors are also drawn to equity crowdfunding because it is far more accessible than traditional stocks.
You don't need to have a high net worth to be able to get involved. You can start your investment from a small amount of money, and in some circumstances, you may even be able to have a say in how that business is run (depending on the scope of your negotiation).
The Disadvantages of Equity Crowdfunding
However, many investors do not see a return on their investment. It's an incredibly high-risk strategy and it's important to be aware that the likelihood is that you won't make millions from a small start-up company.
With smaller businesses, there's a greater risk that the business may be forced into liquidation and this lack of liquidity in the business means that it can be inherently harder to sell your shares if you do wish to sell.
It's also worth noting that even if a business is successful, it can take many years before you see a profit.
Unlike investing in major businesses, it's unlikely that you'll receive a dividend for quite a while. It's a long-term strategy rather than a fast-paced profit, which can be found on the stock exchange.
You should also know that if a business opens itself up for further investments, your 'shareholding percentage' of the company will reduce. Therefore, you may need to factor this in within your negotiation strategy.
What to Consider When Choosing an Equity Crowdfunding Platform
If you understand the risks involved in equity crowdfunding and you're keen to invest, it's important to find the right choice of crowdfunding platform for you.
Here are a few considerations you may want to think about:
Is the crowdfunding website investor-led or entrepreneur-led?
Is your investment based on business equity or financial rewards?
Does that crowdfunding website specialize in a particular sector?
What are the fees involved?
What is the length of the investment?
How straight-forward is the registration process?
Can you meet the business owners face-to-face before making any investment?
Final Thoughts
Before you undertake any investment into a crowdfunding website, you need to take the time to research your investment opportunity.
Equity investment into start-ups is a high-risk strategy, and although it can provide you with a big return on your investment, you need to be aware that it can take many years before you start to see a profit.
Therefore, it's not an investment strategy to take if you want to benefit from short-term profits. Equally, there's a big risk that you could lose your investment entirely if the business fails to succeed.
However, it is pleasing to see a form of investment that is more accessible than the stock exchange. You do not need to have a lot of money to start your investment portfolio, and you can have an opportunity to support small businesses that are local to you. You can also choose to diversify your portfolio or choose to stick to a well-known sector with plenty of high-growth potential.
If you are brave enough to take the risk, and you're keen to start your investment career, then equity crowdfunding websites can be a great way to support the next big thing.
WikiJob does not provide tax, investment, or financial services and advice. The information is being presented without consideration of the investment objectives, risk tolerance, or financial circumstances of any specific investor and might not be suitable for all investors. Past performance is not indicative of future results. Investing involves risk including the possible loss of principal.
---