What Is Libertex?
Libertex is one of the longest standing brokerages for trading CFDs (contracts for difference) of a diverse range of instruments, including cryptocurrencies, metals, FX pairs and more. With over 20 years as an established platform, Libertex has won several international awards and has been a popular choice for a growing number of retail traders.
By providing quick and secure access to the top trading instruments with enhanced security and customer support, it has maintained a strong, credible reputation as a brokerage.
One of the many features that sets this platform apart from other brokerages is its diverse offering of CFDs. With Libertex, you do not have to own the physical underlying asset such as Bitcoin, Ethereum, or stocks like Tesla and Apple. Instead, the brokerage provides traders with the unique ability to trade these assets as CFDs, meaning that traders can speculate on the movements of the prices of these assets by going long or short.
Furthermore, Libertex offers traders enhanced security measures such as stop-loss and take-profit settings.
Is Libertex Regulated?
Libertex is regulated by one of the world's largest financial supervision authorities, and complies with the strictest of regulations from the Cyprus Securities and Exchange Commission (CySEC).
The platform is therefore subject to EU guidelines for CFD brokers and financial service providers.
Is Libertex Considered Safe?
Libertex has a very large global user base, and is considered a secure platform to trade on, winning a multitude of international brokerage awards. There are several reasons for this.
The brokerage has a privacy policy, and pledges a commitment to safeguarding and protecting personal data.
In it, Libertex commits to implementing and maintaining appropriate technical and organizational measures to ensure a level of security appropriate to protect any personal data provided from:
Accidental or unlawful destruction
Loss
Alteration
Unauthorized disclosure or access
Libertex offers two-factor authentication, and accounts must be verified to start trading with real money.
What Services Does Libertex Provide?
Libertex offers a diverse range of services and tradable assets to its users. With cryptocurrency, forex pairs, stock indices, shares, ETFs, commodities and more, users are unlikely to get bored with the trading menu.
Libertex is primarily a CFD brokerage, meaning that traders do not own the underlying assets but speculate on the price movements, up or down, of the assets.
The platform aims to put the power in the hands of traders by providing the tools to mitigate losses on trades such as stop losses and analyst-derived research and signals.
Currently the platform offers over 70 cryptocurrency CFDs, more than 50 stock CFDs, and a healthy selection of professional trading tools.
Who Is Libertex For?
Libertex is a great brokerage platform for all types of traders.
The brand has seen a growth in its user base by becoming one of the premier brokerages to offer "meme stocks" that have surged in popularity throughout 2021, and offers some of the most popular cryptocurrency CFDs on the market.
What's more, Libertex provides the ability to trade options on its tradable assets, allowing traders to expand their experience with alternative trading strategies.
The platform provides its users with educational resources, training demonstrations and a demo account to sharpen the skills necessary to become more comfortable trading with real money.
Customer Service
Libertex offers customer support Monday through Friday from 9 am to 9 pm, and is very transparent about its dedication to ensure users have a good experience on and off the platform.
Unlike some competitors, Libertex provides a customer support phone line, as well as a portal to submit screenshots and information about any issues.
Reviews of their customer support are overwhelmingly positive, and the company operates its support hotline in English, German, Italian, Spanish, French, Dutch, Polish, Russian and Greek.
Libertex Account Types
Opening a Libertex account is straightforward and the security of customers' data is a priority for the company. The platform provides two options:
Traders can register and use the real money account immediately
They can first try a demo account
A demo account is the most comfortable way to immediately get acquainted with the platform. Customers can practice for free on a demo account with 50,000 euros in practice money. As soon as the trader feels confident enough, they can move to the real account.
The platform provides users with features such as stop-loss and tools for chart patterns. Traders therefore have a lot of options at their disposal to open and close positions with efficiency.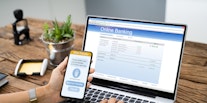 What Is Libertex?
Forms of Payment
Libertex currently offers 16 different payment methods, including the most standard such as credit card and bank transfer.
It also accepts PayPal and several other smart payment methods for convenience.
Clients may withdraw and deposit money from a large number of popular payment methods that this platform accepts.
How to Open a Libertex Account
For creating an account with real money, there is a registration system:
To sign up, customers need to fill out the email and password fields in the mobile app sign-up dialogue or via Libertex's web platform. Trading account registration can also be done using Facebook credentials.
Once they have signed up, clients will be asked a few questions.
After making the first deposit, customers will need to upload their documents for identification purposes, such as proof of identity and residence.
What Are Libertex's Commissions and Fees?
In the Libertex platform the fee is floating. The amount of the floating fee may change in accordance with the market spreads.
Advantages of Libertex
Libertex offers over 250 instruments to trade and seems to be ahead of the competition for a variety of assets.
The amount of variety found in the Libertex terminal is impressive, and most of the top stocks, cryptos, indices and more can be found and traded.
No hidden fees
Excellent customer service
Registration and platform user experience
Professional indicators and trading metrics
50K risk-free demo account
Over 20 years of experience as a trusted and regulated broker
Sponsorships with some of the world's biggest sports teams like Tottenham Hotspur provide unique perks to the platform
Disadvantages of Libertex
Currently this brokerage is not available within the United States. Additionally, Libertex is primarily a CFD broker, so ownership of the underlying asset is not supported directly via the platform.
Final Thoughts
From nearly all angles, Libertex is an excellent brokerage and platform for trading everything from crypto to stocks, and as a CFD provider, they offer assets not found at many competing brokerages.
In addition, Libertex has great resources including a practice demo account, and top-quality customer service available in a wide range of languages. Libertex is worth checking out since they are an established, trusted brokerage with over 20 years of experience in their field.
Risk warning: CFDs are complex instruments and come with a high risk of losing money rapidly due to leverage. 83% of retail investor accounts lose money when trading CFDs with this provider. You should consider whether you understand how CFDs work and whether you can afford to take the high risk of losing your money. Read our full risk warning.
Indication Investments Ltd is deemed authorised and regulated by the Financial Conduct Authority. The nature and extent of consumer protections may differ from those for firms based in the UK. Details of the Temporary Permissions Regime, which allows EEA-based firms to operate in the UK for a limited period while seeking full authorisation, are available on the Financial Conduct Authority's website.
Libertex is a trading platform used by Indication Investments Ltd, a Cyprus investment firm which is regulated and supervised by the Cyprus Securities and Exchange Commission (CySEC) with CIF licence number 164/12.
---