Best Streaming Software
Many people in different professions are now using live video streaming.
The expansion of the digital world is enabling everyone with a social media or digital presence to connect with their audience virtually, no matter where they are in the world.
There is a lot of streaming software available online. This article considers the key features of some of the best in 2021.
What Is Streaming Software?
Streaming software is a program that allows users to share live video feeds or two-way interactive digital content to social media platforms, mobile devices and websites.
Using live streaming software also allows a broadcaster to customize their video streams, resulting in branded video stream production.
People in many professions use streaming software. Initially, it was used by traditional broadcasters. Nowadays, anyone who wants to connect and interact with their followers during a live broadcast can use streaming software.
Those who want to market their products or services can start a live video stream and directly engage with those interested.
Educators can run live video classes for students using live video software. Entertainers can reach their social media audience by using live video streaming software.
Whatever your intention, live streaming can lead to a more interactive and enjoyable experience for both the broadcaster and the audience.
What Does Live Streaming Software Do?
Live streaming software enables broadcasters to connect with their audience.
Some cameras aren't suitable for broadcasting video over the internet. Live streaming software encodes video into a format appropriate to stream video over the internet.
Using live streaming software also has more benefits for broadcasters.
Streaming software enables broadcasters to:
Switch between different camera inputs
Add extra content such as graphics, text overlays and images to their live video feed
This makes for a more tailored video feed and engaging experience for the audience watching.
What Are the Key Features of Streaming Software?
The features of streaming software vary according to the type of software used.
Outlined below are some of the key features found across the different streaming software providers.
Live Chat
Live chat functionality means that those watching the live stream can text type comments into a chat box.
This chat box is then seen by the broadcaster and they can respond to these comments in real-time.
This functionality is beneficial for many types of streams such as masterclasses.
Streaming Pre-Recorded Video
Some paid versions of streaming software allow broadcasters to stream pre-recorded video – or, record a live stream and share at a later date with those who weren't able to watch it live.
Video Analytics
Various paid versions of live streaming software offer video analytics.
Analytics include:
Most watched part of a live stream
Number of viewers
Most popular social media platform the audience has viewed the stream on.
Broadcasters can then use these analytics to evaluate the success of their live stream. The results help inform any changes they need to make to future live streams.
Application Programming Interface (API)
APIs allow broadcasters to customize their live video streams fully.
Some of the best live streaming software includes their own APIs, meaning that the broadcaster can:
Add in logos or specific images to their video streams
Ensure that the video syncs with any other interactive content being shared at the same time as the video
Cast the live stream video to different social media platforms simultaneously
Monetize videos through taking payments
Multiple Layouts
Audience engagement is an important part of a live video stream.
Some software programs allow broadcasters to choose different layouts for their video stream. So, they can tailor their stream according to the content in their video.
Number and Type of Platforms Streamed To
Different live streaming software enables video sharing to different digital platforms. The number of platforms enabled also often depends on the plan purchased.
Switching Between Different Camera Inputs
Some live streaming software includes options to switch between different camera inputs.
Inputs include laptops, PC, mobile or tablets.
Most providers offer a free version of streaming software. This level usually provides the basics of the program, such as the ability to stream live.
Paid versions of the software are offered at different levels, with level and type of functionality increasing as the version price increases.
Previewing Video Before Sharing
Some live streaming software enables broadcasters to review and edit the video before sharing it to digital platforms.
For all broadcasters, having this functionality is important to ensure the video shared is professional and on brand.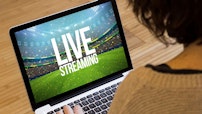 Best Streaming Software 2021
Which Is the Best Software for Live Streaming?
There are many live streaming software providers on the market. When choosing software, you need to consider what content is being streamed. Some streaming software is better for recording video gameplay, some for use in business.
The best live streaming software depends on what the broadcaster is using the live stream for.
Outlined below are 10 of the best live streaming software providers.
OBS Studio is live video stream software mainly used for general video streaming.
Offered as free streaming software, is it suited to those who are new to live streaming their content. It offers open-source streaming. That is, OBS acts as a central source to stream any content, such as audio or video.
One of OBS Studio's benefits is that it can be used with many computer operating systems such as Mac, Windows and Linux.
OBS features include:
Switching to multiple camera sources
Screen recording
Use of a green screen when recording video
An integrated API allows the broadcaster to customize their video feeds to include different layout options.
Broadcasters who use OBS Studio can also cast their video to many social media platforms at once.
OBS Studio doesn't have as many additional features as other live streaming software, so it is suited to those who know they will only need the basic functionality of live stream software.
OneStream is live streaming software that can stream video to over 40 social media platforms at the same time. The software is best for general video streaming.
A key feature of Onestream is the ability for broadcasters to schedule their video streams across these platforms. Its functionality also allows the scheduling of re-sharing videos at set intervals.
Additional functionality includes personalization of streams, and live chat support to its users.
Onestream offers a free version with one social account connected. Various paid versions are offered as well – the most expensive being $99 per month with 50 social media accounts connected.
Streamlabs' version of OBS is a live streaming platform that can share videos to YouTube, Twitch, Mixer and Facebook.
The software offers many options for personalizing video streams. It is best suited to those who want to cast video live to social media platforms – or, those using video streaming for business use.
Streamlabs OBS also has tools that allow broadcasters to:
Monetize video streams
Include multi-screen views
Use Streamlabs integrated apps
Streamlabs OBS is offered as both a free live streaming software and as a paid version ($5.99 per month).
Live streaming using vMix is compatible with a range of inputs, such as video, audio, webcam and web browser.
A benefit of using vMix is its high output quality and user experience.
Features include:
Instant replay
Slow-motion video
An integrated titling tool
Option to add up to eight guests to the live stream
Suite of transition effects
vMix pricing ranges from 60to1,200 for the pro version. A free 60-day trial is offered that includes all the features of the pro version.
One of the downsides of vMix is that it is only compatible with those using the Windows operating system for PCs.
Given its high-quality output and price point, vMix is best for professional broadcasters.
Wirecast offers complete video streaming software. The software is compatible with both Mac and Windows operating systems.
Wirecast is available in two paid versions, Wirecast Studio (599)andWirecastPro(799). Both versions offer a free trial, depending on the use of features of the software.
The software also has many inbuilt features such as:
Green screen background
Instant replay
Pre-recorded video streaming
Title overlays
Wirecast is suitable for all types of live streams. Wirecast has a higher price point so is best suited to those who are planning to share live video streams regularly.
Gamecaster is free live streaming software that streams video to Twitch, Facebook and YouTube. As the name suggests, video gamers use the software to live stream their video.
The software is easy to use, and broadcasters can stream directly from their PC or gaming console.
Gamecaster also offers additional functionality to personalize a live stream such as:
Various layout options
Overlays so hosts can customize their videos
Copyright-free music
Integrations that allow broadcasters to monetize their live video streams.
XSplit live streaming software is offered as a free and paid version ($2.50 per month).
The software is also best suited to gamers who want to record or live stream their gaming to social media platforms.
XSplit supports streaming to various social media platforms such as LinkedIn, YouTube, Facebook and Twitch.
Additional features include:
Customized virtual backgrounds
Whiteboard options for illustrations
Multiple video views
Editing options
Interactive chat
Splitcam acts like a webcam and allows multiple users to go live and stream video simultaneously.
This streaming software is free and best used for those delivering presentations with various presenters – or for training sessions or lessons where tutor and student interaction are required.
The software is compatible with those using a Windows or Mac operating system.
Splitcam is different from other live stream software. It does not incorporate an encoder, but acts like a webcam, streaming to sites such as Yahoo Messenger, Skype or YouTube.
Restream supports broadcasts to over 30 social media platforms at the same time. It is a popular choice with all professional and business broadcasters.
The software enables interaction with the audience when streaming and includes options to boost audience engagement.
Restream is offered as a free and paid version. The paid version ranges from 16to249 per month.
A downside of using Restream is that it doesn't offer encoding. So it needs to be used with live streaming software such as OBS or Dacast. Restream is compatible with some games consoles, Mac and Windows operating systems.
Live streaming using Streamyard software enables broadcasters to cast their video simultaneously to multiple social media platforms such as Facebook, LinkedIn, YouTube, Twitter and Twitch.
Features include:
Personalizing live stream feeds
Uploading brand colors and fonts
Audience engagement features
Video recording
Streamyard is a popular choice for all types of broadcasters, from businesses to those looking to create and share live content.
Pricing options vary from a free plan to a business plan for $39 per month. The features included are dependent on the plan. Streamyard also offers a separate business plan where more professional and large-scale productions are required.
Final Thoughts
There are many live streaming software packages available on the market. The best streaming software depends on what you want to use it for and why.
You need to consider:
Where you want to steam to
Which computer operating system you are using
What content you want to stream
How much you want to pay
Which features you want as part of a live streaming package
Once clear on these considerations, you can select the best streaming software in 2021 based on your requirements.
---