Top 15 Outdoor Jobs That Pay Well
What Industries Have Jobs Where You Work Outside?
Working at a desk is not for everyone. Luckily, there are a range of jobs that require staff to work outdoors.
If you want a physically active job based outdoors, pursuing a career in these areas is a great way of achieving this.
Some industries that need staff outside include:
Agriculture
Construction
Leisure and hospitality
Civil engineering
If you are a hands-on person who wants a job to fit this lifestyle, this article is for you.
We will cover the range of benefits you will get from working outside and suggest 15 great jobs you can start pursuing today.
What Are the Benefits of Working Outdoors?
Here are the top reasons why a job outdoors can be good for you.
Health and Wellbeing
Working outside is good physical activity. You will not be stuck behind a desk for hours at a time.
As you move more and work with heavy equipment, you will get in better shape.
There is a good chance that you will be interacting with different environments. Being out in nature while you exercise is great for your mental wellbeing.
You will also be more open to interacting with people as you will feel better about yourself. You will be more open to having conversations and meeting new people at work.
Sociability
Not only will you be interacting with new people and different environments, but a lot of outdoor careers also involve working with animals.
Having the opportunity to work with wildlife will be meditative; you will have the time to reflect upon yourself and your relationships.
The people you work alongside will likely have the same interests as you. In an office space, you can be bunched together with a range of different personalities. It is unlikely that you will get on with everyone.
However, when you work outside, you will be working with people who have similar career interests and hobbies. It is therefore likely that you will make better friends in an outside working environment.
Job Satisfaction
With all 15 careers outlined below, there is a good opportunity to excel and grow your skills.
You may also have the opportunity to start your own business. For example, if you are working as a forester, you will get insight into how to start a business for yourself.
Because you are choosing a career that benefits your wellbeing and improves your social circle, you will be more likely to enjoy the work.
This is a fundamental part of job satisfaction. The work is arguably harder, but if you are looking forward to turning up to work, you will perform better and achieve better results.
As you achieve more at work, your salary will likely increase and your lifestyle will improve as a consequence.
Salary
The salaries of each position for the US are discussed below, but it is worth bearing in mind that a career working outdoors can pay well.
Many of the jobs listed require specialized science degrees. There are not many people with these advanced qualifications, so they tend to pay well.
Because you will be using heavy equipment and will be working longer hours, the overall salary will be higher than a standard office job.
Some outdoor jobs are considered dangerous, and the salaries are higher to attract the right personnel.
15 Well-Paid Outdoor Jobs
1. Forester
Average salary: Around $62,000 annually
As a forester, you will play an important role in land conservation, rehabilitation and wildlife management.
You will be responsible for planting new trees and removing excess debris. You will also observe how wildlife grows and thrives in a managed area to determine the success of conservation efforts.
A forester role suits anyone with a love for wildlife conservation. Degrees in this field or in a biology field will serve you well.
2. Park Ranger
Average salary: Around $39,000 each year, but the top 10% of this role earn around $85,000 annually, making it a very profitable career if you can specialize
Park rangers patrol restricted grounds and private conservation areas. They make sure that everything is running smoothly.
It is a very thorough job as park rangers must often conduct and collaborate in any ongoing investigations.
A park ranger needs to be meticulous. You do not necessarily need a degree for this career, but the right experience will lead you to the top.
Park rangers can work for national conservation sites or within the private sphere. Careers tend to last a long time and are rewarding.
3. Photographer
Average salary: $30,000 to $75,000 a year. There is a large gulf in earnings because of the wide variety of ways in which photographers can work.
A photographer can easily adapt their work to make it suitable for an outdoor career.
They can become a wildlife conservation photographer, or they could work with architectural firms.
Choosing where to specialize is dependent on the photographer's personal interests and talents.
If they prefer to focus on portrait photography and human interactions, they can adapt this to outdoor settings and events.
A strong portfolio determines how well a photographer is paid. An arts degree goes well with a career in photography.
As a photographer, you get a lot of opportunities to work as a freelancer to have complete control over the contracts and commissions you take.
If you want an artistic career with the complete freedom to choose how you interact with the outside world, becoming a photographer might be the best option.
4. Marine Biologist
Average salary: Around $42,000 each year
This is a rewarding and exciting career.
You will be responsible for marine conservation, conducting scientific experiments into animal and plant behavior, and particularly involved with environmental matters.
You will need a degree in marine biology or any animal-related field. The best marine biologists are caring and thorough conservation scientists.
5. Zoologist
Average salary: $63,000 a year. Zoologists make good money because of the demands of the role.
Like the marine biologist, the zoologist also monitors human impact on animal populations and observes specific animal behaviors.
You will need a degree in zoology or a related field, and experience working directly with animals.
Zoologists are also involved in reducing animal captivity and ensuring they have the right environments to live in.
6. Logging Equipment Operator
Average salary: Around $68,000 annually
In forestry, there is a lot of advanced equipment that needs calibrating and repairing. It also needs to be used safely.
A logging equipment operator ensures that these needs are met.
The demands of the job are tough, and it can be considered a dangerous role because of the equipment you will be working with.
A degree in an engineering-related field and experience working as a forester can lead you to a successful career as a logging equipment operator.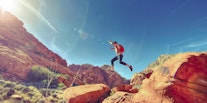 Top 15 Outdoor Jobs That Pay Well
7. Outdoor Adventure Writer
Average salary: Around $51,000 each year
As an adventure writer, you will have an exciting career. You will be responsible for contributing content to newspapers and magazines on conservation and wildlife stories.
You will also have freedom in where you write.
Writing in the outdoors is certainly a different career than working behind an office desk. You must have a talent for writing. A degree in an arts-related field can also help you with this career.
8. Outdoor Educator
Average salary: Around $35,000 each year. Outdoor educators are involved with seasonal and temporary work as well.
If you like working in summer camps and adventure retreats, this could be a perfect career for you.
The role of an outdoor educator is to manage groups and give wildlife and conservation tours.
Outgoing, extroverted people usually perform well in these roles. You do not need a degree to start a career in this field, but make sure that you have experience working in holiday and summer camps.
9. Mountaineering Instructor
Average salary: Around $47,000 annually, but the real reward comes with the job itself
Rock-climbing instructors and mountaineering experts have a love for adventure and adrenaline-based thrills.
You will oversee the safety of dangerous tasks and excursions.
You get to interact with some of the most impressive landscapes across the world. There are also great opportunities to travel with this position.
A degree in geography may give you the backbone of knowledge you need, but it is not an essential qualification.
What really matters is having the right safety certifications and qualifications. Belay testing and orienteering are some of the essential skills you will need to make this career a success.
10. Meteorologist
Average salary: Around $80,000 a year
Meteorologists closely monitor climate data and analyze weather patterns to predict events such as storms and floods.
They are well qualified and often have a degree in geography and science-related fields.
If you have a talent for research and analysis, this may be the career for you.
11. Conservation Scientist
Average salary: Around $63,000 a year
A conservation scientist plays a key role in wildlife development and conservation.
They are responsible for managing the quality of forests, and they conduct experiments to determine the overall quality of parks and rangelands.
They usually have a research-related degree. People with a background in science can have a successful career in this field.
12. Geoscientist
Average salary: $94,000 annually
A geoscientist is often involved in the monitoring and discovery of lands suitable for commercial agriculture.
They often determine the suitability of the soil for growth and work closely with other scientists to predict crop yield.
They also work with oil and gas reserves to see if it is commercially safe to extract.
The role requires technically skilled individuals who have advanced degrees in chemistry and engineering.
Big oil corporations and natural gas firms employ geoscientists to conduct research for them. This is a highly profitable and rewarding career.
13. Environmental Engineer
Average salary: Around $89,000 a year, although the top 25% earn well over six figures annually
Like the geoscientist, the environment engineer works with natural resources to optimize their commercial use.
Environmental engineers are usually the people who conduct the resource excavation. They work closely with oil refineries and must be skilled with advanced equipment.
This profitable career requires advanced training in an engineer-related field and a degree in physics or a math-related area.
14. Landscape Architect
Average salary: Around $81,000 a year, but you can certainly earn more if you land the right contracts
While architects study and design buildings for both commercial and private use, a landscape architect works specifically with outdoor projects.
The design of parks, conservation spaces and agricultural areas are some of the areas that landscape architects work in.
Some landscape architects also work as independent agents who draw up designs for big corporations. You do not have to be attached to a company to be successful in this role.
You will need a degree in architecture and experience before specializing in landscape architecture.
15. Forest Firefighter
Average salary: Around $38,000 a year
In this role, you will be responsible for using advanced equipment to put out forest and wildlife fires. It is a dangerous role and requires a lot of training.
Forest firefighters can work all over the globe.
You do not need a degree in this field, but you must be physically fit to handle the equipment and the dangerous scenarios.
This role suits individuals with a background in firefighting and who are looking for a job that puts them at the heart of a challenge.
Frequently Asked Questions
For your physical and mental wellbeing, working outside is very beneficial. However, some of the roles like forestry and forest firefighting are dangerous.
If you are embarking on an outside role, be prepared for physical challenges. If you thrive on these, you'll find it very beneficial to work outside.
STEM and science-related fields pay well. In the fields listed above, geoscience, architect and environmental engineering are the best-paid roles.
You can earn good money as a photographer, though. If you have an eye for the right picture and have the right connections, you can have a prosperous career.
In some outdoor careers, you do not need a degree to succeed, but you do need relevant experience.
The best choice of degree is a biology-related field, as many of the jobs involve wildlife conservation.
If you want to write for outdoor magazines and periodicals, a degree in the arts will serve you well.
Careers in marine biology and zoology give the best opportunities to work with animals.
Wildlife conservation may lead you down this path too, although you will be working more on environmental management.
This is entirely dependent on the role you take.
Forest firefighting and mountaineering have distinct risks that make them dangerous, but photography and architectural roles are more safe (depending on where you are taking pictures!).
Final Thoughts
Working outdoors is particularly rewarding for anyone who hates the idea of being stuck between four walls.
The careers listed in this article are all accessible with the right training and degrees.
Environmental management and climate conservation roles are some of the most popular outdoor roles.
Take the right courses to begin your steps towards a prosperous and exciting career working outdoors.
---