How to Answer the Interview Question: "Why Did You Select Your A-Level Subjects?"
You've found just the right entry-level job at a company you've been longing to work for. Unfortunately, half a dozen other candidates are waiting in reception to be interviewed.
What will separate you from them may well be how you answer the A-Levels interview question.
After the question "Why do you think we should offer you this role?", "Why did you choose your A-Levels?" is one of most the popular questions to ask at an entry-level job interview.
How Else Might This Question Be Asked?
The A-Levels interview question can be phrased in lots of different ways, even within a single organization.
The precise wording will give you a clue as to what the employer is looking for in your answer.
Below, three different versions of the question are explored:
Why Did You Choose This Subject?
In this scenario, the employer wants you to talk about a specific A-level you chose rather than all the subjects you studied.
The employer will usually do this when they can see that a subject would be useful to the role you are applying for.
They want to know how passionate you are about this area of study and whether you have valuable transferrable skills.
Why Did You Choose Your A-Levels?
This is a very direct interview question on A-levels. The interviewer is referring to your studies in the plural.
Therefore, they want to understand how your A-Levels are related.
For example, Mathematics, Engineering, and Chemistry would be a likely trio, but Archaeology, Business Studies and Food Technology would need a deeper explanation (more on this below).
What Career Did You Have In Mind When Choosing Your A-Levels?
Now, this is a very specific version of the question.
The interviewer wants to know how career-focused you are.
They want to see that you make deliberate decisions on crucial career choices.
Why Do Employers Ask This Question?
As touched on above, employers that ask you an interview question on A-levels do so because they want to know that you are the strongest candidate.
Almost certainly, you'll be asked the question if you are applying for an entry-level role since the main selection criteria will be focused on your studies rather than any experience you may have.
In a way, it is a disguised question. What the interviewer really wants to know is whether your studies will be of benefit to their team.
Here is an example of an Accounts Assistant entry-level role.
The employer already knows, from your resume, that you have an A-level in Mathematics.
So, when they ask you, "Why did you choose this subject?", they are seeking to understand how passionate you are about numbers and finding solutions to problems.
After all, these technical skills form a firm foundation for a career in accountancy.
If the role is for a trainee position, the interview question on A-levels may be company policy to ask.
After all, they're likely to have shortlisted ten or so candidates, all with similar qualifications.
In this situation, the employer will want to understand how you approached your studies and whether you're a good cultural fit for the team.
What Employers Are Looking for in Your Answer
When an employer asks you why did you choose your A-Levels, they might as well be asking, "How do you make career decisions?" and "How are your studies relevant to the role?"
They want your answer to demonstrate:
How committed you are – If you can show a deliberate pattern in your choice of studies, you then highlight how driven you are.
Your motivation levels – If you pushed yourself to study five interrelated A-levels to increase your chances of securing an internship, say so!
A career-orientated mindset – They want to see that you chose your A-levels based on your career goals. It doesn't matter if these career goals have shifted slightly. What they are looking for is how much foresight went into your A-level selection process.
How to Answer the Interview Question: Why Did You Select Your A-Level Subjects?
Most people will have a good idea of what career they might like to pursue when choosing what to study, but aspirations can and do change.
So, you need to consider how you will nail the interview question on A-levels and answer, "Why did you choose this course?".
There's no definitive answer, but here are a few tips that will help you provide a carefully considered response:
Do Your Research First
Before you form an answer, it's a good idea to research the employer as well as the job specification thoroughly.
Read the job profile and make a note of the 'essential' and 'desirable' criteria.
If you've been selected for an interview, you'll almost certainly have all the essential qualifications, which is why you'll want to focus on the 'desirable' list.
This is where you can use the interview question on A-levels to your advantage.
Perhaps you studied something or have practical experience of one of the 'desirable' technical skills.
An example of this could be where you chose an A-level in Graphic Design knowing that the course offered you the opportunity to learn a broader range of design tools than most other courses.
Talking about this shows not just that you are likely already more skilled than other candidates but also that you think about your future when making choices.
Expand, Don't Repeat
You shouldn't give a simple summary of what's in your resume. The interviewer will have a copy in front of them.
Instead, they are looking for you to expand on your education choices and achievements.
If you knew that you would enjoy Chemistry and then went on to obtain a high grade, here's your chance to expand on this.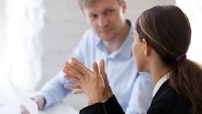 How to Answer the Interview Question: "Why Did You Select Your A-Level Subjects?"

Explain which aspects you enjoyed the most and why that course appealed to you over another.
Make the Skills Link
Formal education teaches a host of skills beyond just the subject, and it would be good to talk about these within your answer.
So, think about all the soft and technical skills you wanted to acquire when answering why you chose to study that particular subject.
Here are strong examples of soft skills you may wish to talk about:
Problem-solving
Presentation skills
Creative thinking
Teamwork
Timekeeping
Working under pressure
Multitasking
Similarly, you could reference some specific technical skills you wanted to achieve when choosing your A-levels. These will be specific to the A-levels you studied. Consider what you know now that you did not know before you completed them.
Keeping with the mathematics example, these could be:
Statistical analysis
Excel modelling
Data analytics
Mathematical reasoning
Diagrammatic reasoning
Equations
It's a good idea to revisit your syllabus for keywords to describe all the key skills you have acquired.
Emphasise the Strength of Your Decision
When you answer the interview question on A-levels, talk about how you chose subjects you knew would push you.
This will give the employer a positive view of your work ethic.
Explain How Anomalies Fit
Likewise, explain how you chose subjects that complement one another, especially where this is not obvious.
For example, as an aspiring clothing designer, you would have almost certainly studied Textiles. However, you may also have studied Business Studies and perhaps History.
On the face of it, History may seem like an unrelated subject.
However, you could explain that having a richer understanding of times past helps to inform your choice of textiles.
You would demonstrate a considered A-level choice, show a strong understanding of the broader picture and an appreciation for multiple angles of information.
Example Answers
To help form a strong response, here are three sample answers to variations on the question "Why did you choose this course?":
Why did you choose your A-levels?
Example answer:
Before settling on what A-levels to study, I spent a considerable amount of time thinking about my career strategy. I looked at some example job specifications for entry-level roles, met with the school careers counsellor and reviewed the syllabus of each subject I was considering.

Eventually, after a lot of consideration, I decided that a career in finance interested me the most, and so I decided to study Mathematics, Finance and Business Studies.
Why did you choose to study that subject?
Example answer:
I decided to supplement my studies in Engineering with A-levels in Geology and Chemistry because I was (and still am) interested in a traineeship in agricultural productivity.

You see, I come from a family of farmers and want to pursue a career in environmental crop management.
Did you have a specific career in mind when choosing your A-levels?
Example answer:
Yes, I did. I am a very strong writer and have a curious mind. I was an editor for our school magazine and even had my own blog, so I choose media related A-levels to pursue a career in journalism.

In addition to the obvious selection of English Language and Media Studies, I also chose A-level Spanish since the language is spoken by over 559 million people worldwide and would enable me to be an inspiring travel writer.
What to Avoid
There are several things that you'll want to avoid when answering an interview question on A-Levels:
Saying others influenced you – Family and friends may have swayed you, but an employer will not want to hear this. They want to know that you can make your own decisions.
For the money – If you are career-motivated, how much money you can earn after studying is a factor. However, no employer wants to hear that you are money-oriented. Instead, they are keen to hear how you are driven by success.
Due to bad grades – While it may be true you initially wanted to do a more advanced A-level but unfortunately did not meet the entry requirements, this is best kept to yourself. Mentioning this will devalue the A-levels you chose and highlight your academic flaws.
Overworking your answer – Your answer to an interview question on A-levels does not need to be lengthy. Instead, it should be concise and revealing. Try to put yourself into the employer's shoes – if you were hiring, consider what you would want to hear.
Final Thoughts
An employer will understand that you made your A-level choice when you were only 15 or 16 years old. They are not looking for a perfect interview answer; just an honest one that reveals more about you and how you could make a good an employee.
Remember, the most important thing is to relax and connect the dots during the interview. You cannot go wrong if you speak about your choice of A-level subjects with conviction.
When an employer asks you an interview question on A-levels, they are interested in what you have to say. They want to know how you learn and make decisions, so take the opportunity to talk passionately about your studies and let your personality shine through!
---