Nestlé Graduate Scheme
Company Background
This food and drink corporation runs by the tagline, 'Good Food, Good Life', and prides itself on being one of the longest-established corporations in resource development.
As the company strives towards helping more than 50 million children live healthier lives, it also aims at reducing its carbon emissions to zero by 2030.
Since its founding in 1866, the corporation has helped develop sustainable water resources for developing nations.
Today, Nestlé continues to take responsibility for global change and has taken part in initiatives such as the World Cocoa Foundation in 2000.
Having a career at Nestlé will ultimately mean endorsing its sustainability and environmental priorities. Further, there will be opportunities to work in areas where Nestlé exerts influence.
In this article, we will discuss what some of these opportunities are and how you can put yourself in a position of obtaining a career at Nestlé.
In addition to outlining these opportunities, you learn more about the recruitment process, so you will know what to expect during the application steps.
Nestlé Graduate Scheme Opportunities
There are a total of 10 graduate programmes, each with different requirements and career prospects.
To understand how you can get a place on one of these programmes, it is essential to learn what to expect from them, including location and training.
The salaries at Nestlé differ widely as the responsibilities vary. However, individuals applying for graduate roles at Nestlé can expect at least £19,000 as their starting wage. These salaries increase quickly, with £21,000 being the average across the UK.
It is also worth stating that high earners at Nestlé earn upwards of around £37,000 annually, and this increases as you expand into senior positions.
Depending on your drive and the programme you are in, your earnings can increase considerably.
Sales
With sales being a role that requires no specific location, you can build a career in this area in any of the UK and Ireland branches.
Nestlé provides classroom training with ongoing support to help you become a strong sales representative.
It does not state that you need to have any specific degree, but it strongly encourages candidates who are extroverted, communicative and outgoing to apply.
You can expect to be involved in the development of Nestlé's image and social connections, and it is likely that you will be on the road travelling to different offices and clients.
Nestlé does state that you should ideally have a full UK driver's licence.
Engineering
As engineering is one of the more intricate graduate programmes, you will be sent on a two-year placement in one of the UK branches.
The first 12 months of this placement will see you training in product engineering and mechanical installation. The final 12 months will consist of maintenance education, learning about the industrial services that Nestlé is involved in and working in a team of engineers.
Nestlé states that it is looking for candidates with degrees relevant to mechanical, electrical and automation-based knowledge.
It also states it wants candidates with strong problem-solving skills and dedication to keeping the operations running.
Marketing
With marketing being split into four divisions – brand management, business to business marketing, Purina pet food marketing and the beverage division, and the Nestlé cereal partners UK (CPUK) – there are opportunities located across various branches in the UK.
The brand management division operates out of York, whilst business to business, Purina and beverages division works from Gatwick. CPUK is based in Hertfordshire.
The training you will receive on each is relatively similar, but depending on your own preferences, strengths and career aims, you may find yourself gravitating towards one division.
You will learn about the corporation's social media campaigns, the consumer-centric policies and how you can contribute to Nestlé's leading edge over its consumers.
It does not ask for specific requirements, but Nestlé wants candidates who have commercial instincts and a creative spark.
Finance
There are currently two graduate finance schemes, which are based in both York and Gatwick. You will spend three years in this graduate scheme, building the analytical skills needed to predict anticipated sales and forecast profits.
As you work with industry experts, you will be developing relationships that may last throughout the rest of your career.
Nestlé requests that candidates with a degree in mathematics, finance, economics and anything number-related strongly consider this programme. Further, Nestlé wants professional employees who can deliver on deadlines and meet its expectations.
Manufacturing
This factory-based graduate scheme will have you working on the shop floor and with the maintenance team.
The two 12-month placements will give you the knowledge in total productive maintenance (TPM) and a comprehensive experience of working with machinery.
Nestlé does not state which degrees it prefers on this programme, but it favours practically-minded individuals who are dedicated to getting the job done.
Management skills and strategic planning will see someone have a prosperous career in this field.
Supply Chain
The two supply chain schemes available are based with Nestlé's CPUK branch in Hertfordshire and York.
You will be the logistics between the suppliers and the customers, so the supply chain roles are incredibly important.
Your training will consist of learning about how to source the best products and how to manufacture them on a mass scale. Over the course of two years, there will be three placements at different factories.
Each placement will give you different insight into the chain process to manufacture different products.
To apply for this role, you have to be decisive, willing to make decisions and very organised.
Quality
The assurance of product perfection and the maintenance of this is a challenging task, but also one that is rewarding.
The two-year Quality graduate scheme is based in Halifax and Dalston, and you could be working alongside engineering, supply chain and even those who are dedicated to product innovation.
You will learn about the ways in which you can ensure consistent improvement of current products and how new products can hit the high expectations of quality. After working with quality managers, your skills will quickly improve.
A science-related degree is highly recommended for this course, but Nestlé are looking for candidates who are looking to be factory-based in their career.
PTC Product Development
Based in York, the product development centre is the home of the innovative design of Nestlé's product range.
The scheme extends over a two-year period and team members will work with on the design of future prospects of Nestlé. The science, packaging and consumer demands are all taken into consideration in the product development team.
Nestlé wants creative problem solvers within this team.
It also states that those with degrees in chemistry and food science are best suited to this role.
In addition to this, team members must be cooperative and collaborative in nature. If you tick these boxes, then this might be the programme for you.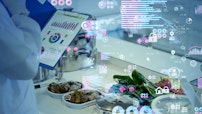 Nestlé Graduate Scheme
PTC Packaging Engineering
With technology being at the forefront of Nestlé's future products, those in the packaging engineering scheme will be working with 3D printing, CAD drawing and the modelling of designs.
You will be asked to pilot products and trial designs over the course of two years. Further, you will be taken through the process of liaising with some of Nestlé's clients.
A degree in mechanical engineering or any automation-based course is best for this role.
Further, you will have to be committed to design and innovation. This is not just a nine-to-five job, and packaging engineers are thinking about their ideas all of the time.
PTC Electrical/Automation Engineering
Within this role, you will be part of a close group of 24 engineers who are working across various departments, including product design, commercial, packaging and workshop operation.
This two-year placement will see team members develop an array of skills in industry practice. Your training will consist of becoming familiar with using Nestlé's automated operation systems.
Most of this placement takes place in York.
Relevant degrees in electrical engineering and mechanical specialisation are the best platforms for succeeding in this programme. You also have to learn quickly and on your feet.
What Are the Requirements for the Nestlé Graduate Scheme?
Across each of the programmes, there are different requirements and personality traits needed for success.
During each annual intake, you can only make one application at a time, so think carefully about which scheme you are best suited towards.
Moreover, you can only make one application per year, as there is only one recruitment window a year. Such restrictions are put in place in order to encourage candidates to be thoughtful when choosing their career pathway.
It must be noted that you can reapply if you are unsuccessful with an application, but be prepared to wait. Learn from any feedback you may be given.
Your degree programme, your experience and how you cooperate with other employees will ultimately determine the scheme you should apply for.
Before jumping into the recruitment process, spend time outlining what your skills are, take personality tests and think about the trajectory of your career.
Once you know how you interact in the workplace and what you want in regards to a career at Nestlé, you are ready to tackle the recruitment process.
Nestlé Recruitment Process
The application to a Nestlé programme is meticulous, and you need to be patient.
Spending time studying each process will serve you well in the long run and give you the opportunity to practise the essential skills for success.
Here are the steps that you will go through:
Pre-Screening
Before going through the rest of the application, Nestlé wants to determine if you are ready to follow through with the process.
It's difficult to outline what the pre-screening questions are typically like, as Nestlé keeps them close to their chests, but they are ultimately a test of your aspirations. The answers to these questions are simple, and you will be asked to choose yes or no.
If you find yourself hesitant to answer these questions positively, then you may want to take a step back from the application process.
Online Application
At this stage, you will be asked to complete a series of short questionnaires. The questions are more to do with your personal details and what interests you.
Nestlé states that there is no need to spend time revising or practising these questionnaires, as they are about your preferences. In short, there are no right answers.
Online Tests
If Nestlé finds your personality and your motivation suitable, it will invite you to complete a series of online tests.
There are three major tests that Nestlé uses to calculate what your strengths are.
Situational Strengths Tests
The situational test is a presentation of everyday circumstances that you will likely come across whilst working at Nestlé. You will read the scenario and then be asked to respond to the scenario.
An example of this may be a problem with a colleague or a mistake made on the product supply line. Understanding what Nestlé wants and what the graduate scheme you are applying to will help you choose the best answers for this test.
Further, it is important to answer the questions honestly. If you choose a response to a scenario that you would not naturally commit to in reality, then when presented with this situation at Nestlé you will encounter problems.
Numerical Reasoning Test
This logic and mathematically based test will give you the opportunity to practise your numeracy skills. Make sure that you have a calculator to hand.
Like the situational test, the questions you will be presented with will be replications from the workplace environment. Moreover, there will be a range of types of questions.
Numbers, shapes, statistics and data analysis will likely appear. It is imperative to practise this test, as becoming familiar with the structure of the questions will help you succeed.
Social Mobility Questionnaire
The final test is the social mobility questionnaire. This is not an examination – it is a set of questions about your background.
Nestlé wants to understand and know its candidates well. It won't use the questionnaire's answers when selecting candidates for their graduate schemes.
All of these questions are optional, and if you feel that you do not want to give a definitive answer, then you can choose this option.
Video Interview
If you are successful with the online tests, you will need to take part in a video interview.
It is an automated interview, and the questions will be posed to examine your strengths. With this in mind, you will not be dealing with your primary interview skills at this point.
Your passion and your knowledge will come through during this process. Also, you will want to maintain your enthusiasm across the series of questions.
Assessment Centre
The event is usually orchestrated virtually or at an assessment centre. Further, it will take at least half of a working day and can extend to a full day.
The three exercises of group activity, interview and presentation will be the final test of your recruitment process.
It is essential you are mentally prepared, well rested and formally dressed at these assessments. As well, try to make a good impression on the recruitment staff at Nestlé and the other candidates. All of these could be your future colleagues.
The group activity will force you to work in a team environment. You will be tasked with a brief to discuss and you will be asked to present solutions to a scenario to the rest of the room.
Remember to be patient and co-operative during these situations. The recruitment team will be watching closely throughout the assessment.
The interview is your opportunity to face Nestlé colleagues and present them with your best traits and knowledge.
Questions will revolve around the graduate scheme you have chosen to apply for, but you may be asked more general questions about your passion and skills.
The content of your presentation will be given to you beforehand, so you must prepare for this in your own time.
You will be assessed on how you structure your presentation and then disseminate your knowledge to an audience. Further, your tone and punctuality are also tested in this process.
Here are some tips on how to make a great presentation.
In addition, do not hesitate to practise your presentation before the assessment day with family and friends.
Tips for Getting Hired at Nestlé
Working at Nestlé is all-encompassing, and so it has ensured that the recruitment procedures reflect this.
It can be daunting entering such a process, but these tips will give you that edge to gain a career:
Final Thoughts
The Nestlé programmes run every year, and they are always on the lookout for new team members.
This could be your opportunity to find a career in a sustainable environment with a corporation that strives to make positive changes in the world.
---