McDonald's Assessment Tests
McDonald's is a globally recognized fast food chain, with over 39,000 restaurants worldwide.
Through a combination of company-owned locations and franchised premises, it is also one of the largest employers in the world.
Founded in 1940, the first McDonald's restaurant opened in California. There are now chains in over 120 countries that serve approximately 68 million customers each day.
McDonald's is one of the largest employers of school leavers, students and graduates worldwide and is committed to offering employment opportunities and qualifications, as well as working with local communities to offer grants and support for young people.
McDonald's Career Opportunities
Those looking for a career within McDonald's will find that the options are limitless.
What may seem initially to be an entry-level position in a restaurant can relatively easily become a managerial role.
Apprenticeship or degree-level training and other training opportunities are available to all staff members who wish to undertake them, with further career advancement opportunities available once training has been completed.
Individuals who are applying for entry-level positions within a McDonald's store will find that the average salary starts at around $9 per hour, with rates increasing for those in managerial positions.
Applicants who choose to undertake a career with McDonald's in the US will also find that they are able to enjoy a range of employee benefits and perks such as:
Health and dental insurance
401(k) plan and performance-related bonuses
Maternity/paternity leave
Emergency medical leave for families
Three weeks of paid vacation time per year
50% employee discount
Tuition assistance for specified colleges
What Does McDonald's Look For in Its Employees?
McDonald's prides itself on accepting applicants from all backgrounds and with all levels of education.
There are no minimum qualification requirements for applicants as, rather than focusing on qualifications, it puts more emphasis on employee attitudes and a commitment to good customer service.
Applicants who wish to work their way up through the company or want to gain qualifications related to their job are invited to undertake some of the training options that the company offers.
There are options such as on-the-job training, degree-level training and nationally recognized qualifications.
Individuals who wish to enter McDonald's via one of the management programs may find that they require degree-equivalent qualifications or relevant work experience, although it is possible to work towards one of these positions via McDonald's training schemes.
McDonald's Application Process
Whether you are applying for a position at one of McDonald's corporate stores or one of the many thousands of franchises, the process is essentially the same.
1. Submit an Application
The initial application is normally completed online and will usually take around 20 minutes.
The application will ask for basic details such as your name, address, previous work experience and references.
The form may also ask you to note when you can be available for shifts and if there are any days that would be impossible for you to work.
You will then be instructed to complete a personality test.
2. Take the Personality Based Psychometric Questionnaire
This is a simple question and answer section within the online application.
Candidates are asked a series of situation-based questions with a variety of possible answers.
The purpose of the questionnaire is to build a picture of what someone would be like as an employee.
The personality section of your application should take no more than an hour to complete. Most applicants will finish it in around 30 minutes.
3. Attend an Interview
Once the manager has been able to look at your application and the results of your personality test, and if you are successful, you will be invited to attend an interview.
The majority of your interview will focus on your previous experience and reasons for applying for a job with McDonald's.
It is a good idea to dress smartly and remember to take identification and social security information with you so that you can produce it if you are asked.
4. On-Job Evaluation
The on-job evaluation is usually included as part of your interview, but you may be asked to attend at another time if the branch is very busy or the manager has other meetings to attend.
An on-the-job evaluation offers employers the opportunity to see what you would be like as an employee.
You will be shown how to do a task, such as serving customers at the drive-in window, and then asked to perform the task for a short time.
This gives you an opportunity to see what the job would be like and it gives the interviewer a chance to see how well you listen to instructions and interact with customers.
5. Congratulations, You Are Now a McDonald's Employee
If the interviewer is happy with how you performed during the interview and on-job evaluation, you will receive an email that confirms your starting date and asks you to attend an induction session.
What Is a Personality-Based Psychometric Questionnaire?
When you are asked to complete a personality based psychometric questionnaire, it may sound like a very complicated and perhaps even frightening prospect.
In reality, it is just a long-winded way of saying 'personality test'.
Personality tests are designed by employers to look at an individual's interpersonal skills, emotional responses and thought processes in a way that can be measured against a company's values.
The aim is to ensure that new employees are a good match for the company and will uphold the key aims and responsibilities of the business.
The McDonald's personality-based psychometric questionnaire has been created by experts within the industry to ensure that it is fair, completely non-discriminatory and reflects situations that employees may regularly experience.
By asking candidates to complete their personality test, interviewers are able to easily see which individuals are best suited to each available position.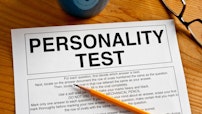 McDonald's Assessment Tests
How to Prepare for Your McDonald's Personality Based Psychometric Questionnaire
This type of test looks at your personality, logic and critical thinking to build an image of how well you would fit into the company.
It is not possible to revise for a personality test in the same way that you would study for an exam. There can be no revision and you should not attempt to cheat the test by giving the answers that you think an employer wants to hear.
In reality, the personality test is not simply there to benefit an employer. It also benefits the candidates, as it reduces the likelihood of being given a position that you are unsuited for.
If a candidate chooses to give answers which they know are incorrect, they are putting themselves at a disadvantage, as they are giving an inaccurate impression of their personality.
There are, however, some things that may help you to feel more prepared and able to give your best performance on the day:
Research the Company
Before applying for any job, it is always a good idea to spend some time researching the company you are applying to work with.
Find out about its values, its mission and think about whether they align with your own.
It is also sometimes possible to read reviews from previous employees, which will give you some insight as to what the company is like to work for.
Be aware though that it is more common to see negative reviews than positive ones as people are more likely to complain rather than praise.
Research the Job Role You Are Applying For
A job title may seem perfect initially, but it is advisable to thoroughly research the role and responsibilities.
This will give you the opportunity to be sure that you are happy with what the position will involve.
This may also give you some idea of skills you may require to do the job, as well as any opportunities for further training.
Practice Similar Tests
If you are particularly nervous or unsure about what to expect, it may be beneficial to take some practice tests.
Although you won't be able to practice with the exact test that you will need to take as part of your application process, there are many similar personality tests online.
Taking a few practice tests may help you to be more relaxed when it comes to completing the real one.
Final Thoughts
Online applications and personality assessments are becoming more and more commonplace in the modern world.
It may seem strange or unusual to submit a personality test as part of a job application, but it is a quick and easy way for a company to see whether or not a candidate would be a good fit.
The tests are not usually particularly difficult, but it is important to remember to be honest.
This not only benefits companies as they can focus quickly on employees who are more likely to be successful, but it also helps candidates as they are less likely to be employed in a position which they would not be suited to.
---