Flextime Hours & Benefits
Gone are the days of employees working the typical nine-to-five working hours five-days-a-week without any flexibility.
Employers now appreciate the benefit of taking their employees' personal lives and situations into consideration; for instance, a worker might have a young family and need some flexibility when it comes to school pick-ups and unexpected illnesses.
But just what are the advantages and disadvantages of flextime? Is flextime a good idea?
These are the questions we will deliberate on within this article.
What Is Flextime?
Flextime allows employees the flexibility to pick and choose their working hours within a day.
Each company's flexible working policy can differ, some businesses might allow their employees to pick and choose the hours throughout the day, whereas others might have a slightly more regimented flexibility process which works well for the business as well as the employee.
For example, your employer might give you a block of hours to choose from.
But more than likely, flextime is designed to give you more freedom, providing you complete the weekly/monthly hours set out by your employer.
Over the past few years, newer companies have implemented a flextime process immediately to entice potential employees.
Flextime is a perk that appeals to talent when looking for a new role – if a company is flexible, so is their workforce.
However, for some older businesses, flextime is a whole new territory and is something they might not have explored in the past but are having to now to retain their best talent.
Can Anyone Benefit from Flextime?
It can be quite difficult for some employers to implement flextime working hours as their specific business might have to run between certain hours.
For instance:
If you work in food manufacturing, production patterns might dictate that employees must work specific hours doing certain jobs to make sure production goals are met.
However, many industries like tech and advertising, might want to attract younger talent and implement exciting flextime opportunities and even remote working to ensure their workforce is happy and fully motivated.
Google, Amazon and Facebook – to name but a few – all offer flexible working to their staff, amongst other perks.
What Are the Benefits of Flextime?
Flexibility – This is the main benefit of flextime and is something we need now more than ever. With the world-changing and many employees shunning the normal nine-to-five working day, flexible working has proved popular amongst younger workers, and parents especially. Being flexible also helps employees who might have certain medical conditions and might need some time off for medical reasons.

Motivation – Just knowing that there is a bit of give when it comes to working hours can be motivation enough. If employees feel that they are listened to, their motivation improves and they want to do their best for the company like the company is doing for them.

Productivity – Flextime gives employees the chance to be more productive as it allows them the opportunity to work at times when their productivity is at its best. If you are more of a night owl, then having the flextime option will give you the chance to work later in the day – likewise if you are more productive during the morning.

Freedom – Flextime will give employees a sense of freedom and will help them feel less constrained by their working hours. For example, you might have regular doctor appointments each week; just knowing you can fit them into your working schedule will set your mind at ease. The same goes for parents that have to do the school run or workers that are a bit more free-spirited.

Perks – Some employees find flextime processes a perk, this can be a deciding factor when picking a company to work for. Sometimes workers prefer flextime and remote working over a pay raise.
What Are the Benefits of Flextime for an Employer?
Staff retention – Businesses must move with the times when it comes to flexible working as the existing workforce might seek employment elsewhere if their needs are not met. Being flexible helps companies retain their staff, especially employees that have grown within the company and need some flexibility for personal reasons.

Recruitment – As with retaining key talent, it is also important that companies appeal to potential candidates and can compete with some of the best employers. Research shows that many prospective employees look for flexible working contracts before making their decision. Offering flextime can also attract a different variety of workers and a broader talent pool.

Productivity and motivation – These benefits are also listed in the employee section as a happy workforce makes for a pleasant environment, increased motivation and heightened productivity for all.

Cost-saving – Flextime is a cost-efficient way for a company to reward its staff. This flexibility can be a perk given instead of pay raises. Employers can also use flextime as a tool to negotiate with top talent instead of offering bonuses.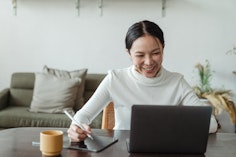 Flextime Hours & Benefits
How Does It Work?
Not sure how flextime works exactly? Well, flextime will vary business to business; however, hours could look like this:
Monday to Friday, 8 hours daily between the core hours of 7:00 a.m. to 7:00 p.m.
Tuesday to Friday, 9:30 a.m. to 5:30 p.m.
Monday to Friday, 7:00 a.m. to 3:00 p.m.
The above is just an example of different flextime options your company might offer, however, as it is flexible, these are not set-in-stone.
In some places, they might allow you to include weekend days within your working week to help with childcare, perhaps.

Sometimes businesses will allow workers who work more than their core hours to bank these into an extra day off.

In some places, you might have a daily target you need to reach within core hours and can finish the day once the target has been met.
If you are non-exempt, you can usually benefit from overtime as well as the flextime option.
This is at the discretion of each employer so please speak to your boss to find out whether overtime is an option.
Is It a Challenge to Implement Flextime?
Making any changes to a longstanding business can be challenging.
Here are a few challenges that your company might face whilst implementing flextime:
Managing expectations – Before putting anything in place, management should check with their employees to see if this is a change they will benefit from. Once their feedback is received, a plan can be worked out to suit everyone. Each employee is different, so they will need to manage expectations to ensure they are not over-promising and under-delivering.

Improving communication – Communication is key for both the employee and employer and both parties must be transparent when it comes to their needs. Improving communication within a business is the best way to implement flexible working. Project management tools like Google Teams allow everyone to keep in touch regarding work tasks, this facilitates a more flexible approach to work hours.

Management training – Flextime might mean existing leaders need further training to manage their teams and the hours that they work. It will take a bit of getting used to for both parties, but there are project management tools that can help with this.

Ironing out a policy – Management should ensure everything is outlined clearly for both the employer and employee. All the ins and outs of the policy must come across accurately and be legally sound.

Feedback and outcome – Some companies do a test run for a few weeks to test motivation and productivity. This is a great idea to see whether the process works for you and the wider firm. You can also obtain feedback from team members to see how it affected them. Some workers might prefer working normal working hours and might not require flextime, these employees' feedback needs to be listened to as well.

Keep reviewing – With things constantly changing, policies will need to be looked at regularly and amended accordingly. As an employee, your situation might change, and you might need the company to be even more flexible – this is something that will need to be discussed with your boss to see how it can work.
Final Thoughts
As a whole, there are probably more benefits to flextime than not, and it is something most industries are aware of and have already implemented within their business.
So, if you are looking for a role that offers flextime, then this should be explored from the start of the interview process.
If the company currently does not offer flextime, you can always ask whether this might be an option in the future, explaining how your productivity will benefit from such freedoms.
If you are an SME and are thinking about implementing flextime to your business, the above should help you on your way to a more productive and positive work culture.
---