Top 11 Trading Platforms in the UK
All products and services featured are independently selected by WikiJob. When you make a purchase through links on this page, we may earn a commission.
67% of retail investor accounts lose money when trading CFDs with this provider. You should consider whether you can afford to take the high risk of losing your money.
A trading platform allows the trader to work independently yet still have access to trade resources.
The power of technology allows us to trade anywhere, at any time, and all we need is a smartphone, tablet or laptop.
As there are many stock markets and trading options, not all platforms offer the same options. Before investing in a trading platform, there are important factors to consider.
Key Points to Remember When Choosing a Trading Platform
Knowledge – Some platforms are designed for advanced traders, therefore have more research and analytical tools. A vast majority of the platforms do have demo accounts and educational tools. The platforms not designed for beginners will focus less on those educational features.
Level of required support – The customer service functions vary. Some offer 24/7 support, others provide email support only. If you struggle with technology, you need to consider the level of support that is available.
How much time you have – Do you want a platform that sends out alerts and can execute orders for you? Or do you have the time to fully submerge yourself in the platform?
Your financial goals – Are you looking for long-term investments for retirement, or do you want to focus on short-term successes?
How much money you have to invest – Several of the platforms offer commission-free trading, but some require a minimum fee for opening an account. There are also additional fees, such as inactivity charges, withdrawals and transfers. It isn't just about the stock investments. Find out more about forex trading on a budget
The type of trading you want to focus on – Do you want to have access to all types of trading, or do you just want to focus on cryptocurrency? Do you want to trade in different markets or only the UK and Europe? Maybe you want to focus on two specific types – do you use a platform that caters to both, or invest in two that specialise in your trading preferences?
Ease of use – Are you someone who will only use something if it is easy on the eye? Can you find all the features you are looking for? Markets change quickly, and you need to be able to execute an order instantly.
Access to information – Does the platform offer real-time updates or delayed updates that are more informed? Is it a sharing platform that can provide details on specific stocks?
Security – A platform may seem perfect but remember to check if it is listed on the stock exchange, regulated and what login options it has.
Top 11 Trading Platforms in the UK
eToro is considered the best social trading platform and is the world-leading copy trading broker. It offers zero-commission trading and is excellent for beginners.
eToro features include:
Graph trading scenarios
Trading in US dollars
Social newsfeed with open trading discussions and notifications
Valuable trading education
Trader matches depending on your needs and trading style
It is not listed, nor does it have a banking licence or public information regarding its financial information. However, it is regulated by the Financial Conduct Authority (FCA).
67% of retail investor accounts lose money when trading CFDs with this provider. You should consider whether you can afford to take the high risk of losing your money.
Pepperstone brokers only in forex (foreign exchange) and CFD (contract for differences). It requires no minimum deposit and offers low trading fees.
Login procedures for mobile, desktop and web platforms are not as secure as they could be. However, they are customisable and user-friendly.
Pepperstone offers fantastic market analysis and trading ideas, but the news flow is basic. The educational tools are adequate.
Customer service is available via phone, email and live chat, and all queries are answered in a very timely manner.
It is not listed on the stock exchange, nor does it have a banking licence, but it is regulated.
Plus500 is an easy-to-use platform that specialises in CFD trading. There is no minimum deposit and low trading fees, but it does have substantial inactivity fees.
The web platform is user-friendly with a two-step login procedure. The mobile platform offers good search facilities and is safe and easy to use. There is no desktop version.
Plus500 offers limited research and news flow, good customer support, a demo account and educational videos. It does not provide trading platform tutorials.
This platform is not for traders who intend to make many trades in a two-minute block. Any trader that does so will be frozen from the platform.
Plus500 does not have a banking licence, but it is regulated by the FCA.
Overall, it is straightforward and easy to use, even for first-timers.
Availability subject to regulations. 76.4% of retail CFD accounts lose money.
CMC Markets offers low forex trading fees but high CFD fees, giving it a very limited portfolio. There is no minimum deposit for opening an account.
The desktop platform is poorly designed, but the web and mobile versions have contemporary designs and are user-friendly with customizations available.
Research-wise, there are detailed interactive charts and data available for asset fundamentals.
Equally, the educational tools are excellent, and customer service is fairly responsive through phone, email and live chat.
CMC Markets is listed on the stock exchange and has negative balance protection. It does not hold a banking licence.
Overall, its many research tools make it an ideal platform for advanced crypto traders. Its longstanding time on the stock market makes it both safe to use and a reliable broker.
City Index offers low forex and stock index CFD trading. There is no minimum deposit for opening an account, but there are non-trading fees that can be quite pricey.
There is good customisability across all platforms with good-quality news flow and diverse research tools, though it lacks fundamental data.
There are excellent educational tools, including a demo account, and customer service is available via live chat and phone 24/5.
City Index is listed on the stock exchange.
Overall, while its portfolio is limited, City Index is regulated by the UK's FCA and offers low fees and excellent research, making it a great forex broker.
Capital.com is another online CFD and stock broker designed specifically for experienced investors.
The site makes the most of real-time data and promises fast execution speeds. This means that you can make the most of changing stock performances.
The dashboard allows users to make the most of technical indicators as well as risk alerts. This means that you can have confidence that you are making informed decisions.
A positive of Capital.com is its fees. This is a popular choice amongst traders because there are no fees for deposits/withdrawals, quotes, opening/closing time trades or educational material. The company makes its money through the buy/sell spread.
71.2% of retail investor accounts lose money when trading CFDs with this provider
Minimum deposit: $100
Regulators: FCA, ASIC, CYSEC, FSCA
Multi-platform: Yes
Pip spread on majors: 0–1.7
Maximum Leverage: 1,000
IronFX is a leading recognised investment firm and international brokerage.
IronFX offers tailored trading products and services to retail and institutional clients, including a wealth of trading tools, the latest trading platforms and 24/5 multilingual support.
As a multi-asset brokerage, IronFX provides more than 300 tradable instruments across six asset classes including forex, metals, indices, commodities, futures and shares.
For the last 10 years, IronFX has focussed on providing competitive trading conditions with tight spreads and flexible leverage.
The company also offers an Autotrade solution that allows traders to copy the best performing traders' strategies.
Pros:
24-hour support and 24-hour trading
Partnership programs
Mobile trading
Free education
Bonuses
Promotions
Automated trading
Demo account
Best for: Millennials
This app is a favorite among millennials wanting to practice trading with small budgets. It is free to use with no commission fees.
Features include:
Real-time market data
Various investment options
Zero balance requirement to open an account
Instant access to deposited cash
While it does make trading accessible, the app lacks research and educational resources.
It is a straightforward app with limited portfolio analysis and customer service, but it does meet a trader's basic needs.
Specialising in cryptocurrencies, FXCM offers low trading fees. However, a low minimum deposit is required to set up an account. There is also an inactivity fee after one year and high bank withdrawal fees.
This is not the most cost-effective platform, but it has excellent educational tools, good customer service, a regular news flow, and good search functions.
While FXCM is not listed on the stock market, its sister company is, ensuring its safety and reliability.
FXCM is ideal for a forex trader looking for easy account opening, withdrawal and funding.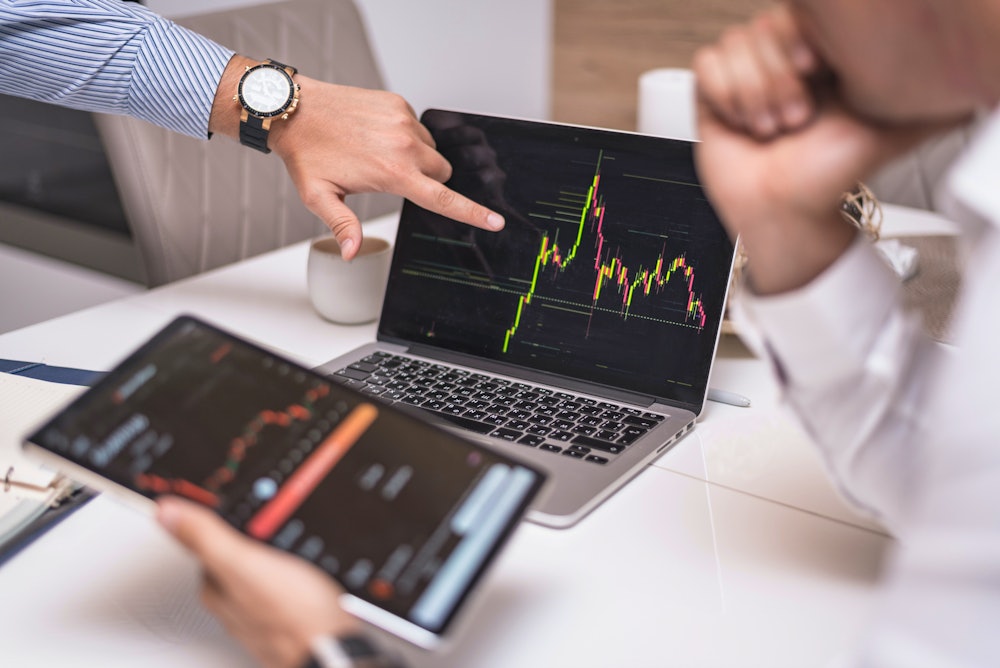 IG brokers in all stocks and cryptocurrencies but has high trading fees for stocks.
To open an account, you need a low minimum deposit, and the process can be relatively slow.
Interface-wise, the web platform is safe and user-friendly, but there is no desktop trading. IG offers excellent educational tools, interactive charts and trading ideas. Phone and email support are available while the live chat function is usually offline.
IG has no banking licence, but it is listed on the stock market.
It is a high-performing web platform that is ideal for experienced traders looking for something simple.
Interactive Brokers is reported to have a complicated account-opening process and high inactivity fees. Its desktop and mobile platforms are not ideal for beginners as they have poor search functions and a complex design.
However, it offers:
Great research tools
Low trading fees
Several account base currencies
Two-step process
Clear, free reports
Trading in crypto, stocks and bonds
The educational tools are some of the best but only become available after registration.
Interactive Brokers is listed on the stock exchange and regulated. It is recommended to advanced traders looking for a professional trading environment.
Final Thoughts
Finding the ideal trading platform is not easy, especially when there are so many available.
Not only does it need to do the job of facilitating trading, but it also has to be user-friendly so that you are happy to use it regularly.
Before committing to a platform, take advantage of any free trial or demo account they may offer and fully utilise all the available functions.
If you want to start trading and investing, learn everything you need to know with these stock trading courses.
WikiJob does not provide tax, investment or financial services and advice. The information is being presented without consideration of the investment objectives, risk tolerance, or financial circumstances of any specific investor and might not be suitable for all investors. Past performance is not indicative of future results. Investing involves risk including the possible loss of principal.
---