Best Binary Options Brokers: US vs UK
What Is Options Trading?
To understand what a binary options trader is, you first need to understand options trading.
When you invest or trade stocks, you become the owner of a small portion or share of a company. The hope is that that company grows and makes you money, so you turn a profit when you sell in the future.
An option is a contract that allows you to buy and sell stocks, bonds, commodities and currencies at a pre-negotiated price by a designated date and time.
The option is usually traded in bundles of 100.
You are not obliged to buy or sell the security on the assigned date. There is the option to let the contract expire if you are willing to forfeit your premium.
What Is a Binary Options Trader?
Binary options are financial trades so named because they only have two payment results:
A fixed figure – usually 75% to 95%
Nothing at all
It is a simple trading option as the only question you need to ask is if the underlying asset will be above the pre-negotiated price at the end of the contract.
Traders make the trade based on whether they decide yes or no.
Although binary options trading seems simple, mindful traders still need to know:
How binary options work
The markets and time frames you can trade with
Advantages and disadvantages of the products
The companies that are legally authorized to provide binary options
As binary options trading is structured differently in the US and UK, it is important to know these differences when choosing a binary options broker.
This article will help you understand the differences between the two markets, how to choose a binary options broker and the best ones available today.
Binary Options Trading in the US
Binary options trading is more heavily regulated in the US than in the UK.
The US Securities and Exchange Commission (SEC) approved binary options trading in 2008. They must be traded on regulated US exchanges, also referred to as Designated Contract Markets (DCMs).
Current DCMs are:
Cantor Futures Exchange LP
Chicago Mercantile Exchange Inc. (CME)
North American Derivatives Exchange Inc. (Nadex)
The choice is not as varied as other markets, and some binary options are subject to inspection by the Commodity Futures Trading Commission (CFTC) or SEC.
Binary Options Trading in the UK
For UK traders, binary options trading is a tax-free style of investment that yields quick results and is currently regulated the same as gambling.
It is a popular option among all levels of traders.
However, in 2018, European regulators prohibited the promotion and sale of binary options to retail investors in the European Economic Area (EEA) – including the UK.
Now, only professional accounts are allowed to trade binary options with regulated brokers, and they must meet at least two of the following criteria:
Open a minimum of 10 trades that are of significant size per quarter
Have an investment portfolio or trading capital of a minimum of €500,000
Have experience with complex trading instruments
Have worked for a minimum of two years in the financial industry
What Types of Binary Options Trades Are There?
Up/down or high/low – This is a prediction of what direction the price moves in and is sometimes referred to as standard or classic options.

Above/below – This is similar to up/down, but the target price is a preset level and not the current price, making the starting point above or below the current market.

Touch/no touch – With this trade, the value is set by the broker. If the real-world price touches or goes through that value, the touch option pays out. If the price doesn't touch, then no touch pays.

Pairs – Two related assets, such as two indices are matched against each other, and traders decide which will rise or fall the most.

In/out, range or boundary – These trades need two barriers setting; one higher, one lower. The binary option is if the price stays within those boundaries or finishes outside of the barriers.

Ladder – Same as above/below, but the payouts depend on how far the target price is from the current value. Payouts can be as high as 1000% if the movement is large enough.
How to Choose a Good Binary Options Broker
The deciding factors for choosing a broker will differ between the US and UK. As a guideline, you should consider the following factors:
Where Are They Based, and Do They Have a License?
Binary options trading is heavily regulated, and some countries place restrictions on how residents can get involved.
Before committing to a broker, check the trading platforms are available in your region. Using one outside of your country and on a VPN can get you into a lot of legal trouble.
Off-shore and unregulated accounts can also leave you open to risk. You want your money and investments in a safe place, so opt for a regulated broker.
In the US, the broker should be registered with the CFTC and the NFA.
For the UK, binary options trading is regulated by the Financial Conduct Authority (FCA).
The only notable difference for the UK is that licenses are not currently enforced, and being registered is not the same as being regulated.
What Trades Are Supported?
Not every broker is equal in the products it offers. Some brokers specialize in one or two assets, while others have a wide variety.
The most common are cryptocurrencies, forex, commodities, indices and stocks.
If there is one type that you want to trade, find a broker that offers it. If you want a diverse portfolio, choose a broker with an extensive product range.
Is There a Demo Account?
Before live trading, it's advised that you take advantage of any demo accounts your broker offers.
A demo account gives you the chance to test the platform and all its features. It allows you to test your strategies and understand everything involved with a trade in real time without using your money.
How Is the Customer Service?
When dealing with technology and software, problems can happen at any moment. The platform can go down, your computer can freeze in the middle of a trade or you might simply need a feature explained.
Having access to good customer service will help make your trading experience more pleasant.
Check reviews to see how well the communication routes work. The broker may offer 24/7 online chat, but how often is it online and how quickly does it respond?
How Do the Fees Compare to Other Brokers?
When exploring broker options, you need to know the following fees:
Minimum deposit
Withdrawal fees
Commissions
Additional trading fees
Inactivity fees
Fees for different trades
Payouts
Are the Trading Platforms Easy to Use?
Trading platforms use many advanced data, tools and features that can look more complicated on poorly designed platforms.
Typically, brokers offer a web, desktop and mobile app platform.
If you are a part-time trader or trade on the go, your priority will be a broker with an excellent mobile app.
Experienced traders will want a platform with all the best tools.
The best binary options brokers should have:
Comprehensive educational resources
Fundamental data
Advanced research tools
Third-party integrations
Customizable screens
Modern interface
What Type of Accounts Do They Support?
When registering with a trading platform, you will be asked to pick your account type and possibly the ownership.
Confirm what account and ownership category you fall under and if that broker supports you.
Additionally, brokers may offer free and paid accounts for more casual traders.
Can You Withdraw Your Funds at Any Time?
You will more than likely want to receive your profits as soon as possible.
Depending on the broker, you can expect to receive your money anywhere from 24 hours to a few days after the withdrawal request.
If you want to receive your money quickly, find a broker with a short turnaround time.
It is also important to note that brokers with a complicated withdrawal process that keep your profits for an extended length of time, should be treated with suspicion.
What Are the Payout Policies?
Some binary options brokers may place a limit on the amount you can withdraw at a single time.
Others have no limit but take a fee at both ends of the trade so your maximum payout is around 85% of your profit.
Brokers can get creative with their policies and fees. If you don't research thoroughly, they might take more of your money than you originally anticipated.
Additionally, they may offer other advantages or rewards to make up for their payout policies.
Top 3 Binary Options Brokers: US vs UK
The following list is designed to give you a starting point and highlight the features you should look for and how they compare and differ.
There are many binary options brokers, all with different products, services, strengths and weaknesses.
Before making any final decisions, conduct as much research as possible and take advantage of any free trials and demo accounts.
For any financial advice regarding investing and money management, seek a professional financial advisor.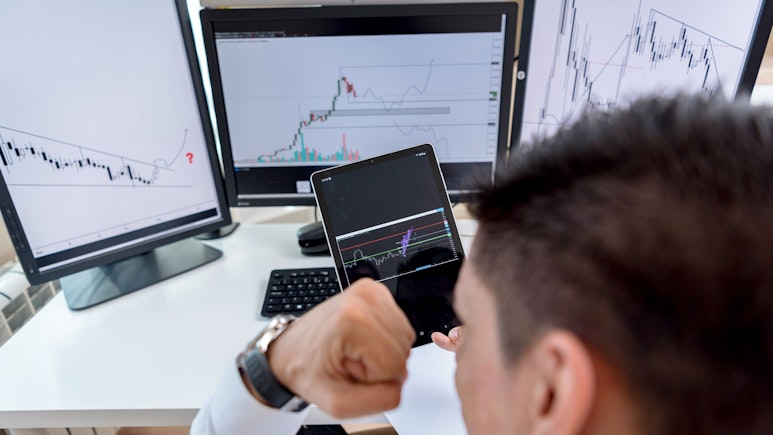 Top 3 Binary Options Brokers: US vs UK
US Binary Options Brokers
Best for Beginner's journey.
A Well-known and trustworthy Binary option and CFD trading platform. It has a variety of different payment gateways for easy deposits and withdrawals. It is easy to set up an account in seconds because the platform is user-friendly. Trading can start immediately after the initial deposit.
Advantages:
A higher yield that peaks at 95% or more. The trader is able to get a 95% payout on investment, this is higher than the industry average of between 75% and 80%.

0% commission on deposits, withdrawals and account maintenance fee.

User-friendly platform with fast trade executions. The interface is easy to understand and navigate on.

Reliable support team.

Copy-Trading feature. Allows you to Copy live trades of the best traders on the platform.
Disadvantages:
Limited chart tools. IQcent mostly used for Binary Option style of trading, therefore, some tools might not be available due to the simplicity of the chart.
Conclusion:
There are various reasons to trade with IQcent starting from the easy to understand software to a very reliable withdrawal system or be it the flexibility of its trading platform, diversity of the trading instruments, progressive partnership opportunities for loyal customers and bonuses – these benefits are what makes IQcent the best choice among all others.
Best for: Day to day trading.
It might seem that the broker is another typical binary option trading platform, but the fact is that Videforex is standing out of other trading platforms by literally greeting the traders with a Live Video-Chat feature. For the first time in the industry, traders are able to see who they are dealing with as opposed to talking to a faceless entity behind the computer screen.
However this unusual but very outstanding feature is not the only reason you should choose Videforex as your main broker.
Videforex has:
A very comfortable interface to use.
Variety of trading assets and best trading conditions.
BIG payouts up to 90% compared to markets 70% + Leverage up to 1:500.
Live 24/7 customers service.
Reliable and fast withdrawal system.
Traders can be provided with a Demo account to practice their new strategies.
Should I Trade With Videforex?
The answer is YES! The platform offers a perfect balance between extensive trading tools and ease of use. Users of all experience levels will find themselves right at home.
Best for: Allows you to trade with very small amounts. Good for beginners.
Besides the fact that this platform is very friendly for beginners since it allows you to trade in Cents, the platform already made the name as a very Stable and Reliable platform.
Minimum deposit starts from 250 USD, relatively small amount considering that you can trade as low as 1 USD and 1 Cent per trade.
Withdrawal process takes up to an hour and provides variety of withdrawal methods.
Copy trading feature that helps Beginners to understand and learn how Professionals trade.
Weekly Contest. It only piques your interest in trading PLUS you are getting nice bonuses for your account, such as Bonuses to your deposit and Risk-Free trades, meaning you are not losing any money for your lost trades.
Overall, the platform shows itself as a decent and reliable broker, it makes you feel comfortable having your money with Binarycent.
Best for: Weekly contest with highest bonuses.
The trading platform since it first began operations in 2014 is already a relatively known brand among the binary options trading community. The goal of Raceoption has always been to offer its clients a safe and secured environment for traders to trade binaries.
Advantages and Disadvantages:
Fast withdrawals with no hidden charges. Withdraw funds from as low as $50 within 1-2 days with no hidden charges.
User-friendly interface. Raceoption has made its online platform very easy to use. Indeed, a beginner can learn how to use the platform in a few hours.
Customizable trade duration. Traders are given an option of customizing their trade durations.
High returns up to 90%.
Raceoption is known for having a great support team. You will be helped!
Overall, we were quite satisfied with the quality of Raceoption's services. At any given time, tens of thousands of traders are logged into the platform without any affectation of the platform performance or speed. Customer service is also great in terms of speed and quality of response.
Minimum deposit: $250
Payout: 100%
Demo account: Yes
Nadex is regulated by the CFTC.
As a broker, it doesn't take the opposite side of a binary options trade. This ensures a fair trade between both parties.
Instead, it charges a small fee for every trade entry and exit – $0.90 with a maximum of $9.00.
The product offering includes:
Indices
Economic events
Commodities
The Nadex trading platform is easy to use and offers a wide range of analytical tools and charts.
Minimum deposit: $100
Payout: 100%
Demo account: No
Cantor is not as popular as Nadex as it has smaller market access. However, it does offer more interesting trades, such as weather pattern contracts and bitcoin swaps.
It also has a wider variety of expiration dates, ranging from five minutes to end-of-day.
The trading platform is Tradologic, which provides detailed analytical charts and information.
Cantor also promotes risk management tools such as limiting your drawdown for trades – a valuable tool in the absence of a demo account.
The final option for binary options trading in the US is with a specialist options broker on the New York Stock Exchange (NYSE).
You use a real broker to trade your options in a regulated environment. The downside with this is that some brokers may use the Nadex but still charge you as if they did all the work themselves.
It is not a popular option, as many binary options traders prefer to handle their trades themselves. But it is still a good choice as your trades will be in professional hands.
UK Binary Options Brokers
Minimum deposit: $250
Payout: 95%
Demo account Yes
Accepts US residents: Yes
Binarycent offers three account types with deposits ranging from $250 to $3,000.
All accounts have access to:
24/7 live video support
20% bonus offers
Copy trading
The silver account has additional training tools, three risk-free trades and a 50% bonus.
The gold account comes with a 100% bonus and a personal success manager.
Its trading platform is accessible through mobile and computer and comes with some advanced analysis tools. However, it doesn't offer trade signals, which is a valuable tool when deciding on trades.
Binarycent is not recommended for beginners as it has minimal educational resources.
Minimum deposit: $10
Payout: 95%
Demo account: Yes
Accepts US residents: No
IQ Option is a great platform as it allows you to diversify your investment portfolio. In addition to over 10 million different binary options, it also has over 250 assets from CFDs to ETFs to commodities.
The platform is available on web, desktop and mobile app. It is very user-friendly, with several layout options and information panels.
You can customize your layout and set up alert systems.
Additionally, IQ Option provides risk management tools like negative balance protection, trailing stops and stop-loss options.
It is important to note that IQ Option does not take clients from Australia, Canada, the EEA, Israel, Japan, Puerto Rico and the US. Most of its clients come from South Africa and the UK.
Minimum deposit: $5 with eWallet, $10 with debit or credit card
Payout: 91%
Demo account: Yes
Accepts US residents: No
Binary.com was founded in 1999, making it one of the longest-running binary options brokers with over one million registered users.
Its trading platform offers MetaTrader 5, Binary Bot and SmartTrader, allowing you to choose a platform that suits your needs and level of understanding.
It has excellent market options, and return rates can reach 1000%, depending on the options trade.
A selling point for this broker is that you have the opportunity to sell your contract before expiry, allowing you to lock in your profit.
Be warned that as appealing as that sounds, it may not be seen as legal in your country of residence.
Final Thoughts
Binary options trading can be high-risk investing. Use all the research and risk management tools at your disposal to help you make informed trading decisions.
Before using any of your money, check the regulations for your country to make sure your trades are legal.
Use your demo account to test your strategies, check all hidden and additional fees and never invest more than you can afford to lose.
WikiJob does not provide tax, investment, or financial services and advice. The information is being presented without consideration of the investment objectives, risk tolerance, or financial circumstances of any specific investor and might not be suitable for all investors. Past performance is not indicative of future results. Investing involves risk including the possible loss of principal capital.
---