How to Write a Welcome to the Team Email
When a candidate starts a new job, one of the first things they will likely receive before their first day is an email from their new line manager or HR department welcoming them to the team.
These emails are not written for the sake of it; they are often an important part of any onboarding strategy and help to put a new starter at ease before they enter the office for the first time.
This welcome to the team email is often sent ahead of time so that the individual is provided with plenty of information.
There should be enough information provided to set expectations and help them prepare for their first day.
If you are working in a managerial job role, you will likely be tasked with writing a welcome note to any new recruits.
These welcome to the team messages are likely to play an intrinsic part in shaping the new starter's perception of the company, and as such, it's important to pay close attention to your tone of voice and your choice of messaging.
The note should convey your excitement that they are joining the team and help them to feel that they are a welcomed, much-wanted member of your department.
If you are writing one of these welcome notes, be clear that this welcome to the team message is quite different from the information provided within their employment contract and employee handbook.
The candidate's contract will provide them with the information that they need to know about working conditions, expectations and job duties, and their employee handbook will outline such things as internet policies and company values.
Both of these documents are likely to be sent from your company's HR department.
In contrast, the welcome to the team email may be the first contact that a candidate has directly from you, their new line manager.
You should also be aware that your welcome to the team email is intended solely for your new employee.
It is different from a new starter email that you may send to your entire workforce to introduce a new hire to the team on their first day.
That email (often sent by HR representatives) would be more focused on explaining who the new person is, what role they will be doing and who they report to.
Why It Is Important to Send a Welcome to the Team Email
The first day of any new job can be extremely daunting. Regardless of how senior someone is or how much experience they have, starting a new job will always invoke some nerves and apprehension.
The new starter might ask themselves questions like:
"Will I be a good fit for the corporate culture?"
"How will I know where to go and who to speak to on the first day?"
"Will I be clear on what I am being asked to do?"
"Who will I be working with?"
On a new recruit's first day, they may feel overwhelmed by the onboarding process.
The HR team will likely take the lead and spend considerable time working with the individual to focus on internal policies and documentation.
Therefore, it may take a few days before you have the opportunity to fully sit down with the new starter and help them find their feet.
This is why it's so important to send a welcome to the team email a day or two in advance.
As a manager, you play a crucial role in the onboarding process and should take the time to make any new recruits feel that they know who to turn to if they have any questions.
The information that you provide in advance will help a recruit feel accepted and prepared for their first few days.
When used correctly, a carefully written welcome to the team note starts any new relationships on a positive footing.
This means that the new employee will be far better placed to make a good start than those who feel unsupported and drowning in corporate paperwork.
What Should You Write in Your Welcome to the Team Message?
As well as getting your tone of voice right, you should think carefully about what you want to say to your new employee.
Remember that this message may be the first direct communication that a worker has with their line manager. Therefore, you want to provide a positive first impression and convey the personality and tone of your department so that the new worker can accurately set their expectations.
Put yourself in the new employee's position. What information would you want to know before your first day that would make the transition as easy as possible? This is not about what tasks they will be asked to do – they should already know that from the job description.
Instead, it is about the practicalities of turning up to a new workplace for the very first time.
The Practical Information
First, you must make sure that the person knows exactly where they need to go and what time they should arrive. Think about what you do and where you go as you arrive in the morning.
Helpful information to mention within your welcome to the team email includes:
A confirmation of the start date
The working hours – what time they will need to clock in/out
What the dress code is
Details of the nearest car park and public transport information
Which door to use for entry and the name of the person to ask for
Confirmation of lunch details – whether there a canteen on-site and if there is a provision of a refrigerator where they can store their lunch
A reminder to bring any ID or other documentation with them
Where their workstation will be (such as the specific floor, department or room)
An Introduction to the Wider Team
You may also want to reiterate that the new starter is not expected to work on their own; they will be working closely with other members of their team.
If your new employee was not introduced to other staff members during the recruitment process, they may be unaware of how many people they will be working alongside.
You can use this part of your welcome to the team email to introduce the employee to any key members of the team – just a brief outline, perhaps their name, job title, reporting line (if relevant) and key responsibilities should be enough.
Consider photographs if it is a smaller team, if people do not typically wear name badges or if there are specific people it would be helpful to recognize on sight. You can always take them round and introduce them in person later.
This section will help the individual have a stronger idea of the size and scope of the team that they are joining.
What Should the New Employee Expect From Their First Day
You may wish to provide an outline of what the employee could expect from their very first day.
Will they be expected to work closely with the HR team to complete the onboarding activities?
Will they need to go straight to the facilities manager to get an ID or work pass?
Will they be asked to sit in several meetings with the team to discuss project work?
Will they need to undertake any internal training to get used to new systems and software?
By setting out an expected timetable for the day, the new employee will be far more aware of what to expect and will feel far more at ease. Otherwise, it is like they are walking in blind.
Making the Employee Feel Comfortable
As you sign off the welcome to the team note, it is important to emphasize that you or an allocated team member will be there as support for the new person.
You may wish to reiterate that you and the rest of the team are excited for them to join, then provide them with some contact information of who they should speak to if they have any other questions.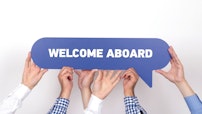 The Best Way to Write a "Welcome to the Team" Email to New Starters
How to Write Your Welcome to the Team Email
Now that you know what a welcome to the team email is for, and what information you should be including within it, here is a step-by-step look at how you could write it, plus some example welcome messages.
The Introductory Welcome
At the start of your welcome note, make sure the individual knows that you are excited they are joining your team and that you are sure that their first day will be a big success.
This is your first opportunity to speak directly to the employee, so try to use a friendly yet reassuring tone of voice.
You could use this opportunity to reiterate to the person why you chose to hire them, boosting their confidence and reminding them that you believe they are the right fit for the job role.
In practice, it could look something like this:
Dear Jane,

Welcome to Pinewood Marketing! We're extremely excited to welcome you to our team; we've been searching for the right person to join us in a social media role, and we know that we've made a great decision in hiring you!

We were really impressed by your resume and your career history and we know that you'll be a hit with our clients and colleagues.

There are just a few days to go until you start working with us on 01 April 2021, so to help you feel welcomed and a part of a team, we wanted to give you all the information you need to know to make your first day as smooth as possible.
Getting Into the Specifics
Following this warm welcome, there is a prime opportunity for you to give the specifics of what they will need to know on their arrival.
As mentioned earlier, try to put yourself in their position: think about how they could be arriving, where they should go and who they should speak to.
What did you wish you knew on your first day?
For example:
As you know, our working hours are 9 a.m. to 5:30 p.m., Monday to Friday. We recommend that our team arrive a few minutes beforehand so that they can get ready for the day ahead.

You already know where our office is located, but here's some helpful transport information.

If you're planning on driving, the nearest car park is on Duke Street which is a five-minute walk from the office. Parking costs approx. $6 per day, and we do have a corporate scheme where parking can be paid in advance and deducted from your pay packet. Sally in our HR department will be able to set this up for you if you wish.

If you're planning on taking the bus, the nearest bus station is on Main Street, which is right outside the office.

When you arrive, please feel free to use the main entrance. Julie in our reception team will be there to greet you and set you up with an ID badge.

Within the office, we generally have an informal dress code; however, on Mondays, we always start the week with a corporate client meeting. Therefore, please wear suitable business attire.
We are a team of 25 and you will be working closely with our 'red' division. This team is located on the second floor of the office and is a smaller group of five social media experts.

Although you'll be working on a variety of clients across the whole business, primarily you'll be working closely with the following people:

Jenny Johnson, our SEO expert
Hugh Cooper, our marketing director
Mark Graham, our web development director
Owen Baker, our graphic design executive

These guys have the skills that complement yours, and we're sure you'll become a key part of our dream team. If you want to find out more about the team before you start, we've published some team biographies on our website that you may like to look at.
Provide a Detailed Schedule of Their First Day (if Possible)
The onboarding process is often much smoother if new starters are aware of what they may be expected to do on their first day.
Before you write your welcome to the team email, make sure you have clarified with your HR department what they need the employee to do, such as completing paperwork or undertaking training on internal systems.
We know that starting a new job can be daunting and we want to make this process as easy as possible for you. Here's a breakdown of what you can expect from your first day:

Upon arrival, Sally in our HR team will work with you to complete any paperwork and provide you with our employee handbook. She'll go through everything you need to know and check that you have everything that you need. She'll also be able to confirm details of our employee benefits, the company culture and answer any questions that you may have about the job role.

After that, we've asked Jeremy in our IT department to set up your workstation. He'll explain how to use our servers and intranet and check that your phone and emails are set up correctly.

Once you're all ready to go, we've planned for a team meeting where we can introduce you to each member of staff and explain what everyone's key responsibilities are.

To welcome you to the team in full, we've planned a team lunch to allow you to get to know people in a more informal environment. If you have any dietary requirements, please let me know.

In the afternoon, we'll sit together in the conference room and I'll explain who each of our clients are and what campaigns we are working on.
Concluding Your Welcome Note
As you approach the end of your welcome email, take the time to confirm that you are available to answer any questions that they may have. It is also wise to include some contact information in case the new starter has an issue before their arrival.
This is your final opportunity to reiterate that you are excited for them to join your team and that you hope they are just as excited to be starting a new job.
For example:
We know that there is a lot to think about, and if you have any questions before the 01 April, please get in touch with me directly. I'm always available to provide any additional information to help make your first day as easy as possible.

My phone number is 202 555 0191, or you can email me at amy@pinewoodmarketing.com

Once again, congratulations on the job, and we can't wait to welcome you to our team. We know that your appointment will be a huge success.

We look forward to seeing you soon!

Kind regards

Amy Dawson
Team Leader, Pinewood Communications
Final Thoughts
As you can see from the breakdown above, choosing the right tone of voice is vital to creating the right impression of your team and your organization.
You want to provide the new employee with a reassuring and welcoming feel to help them feel at ease and reduce any first-day nerves.
In the example provided above, the new starter has been given all of the information that they need to set their expectations for the first day. They know where to go, who to speak to and what they will be expected to do.
Remember that first impressions are important to any working relationship. While the employee is keen to impress you, they will also be looking to see who you are as an employer and what they could expect from you in the future.
A poor or lacking 'welcome to the team' email could damage the first impression that your new employee has of your company; this can be much harder to overcome.
If you can make the onboarding process as seamless as possible, your new employee will have greater trust and admiration for you as an employer. They will have a promising first impression that suggests you will be there to support them as they progress their career and that you genuinely care about them fitting in.
If an employee feels supported, they will work more effectively and be more likely to be able to make a positive impact with their work.
Those firms who take onboarding seriously are often more likely to have stringent HR policies in place that can aid job retention and create a better reputation for being an exceptional employer.
This can then have a wrap-around effect of making it easier to recruit higher-quality candidates, leading to wider business success.
Therefore, it is clear that the welcome to the team email should be a high priority for all businesses, whatever their size.
---