How to Send Congratulations for a Work Anniversary
Saying 'Happy work anniversary' to a colleague may seem like an obvious or even trivial thing to do. So much so that people often forget to do it – or they're not sure what to say.
The purpose of sending work anniversary messages to a colleague or employee isn't only a way to say thank you. It can go a long way to making them feel valued as an employee.
Most people may recognize an employee or boss's 10-year or 25-year work anniversary. But you can also send a happy work anniversary message to a colleague or employee who has been with a company for six months, one year, five years or longer.
Why Should You Send a Work Anniversary Congratulations Message?
Just as you would send a welcome email to a new employee to make them feel welcome, a happy work anniversary message makes an employee feel valued.
It is good manners and a kind thing to do.
But there are many other benefits to work anniversary messages:
It recognizes the employee and their contribution to the organization
It motivates the employee
It makes people feel appreciated, fostering a sense of the company being a great place to work
How to Format a Work Anniversary Message
There are many formats to use when sending a 'congratulations on your work anniversary' message.
First decide whether you are sending the congratulations message by letter, email or a card.
Other factors to consider are:
Some people much prefer handwritten notes but others will not mind either way.

The location of the person may determine the format of your work anniversary message. Do you have enough time to organize and post a handwritten letter or card, or is email the best format?

How are you celebrating their work anniversary? If appropriate (for example, decades of service) should you also get them a small gift?

Is it a card to be signed by the whole team or a personal message just from you.

Should the congratulations on your work anniversary message be private or public? Adhere to the culture and policy of your company when it comes to sending work anniversary messages.
Consider the employee's personality when it comes to work anniversary messages. Are they a private person who may not like lots of attention? Or are they open when it comes to celebrating milestones?
Taking into account an employee's personality when writing a work anniversary message can ensure it is well received.
How to Write a Work Anniversary Message
When writing a happy work anniversary message consider the tone of the message. Your tone should be positive and personal.
Keep in mind who you are congratulating. Is it your boss, an employee or a colleague? When writing your work anniversary message adapt your wording accordingly.
Remember to address the person according to your professional relationship with them.
Be complimentary about their achievements. Be grateful for their accomplishments and positive about any future contributions.
Saying happy work anniversary may at first seem easy. But when you come to write the message, finding the right words can be difficult.
Like writing an email or a thank-you message, work anniversary messages need to have a beginning, middle and end.
Here is a format that can be used when writing work anniversary messages:
First Paragraph
The first paragraph is an opening that states the purpose of your message. Start the message with congratulations on their work anniversary at the company or as part of the team.
Some suggestions are:
'Congratulations on your first work anniversary, you've been a huge asset to the team and a pleasure to work with.'

'You've been part of this company for 20 years. We couldn't let this day pass without saying congratulations on your work anniversary!'

'Boss, you've been with us for five years. It's a privilege to be part of your team.'
Second Paragraph
The second paragraph is a thank-you for what they have achieved during the time they have been with the company.
Be as specific as possible about their achievements. This shows that you are aware of their accomplishments and value them.
Examples could be:
'You were instrumental to the success of X project. You received excellent feedback from team members and external clients.'

'The contributions you have made over the past 10 years have been integral to the growth of the team and the company. You have helped grow the team from X to X people.'

'You have brought on X number of new clients over the past two years. This has resulted in the team exceeding their annual sales targets.'
Third Paragraph
The third paragraph is the middle part of the message. Point out the good qualities that you feel their accomplishments or contributions show.
Remember to keep it professional and work-based.
For instance:
'You've been a key part of this team, showing dedication and humility when leading your team.'

'You are a valued member of this team and demonstrate commitment and hard work on every project that you undertake.'

'Your hard work and dedication over the past year haven't gone unnoticed. Your team has nothing but kind words to say about you.'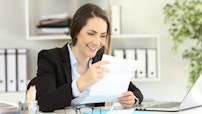 How to Send Congratulations for a Work Anniversary: Good Practice Examples
Fourth Paragraph
The fourth paragraph focuses on what particular difference their contributions have made.
Including measurable outcomes are best here as it shows you are aware of and value these.
'Over the past X years you have brought on X clients. This has resulted in a 10% increase in your team's sales performance and helped us grow as an organization.'

'Your suggestions on changing X process have made a difference in the amount of time it takes to do X process. Many managers have commented on how much more efficient their teams are due to this change.'

'Your idea to have a 30-minute team catch-up on a Friday morning has made such a difference to the team. Many people have commented that over this year, this small change has made a big difference to morale.'
Fifth Paragraph
The fifth paragraph is an opportunity to repeat your congratulations. To say thanks, and sign off your happy work anniversary message.
Here are some ways to close a work anniversary message:
'Thank you again for your contributions over the past five years with us. You are a respected and valued member of X company. We look forward to having you as part of the company for many more years to come. Happy Work Anniversary!'

'Congratulations again on your one-year work anniversary with us. We hope you have enjoyed the past year working with us as much as we have enjoyed having you as part of the team. Thank you again for all your hard work and dedication over this past year'.

'Twenty years of working with us! What a milestone to reach. Your commitment to this company and hard work over these many years is truly appreciated. Hope you enjoy your work anniversary and thank you again'.
Work Anniversary Message Top Tips
Here are five top tips when writing a congratulatory work anniversary message:
Double-check your details. Make sure you are sending your message on the correct date. Check in advance with the HR team to confirm the start date the employee joined the company. Ensure the achievements included in a work anniversary message are factually correct. Make sure these achievements are due to the employee's efforts.

Stick to the truth but package it nicely. Present achievements in a way that demonstrates the impact they have had on the team or the company. Highlight the positive contributions that the employee has made.

Pitch your message appropriately for either a manager, team member or employee. You can congratulate a person at any level but the tone should reflect the relationship. Keep things positive, professional and polite.

Consider the employee's personality when writing your work anniversary message. Adhere to company policy.
Example Work Anniversary Messages
Here are four template work anniversary messages that can be used:
Example 1
Dear Moira,

Congratulations on your fifth work anniversary with us. We wanted to take this opportunity to say a massive thank you for all the hard work and dedication you have shown Seaside Resorts these past five years.

The expertise and leadership that you brought to the recruitment change project two years ago made a real difference to the outcome of the project. Many of our clients still comment on how helpful you were in answering their many queries. Over the past five years, you have grown your team. You continue to receive feedback on how inspirational you are as a manager. For this, you should be incredibly proud.

You bring humor and hard work to every project you work on. Your helpful and cheery personality has helped increase the company's employee satisfaction survey results from 79% to 89%. You only have to look at your own team's morale scores to see this!

You are an asset to this organization. Thank you for your many achievements over these past five years. We look forward to having you as part of the company for many more years to come.

Yours,

Everyone at Seaside Resorts
Dear Donald,

Twenty years with Hampton Holdings. Congratulations on reaching this wonderful milestone.

You've had many successes during your twenty years with us. From building a sales team to work with you, to taking over the reins and leading the production team in Roger's short-term absence.

The company has grown from five people to 5,000 people during your 20 years with us. You have been an integral part of the company's growth and success over these past years.

Your continued loyalty to the company hasn't gone unnoticed. Nor has the enthusiasm you bring to work every day. You have taken on five new clients these past two years. Each one speaks highly of you as someone who is knowledgeable and friendly.

We wanted to mark your twenty years of dedicated hard work and service to us. I hope that you will accept this gift as a token of our appreciation and thanks.

Congratulations again, Donald, on your 20-year work anniversary with us. Heartfelt thanks for your continuing service to Hampton Holdings.

All the best,

Henry Hampton and the rest of the Hampton Holdings team
Dear David,

You joined us five years ago today – happy work anniversary!

The past five years have seen you achieve so much with Mertons. From growing your team to winning the January 2018, February 2019 and December 2020 Employee of the Month award.

Your customer service is second to none, as shown in some of the customer feedback that you have received over the five years you have been with us. Your drive and enthusiasm are clear to see and you are a great role model to your fellow team members.

We hope you are aware of how much we value your loyalty to Mertons. We couldn't let this day pass without saying congratulations.

The team at Mertons
Boss,

We heard that it was your 10-year work anniversary today. As your team, we couldn't let this day pass without sending congratulations!

We know you have had some big wins at the Gault Group, one of them being your recent promotion to director.

To us, you are an inspirational leader. Approachable and supportive are the words that we would use to describe you. You are always on hand to provide advice. We valued your guidance with the recent restructure in the department. Your support in reassuring us with redundancy outcomes made the whole process easier.

Congratulations again on your 10-year anniversary, we are proud to be part of your team. Here's to another 10 years with you as our team leader.

Happy anniversary.

Your sales team
Final Thoughts
We all appreciate others recognizing and celebrating our milestones.
Sending a work anniversary message is a way of congratulating an employee on their work milestone. It is also a way of sending them some goodwill. It enables you to show your appreciation of their achievements.
It is also a good motivator for both the employee and others around them. Work anniversary messages encourage loyalty.
They show that an employee's efforts are recognized, reaping the benefits of a happier team. While it may seem like a simple thing to do, it can make a big difference to the employee and other team members.
---