What Is a COO and a CEO?
As you rise the corporate ladder, you start to realize that job titles become increasingly ambiguous.
It can be difficult to know exactly what someone's role is and where they sit in the managerial hierarchy.
At the very top of management are the roles of Chief Executive Officer (CEO) and Chief Operating Officer (COO).
These two roles often work together in harmony, but they are quite different roles and have individual responsibilities.
If you harbor ambitions to reach senior management within your career, you must understand the distinction between these two job roles.
This article will help you understand what a CEO and a COO do and provide practical insights to help you take the steps onto the managerial career ladder.
What Is a CEO?
The CEO, or Chief Executive, is the highest-ranking member of a managerial board.
This person is often the primary spokesperson for an organization (think Elon Musk and Tesla) and takes full responsibility for the company's ongoing success.
Although a CEO works closely with a team of strategic advisors (including the COO), the final decision-making lies with them.
The role of a CEO is to establish ongoing strategies to improve business growth. This may be through expanding into new markets or developing new products as well as being responsible for most management operations.
The role of a CEO differs hugely depending on the size of the company.
Smaller firms may rely on their CEO to develop and create a corporate vision, while larger public limited companies (PLCs) may require their CEO to report directly to the board of directors as well as liaise with external stakeholders, such as government officials.
What Is a COO?
If the role of the CEO is very much focused on where the business is going, then the Chief Operating Officer (COO) is a complementary role that focuses on how the business gets there.
The COO is the second-highest-ranking person within the company. They have the responsibility for taking the CEO's vision and turning it into reality.
They will work closely with management teams below them in the organization's vertical structure, ensuring that each department can work together to execute the CEO's strategy.
The COO will report directly to the CEO, providing accurate updates as to the progression of key projects and activities that align with the overall corporate vision.
What Are the Differences Between COO and CEO?
The two management roles are extremely important, especially for larger firms where operations become far more complex.
The CEO needs to be able to rely on their COO to make sure that their vision and strategy are effective.
As the COO is responsible for the daily operations of the company, they need to be able to speak openly and honestly with the CEO about what is working efficiently. They may be required to suggest areas for improvement.
The COO can feedback on any issues to the CEO and make strategic suggestions on how to ensure that the vision turns into reality once they are aware of the long-term business plans.
Chief Executive Officer (CEO)
Chief Operating Officer (COO)
Managerial hierarchy:
1st inline
2nd inline
Reports to:
Board of Directors or company owners
Chief Executive Officer
Key responsibilities:
Establishing a corporate vision and overarching business strategy
Executing the corporate vision set out by the CEO
Is responsible for the long-term planning of the business
Is responsible for the day-to-day operations of the business
Focuses on the business growth such as stock value, revenue, and profit. Also has to identify new areas or markets to target
Focuses upon customer satisfaction and profit efficiency. Has to ensure that the company is working as productively as possible
Works with key external partners such as local government officials and stakeholders
Works closely with internal teams, helping to communicate the company vision and aid collaborative working between departments
Financial input:
CEOs are likely to be either major shareholders or own the business themselves
COO's often have a smaller financial stake in the company (if any)
It should also be noted that many smaller firms do not have COO roles – the CEO can occupy a dual role whereby they also take on the responsibilities of the COO.
How to Become a CEO or a COO
If you are ambitious and want to work towards becoming a C-suite executive, then you should consider creating a career strategy to help you on your way.
The first decision you need to make is whether you want to aim towards the CEO role vs the COO role. By now, you should be clear of the differences between the two.
If you prefer to work closely with internal team members and have a knack for improving efficiencies and productivity within day-to-day operations, then you may be more suited towards a COO role.
If you prefer to think long-term and can identify and predict trends and you want to work more strategically, with fewer hands-on tasks, then the CEO role may be a better fit.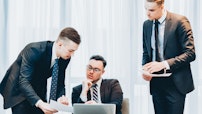 What Is the Difference Between a COO and a CEO?
Here are a few practical ways that you can improve your chances of working within senior management:
1. Get as Much Experience as Possible
Great CEOs and COOs have gained as much practical experience as possible. They have gotten their hands dirty and risen through the ranks.
By understanding the intricacies involved in every layer of the business, they are more capable of creating solutions that improve productivity and efficiency.
Where possible, leverage as many opportunities as you can to gain experience.
Use your career trajectory to work in a range of situations, perhaps in-house vs agency job roles, and public sector vs private sector, to establish a strong understanding of the sector that you work in.
The more knowledge you have, and the more aware you are of your chosen field, the greater your chance of success.
It is also important to consider the managerial hierarchy.
Given the COO is second-in-command to the CEO, then you may wish to focus your attention first on the COO role before progressing to the CEO position.
Take Advantage of Postgraduate Training Opportunities
Many CEOs and other C-suite executives have completed postgraduate training to boost their knowledge, gain practical experience and learn from other peers.
CEOs in particular often have MBA qualifications on their resume, where they have attended business school to learn as much as they can.
If you are serious about progressing into management positions, you should prioritize your continual learning and development.
Some employers may provide financial assistance for postgraduate qualifications or provide a budget for ongoing training opportunities.
Try to learn as much as you can about your specific job role as well as your wider sector. This will put you in good stead when it comes to employee evaluations and aid your chances of getting a promotion.
Ask a Well-Respected Senior Manager to Act as Your Mentor
Another top tip is to ask a co-worker or senior manager to act as a mentor.
They can hold you accountable for your ambitions and encourage you to take the next step to achieve your dreams.
A good mentor will provide you with insights and advice on how you can improve your performance. They can support you and give you a better understanding of what is required from CEOs and COOs.
They may also be able to provide informative advice and guidance on what training you may need to further your career.
Make the Most of Networking Opportunities
Although many COOs and CEOs rise through the ranks within their existing company to benefit from internal promotions, you should consider the possibility of making sidewards career advancements.
This is where you move to new companies in a seemingly sideways career trajectory, rather than a vertical elevation, in a bid to gain new experience and make new contacts.
If you are serious about moving into C-suite management positions, you need to have a strong contact book.
Your wider network needs to know who you are and what you can do, so that if a job position opens elsewhere, you could be considered for the opportunity.
If you participate in postgraduate training, you should know that a key incentive is the wider networks that you will build.
Make sure you nurture these relationships and maintain professional connections with those working in similar roles. You never know when a connection may be able to recommend you for an exciting opportunity.
Final Thoughts
It is clear there is a big distinction between CEO vs COO jobs.
There are many differences between the two job roles, and you may find that you are more suited towards one role than the other.
The CEO position is very much focused upon long-term planning and strategic directions. It is ideal for those who are good at delegation and can have trust in their colleagues to execute their vision in the right way.
If you are adept at charming external contacts and identifying areas for potential growth, then the CEO role may be the perfect choice for you.
In contrast, if you prefer working closely with internal colleagues and you enjoy handling the day-to-day operations of a business, then the COO role may be better suited.
This position is based on short-term needs and is heavily influential in improving efficiencies from within.
It is a highly sought-after job role for those who want to remain working in a hands-on fashion, yet still want to have some strategic input into the future growth of the business.
Once you are aware of which role suits you more, you can start to proactively identify the training opportunities and postgraduate qualifications that will help you to take that next step.
---