How to Become a Detective
What Is a Detective?
Detectives are police officers who, after time and experience in law enforcement, have been promoted to work on more specialist and severe investigations.
They are part of the police force and work in the criminal investigation department. Most detectives work alongside their uniformed colleagues to help solve crimes.
The types of investigations a detective might work on include:
Drugs
Homicide
Fraud
Domestic violence
Child protection
Robbery
Counterterrorism
A detective is different from a private investigator (PI). A PI is a regular citizen with a state license that allows them to gather financial, personal and legal information for their clients.
A detective is part of the legal system and has the authority to:
Interview witnesses and suspects
Collect and review evidence
Visit and secure crime scenes
Make arrests
Serve as an expert witness in court
To be a detective, you need a lot of patience, the ability to think like a criminal, and a strong sense of self to not let crime scenes and investigations emotionally affect you.
What Does a Detective Do?
A detective's daily activities will depend on the type of detective and what investigations they are currently working on.
The main detective specializations are:
Homicide – These detectives solely work on murder investigations
Police – Also referred to as 'criminal detectives', they investigate robberies, homicides, property crimes and arson
Forensic – This is a very specialized detective. They use their biology, chemistry and physics knowledge to help solve various crimes
Technology – These detectives typically deal with hacking and copyright infringement cases but sometimes work with other detectives to recover computer data integral to their investigations
Narcotics – Their goal is to find and eliminate drug dealers and organizations by working with local, state and federal departments
Cold cases – These detectives open and review past crimes that were never solved. New technologies have allowed detectives to view the crime again and find the criminals responsible
Undercover – The primary role is to undergo covert investigations to collect evidence or find a specific criminal. Undercover investigations can last days, weeks, months or years
Special Victims Unit (SVU) – Cases involving sexual assault, children and domestic violence
Being a detective is not an easy role. Aside from the disturbing crime scenes you'll see and the potentially horrific witness statements, this job can be stressful and not always rewarding.
You will come face to face with some truly evil people, and not every case will get solved.
Some investigations can last years with no success.
The tasks and duties you can expect a detective to carry out are:
Gathering evidence and analyzing facts to help solve a crime
Writing and examining reports
Observing and interviewing suspects to confirm alibis
Interviewing witnesses and victims to collect more evidence and establish timelines
Performing raids and arrests
Appearing as an expert witness in court cases
Securing and examining crime scenes
How Much Can a Detective Earn?
The average salary for a detective in 2020 was $86,940.
Private investigators earn on average $50,510, so working for the police force is more financially beneficial.
The top 75 percentile of detectives earn 107,050orabove,withthebottom25earning58,890 or lower.
The states with the highest salaries are:
Alaska
California
Hawaii
Massachusetts
New Jersey
However, it is important to note that those states also have the highest cost of living.
Your salary will also depend on:
Level of experience/time on the job – The longer you are in a role, the higher your pay tends to be
Tax system in the state you work – Some states pay more tax than others
Educational background – Detectives with a criminal justice certification or degree may receive a higher salary than those without
What Are the Requirements to Become a Detective?
To become a detective, you need:
Education – Minimum high school diploma, but most departments will require a degree in criminal justice or law enforcement. Learning a second language is also an advantage
Training – Detectives often attend a training academy as well as having police officer training and on-the-job experience.
Certifications – Detectives have to pass exams that assess their physical and mental health. They also have drug tests and background checks
Skill set – A detective's skill set includes empathy, attention to detail, communication, patience, knowledge of the law and ethics
How Long Does It Take To Become a Detective?
It can take five or more years to become a police detective.
You need to complete six months of police officer training then four or five years of experience before you can sit your promotional exam.
Some departments allow you to substitute a college degree for a year of experience.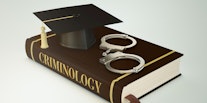 How to Become a Detective
Steps to Becoming a Detective
The steps you will take to become a detective are:
1. Get Your High School Education
You need a high school education to become a police officer and a college education to progress to detective.
While at high school, get involved with some initiatives to help develop your career.
The FBI offers a weeklong Future Agents in Training program, and the Bureau of Alcohol, Tobacco, Firearms and Explosives has a Pathways Internship program.
You can also volunteer at your local police department.
2. Further Your Education
A two-year associate or four-year bachelor's degree in criminology, law enforcement, criminal justice, sociology, or related areas will help your career as a detective.
A bachelor's degree is essential for those hoping to join the FBI, DEA or US Immigration and Customs department.
Florida Tech Online offers a 20-month program that teaches the basics of critical thinking, victimology and crime-solving.
Other institutions with appropriate programs are John Jay College of Criminal Justice, New York and California State University, San Bernardino.
Both offer several programs that will give you the practical and theoretical knowledge for a career in law enforcement.
3. Become a Police Officer
This step is not as easy as it sounds.
To become a police officer, you need to:
Be at least 21 years of age
Have a full driver's license
Have no felony convictions
Be physically and mentally fit
You will also need to complete the six- to eight-month police academy. During this program, you will learn:
How to use a firearm
Patrol procedures
Self-defence
Report writing
First aid and CPR
Emergency response
Those candidates who plan to progress to detective are advised to sign on for advanced training and work with different investigation departments.
4. Gain Experience
The two skills essential to any detective are interviewing and interrogation.
During your time as a police officer, which could be four to five years, develop these skills.
Interviewing involves people and communication skills.
Interrogation involves negotiation skills and an understanding of human psychology.
You will also need to continue to pass all your medical and drug tests and maintain an excellent performance record during this time.
5. Take the Promotional Exams
The first is the National Detective/Investigative Test (NDIT). This is for those with several years of investigative experience.
The test measures a police officer's readiness to progress to detective and assesses knowledge of:
Criminal investigations
Major court cases
Investigative interviewing
Another exam is the Police Detective (PDET) 200 Series. This test consists of 100 questions that measure knowledge in:
Investigative procedures
Police work, laws and regulations
Report writing
Outside of the police force, you can become a certified legal investigator through the National Association of Legal Investigators (NALI). Candidates must have five years of full-time experience, complete a 1,000-word research paper and score at least 70%.
ASIS International has a certified professional investigator (PCI) certification for those wanting to specialize in security. Again, five years of experience is needed before sitting the exam.
The testing and certification process differs for each state, so check with the state department you intend to work in.
For example, to become a detective in New York, you need a minimum of 60 college credits or two years served in the military.
In Miami, you need to pass the Florida Basic Abilities Test (FBAT) and have a GED or high school diploma.
Top Detective Skills to Master
A successful detective needs an extensive skill set. The most valuable skills are:
Critical Thinking
This role includes reviewing and analyzing evidence to reach a conclusion and identify the correct perpetrator.
Sometimes, you need to think 'outside the box' or carefully piece together seemingly unrelated information.
Emotional Resilience and Stability
Detectives experience disturbing scenes regularly. They need to be emotionally able to cope with those images and not get overwhelmed by investigations.
Understanding of Human Psychology
Detectives sometimes need to think like criminals to solve cases. They also need to understand human psychology in interviews and interrogations to extract useful information.
Understanding how people work is vital to the success of a detective.
Problem-Solving
This is particularly essential when a trail goes cold or you hit a dead end. Not every investigation will be straightforward.
On many occasions, you will need to demonstrate creative problem-solving abilities.
Written Communication
Detectives write a lot of reports that may be used in court cases or read by their seniors. Therefore, they need to have excellent writing skills.
Verbal and Non-verbal Communication
Professionally, detectives need to be able to clearly express their views to judges, the media and seniors.
During investigations, they need communication skills to get information from suspects, victims and witnesses.
Emotional Intelligence
Talking with victims can be precarious, especially when they are distraught or struggling to recall events.
Having the emotional intelligence to connect with victims and know when to stop pushing will help build trust.
Attention to detail – A detective must have a well-developed attention to detail, from noticing shifts in body language to seeing alternative meanings in evidence
Patience – Patience is pivotal to the role of a detective. Investigations can take months, even years, without resolution. Witnesses and victims might not be as cooperative as you like right away. Evidence might not be processed as quickly as you want.
Resourcefulness – There are policies and procedures that detectives must follow. However, on occasion, they might have to use their intuition and alternative (legal) resources to solve an investigation.
Detective Career Progression
Detectives have the option to continue their career progression within their agencies either as a:
Sergeant
Lieutenant
Captain
Deputy chief
Chief of police
Those with specializations such as narcotics or cybercrime can move to government agencies like the DEA or FBI.
However, progression is slow, and experience is a deciding factor in promotions. Many promotions only become available when the current holder decides to retire or leave.
Final Thoughts
Becoming a detective is an honorable, reputable, and at times, rewarding role.
If you have the right skill set, the route to success is achievable within a reasonable time frame.
Before pursuing this role, ensure you have all the necessary skills and emotional resilience to handle your daily tasks.
---