Conceptual Skills
What Are Conceptual Skills?
In Robert Katz's paper, 'Skills of an Effective Administrator', in the Harvard Business Review in 1955, he described three facets of managerial skill that are still relevant today:
Human skills – How you work with people
Technical skills – Your knowledge of a subject or activity
Conceptual skills – Your ability to work with new ideas
People who have good conceptual skills are adept at solving challenging problems and scenarios using a creative or innovative approach.
In recruitment, conceptual skills are considered an integral requirement for executives in top-level management.
The term 'big picture thinking' is a great description of conceptual skills as a whole.
Why Are Conceptual Skills Useful?
Conceptual skills are a demonstration of excellent cognitive abilities – being able to formulate ideas and having the creative thinking needed to imagine scenarios and think through ideas for new solutions.
Aside from this, conceptual thinking is useful for executives – and other staff – in a forward-thinking, well-functioning workplace.
People who can see the relationships between ideas and departments with an eye on the organization as a whole can consider abstract ideas and create new solutions.
As an individual in an organization, you may not need conceptual skills to solve problems as part of your job role. However, having the ability to think objectively and conceptualize how your role fits into the organization will help you to see what you can do to help the business reach its goals.
Examples of Conceptual Skills
There are several different soft skills that come under the umbrella term of 'conceptual skills'.
They are virtually as important as each other in giving you the ability to adapt a creative-thinking approach.
A combination of these conceptual skills creates innovation, and conceptual skills can make a big difference to a business that needs to change to stay relevant.
If you can develop and improve your conceptual skills, you will be able to make the most of your current job role, or even achieve a promotion.
Analysis
To make conceptual leaps and find new solutions to old problems, you need to evaluate the issues and decide how effective different strategies are.
Analysis skills allow you to look at how the business is working, whether the company is achieving its goals, and how departments are working together.
Analysis of hypothetical solutions will help you to determine the best way forward in your problem-solving and to make better decisions.
Defining strategies and effective forecasting will help you to recognize opportunities for improvement and to analyze the results.
Communication
To understand a problem, you need to be able to communicate ideas as well as listen effectively.
Strong communication skills will help you share solutions with the right people, and talk effectively to everyone in the business, from the C-suite down.
An often under-appreciated skill in communication is active listening. This is a soft skill that makes a real impact on conceptual abilities.
Leadership
If you don't have the appropriate leadership skills to inspire others to trust you when you are making decisions and finding creative solutions to problems, you won't be able to effectively move forward.
As an effective manager, you will want other staff members to achieve company goals alongside you, and to delegate and manage others to follow your creative mindset so that you can motivate staff through implementation.
Problem-Solving
Prioritization, creative thinking and strong, swift decisions are important facets of problem-solving.
Taking top-level information and data, analyzing it in the most logical way, then having the confidence to make decisions based on that information is a demonstration of good problem-solving skills.
Problem-solving is an essential part of the conceptual skills toolkit. Without it, there are no logical solutions to business-related problems.
Creative Thinking
The best conceptual thinkers can think laterally, formulate ideas and analyze data, all with an open mind, using abstract thinking.
People who have a creative mindset can take blue-sky ideas and manipulate them into answers to problems.
Creative thinking could be considered the most important conceptual skill for most organizations.
How to Improve Your Conceptual Skills
Practicing your conceptual skills and working to improve them is something that anyone can do, whether you are looking for a new role, seeking a promotion or even just wanting to develop your abilities.
Although these skills are not necessarily topics that you can study in a college course or learn online, there are ways to improve your skills in your day-to-day working life.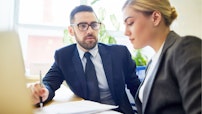 Conceptual Skills: Definition, Overview and Examples
Practice Communication
When communicating, what you hear is almost more important than what you say.
Active listening can help you to understand the point of view of others, for example, coworkers struggling with a problem.
Practice:
Asking for clarification on any points that you don't understand
Treating the person speaking as the most important person at that moment
Only having one conversation at a time
Non-verbal communication through body language and eye contact is also important.
Be open and accessible, don't cross your arms and maintain natural eye contact.
You can practice this in everyday conversations, even when chatting informally in the staff canteen.
Smiling is also important, as long as it is appropriate to the situation.
When you are communicating with others, especially when dealing with problems, there are likely to be emotions involved. Self-awareness (understanding your own emotions) and empathy (understanding the emotions of others) are important for effective communication.
The final facet of communicating effectively – and a skill that you can easily improve – is asking the right questions in the right way.
Using open questions and asking for clarification will make the most of a conversation and will ensure you get the details you need. The questioning aspect is only as effective as the listening aspect, though, so make sure that you listen to the answers.
If you practice these skills, you will find it easier to talk to others, find out important information and encourage people to succeed.
Take a Leadership Role
If you want to improve your conceptual skills, working towards a leadership role will allow you to demonstrate problem-solving, creative thinking and motivating others.
If you can get the opportunity to manage a project, have a team behind you or take leadership opportunities anywhere in your role, then you can flex your management skills.
Demonstrate the abilities that you want to see in the people you are leading. Leadership requires discipline and organization.
Another part of your leadership toolkit should be a sense of situational awareness. You need to understand how each person and department that you are leading interacts with others – and just be aware that there could be problems.
As part of your leadership practice, don't be afraid to delegate.
You can still lead even if you need to hand off tasks to others. In fact, you can be inspiring to others if you recognize your own shortcomings and can put someone else forward to deal with something that you are not equipped for.
However, remember that effective delegation isn't about passing on the boring jobs.
There are plenty of leadership courses online, with many leading colleges and universities offering free tuition.
Taking management and leadership courses is a great way to learn and develop.
Observation
You can develop a surprising level of conceptual skills through observing others.
Watching how other managers and executives make those leaps of creative thinking and how they come up with new ideas can provide fuel for your creative fire.
You can always ask for help and support from superiors to learn strategies for your own creative thinking and analysis.
Don't forget that there are other sources of knowledge to help you think logically about a problem.
Follow industry trends for the business you are in and for related businesses too. There might even be information from competitors that could inform your solutions, so don't be afraid to be creative in seeking data to analyze.
Look For Problems to Solve
While you might not need to use conceptual skills in your day-to-day role, looking for problems that need solving can help you put your skills into practice.
Take something from your everyday life and think of a new, innovative way to deal with it.
Perhaps there is an issue with shift-swapping for which you could design an improved shift schedule, or even use your coding skills to create a shift-management app.
While this might not be something you have been tasked to do, if you can take a problem and a potential solution to someone in your management team, you can use that for internal promotion or even as evidence in your resume for a new role.
Project Management
Quite possibly the best way to develop your conceptual skills is to use them.
Practical experience in problem-solving, creative thinking, leadership and communication is the way that many people learn best – and there is no better way to do that than managing a project.
To effectively manage a project, you need to compile a project plan that defines the scope of what you are trying to achieve and who you are going to work with to make it happen.
Then you need to gather all the required data by delegating information-gathering tasks.
Using the information gleaned, you can then use analysis and logical thinking to turn the data into solutions, collaborate with the team and come up with workable solutions.
Throughout this process, you will need to manage a team, keep to deadlines and focus on timelines.
Owning a project from start to finish makes all these skills come to fruition.
Final Thoughts
Conceptual skills are especially important for executives and managers.
Being able to come up with creative solutions to problems and think in abstract ways is big picture thinking and a relevant, required skill in virtually every industry.
If you struggle to see the bigger picture, you might need to work on the toolkit of transferable skills that make up the umbrella term of conceptual skills.
This will benefit you not only in your current role, but also if you're working towards a promotion or looking for a new, high-level employment opportunity.
---