Nationwide Graduate Scheme
What Is Nationwide?
Nationwide Building Society is one of the largest building societies in the world. It was the first in the UK to join Apple Pay and launch an online banking platform.
It has more than 18,000 employees, 15 million members and approximately £208.903 billion in assets.
It is a major provider of credit cards, current accounts, mortgages, ISAs and personal loans.
With locations all over the country, career paths and positions include:
Customer service representatives
Commercial underwriters
IT
Sales
Claims adjusters and specialists
Lawyers
Project managers
Consultants
The benefits of working for Nationwide are:
25 days of holiday, which increases to 30
The option to choose your own benefits – gym memberships, private healthcare, dental plans, for example
Pension scheme
Reward and bonus schemes
Learning and development
Nationwide Graduate Scheme Opportunities
Nationwide Graduate Schemes are two or three-year programmes, with rotations every six to eight months within your chosen area.
Typically, they are based in Swindon, London and Northampton. However, in a post-pandemic world, there may be some flexibility and hybrid-working options.
As an employee of the Nationwide Graduate Scheme, you receive:
A starting salary of £28,000
Performance-based annual benefits and bonuses
A permanent contract if you perform well
Option for private healthcare
24 days of holiday, plus bank holidays
Relocation assistance, if needed
When applying for the scheme, you will need to choose from one of the following departments:
Change and Digital
Nationwide describes itself as being member-led, meaning that most changes come from its members' needs.
At any one time, more than 3,000 people deliver multiple projects.
The primary focus for 2021 is to simplify its IT infrastructure and develop innovative technology and products.
If successful in your application, your daily roles will include:
Support end-to-end project ownership
Manage digital channels
Maintain website optimisation
Evaluate insights and analytics
Scouting for future trends
Engaging with and managing stakeholders
Human Resources (HR)
HR is not what it used to be.
Today, HR roles include:
People strategy
People service
Growth and Performance
Recruitment
Rewards and recognition
You will be expected to build relationships using your communication skills, have up-to-date knowledge of social platforms and apps, care about people and be confident handling difficult situations like conflict resolution.
Product and Marketing
In this department, you will need to choose between the commercial or the creative.
Your role will include:
Working with media and creative agencies to produce on-brand communications
Plan and deliver marketing campaigns
Use consumer feedback to develop innovative products and services
Supply Chain Management
Nationwide is on a mission to have a carbon-neutral supply chain by 2030. During the two-year programme, you will be expected to actively seek solutions and question norms.
Your role will include working with:
Responsible Business Team
Supply Chain Solutions Team
Supplier Sourcing and Relationship Management
Payments
As a financial institute, money is vital to Nationwide's success. During your time in this programme, you will:
Work with stakeholders throughout a transaction lifecycle
Identify areas of improvement to enhance product offering
Use data to direct strategy and distribution
You can choose to focus on operations, data or tech.
What Are the Requirements For the Nationwide Graduate Scheme?
Entry requirements for each graduate scheme are listed on the adverts. They usually require a degree in a related field and the right to work in the UK.
You can apply at any age, and you can also reapply for the programme once every 12 months.
Nationwide Recruitment Process
As it is a graduate programme, Nationwide realises not all applicants will have a full CV to demonstrate the necessary skills for the role.
As such, there are several parts to the recruitment process that assess your skills and knowledge.
The application process typically opens in October for the following year's intake with a November deadline – for example, for the 2021 intake, the recruitment process opened October 7th, 2020, and closed November 6th.
The entire recruitment process is online, unless otherwise stated by your HR or recruitment representative.
The four steps in the Nationwide recruitment process are:
Application
This first step is pretty straightforward.
You need to submit your CV and complete an online application form.
The online form will be an extension of your CV.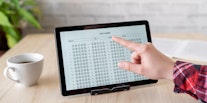 Nationwide Graduate Scheme
Online Test
For all applications, you will need to complete a series of online tests:
Those applying for finance schemes will also need to complete the numerical reasoning test.
They can all be taken on your own device, at a time of your choosing (within a timeframe), but be mindful that not all browsers are supported, so don't leave them until the last minute.
The goal of these tests is to help identify the strongest candidates and eliminate the least suitable ones at the very start of the recruitment process.
Further into your employment, the results may be used to help shape your career development plan.
Situational Judgement Test (SJT)
The situational judgement test assesses how you are likely to respond to common workplace situations.
You will be presented with a description, image, video or animation of a scenario and three or four possible responses.
You will need to select the response that is 'most effective' and the option that is 'least effective'.
For example:
While working on a project to increase female customers, you notice that a team member is not taking the work seriously. He is making inappropriate remarks about women being terrible with money and that all you need to do is make the credit card pink.
What is the best response?
a) Ignore him and carry on doing your part of the work
b) Wait until you can't take his comments anymore and confront him. He'll back down when met with anger
b) Speak to your supervisor to see if there is a more peaceful and constructive way to resolve the situation
The correct answer is: c)
Nationwide commits to a fair and equal workplace where these attitudes are not welcome. It may also be the case that your supervisor is already aware of the comments. Addressing the situation constructively will have a much more desirable outcome.
Cognitive Ability Test
The cognitive ability test measures how you process and interpret information from charts, graphs, patterns or texts.
There is no time limit to the test, but your final result is dependent on how quickly and accurately you answer.
For example:
In 2015, Manchester Piccadilly made a commitment to reduce cancelled trains by 80% by March. They reduced their cancelled trains in that timeframe from 100 to 24.
By how many cancelled trains have they failed to make their commitment?
a) 4
b) 1
c) 17
d) 22
The correct answer is: a)
80% of 100 is 20, which is what their target would have been. And 24 (what they actually achieved) – 20 (their target) = 4.
Personality Questionnaire
The personality questionnaire captures your preferred working environment, style and behaviours.
In this test, you will work through a series of statements, grouped into fours, and state which ones are most like you and which are least like you.
Your results are calculated by comparing your score to a norm group of those who have also taken the test.
Following the assessment, you will receive a feedback report detailing your strengths and weaknesses.
This report will not state if you have been successful or not. You will receive this information from your recruitment advisor within 10 days.
Video Assessment
For this section, you will need to respond to questions asked via a pre-recorded video.
You will have a minute to review and prepare and three minutes to respond.
Virtual Assessment or Interview
For those who pass the video assessment, you will be invited to a virtual interview.
It may be an individual interview or involve a group activity.
Key Tips For Getting Hired at Nationwide
Passing the Initial Application Form
You could find keywords from the job description and put them in your CV.
Your CV likely will go through a programme designed to pick out skills and words. The more connected your CV and description are, the greater the chance of success.
If asked why you want to work for Nationwide, try to align yourself with their values and missions.
Passing the Online Tests
Tips on how to do this include:
Passing the Video Assessment
Deliver your answers using the STAR method:
S (situation) – Describe a recent situation you were in that relates to the question T (task) – State what you were trying to achieve A (action) – What the possible solutions were, and which one you took R (result) – What was the outcome, and what did you learn?
Passing the Virtual Assessment
Tips on how to do this include:
General Tips
Here are some general tips to follow:
Final Thoughts
Recruitment drives and assessment centre can be stressful. Take the time to properly research Nationwide and prepare as much in advance as you can.
Explore forums to get advice from other applicants and learn as much as you can about each step.
You should also be prepared for how long the process can take. Past applicants reported that it took up to three months for them to be invited for the online tests.
---