Facebook Job Application and Interview Process
Social media giant Facebook was first launched in 2004. Since then, the platform has gone from strength to strength, helping millions of people to connect with others.
As an employer, Facebook continues to grow; in 2020, the company set out to recruit 10,000 new staff. The organization has big plans for the future, including global expansion of Facebook News, development of an audio chat product and its own cryptocurrency.
If you want to work for Facebook, you will need to show that you have a keen interest in its products and services. Facebook looks for talented candidates who have the drive to achieve their career aspirations.
Applicants should have a curious disposition and enjoy building things. These are important attributes, regardless of the job role you apply for.
Facebook's mission statement is to enable users to connect with their friends and family, find out what is happening around the world and to share the things that matter to them.
In this article, you can find out what it is like to work at Facebook, and what to expect during the Facebook hiring process.
The Workplace
Facebook provides a very modern work environment.
The organization prioritizes open communication and connectivity. This is reflected in its open-plan office spaces.
To encourage friendship and interaction between colleagues, there is a selection of games in each office. Employees can challenge workmates to a game of ping-pong, Guitar Hero or chess to break up the working day.
Nap pods are provided, helping workers to stay well rested throughout the working week.
Facebook's HQ is in Silicon Valley. With minimalistic industrial furnishing and accessories, it is designed in the style of Facebook co-founder and CEO Mark Zuckerberg's old university room. Employees are encouraged to personalize their workspace with artwork or photographs.
Job Roles at Facebook
Facebook employs a diverse workforce all over the world. Technical staff, such as product managers and software engineers, are in high demand. However, the company also recruits staff in the following areas:
Administration
Business development
Design
Human resources
Legal services
Marketing, communication and public relations (PR)
Online operations
User experience
Employee Benefits
In addition to industry-leading salaries, Facebook employees have access to many perks, including:
Free food and drink – Staff enjoy a variety of complimentary refreshments, including sweet treats, BBQs and gourmet meals.

On-site doctors – Employees can access healthcare services and manage their wellbeing, fitting appointments around their work schedule.

On-site hairdressing service – Workers can easily arrange and attend a hair appointment to fit around their work commitments.

Free shuttle bus – Bus transport is provided to help employees get from home to work more easily. Another travel incentive is the Facebook Ride app, which can be used to make car sharing arrangements with other employees.

Cycling services – This includes a bike-share program where employees can use a company bike to travel around campus. There is also an on-campus bike shop with dedicated mechanics, plus bike parking at every building.

Vending machines – These are filled with essential electronic equipment, such as laptop and smartphone chargers. Staff can use their ID card to get what they need from the machine.

Generous parental leave package – This includes 16 weeks of paid time off (for maternity, paternity or adoption).

Generous health insurance package – Employees can choose from a selection of different medical plans, allowing them to choose the option that best meets the needs of them and their family.

High-quality training and development opportunities – For example, all new Facebook engineers complete Facebook's six-week Engineering Bootcamp. This helps them to learn all about the different types of engineering work at Facebook and discover their personal strengths. There are also fast-track routes for promotion.

$1,000 to spend on home office for remote workers – This was implemented during the Covid-19 pandemic.
What Is the Company Culture?
Being employed at Facebook offers the chance to join a highly-talented team of like-minded professionals. The workload is challenging, and the environment is the ideal place to make an impact.
As a supportive employer, Facebook provides a generous rewards package, excellent diversity program and career development strategy. Facebook promotes an inclusive culture. It aims to empower every employee to do their best work and live a full life.
Facebook's five core values are an important factor in its corporate culture.
These are:
Be bold – Facebook empowers staff to be confident about taking risks.

Focus on impact – Facebook expects staff to concentrate on important challenges, instead of spending a lot of time on minor issues.

Move fast – Facebook wants staff who can work quickly and avoid missed opportunities – even if this means they make a few mistakes along the way.

Be open – Facebook strives to have an informed and empowered workforce, so there is plenty of company information available in the public domain. Employees have all the information they need at their fingertips, helping them to make effective business decisions.

Build social value – Facebook's goal is to bring people closer together. While growing the business is important, the company expects the actions of its staff to add value to the world.
What Does Facebook Look For in Its Employees?
Facebook employees need to be resilient and confident, as they will be working within a fast-paced and ever-changing environment.
As a Facebook employee, you will be expected to view challenges in your working environment as opportunities to develop new ideas.
Agile working is vital at Facebook. You will need to be innovative, using your leadership skills to put your plans in motion. Working collaboratively, your efforts will help build solutions to bring value to Facebook's users.
You will need to be able to build relationships with other key stakeholders in the business. You will think on your feet, adapting your strategy and working methods according to external factors.
As a positive role model, you will inspire and motivate your team. You will use your knowledge and skills to influence others and lead by example.
Can You Apply For More Than One Job at a Time?
Facebook limits applicants to making a total of three applications every 90 days. You should only apply for roles that fully match your skills and previous experience.
Application and Interview Process
Facebook uses a structured recruitment process to source talent and hire the best candidates.
Prospective employees will need to attend a series of telephone and in-person interviews.
Due to the pandemic, most interviews are currently taking place via video conferencing.
The Facebook candidate portal provides information on what you can expect during your interviews. It also has links to useful preparation materials, interview schedules and instructions for using the video conferencing software.
To apply for a vacancy at Facebook, you will need to follow the steps listed below:
Application Form
You will need to complete the short application form and attach your resume. This is submitted to the recruiter via the Facebook candidate portal.
The Facebook recruiting team will consider your existing skills and experience against the job specification. They will make a decision on whether to progress your application further.
Phone Interview
If your application is of interest to the recruiter, you will be contacted to discuss the role in more detail.
The recruiter will also talk you through what life is like as a Facebook employee.
Initial contact is usually made via LinkedIn or email, with a follow-up phone call after that.
Interview
If you are shortlisted for an interview, you will attend a telephone or video interview.
This will be with the hiring manager or an employee in a similar job role to the role you are applying for.
Being interviewed by someone with experience in the role will help you to better understand what will be expected of you if you are hired.
The purpose of this interview is to find out why you are interested in the role and assess your technical ability to carry out the daily tasks. You will be expected to talk more about your professional experience.
Facebook interview questions are specific to the job role applied for. However, they will nearly always include hypothetical and logic-based questions.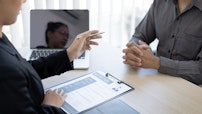 Facebook Job Application and Interview Process

Regardless of the job role you are applying for, the recruiter will want to see evidence that you share the Facebook values. They will consider your skills and attributes and make a judgment on whether you will be a good fit with the organizational culture.

For technical job roles, an initial technical screen will be included as part of this interview.

The interview will be broken down into four sections, as follows:
1. Introductions
The interviewer will tell you their name and role within the organization.
2. Career Aspirations
The interviewer will ask questions about you, your previous experience and your career goals for the future. This section will last around 10 minutes.
3. Coding Assessment
This section will last roughly 35 minutes.
If you are being interviewed via video conferencing software, you will use an online collaborative editor. If you are being interviewed in person, you will use a whiteboard.
You will be presented with one or more coding questions to complete. These will be short questions, which can be explained in two or three minutes, and solved in under 30 minutes.
The panel will aim to understand your approach to solving the problem(s) you have been presented with. They might add in some additional requirements or constraints after you have given your initial answer.
4. Your Questions
You will have five minutes to ask questions of the Facebook engineer you are being interviewed by. Since they have usually worked in the role you are interviewing for, they can give an inside view of the job and what you can expect from working at Facebook.
The outcome of this interview will determine whether your application will move on to the next stage.
This will include further interviews with other relevant staff. This could include teammates, managers and other contacts you will work with if hired.
The purpose of these interviews is to help you to learn more about Facebook. It also gives the recruiters an opportunity to understand your talents and experience. Some of these interviews may take place in-person.
For technical job roles, candidates will attend coding, design and behavioral interviews:
Coding interview – You will be asked to solve general coding questions.
Design interview – You will answer questions on products or systems, depending on your experience. This is your opportunity to showcase your design skills. This part of the interview does not usually involve any coding. Instead, you will be talking to the interviewer and drawing on the whiteboard.
Behavioral interview – You will answer questions about your career history, what motivates you and how you would approach specific situations.
After you have attended all of the interviews, each person you spoke to will provide feedback on your performance. The feedback will be collated and used to make a decision on your application.
In some cases, the recruiters may decide you are more suitable for a different job role. If this applies, you will be contacted to discuss alternative opportunities.
The recruiter will contact you to confirm the outcome of your application.
If you are successful, you will be able to discuss the details of your job offer with the recruiter. If you decide to accept, you will liaise with the recruiter to agree a start date and fill in the employment paperwork.
Your Facebook Application
The hiring process is your chance to tell Facebook about you and what you know. It is also a chance to ask questions and find out more about what it is like to work for Facebook.
There are a few steps you can take to improve your chances of success.
Prepare Your Resume
Update your resume, ensuring it shows all relevant previous achievements. It should include full details of what you delivered or accomplished. Be concise, including information that demonstrates your transferable skills and relevant past successes.
Link your resume with each requirement listed in the job description or person specification. This will help the recruiter to easily make a decision on your suitability for the role.
Keep Facebook's core values in mind, including information to show that you share these values. For example, for 'be bold', you might include an overview of a project where you had to take risks to achieve the desired outcome. Include information on what went well and any difficulties you had to overcome.
View LinkedIn Profiles
As part of your preparation, view the LinkedIn profiles of the recruiter or employee you will be speaking to. This will help you find out more about their role at Facebook.
You may also be able to glean information on their professional interests and experience. Use this knowledge to tailor your responses and the questions that you ask at the interview.
Write a Great Cover Letter
Updating your resume to reflect your knowledge, skills and experience is important. However, it is not always the easiest format in which to put across your personality.
Including a great cover letter will enable you to better showcase your character, allowing the recruiter to get to know you better.
Choose Your Coding Language
Applicants for technical job roles at Facebook are not required to be proficient in a particular coding language. However, it is important that you can demonstrate your proficiency in at least one.
Acceptable languages include Java, C/C++ and Python. Choose the language you feel most confident with when deciding which language to use for the coding assessment tasks.
Preparing for Your Facebook Interview
Facebook encourages staff to work autonomously, and this is reflected in the interview process. Facebook helps interviewees give their best performance at interviews by providing preparation resources.
Throughout the hiring process, candidates receive regular updates from Facebook. There are also opportunities to ask questions or raise concerns.
Facebook Interview Preparation Resources
Facebook provides interviewees with practice exercises and preparation materials. These are similar to those used in the real-life interview.
As part of your interview preparation, you will practice solving problems like those faced by Facebook engineers every day. You will also be able to learn more about the product building service and the importance of team collaboration.
Completing the preparation resources will help you feel prepared and ready to do your best at the interview.
When practicing the coding exercises, Facebook recommends setting a time limit. Forty-five minutes is a good rule of thumb, as this is the time you will be allocated during the interview.
It is vital to practice writing actual code, not pseudo code. Use a notepad and stick to the coding language you are most comfortable using. Practice as much as possible to ensure you improve your skills and gain confidence in using it under pressure.
It may be helpful to video record yourself when you are explaining coding solutions. You can watch the video back and critique your performance.
Make notes of important projects or problems you have worked on in the past. Practice talking about them in a clear and concise way.
You could also set up a mock video interview with a family member or friend if you need to practice using the video calling software.
Give examples of your skills to bring your abilities to life. Think about how the projects you have worked on previously can help illustrate that your values are aligned with Facebook's.
Facebook wants to recruit people who share its ethos and values. If you think part of the interview process has not gone to plan, acknowledge this and try to move on. This helps to show you can work under pressure and demonstrates your problem-solving abilities.
The interviewer will want to get the best out of you, so it is important to try to enjoy the process. Remember to be yourself, as Facebook values authenticity in its employees.
For virtual interviews, ensure your technical equipment is set up and ready. For video interviews, check your sound and microphone settings.
Sit in a well-lit, quiet space and mute notifications on your phone and computer. This will help minimize interruptions.
Check your setup is fit for purpose by setting up a 'test' video call with a family member or friend. Let the recruiter know in advance if you need any support to make the video interview process accessible to you.
Tips for a Successful Application and Interview Process
Step 1. Be authentic and humble
Authenticity is important at Facebook, so you should be honest throughout each stage of the hiring process. Be open when you are talking about both your successes and failures. If something didn't go well, explain what went wrong and how you might handle the situation differently in the future. This will show your ability to reflect and learn from past experiences.
Step 2. Focus on teamwork, collaboration, leadership and mentorship abilities
Tell the recruiter about real-life situations where you have used these skills. Consider how your past experience and abilities will help you to succeed in the job role you have applied for.
Step 3. Be prepared to answer questions on how you would improve Facebook
Innovation is a key priority at Facebook. Think about improvements to Facebook and how you would approach implementing these ideas.
Step 4. Research the company, the role and your interview panel
To give your best interview performance, you will need to have a solid understanding of the job role and how it fits into the organizational structure. Researching the interview panel will help you to understand their role in the business, as well as their priorities and interests. It will also help you to know which questions to ask which recruiter, according to their background and experience.
Step 5. Keep the core Facebook values in mind
Facebook wants to recruit people who share its values, so the answers you give should always highlight your commitment to the culture and mission.
Step 6. Find a quiet spot with limited distractions for your interviews
The majority of interviews currently take place virtually, so you will need to find somewhere free from interruptions. Switch off your phone and computer notifications and let the people you live with know when you will be having the interview.
Step 7. Share your reasoning and think out loud when solving coding problems
This will help the interviewer understand your thought processes. You may be asked to draw your process, but Facebook is not prescriptive over the tool you use for this. You might choose Google Drawings or the whiteboard tool linked with the video conferencing service. If you prefer to draw manual diagrams, Facebook will reimburse you for the cost of a physical whiteboard.
Step 8. Dress professionally
Making a good first impression is essential, so it is important that you wear something smart. Even if the interview panel are wearing casual outfits, dressing formally will help you to look professional.
Step 9. Be prepared to sign an NDA
As a Facebook job applicant, you will have access to confidential information regarding its business operations. You will be required to sign an NDA (Non-Disclosure Agreement) to confirm you will not share information.
Final Thoughts
Facebook offers a modern working environment. It strives to support employees to do their best work. Innovation is key, as Facebook employees are expected to build new products and services.
Facebook's hiring process is very structured. Candidates have to attend four or five interviews, meeting people from across the business.
At the interview, you will need to show your commitment to upholding Facebook's values and contributing to the mission statement. For technical roles, you will be expected to demonstrate your coding or programming skills.
Above all, Facebook seeks to recruit people who can solve complex problems and create unique products. Preparation is key, so it is important to take advantage of the resources provided by Facebook.
---