How to Find a Great Job Recruiter
Headhunter, recruiter, recruitment agency – all terms describing professionals who can help you find employment.
This article will explain more about why you might benefit from using a recruiter to help you find a job, as well as how to find the right one for you and what to watch out for.
Introducing: The Recruitment Consultant
A recruitment consultant is, very simply, an individual who can help you find a job. You're probably perfectly capable of finding yourself a job, but there are several benefits to using the services of a recruiter to act on your behalf.
A good recruiter will have excellent relationships and communication channels with companies. What does that mean for you as a jobseeker?
They are likely to hear about jobs before they are advertised to the public.

They know what the hiring company is looking for in a candidate.

They can get your CV straight to the decision maker rather than it having to go through a screening process (with perhaps 400 others).

They can fight your corner; there might be something in your CV or cover letter that might make the hiring company think twice about taking your application any further. A recruiter has the relationship in place to encourage the company to at least invite you to interview.

They can help you prepare for interview and ensure that you are ticking all the boxes when it comes to what the employer is looking for.
The recruiter gets paid by the hiring company, and that's usually only once they have found the right candidate to fill a position, so it's a free service for the jobseeker.
All that said, it's important to do your homework and enlist the help of a reputable, successful recruiter who isn't just after an easy commission.
How Do I Find a Recruiter or Headhunter?
There are a number of ways that you can look for and find the perfect recruiter for you:
Recommendations – These are extremely valuable when it comes to finding a great recruiter. If you know that a colleague has had a positive experience after using a professional to help with their job search, ask for details. If it's not possible to do that without it being obvious you are looking for another job, maybe you have friends or ex-colleagues with a similar background that you could ask.

LinkedIn – LinkedIn is a recruiter's main stomping ground, so you should be able to find the right recruiter by searching using keywords relating to your requirements. Search for 'recruiter', the name of your industry and your chosen location as a starting point to see what comes up.

You might get recruitment agencies appearing in the listings rather than individuals; follow their pages and look at the roles they are posting to see if they fit with your job aspirations. Hopefully, your search will also bring up some individual recruitment consultants as well.

The rules of LinkedIn connections go out the window somewhat when it comes to recruiters; it's OK to invite them to connect with you even if you don't know them. Once you see their profile you might discover that you have shared connections – ask these people about their experience with the recruiter. Assessing the recruiter's LinkedIn activity is another useful way of seeing whether they would be a good fit; look at how long they have been working in a certain area; the longer the better.

Google – Search for your location, profession and the word 'recruiter' – or more specific keywords – to bring up agency listings for recruiters, which can be a good place to start. There are specific recruiter directories online as well: search 'recruitment directory'.

Dedicated job sites – These can be useful as it's likely you'll see the same names of recruiters posting jobs again and again. If these jobs are in your area of expertise, that's a strong sign that the recruiter would work well for you.
Let Yourself Be Found
Don't forget that recruiters are constantly searching for strong candidates to approach. LinkedIn is a platform used widely by recruiters looking to fill roles, so it's important that you have a profile to be proud of.
Make sure your LinkedIn profile has a clear, professional profile picture and a strong headline to ensure you get noticed. Our article, 'Top Ten Tips for a Better LinkedIn Profile' gives guidance on how to make your listing stand out from the crowd.
Don't forget that a very small number of LinkedIn users have a background photo – it's a fantastic way of setting yourself apart from the other potential candidates. Read more in our article, 'How to Choose a Good Background Photo for your LinkedIn Profile'.
Recruiters also look at job site listings to find candidates, so it's worth uploading your CV to sites like Indeed to boost your chances of being approached.
If you are in a position to increase your presence in your industry by giving talks, speaking at conferences, writing articles and getting published, that's a great way to get your name out there and get noticed by recruiters.
The Good, The Bad and The Terrible
Recruiters get paid by the hiring company once the position has been filled. As a result, there are some recruiters out there who aren't too bothered about whether the position is right for you or not.
Common grievances from jobseekers are that the recruiter mis-sold the position. Hopefully, the worst case scenario with this situation is that you waste a few hours preparing for and attending an interview. If you do your homework and don't rush into working with a certain recruiter, this shouldn't happen.
Choose a recruiter who only works with companies within your industry. Recruiters who work across all industries won't necessarily have the knowledge needed to assess whether or not the job will suit you, and they certainly won't have the close relationship with hiring companies which is so important in this process.
Questions to Ask Potential Recruiters
The better the relationship between you and your recruiter, the stronger your position will be when going for an interview. It's sensible to build a relationship with a few recruiters so that you hear about all of the suitable upcoming jobs in your area.
Don't be afraid to ask potential recruiters questions to help ensure they will be the right fit for you. It's worth asking for success stories, examples of companies they have strong relationships with and the types of positions they have filled in the last year.
Once you enlist the help of a recruiter, you're quite within your rights to ask them which companies they have submitted your CV to – this ensures you won't apply for the same job on your own.
The communication and questions to the recruiter should continue long after you have chosen one to work with. Our article, 'The Top 10 Questions to Ask Recruiters Before Your Interview' gives advice on what to ask a recruiter once you have been successful in your application for a role.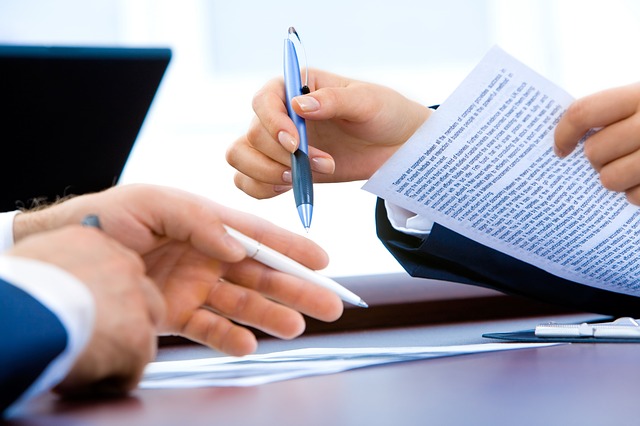 Meet the Recruiters on Your Shortlist
The majority of applicants don't meet with a recruiter face-to-face, but doing so can be extremely beneficial.
Once you meet with them in person, you can get a much better idea of whether they are genuinely interested in helping you get the very best role possible, or whether they just want a quick placement.
If they don't seem interested in hearing about you – or they rush to try and persuade you to go for a few of the roles they are already working on filling – they're probably not too concerned about your progression and should be avoided.
It's a good idea to go to a recruiter with a list of the top companies you would like to work for. Talk to the recruiter about where you are in your efforts to secure a new role:
Who have you sent your CV to?
What jobs have you applied for?
Are there any advertised positions that you have already been turned down for?
Etiquette for Dealing with a Recruiter
Despite you as a candidate having a lot of power in terms of deciding whether or not you will enlist the help of a recruiter, it pays to give them the same respect that you would a potential employer. For example:
Communicate professionally on email prior to meeting, dress in an appropriate manner when meeting in person and follow up with a thank you email.

Never try and go over the recruiter's head; once you've committed to using them you should not be approaching the hiring company separately (until you have the job).

Don't apply for the same job with more than one recruiter – it could damage the relationships you have built.

Be open and honest with your recruiter, and this should work both ways; good communication will mean that neither party is let down in the process and the result should be beneficial for each party.
Final Thoughts
Whether you've exhausted all avenues and feel that a recruitment consultant is your only hope, or you're just embarking on a job search, a recruiter is a great option for getting professional advice across all areas of the job search process. They can:
Critique your CV and make suggestions for improvements.
Help you improve your interview technique.
Give advice on the way you present yourself professionally.
Suggest things you could do to improve your chances of securing employment in your chosen field (start blogging, do some work experience, etc.).
Once you've found a recruiter you can trust and who gets excellent results for you, nurture the relationship – even when you're in employment and not looking to move on.
---