How to Write an Accountant Resume
What Is an Accountant Resume?
For any role, a well-designed, concise and professional resume is an important feature of a successful application. A 'greatest hits' of who you are, and why you are the best person for the advertised job.
An accountant's resume needs to provide specific information for the recruiter to be able to immediately assess your suitability for the advertised role – and it is a well-known fact that recruiters do not have time to read densely-packed text and paragraphs of information.
They want to be able to see the important features straight away – and with the right resume, you can ensure that you can demonstrate that you are exactly what they need.
As an accountant, you need to have a good eye for detail – and this must translate into your resume too.
It needs to be a short, relevant document that actively demonstrates your qualifications, experience, skills and achievements to present 'at-a-glance' information that the recruiter needs.
Each resume must be directly tailored to the job advertised.
Accountancy roles tend to be popular and you could be competing against hundreds of other applicants, with only a resume and cover letter) in your arsenal.
A generic, bland or boring resume is not going to make a great impression.
Using the information in the job description, you can ensure that you are presenting your skills, achievements and qualifications in a way that actively demonstrates your suitability for the role.
Aside from the details in the job description, there are several things that the recruiter will actively be looking for in your resume.
5 Things a Recruiter Will Be Looking for in Your Accountant Resume
1. Are You Qualified?
While this might seem obvious, qualifications for an accounting role are really important.
Whether you have gained an associate's degree or a bachelor's degree, the recruiter will want to confirm that you have completed the relevant studies and attained an appropriate qualification.
For some functions, like submitting documents to the Securities and Exchange Commission, you will need to be certified as a Certified Public Accountant (CPA).
Other accountancy qualifications are available, depending on the requirements in your state – so make sure that you know what you need for the career you are looking for. The required qualifications should be in the job description.
Making it simple for the recruiter to see your qualifications, when you earned them and where from, is good practice for creating a great resume.
2. Your Work Experience
This is more than just listing your recent jobs. You need to actively demonstrate what experience you have gained and how you used your skills in the workplace so that the recruiter can see what difference you made in the role.
This can be linked to the job description; you can highlight the parts of your experience that most suit what the recruiters are looking for.
3. Your References
Giving examples of your qualifications and experience on paper is one thing, but a good set of references shows that other people view your work as exemplary.
Try and have at least two referees listed, preferably direct managers or someone in authority in your current role.
You can either get a pre-written reference to use as part of your portfolio, or you can request that the employer contacts them.
Trusted people that believe you are great at your job make what is written on paper seem more like real life – and that is important to recruiters.
4. Your Long-Term Goals
This is not necessarily a request for a bucket list, but more about your career path and where you see yourself in the future.
If the job description is looking for a CPA with people management responsibilities, you can mention your career aspirations to run a team.
It is also a good idea to provide information about any studies you are undertaking – either further education or as part of a continuous professional development plan.
For your career progression, having some long-term career goals gives you something to aim for, and shows that you are dedicated to the path you have chosen.
5. Your Elevator Pitch
Although this is the last point in this list, your elevator pitch needs to come at the beginning.
A summary of your achievements, with a sprinkle of personality, is a powerful paragraph that when crafted correctly will pique the interest of the recruiter and make them take notice of what you have to offer.
A good elevator pitch is short, concise and essential. It must demonstrate your enthusiasm and dedication while giving at least one good example of a relevant achievement, as well as outlining your immediate plans (to get this role, for example).
There are specific things to think about when crafting your resume summary (or elevator pitch) for an accountancy role, but for more general information, you will find our article on resume summary writing useful.
Key Skills to Include in Your Accountant Resume
When thinking about key skills, it is easy to create a long list of all the buzzwords that recruiters are looking for.
This might not be the best use of the space you have available, and other applicants will try and do the same.
Instead, think about the different types of skills that you might possess. There are some hard skills related to accountancy that you should include – like budgets, asset management, payroll and tax compliance – but this will depend on what is in the job description.
The best way to list your skills is to consider what the recruitment team is looking for in their advert. Go through the job description and highlight all the required skills, then choose the hard skills that you are able to demonstrate.
There may be other skills mentioned in the job description that might be good for your resume too. Proficiency with certain accountancy software like QuickBooks or use of databases and client management systems might be important, as is basic office software like MS Word.
Soft skills are another matter, however.
Soft skills are those inherent employment-related competencies that are more to do with your personality than anything you can be taught, but they are important in any career, in almost every sector.
These might be listed in the job description, but if not, then you might consider such things as:
Problem-solving
Creative thinking
Research
Communication
Time management
Organization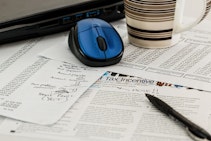 How to Write an Accountant Resume
How to Write Your Accountant Resume
With all this information in mind, getting the valuable points in your resume can seem overwhelming.
There are some helpful hints available in our article on how to write a resume that can help you with creating the best layout, which fonts to use, and general tips and tricks.
Take it stage-by-stage following our handy guide to the perfect accountancy resume.
What Format to Choose
As an accountant, you have an eye for detail – and this needs to be apparent in the format you use for your resume. Choosing the right format for your resume can be daunting, but we have some templates available that could make it simpler for you.
Don't be afraid to make it visually attractive. This doesn't mean inserting pictures, but ensuring that each section is well defined and that there is plenty of white space.
Use a professional font that is large enough to be easily read, and use bullet points where necessary.
For some resumes, it makes sense to separate the contents into columns, taking full advantage of all the space on the page. Having a wide column to the left of the page for your experience, with a narrower column to the right for your education and skills, makes the best use of the available space without making the text too dense for easy reading.
Try to make sure that whatever format and styling you use, you continue that in your accounting cover letter.
This is an easy way to demonstrate your eye for detail as well as carrying through your 'branding' so the recruiter will recognize your documents easily.
Personal Details
This is an important section to get right. Recruiters like to easily recognize who the resume is for and having all the relevant contact details in one place makes it easy for the person reading your resume to get in contact.
You will want to include your address and your telephone number, as well as an email address they can reach you on.
You might want to create a link here to your LinkedIn profile – you can safely assume that any recruiter will check out your presence online, so keeping LinkedIn up-to-date and relevant is a great way to make a good impression.
Personal Statement/Resume Objective
The elevator pitch should be the first thing that the potential employer will read, and it is important to remember that it might not be an accountant that is reading your resume in the first instance.
As previously mentioned, this is a few seconds of reading that could make a lasting impression, so it is important to get this part right.
Avoid being bland and boring; the recruiter will likely read hundreds of resume summaries that say, "I am a hard-working team player with experience".
Instead, focus on personal achievements that matter – like:
As part of the team at [accountancy firm], I found an ongoing error in the reporting system that saved $75,000 in unreconciled charges.
The difference here is that you are demonstrating your hard work, that you were part of a team, and that your experience directly affected the bottom line of the company.
Work Experience
When listing your work experience, you do need to include some details, like where you worked and for how long, but there are better ways to translate your experience into accomplishments.
Start with your most recent position and work backward – this reverse chronology makes the most sense to the recruiter.
Be sure to include the employment details (name of the role, name of the company, dates worked) to begin with, but instead of listing your duties like this:
Think about using action words to describe what you did, and how it helped:
Contacted 165 overdue accounts and acquired over $95,000 in unpaid dues
This slight difference shows your duties and experience but makes sure that the recruiter can see exactly what that means in terms of what you can offer in the advertised position.
Qualifications and Education
As with most postgraduate roles, having a great education is important.
In a similar way to the reverse chronology of your experience, highlight your highest qualifications first. You can add certifications here if relevant too.
List the qualification, the date attained and the institution.
You can highlight specialisms in your studies too if they relate to the job description.
Awards
If you have won any awards in accountancy, these can be shared on your resume.
If you are a member of any professional accountancy bodies or have had work published in journals, share it here.
Make sure that your resume speaks of you as an expert in the field.
Hobbies and Interests
This might not seem like the most important or professional part of a resume, but quite apart from your qualifications, you are a person too.
While a great cover letter will help you demonstrate your personality, some well-chosen hobbies and interests to share on your resume could help seal the deal for you in terms of soft skills.
If you like white water rafting, you seem like a tenacious risk-taker. If you are an avid reader, you will have brilliant comprehension skills and a creative mind.
Keep it professional and relevant, and remember that social media scrolling and partying are not actual hobbies.
What if It Is Your First Accountancy Job?
If you are fresh to the career, you might be worried that your resume might not have enough experience to tempt a recruiter.
There are a few things you can do to get the experience you need to demonstrate your suitability for the role.
First, offer your accountancy services to local businesses in return for a testimonial. This might be as a volunteer or as a freelancer depending on the business.
Whether it is a local hardware shop or a café, the likelihood is that your skills will be in demand somewhere, and this is a great way to get some fast experience.
Use one of the freelance websites to get some one-off gigs for the experience they will offer – this doesn't have to be a long-term thing, just a few examples of what you can offer.
If this isn't enough, try to think about transferrable experience from other places.
If you excelled in your asset management module whiles studying, highlight that and refer to the practical work you put in, or the case study you created.
For the freshly graduated, entry-level positions for accountants are usually aimed at those with little to no experience, so the recruiter will be aware that you may not be able to provide reams of direct experience for the role.
Instead, they will be looking for a willingness to learn, transferable skills from a successful degree and a good personality.
Final Thoughts
A successful resume needs to be carefully constructed to ensure that it highlights the absolute best of what you can offer a company.
Recruiters might be looking at hundreds of resumes for one role, so to be chosen, you need to make sure that you are highlighting your best accomplishments and experiences.
The recruiter wants to be able to easily identify your qualifications, experiences and skills to match them to the job description – and choosing the right format, font and layout is key for this.
You don't need long sentences or dense paragraphs; bullet points and even single words are perfect.
Each resume should be tailored to fit the job that is being applied for; a generic and bland resume does not demonstrate the attention to detail that an accountant needs in any role.
Using the job description to help you highlight your relevant skills, experience and qualifications will give the recruiters a quick and easy way to recognize what you can do for the company so that choosing you is an easy option.
Make sure that you keep it simple, concise and relevant throughout – don't repeat anything, and remember that you can expand on any points more in the accounting cover letter if you need to.
Use action words to make your duties and experiences more relevant and keep the waffle and the hyperbole to a minimum. You can shout about what you achieve, but a tangible result is way more effective.
---