Best 10 Self-Employed Careers
All products and services featured are independently selected by WikiJob. When you register or purchase through links on this page, we may earn a commission.
Not everybody works well in environments where teamwork and collaboration are essential qualities. For instance, you may be a creative individual who likes to follow your own structure of work.
While you may not be averse to having a figure of authority in your life, you may find that you manage the work better alone.
You may also want to choose a career where you can balance work with the rest of your life. This may include artistic pursuits, your family or even education.
If these two scenarios sound familiar, you may have considered a career where you are in complete control of your schedule and workload. But perhaps, up until this point, you might have not known how to go any further.
Becoming self-employed may be the answer.
A self-employed career is one where you are effectively both employee and CEO.
This article will highlight the major considerations before pursuing a self-employed career. It discusses 10 of the best self-employed careers you might want to consider.
It is worth noting that self-employment can be found in multiple areas, and the 10 careers highlighted are not the only careers available. However, it is important to know what qualities you need for these careers as they are transferable to other areas of self-employment.
What to Consider Before Becoming Self-Employed
As with all types of work, there are benefits and challenges to consider.
In the case of self-employment, the positives can far outweigh the problems you will face throughout the career – managing the potential challenges can make a self-employed career not only enjoyable but also prosperous.
Here are the major points to consider before entering self-employment.
Time Management
The most attractive prospect of self-employment is the freedom you have with your own time.
You are in complete control of your working schedule, deadlines and time away from work.
As much as this is appealing, it can often be quite difficult to manage, especially if you are new to a self-employment environment.
Many techniques exist to help you manage your time and be productive. Even the simple to-do list can prove more useful than you think. These will save you from long, inefficient days.
Alternatively, you may love your work to the point where you find yourself working long days.
If this is the case, you may start to neglect other parts of your life, and you will find it difficult to switch off from your working environment.
Understanding how and when to take a break is an essential part of self-employment. Without the structures available when working for somebody else, it is up to you to set boundaries.
Environment
Whatever your self-employed career, you will need a good working environment. Working in a noisy house will only frustrate you and your family.
Further, blurring the lines between home and work can increase your chances of burnout. If there is no physical separation from your work, it can be hard to switch off once you are finished.
The ideal scenario is a separate room to be used as your office, but that is not always possible.
Depending on your career and preferences, you may have a lot of flexibility in location and find yourself working in places such as cafes and libraries.
Otherwise, you will have to get creative. Use headphones to reduce outside noise and distraction. Consider using a specific desk or table in the same location each day and set up a routine that marks the beginning and end of work.
For example, making a pot of tea, removing the blankets from your chair and clearing your work surface could mark the start of your working day. During breaks, and at the end of the day, stand up and walk away from your work location. Finish the day with something like a non-caffeinated drink and changing into different clothes (even simply putting on a sweater).
Taxes
Unlike working for a company, when you are self-employed you must handle your taxes yourself.
This can seem complicated and certainly involves keeping track of income and expenditure, but self-employment can bring tax benefits. You also have a better idea of what percentage of your income is taxed.
Many people in self-employment view taxes as a business expense. By being aware of the tax rate you are likely to pay, you can put that amount of money aside regularly and not be negatively affected when it comes to tax season.
What's more, depending on your annual income and profit, you may be eligible to file for tax benefits and deductions.
These vary depending on factors such as the state you reside in and the type of employment you are involved with. Conducting detailed research into this is essential for understanding how taxation will affect you.
Keeping on top of your taxes can prove to be one of the most challenging aspects of self-employment.
As you have complete control over your salary and its potential, you must be aware of whom to inform and what tax brackets apply to you.
If your income is considerably large or has the potential to be, it may be worth seeking out accountancy services to help with your taxation.
However, you may prefer to do this on your own.
Begin by calculating your net pay and developing a healthy financial attitude.
There are many tutorials and webinars on platforms like YouTube that give great insight from experts on self-employed tax.
Job Security
Job security is something everybody worries about, particularly in today's working climate.
For self-employed people, it can be even more of an issue as the job application process is entirely different and you are often not guaranteed a job the following month.
Instead of constructing a strong resume and finding good links with employment agencies, someone who is self-employed will have to regularly seek out new clients and craft offers.
Sometimes, you have to convince a potential client they need someone with your skills at all, and then you have to convince them you're the best one available.
To keep on top of this whilst you are self-employed, it is imperative that you plan well.
Depending on if you run a business or are creative, you must understand what your target market is and how you can gain profit from this.
You must also try and cover all bases if things do not go as planned. Having other options and ways in which you can supplement your career if you hit a difficult period are often essential ways to keep things running.
This can sound off-putting, but job planning and understanding your prospects is what makes self-employment that much more enticing. Control over your career vision is what a lot of those who are self-employed strive for.
Your career results are entirely dependent upon you, meaning you bear all the responsibility and gain all the reward from your efforts.
Networking
Being self-employed can at times be isolating, particularly if you are pursuing a career in a role that requires little human contact.
For those who are more introverted, this may sound like a real benefit to self-employment. If managed right, it is one of the joys of self-employment if you prefer to work alone.
Nevertheless, it can be challenging if you need to create links with other individuals who are self-employed and with your target market.
Creating networks through job boards and social media will provide you with more security in your career. LinkedIn is tailored towards professional networking and is a great place to network.
These networks will also allow you to seek out advice from others who are also self-employed and find connections that can lead to opportunities or friendships.
Benefits and Breaks
Working in a corporate industry provides employees with numnerous company benefits. Working for an employer, you may gain access to pensions, healthcare, gym services and parental leave.
In contrast, as a self-employed individual, you do not have these benefits given to you. It is up to you to find and apply for these benefits often associated with corporate employment.
As part of time management, it is also in your own hands when you decide to take your holidays and breaks from work.
There is no fixed calendar in self-employment. Organizing your schedule is important for holidays and the planning of any events or self-care.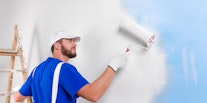 Top 10 Self-Employed Careers
Top 10 Self-Employed Careers
1. Web Design
Average annual salary: $77,000
If you have a good knowledge of IT and SEO, web design can be a very profitable career.
With web designers' salaries roughly averaging $77,000, a career as a web designer is profitable and sustainable.
You will be working with companies and organizations that need strong, attractive web platforms. Good web designers often combine their social media design skills to tailor specific content for entrepreneurs wanting to attract big audiences.
Web design is an ever-growing market as the needs and tastes of internet-savvy consumers and customers change.
Having good creativity and strong analytical skills are required to make this pathway successful. You can also take courses to expand or improve your skills.
2. Tutoring and Teaching
Average annual salary: $44,000
Those with an academic background, regardless of the subject, can channel their knowledge towards a career as a private teacher or tutor.
Tutoring pays $44,000 on average, but it has a very high cap. Having good networks and relationships can make tutoring a profitable pursuit.
To be successful as a private tutor, you will need patience, strong organization skills and a passion for your subject.
You will also need knowledge of specific academic diets, dependent on where and with what age group you work.
Tutoring is a very rewarding career that has great longevity – there will always be children and adults who need help excelling in their exams. Families who have had a good experience with a tutor will generally recommend them to others.
3. Trades
Average annual salary: $42,000–$58,000
All trade roles require a degree of physical fitness and suit those who like practical work. They cover a variety of different roles. You may have learned a trade as a laborer, carpenter, electrician, plumber or roofer.
With the range of jobs in trading positions, it is hard to be precise about an average salary. For example, painters average $42,000 while plumbers average $56,000, although a few lucky ones earn up to $98,000.
Trade roles require a lot of equipment, so the overhead costs need to be taken into consideration alongside the good potential salaries. Once you have all the equipment and a suitable vehicle, you will begin to find work with ease.
Strong connections and commitment are key to succeeding in your trade. The trades have always been needed in any society and will continue to be vital.
Learning a trade is often a good route to a guaranteed career with strong job security if you are competent and committed.
4. Architect
Average annual salary: $82,000
The design of infrastructure, buildings and recreational facilities are only a few of the responsibilities given to architects.
With the average salary at around $82,000, a career as an architect can be very profitable.
However, it is a competitive position. After getting your architecture degree and completing an internship to become a registered architect, you will need excellent creativity skills and a strong portfolio to get good commissions.
Depending on what area of architecture interests you, your background should be tailored towards that specific area.
Obtaining good contracts with reputable companies is what makes a career as an architect profitable, so it is important to build and maintain good relationships with past and potential clients.
5. Freelance Writing
Average annual salary: $67,000
There is an array of writing careers that you can pursue such as content writing, copywriting, creative writing and even freelance journalism.
These careers are suited towards individuals who are well-educated and have a talent for expressing knowledge. Strong editorial skills will also help you gain clients and commissions more easily.
Across all writing careers, the average salary is $67,000, but by working freelance, you can set your rates and may earn more. Content and copywriters may be paid by the word, while journalists can be paid by the article and authors get a cut of their book sales.
To become successful in freelance writing, it is important to keep on top of a strong portfolio. Ensure that you collect references and reviews regularly as these will help you gain your next contracts.
Those with academic backgrounds usually have success in freelance writing. Consider what your skills and interests are to find out what type of freelance writing you will suit. The more specific your niche, the better.
6. Events Management
Average annual salary: $51,000
After the downturn during the COVID-19 pandemic, festivals and concerts are becoming popular again. Therefore, careers in events management are back on the uptake.
A sustainable career in events management can pay around $51,000 per year.
Event managers are necessary for many different situations. Both corporations and small businesses need event managers to organize their social events, as do individuals looking for help and clarity regarding a big event.
With this in mind, strong communication, negotiation and conflict-resolution skills are key to being successful in this career.
Ensuring you have a good list of contacts through networking will help you grow as an events manager.
One draw of events management is that it can be done from anywhere; you do not have to be on the ground at the event. This career suits extroverted people with an eye for what is popular and a will to succeed.
7. Personal Trainer
Average annual salary: $40,000
If you are a fit individual who wants to channel your personal hobby into a career, then becoming a personal trainer may be the most logical step.
There are many types of personal trainers. You can become a specialist in a certain faculty like yoga, learn about nutrition to become more diet-oriented or offer an overall comprehensive service.
Good personal trainers can earn around $40,000 annually, but these earnings can increase considerably if you have the right clients. Gaining certificates in your chosen specialization and first aid can increase your earnings and may be a prerequisite for some clients.
Fitness is generally necessary to be successful in this career. However, it is not the only skill that you will need. Having patience, self-motivation and the ability to motivate others is key. You will also need to be organized enough to keep on top of both your own and other people's schedules.
A career in personal training is easy to set up, but it is hard to make yourself stand out from the crowd. Developing your marketing skills will serve you well to get the clients you need to make good money.
8. Photographer
Average annual salary: $41,000
Speaking of hobbies, changing that passion for photography into a career is very viable in today's climate.
With social media apps like Instagram being catered towards the advertisement of one's own content, photographers are beginning to use apps like these to make money.
You can also sell photographs to stock photo websites or magazines.
The average photographer can make $43,000 a year. However, with more experience and a growing catalog of work, your profits will inevitably increase.
The equipment costs of photography can be high, as can transport and renting studio space, but you could have a mobile and very fun career.
Depending on your interests, you could turn a photography career into almost any subject. Today people consume imagery more than ever and if you have a passion for taking photographs of nature, people in cafes or even pets, you can turn these photos into money.
Building a portfolio is an essential part of being a successful photographer, and your ability to advertise this will garner you the greatest success.
9. Courier and Delivery Services
Average annual salary: $34,000
With home delivery services becoming available in most places, career opportunities as a driver have increased exponentially.
You don't just have to drive large trucks for supermarkets, you can also offer courier services for important packages and messages (and potentially earn $50,000 a year) or become a takeaway food deliverer and gain through tips.
On average, a career as a delivery driver pays $34,000 a year. However, where you live and what you are delivering play a part in your potential earnings.
You will need good punctuality and commitment to be successful. It helps if you know your delivery area like the back of your hand so that you can take shortcuts to avoid bad traffic (a potential earnings killer).
A career as a delivery driver has a relatively low overhead as you only really need a vehicle to start out. These careers are great for people balancing multiple roles or responsibilities.
Being able to work overnight or generally unsociable hours means you can charge more – think about how much more people pay to get a gift to somebody ASAP – but there is still plenty of delivery options during the day.
Delivery drivers are considered vital roles today and so they are relatively simple to find. Many big corporations value the position of courier and often offer self-employed individuals the opportunity to work full-time.
10. Project Management
Average annual salary: $66,000
Corporations and businesses need direction from external sources. A project manager can offer strong advice on the planning and completion of projects.
The most successful project managers can earn more than $110,000; on average, project managers and those in related careers earn $66,000 per year.
These salaries can increase if you find yourself organizing solutions for reputable companies.
Like architectural roles, these careers are very competitive because of their high wages, so you will need to showcase your abilities clearly.
Having excellent analytical skills, research skills, the ability to communicate and often an academic background in a research-based field can give you a distinct advantage. It helps to specialize in an area, such as building construction or electronic product creation.
Once you receive your contracts, you need to show that you can successfully complete them and demonstrate good results for your respective contractor at the time. This will help you develop a strong track record that will attract more clients to you.
Project management roles can be time-consuming and sometimes exhausting, but they are exceptional in their wage potential. This career is best for people who are very driven and dedicated to identifying answers.
Tips to Remember for Self-Employment
If any of the aforementioned careers has caught your eye, or you are otherwise considering moving to self-employment, here are the major points to remember:
Step 1. Taxation
Be prepared to research and register your own tax.
Step 2. Time management
Keeping on top of your schedule is key to both success and relaxation.
Step 3. Health and pensions
You will not receive these by default when working for yourself, so you will need to set up schemes to have these benefits.
Step 4. Dedication
The most successful self-employed individuals are committed to their craft.
Step 5. Communication
Life when self-employed can be difficult and sometimes lonely. Having strong links with others who are self-employed can bring you companionship and advice (and sometimes job opportunities).
Final Thoughts
More and more people are turning to self-employment, either because traditional employment has failed them or because they see the benefits in being their own boss.
This rise in popularity is double-edged. It means there are more resources and communities out there for freelancers, but it also means more competition and potentially reduced wages for those just starting out.
In order to make a success of self-employment, you need to be willing to extensively research the specific field you are interested in.
You will already have the skills and requirements to succeed in self-employment; all you need now is the plan of execution. Turn to a career counselor if you need more guidance about your future.
---