How to Answer the Interview Question: "Are You an Analytical Thinker?"
All products and services featured are independently selected by WikiJob. When you register or purchase through links on this page, we may earn a commission.
In today's increasingly digital world, businesses rely on big data to inform and confirm a significant part of their ongoing business strategies. Therefore, it's more important than ever before that they employ a team of analytical thinkers who can look at, understand and interpret this data.
Interviewers are now turning their attention to seeing if they can identify those prospective candidates who have analytical thinking skills.
For example, they want to know if a prospect can look at a data set (qualitative or quantitative) and understand how to use that data in a business environment. Can they look beyond the initial information to spot potential problems or explain how they can use that information to improve services or develop new products?
There are many job roles where analytical capabilities are as important as technical skills and experience. For example, roles such as investment analyst, marketing strategists, HR managers and operation managers will require exceptional analytical thinking skills.
As such, an interviewer will be highly likely to ask you a series of interview questions about your analytical thinking or problem-solving capabilities.
Examples of Analytical Thinking Interview Questions
You may think that this is a new area of interview questioning, but in reality, interviewers have been asking questions about analytical thinking for years. You may just not have realized it.
Here are a few common examples of interview questions that a recruiter may ask that relate solely to your analytical thinking skills.
Can you give examples of a time when you worked on multiple projects? For example, how did you prioritize tasks and ensure deadlines were met?
The recruiter wants to know your approach to juggling multiple workloads. How have you used analytical thinking and critical thinking skills to work out a priority order? Do you know what is achievable in critical timeframes?
What criteria do you use to confirm if a data set is useable?
Suppose a firm uses data to inform its business strategy; it is vital that you know whether that data is accurate. What analytical skills do you use to confirm whether your data is telling you the correct information?
What metrics do you regularly track?
Why do you choose specific metrics over others? How can you explain your rationale and decision-making?
How do you use this information once you have it, and how can you confirm that your data is reliable enough to base decisions on?
How do you choose between two options? What is your way of compiling a pros and cons list?
This is allowing a recruiter to understand your problem-solving skills and decision-making capabilities. In addition, it helps them see your approach to analytical thinking to determine whether you have the analytical skills they need in their team.
What do you think could be our biggest challenge over the coming year?
Have you analyzed what is taking place in the wider sector, and can you see how this could impact business growth? Can you look at clear, immediate priorities, or are there any pitfalls you need to be aware of?
How could the changing political, societal or economic environment change the way that you work? Are there any emerging technologies that could be utilized?
How do you think our products or services compare to our biggest competitors?
Have you analyzed the competition to understand what they do well or not so well? How does this compare to your business offering?
What changes can you make to your business to replicate a competitor's strength or USP? Can you monitor data to understand why a customer would choose you over anyone else?
Why Do Employers Ask About Your Analytical Thinking Skills in a Job Interview?
These days, employers are looking for employees who can contribute far more than just technical ability. They want employees who are keen to grow and develop their careers.
They want every employee to feel empowered to make suggestions that can increase business growth, and as such, they will be actively looking to work with people who have wider, more transferable skills.
Recruiters will ask you about your analytical thinking skills during an interview because they want to find candidates who can interpret various information and use that knowledge to inform their working practices.
In addition, if you have a team of capable analytical thinkers or problem-solvers, you are more likely to overcome any challenges or spot any potential issues long before they become a problem.
Essentially, hiring analytical thinkers is a crucial way for employers to future-proof themselves.
What Do Employers Want to Hear When They Ask the Interview Question, "Are You an Analytical Thinker?"
On the face of it, the question "Are you an analytical thinker?" feels quite jargon-heavy. It's not a phrase or term you would often use to describe yourself beyond the confines of recruitment.
Therefore, if you are asked this question, you must be well aware of what the recruiter means before shaping your answer.
Employers may be looking for different types of analytical thinking skills.
For example, if you are applying for a role that relies on a lot of writing (perhaps a content writer, a copywriter, PR, marketing or SEO), can you demonstrate examples of when you've read multiple articles from different viewpoints to create an informed opinion? Do you know how to confirm the reliability and validity of any sources?
Similarly, if you're applying for an engineering or data science job role, how can you use your analytical thinking capabilities to confirm the quantitative results from any experiments?
Suppose an employer is looking for analytical thinking skills to enhance their existing team. In that case, they will likely want to hear more about how you analyze, prioritize and evaluate any data or information. So in your answer, you need to show your approach to analytical thinking, whether it's logical reasoning or critical thinking.
You then need to use your answer to expand upon using that available information or data to influence your decision-making. For example, how can you predict and identify trends or new opportunities?
How can you show that you've used all available information to avoid any challenges or prevent problems? You need to show how you use your analytical thinking to improve your working practices at this point in your answer.
Finally, you need to touch on how you communicate and justify your decision-making to others. It's all very well using data and information to inform your working practices, but how are you explaining those decisions to your team or your managers?
Communication is a core component of helping others understand why you have acted in a certain way or how you have decided upon developing new products or services.
How You Can Show That You Are an Analytical Thinker in Your Next Job Application
Now that we know why employers need to recruit analytical thinkers, you must review your resume or cover letter to showcase your analytical capabilities.
Critical skills that you may wish to include on your resume that are synonyms for analytical thinking include:
Creative thinking
Critical thinking
Data analysis/interpretation
Problem-solving
Research
Within your resume, you will likely include these skills in your skills section.
However, it's also wise to try and reference them within your personal summary or previous employment history descriptions.
Make sure that you use the right keywords that are mentioned within the job description. It will give you a greater chance of passing through any pre-set filters if the employer uses an automated applicant tracking system to filter any applications.
You should also expand heavily on these points within your cover letter. Where possible, try to quantify how your analytical skills have helped influence business success and relate it to the job you are applying for.
Our dedicated articles on how to write a great resume and how to write an effective cover letter may be valuable resources to help you highlight your analytical thinking skills.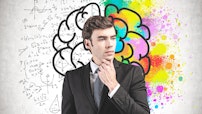 How to Answer the Interview Question, "Are You an Analytical Thinker?
Analytical Thinking Aptitude Tests
In an interview situation, employers may go beyond simply asking the interview question, "Are you an analytical thinker?" Instead, you may be asked to participate in many aptitude tests to give a recruiter a deeper understanding of your skills and help them compare you to other candidates.
These aptitude tests could include situational judgment tests, inductive reasoning tests or other logical reasoning assessments.
If you're not sure what these are, please feel free to browse through our insightful article that focuses on the role of aptitude tests. At WikiJob, we are here to help you prepare in full for your next job interview.
Practical Tips to Help You Answer the Interview Question, "Are You an Analytical Thinker?"
If you believe that it is likely that you will be asked about your analytical thinking skills during your next job interview (perhaps it's a crucial skill for your profession), then you may wish to prepare an answer in advance.
You may wish to spend part of your pre-interview preparation focusing on how you would likely answer this question (or its variations).
Taking the time to plan out an answer can help you to formulate a response that not only wows the recruiter but aligns carefully with your previous history and expertise as well as relating to the job itself.
Here are some practical tips to help you answer the interview question, "Are you an analytical thinker?"
Step 1. Define Your Analytical Thinking Skills
First, you need to consider what your analytical thinking skills are.
Use a notebook to list all the variations of analytical thinking skills and be honest with yourself. Which skills align with your strengths, and are there any analytical skills you think you could improve upon?
Remember, it's not a weakness to say that you are not skilled in specific areas. For example, data analysis can be hugely technical, and interpreting data incorrectly can be disastrous.
On the other hand, suppose there are any analytical skills you do not possess, but you believe they are crucial for the job role. In that case, you can explain to an employer how you plan to upskill yourself – perhaps through additional training or online learning.
Step 2. Define Your Analytical Thinking Processes
Once you're confident that you know your strongest analytical thinking skills, why not consider how you use them. You may naturally be a strong critical thinker or have intuitive logical reasoning skills, but it's essential to know how you use these skills in the workplace.
This part of your pre-interview preparation should allow you to decipher how you approach your decision-making. For example, perhaps you prioritize tasks and juggle multiple projects through comprehensive to-do lists and work plans.
Or maybe you have preferred metrics that you track because you know that they are the most reliable form of available data. If you use specific software to track metrics, why did you choose that software over other options?
This element of your answer should be about justifying how you use your data and information.
Step 3. Consider Some Examples of When You Have Previously Used Analytical Thinking
To bring your answer to life, you should try to provide some examples of times when you have used analytical thinking.
As part of your interview preparation, make a list of times when you've used analytical thinking to inform your work.
Let's use marketing as an example.
Perhaps you've used free tools such as Google Analytics to see what web pages were gaining the most traffic, and you used the Search Console to check what search terms customers were using. Did you use this information to help you strategically decide if any new content needed to be added to your website?
Have you used common keywords to improve your SEO? If so, how have you tracked the success of those changes?
Have you benchmarked any progress or used your data to change the way that you communicate with customers? Maybe you've worked with a wider team, including graphic designers, UX testing or even behavioral psychologists, to explore new ways of working with customers to expand business growth.
Whatever the case, try to use your answer to showcase how you've communicated with others, whether you've worked with other teams and what the resulting impact was.
Step 4. Don't Forget to Use the STAR Technique in Your Answer
As with many interview questions, it's always beneficial to refer back to the STAR technique:
Situation
Task
Action
Result
This is a useful way of providing detailed context to your response. It allows you to tell a story with enough detail to impress a recruiter while also remaining concise and to the point.
Step 5. Things to Avoid in Your Answer to the Question, "Are You an Analytical Thinker?"
While it's good to know what you should include in your answer, it's also important to know what you should avoid mentioning.
As we mentioned earlier, be honest with yourself about what analytical skills you have. Don't over-promise your skills if you lack any technical proficiencies.
Be prepared to back up any skills with real-life examples of that skill. You need to use your interview as an opportunity to highlight and showcase your strongest skills.
You need to be confident in how you explain your analytical skills to the recruiter. If you get stuck on technical terminology or the recruiter is unclear about what you are talking about, it won't reflect your overall communication skills.
As part of your preparation, try to discuss your answer with a friend or family member who has no prior knowledge of your profession. If they can understand what you mean clearly, you can feel confident that you can communicate what you mean effectively.
Finally, it will help if you make it clear that you never assume anything. The basics of analytical thinking are rooted in attention to detail.
Recruiters may be alarmed if you don't reference how you check your data/sources. They want to know what steps you take to ensure that you are working from accurate and reliable data.
Example Answers to the Interview Question, "Are You an Analytical Thinker?"
Earlier in this article, we provided some example questions based on the concept of "Are you an analytical thinker?".
Using the information that we've learned about how to formulate a response, here are some suggested ways that you can answer a few of these questions.
As you can see, each one provides a context to the scenario and gives the recruiter enough information to understand how the candidate works and their impact on their business.
Can You Give Examples of a Time When You Worked on Multiple Projects? For Example, How Did You Prioritize Tasks and Ensure Deadlines Were Met?
In my previous job role, I was an account manager and needed to take responsibility for six different clients, all working in different sectors. It was a challenge to get to grips with these different professions and knowing how to prioritize my workload as each client had a different contract requiring different levels of consultation.

Some clients required eight days of work per month. Others only required two. I needed to ensure that each client was given the same levels of care and attention and that enough time was allocated throughout the month to deliver the correct amount of work.

My approach was to create a detailed to-do list that was easily accessible by other team members, using our internal project management system. I wanted to be able to schedule deadline reminders and make sure that everything was in place.

This system not only kept internal colleagues up to date with the progress of individual projects (and therefore assisted effective teamwork), but it also allowed me to create an ongoing database tracking my time, which we could share directly with clients.

It was an effective solution that made my day-to-day work far more productive. As a result of this system, one client provided feedback that they appreciated the process because it allowed them to provide updates to their internal teams seamlessly.
Over the last five years, I've made a conscious effort to upskill myself in the latest data-tracking software because the marketing profession is moving to an intensive data-driven environment. I think it's important to use data to confirm how well campaigns are working, and free tools such as Google Analytics are crucial to this.

I've completed the free Google Academy training to upskill myself, and from here, I've been able to educate my line managers about the importance of tracking referrals, acquisitions and conversions.

I've used this data to work alongside our SEO teams to develop new content marketing strategies. I was given the opportunity to lead a new data-driven experiment to show how important this data is.

By aligning our content strategy with this data, we increased website traffic by 8% and generated new sales by 3%. I'm now working with our external teams and data analysts to invest in more comprehensive tracking software that will allow us to improve upon these statistics.
In my experience, this is about being as comprehensive as possible. It's about considering the immediate, short-term and long-term implications of any decision.

I believe that decisions shouldn't be made in silos. They should always be made with input from other departments and other colleagues.

I listen to what they have to say and create a working document that will outline any likely scenarios that could arise from any specific decisions. From here, it's possible to examine potential cost implications and anticipate a return on investment.

If I do not believe that there is enough data there to justify a specific decision, it's important to have a detailed understanding of what else is needed so we can create an alternative solution.
Final Thoughts
Analytical skills are highly sought after by employers because they reflect an ability to solve and overcome challenges. Therefore, you need to be clear on what analytical skills are required by your profession and find ways to show the recruiter that you have those specific skills.
There are many different ways that a recruiter may ask you about your analytical thinking skills during an interview. This is your chance to show when you have considered many different options to create a final response.
It may be through spotting patterns, using data to see what customers want, brainstorming and observing what others are doing and knowing what trends are emerging within your profession.
As with other interview questions, you can enhance your response if you can anticipate it and prepare a detailed answer that incorporates the STAR technique and relates to the job description.
---