How to Write a Federal Resume
What Is a Federal Resume?
You would be forgiven for thinking that one resume is much like another, but for specific jobs, it is important to adopt a particular content style. This is particularly true when writing a federal resume.
A federal resume is a document which you would submit when applying for a position within a federal government agency.
Unlike a standard resume, a federal resume contains more detailed information and is tailored specifically to the role for which you are applying.
Why Must a Federal Resume Be Different from a Standard Resume?
While a standard resume can be relatively generic, a federal resume should be dedicated to the specific role that you are applying for.
The information you include will be different or more detailed when compared to a standard resume. You should also take extra care with the spelling and grammar on your federal resume as it is likely to be looked at more closely.
A typical resume would usually include a brief overview of your education and work history, whereas a federal resume needs to include much more information. This means that rather than the usual length of one to two pages, a well-written federal resume should be four to five pages in length.
The reason for the difference between the two types of resumes is simple. Your resume will act as your job application.
Therefore, it needs to have as much information as possible so that whoever is assessing candidates can see that you are the person best qualified for the position.
If your resume doesn't cover all of the information and qualifications listed in the job description, you will not have the opportunity to progress further in the interview process.
How to Write a Federal Resume
There are various resume-writing services which you can use to produce a federal resume, but it isn't always necessary to pay someone to do it for you.
As long as you know what information to include, writing your federal resume is relatively straightforward.
Components that should always be included on a federal resume include:
Personal information – Name, date of birth, address and citizenship status
Education – Include the dates when you attended the relevant institutions and any qualifications you achieved.
Work experience – In reverse chronological order, beginning with your current employer. Don't be tempted to leave out positions just because you feel they aren't relevant.
References – Ideally this should be your current supervisor or manager.
It is also a good idea to include the following information:
Workplace-related training and qualifications – Any additional qualifications that you have obtained that could be beneficial for the position you have applied for.
Language skills – This is especially important if the role you are applying for is likely to involve communication with people in another language.
Additional references – Sometimes it is good to add a character reference for someone who knows you outside of the workplace. This should not be a friend or family member, but perhaps someone who knows you from a club or organization which you attend.
Published works – If you have published any articles or papers which are relevant to the position, these should be listed.
Sports, clubs and voluntary organizations – Employers always like to know that you have interests and hobbies outside of the workplace. Including information about any clubs or voluntary organizations can help to highlight skills and experience that could be valuable for the role you are applying for.
When writing your federal resume, there are some other important considerations:
Format
When deciding how to present your resume, there are four main formats to consider:
Chronological resume – This format is focused on your work experience and lists all of your employment history in reverse chronological order. A chronologically formatted resume is particularly useful if you have had continuous work, a progressive career or plan to continue in the same line of work.
Functional resume – If you are considering a new career path or don't have a complete work history, it is worth considering this style of resume. Rather than focusing on the positions you have held, it looks more at the skills you have learned and used during your employment. Volunteer experience can be included here as the skills learned in volunteer roles can be transferred into paid employment.
Combination resume – This style of resume provides a fully comprehensive overview of your career and work history. By combining your work history with the skills you have gained, employers can get a clear picture of your abilities and potential.
Targeted resume – A targeted resume will include features of a combination resume but will be targeted specifically at the role you are applying for. This may mean that you leave out some of your qualifications and work history which are not relevant to your application. Alternatively, you can include all of the information, but feature the most relevant experience and qualifications at the top of each section.
Presentation
Once you have decided on the style of your resume, it is time to consider the presentation details.
Margins – You should set your margins at around one inch and never below half an inch. This will ensure that your resume doesn't look either crowded or empty.
Font style and size – Keep the font simple. Some fussy fonts may look attractive, but they are difficult to read. It is always best to choose a classic font such as Ariel or Times New Roman as these look professional and are easy to read. Another thing to consider is the font size. Choosing a size that is too small will make your resume difficult to read. A font that is too large will look child-like and unprofessional. Generally, a font size of 10–12 is ideal.
Colour – While your resume needs to look professional, it is also a good idea to make it visually attractive. This will help your resume to stand out from the pile. Consider using one other color (such as red) alongside black to highlight important information or section headings. However, avoid more than one other color as this could look unprofessional.
Aesthetics – How your resume looks will have an impact on an employer's first impression of you. It may be tempting to use long paragraphs, but a mixture of paragraphs, bullet points and bold or italic fonts to highlight important information can make your resume more interesting to read.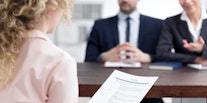 How to Write a Federal Resume
Full Contact Details
It is important to add as much contact information as possible on a federal resume. This should include:
Your full name
Date of birth
Citizenship status
Mailing address
Daytime and evening contact numbers
A personal email address
Advice for Current and Ex-Federal Employees
If you are currently working in a federal position or have in the past, you should include information about this experience.
The information you provide should include your highest previous grade and position held. This will help the person who reviews your application to quickly and easily understand your experience level and skills.
Veterans, Peace Corps and Disabled Persons
Veterans – Veterans receive priority status due to the Vietnam Era Veterans' Readjustment Assistance Act of 1974. You should make sure to attach or include relevant documentation to prove your veteran status.
Peace Corps – Individuals who are returned Peace Corps volunteers should submit their Description of Service. This will entitle you to claim non-competitive eligibility for federal positions.
Disabled persons – Individuals who have a disability can be eligible for hiring under the Schedule A hiring authority. To prove your eligibility, provide proof of your disability which has been issued by a licensed medical profession or details of disability benefits.
Give as Much Detail as You Can
With a federal resume, there is no such thing as too much information. Providing as much detail as possible about yourself, your experience and your skills enables whoever looks at your application to gain clear insight as to the value you would bring to the role.
Give Full Details of Your Professional and Personal References
On a standard resume, it is normally acceptable to just add a phone number or email address for your references. This is not the case with a federal resume.
You should include as many contact options as possible, as well as information about how the named individual is known to you.
What to Include in a Federal Resume
The list below should help you to structure your own federal resume. If there are areas that are not relevant to your circumstances, it is best to remove them from your resume rather than leaving the space blank.
This list acts as a rough guide, but sections can be moved around and changed. For example, if you feel that your voluntary positions are particularly applicable to the federal role you have applied for, you could create a section for them under your work experience.
Position applied for – Include the job announcement number, job title and grade.
Contact details – Give your full name, address, telephone numbers and email address.
Veteran/Peace Corps/disability status – Include this information below your contact details and attach relevant documents if required.
Federal employee status – Detail your highest grade held as well as the position title. Make sure to state whether this is a current or past position.
Citizenship status – This is particularly important for those who are not US citizens.
Qualification summary – It is a good idea to include a summary of your most relevant qualifications. You can go into more detail about this in your education or work history sections.
Work history – Detail your work history in reverse chronological order, starting with your current or most recent position. Make sure to include information regarding your key responsibilities as well as any qualifications or skills you gained.
Educational history – Start with your most recent educational experience. This could be a course you have taken outside of work, college or university. Detail how long you spent at each place and the qualifications you gained.
References – It is a good idea to include at least two references. One of these should be your current employer or supervisor. Include as many contact options as possible, as well as information regarding how you know the named individuals.
Voluntary organizations and other information – This section should include the activities you enjoy outside of work, any voluntary organizations you are a member of and hobbies that you may have. Make sure to say how long you have been a member of any groups, as well as any skills or qualifications you have gained.
Final Thoughts
Once you get started, writing a federal resume isn't too dissimilar to writing a standard resume. The important thing to remember is to add as much detail as you can that is relevant to the position you have applied for.
This will be the first impression that an employer will have of you, to determine whether you are likely to be a good fit for the role or not. By including as much information as possible, you are giving them a clear picture of how well you would perform in the role.
---